THANKS TO FELLOW PUSHERS TIM CHAMBERS, RANDY PARSLEY AND JOHN KRAUSE FOR HELPING ME UPDATE THIS PAGE , AND BILSTEIN REP. JIM HILAND FOR CORRECTING MY GRAMMAR.


#1...THE NUMBER ONE THING IN SAFETY IS TO THINK BEFORE DOING YOUR JOB....IT'S A JOB ALTHOUGH YOU DON'T GET PAID....YOU NEED TO PROTECT YOURSELF , THE PEOPLE IN THE AREA WHERE YOU'RE PUSHING AND THE DRIVER INCLUDING HIS CAR WHICH IS HIS LIVING IN MOST CASES...BUT CARS CAN BE REPLACED PEOPLE CAN'T...

#2...WHEN ARRIVING AT THE TRACK ALWAYS TAKE A RUN DOWN THE PUSH OFF AREA EARLY BEFORE WARM UPS...IF POSSIBLE TAKE A LAP AROUND THE TRACK LOOKING FOR CHANGES FROM THE WEEK BEFORE IF THIS IS YOUR REGULAR TRACK...IF YOU'RE WITH A TRAVELING GROUP A COUPLE OF LAPS LOOKING AT THE ENTRANCE AND EXITS....CHECK FOR ACCESS TO THE INFIELD AND AREAS ON THE TRACK THAT DON'T HAVE OUTSIDE WALLS...THIS WILL HELP IN CASE A CAR GOES OFF THE TRACK SO HE CAN BE RETRIEVED QUICKLY....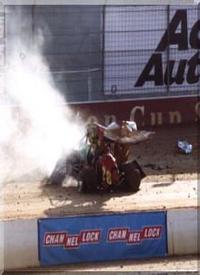 #3..NEXT , KNOW WHO YOU HAVE FOR SAFETY CREWS...SOME TRACKS WILL BE WELL EQUIPPED WITH FIRE AND RESCUE....BUT OTHERS WILL HAVE A TRUCK WITH A FEW FIRE BOTTLES AND A CROW BAR....DON'T LAUGH I'VE SEEN IT....ONE TIME WE PUT OUT A OIL FIRE AFTER THE RACE WITH OUR OWN FIRE BOTTLE...THE LOCAL FIRE DEPARTMENT DIDN'T COME BACK THE FOLLOWING WEEK BECAUSE THEY WERE TICKED OFF...MANY TRACKS HAVE NEVER SEEN A SPRINT CAR SHOW AND GET SO INVOLVED IN THE RACE THEY FORGET THEIR FIRE & SAFETY JOB.

#4...TAKE TIME WITH THE GROUP'S PERSONAL AND SHOW THEM HOW THE SPRINT CAR IS EQUIPPED , HOW DRIVER IS BUCKLED IN AND WHERE THE FUEL SHUT OFF IS...LET THEM KNOW WHAT THE CAR IS FUELED WITH.... ALCOHOL IS USED MAINLY.. BUT SOME LIMITED SPRINTS AND SPORTSMAN CLASSES USE GAS...

#5...DON'T BE A HERO IF AN ACCIDENT HAPPENS AND RUSH OUT INTO ONCOMING TRAFFIC BEFORE A RED IS THROWN IN CASE OF A FLIP....YOUR JUDGEMENT MAY HINDER THE RESCUE....LET THE PARAMEDICS DO THEIR JOB IF THE DRIVER IS INJURED....A HELPING HAND THEY WILL NEED...KEEP A FIRE BOTTLE HANDY AS FUEL LEAKING ON A BRAKE ROTOR CAN CAUSE A FIRE... NEVER BLOCK THE TRACK ALWAYS LEAVE A LANE OPEN...IF YOU HAVE TO GET A CAR BACK ON ITS WHEELS AFTER THE DRIVER IS OUT BEWARE OF THE WING AS IT CAN HURT SOMEONE WHEN CAR HITS THE GROUND....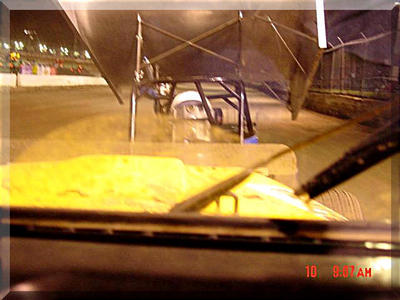 #6...THE PUSH OFF AREA WILL VARY FROM TRACK TO TRACK...EVEN AT A LOCAL TRACK THE WAY THE RIGS ARE PARKED WILL SHORTEN OR NARROW YOUR PATH...THE DRIVER SHOULD HAVE ON HIS HELMET , SAFETY EQUIPMENT , AND BE BUCKLED IN BEFORE PUSHING ..YOU MUST BEWARE OF PEOPLE WALKING IN FRONT OF THE CAR YOU'RE PUSHING....USE THE HORN AS MUCH AS YOU HAVE TO...BUT DON'T TRY TO FORCE YOUR WAY THROUGH....THE SPRINT CAR CAN BE RESTARTED.....HE MAY WAVE HIS ARMS AT YOU TO KEEP GOING BUT THINK FIRST....AS SOON AS YOU HAVE FIRED THE CAR YOUR RETURN TO THE PUSH OFF AREA CAN SOMETIMES BE A LITTLE WILD....IF YOU HAVE MULTIPLE CARS FIRING FOR A HOT LAP SESSION , HEAT OR FEATURE IT CAN BE CONTROLLED BEDLAM.....DEPENDING ON THE AREA YOU MAY HAVE TO DUCK IN BETWEEN ONCOMING CARS AND TRUCKS ON YOUR RETURN....WORK WITH YOUR FELLOW PUSH TRUCKS...IF YOU CAN SEE A BETTER WAY WORK WITH THE PIT STEWARD TO SET IT UP...YOU MANY WANT TO HAVE A LEFT TO RIGHT STARTING SYSTEM AND AFTER A WHILE YOU WILL HAVE A RHYTHM GOING...ON TRACK STARTS AT SMALLER TRACKS WORK WELL IF THE CARS ARE SPLIT UP ON THE FRONT AND BACK STRETCH...GIVING YOU A FLOW IN TRAFFIC


#7...ALWAYS TAKE THE FRONT CAR FIRST....OTHER TIMES THE CARS ARE PLACED ON THE TRACK AT THE TRACK ENTRANCE AND YOU JUST GO AROUND THE TRACK AND PICK UP ANOTHER WHEN THE FIRST HAS FIRED....IF A CAR DOESN'T FIRE IN ONE LAP IT SHOULD BE TAKEN OFF THE TRACK AS IT HAS A PROBLEM...ITS A JUDGEMENT CALL IF YOU DO A SECOND LAP....WATCH THE OFFICIALS THEY WILL TELL YOU WHAT TO DO...

#8...BE AWARE OF WHAT IS GOING ON IN THE IMMEDIATE AREA OF YOUR PUSH TRUCK...SOME TRACKS WILL PUT ANOTHER CAR IMMEDIATELY BEHIND YOU WHILE STAGING FOR A RACE...YOU CAN NOT BACK UP TO GET CLEAR OF THE CAR YOU ARE BEHIND TO HELP WITH SOME EMERGENCY....

#9...WHEN IN DOUBT , ASK...TALK TO YOUR FELLOW PUSH TRUCK DRIVERS....WHEN NEW AT A TRACK , FIND OUT WHO IS THE LEAD PUSH TRUCK DRIVER....BEFORE STARTING TO PUSH , TALK TO THAT PERSON ABOUT WHAT THEY EXPECT FROM YOU , THE ROUTES , SPECIAL THINGS THE PUSH TRUCKS DO FOR THE TRACKS , AND SAFETY.

#10...WHILE STAGED (IN PUSH LANE , ON TRACK , OR WAITING FOR A RED FLAG TO CLEAR ) KEEP TRACK OF THE CREW GATHERED AROUND THE CAR YOU ARE BEHIND...A CREW MEMBER CAN DUCK DOWN TO CHECK TIRE PRESSURE AND YOU CAN RUN OVER HIM....I LIKE TO GIVE MY HORN A QUICK BEEP BEFORE I PUSH OFF TO ALERT THE DRIVER...

#11...WHEN ON THE TRACK WITH SEVERAL CARS , "DO NO QUICK DIRECTIONAL CHANGES".....YOU MAY HAVE TO AN EXTRA LAP (ESPECIALLY ON THE SHORTER TRACKS) BEFORE YOU CAN CLEAR....A GOOD SET OF MIRRORS PLUS A GOOD "SHOTGUN" RIDING WITH AS YOUR SPOTTER MAKE IT A LOT SAFER..

#12...MOUNT SOME KIND OF SAFETY LIGHT ON THE ROOF OF YOUR TRUCK...A BIG YELLOW STROBE OR REVOLVING LIGHT WILL DO THE JOB....ALSO A SET OF SMALL STROBES ON THE REAR BELOW THE TAIL LIGHTS IS ALSO RECOMMENDED....BETTER KNOWN AS "SWINDELL LIGHTS"...AFTER A BIG WRECK WITH A PUSH TRUCK IN PA....THE MORE LIGHTS THE BETTER...

#13...IF YOU DO NOT HAVE A 2 WAY RADIO , BUY A CHEAP SCANNER...MAKE SURE YOU MONITOR THE FREQUENCY OF RACE CONTROL..WHEN SEVERAL ORGANIZATIONS ARE PUTTING ON A COMBINED SHOW , GET ALL THEIR RACE CONTROL FREQUENCIES AND CHANGE CHANNELS TO TO THE ONE FOR THE ORGANIZATION YOU ARE PUSHING.....SOME NITES YOU HAVE TO CHANGE BACK AND FORTH....IDEA: IF YOUR PUSH VEHICLE HAS A RADIO WITH A CASSETTE PLAYER , YOU CAN GET ONE OF THOSE CD ADAPTERS THAT WILL ALLOW A CD TO PLAY THROUGH YOUR RADIO...PLUG THE CD CONNECTION INTO YOUR SCANNER...EVERYONE IN YOUR TRUCK CAN HEAR THROUGH YOUR VEHICLE'S SPEAKERS.

#14..WHEN A DRIVER TURNS SUDDENLY WHILE BEING PUSHED AND YOU NEED A WRECKER TO PICK YOU OFF HIS CAR , HOLD YOUR FOOT ON THE BRAKE UNTIL THE CAR IS CLEAR TO PREVENT ADDITIONAL DAMAGE TO THE CAR AND YOUR TRUCK...THIS IS PARTICULARLY IMPORTANT ON BANKED TRACKS..(OF COURSE , WE NEVER DRIVE UP ON TOP OF A RACE CAR , DO WE..?..)

#15...PROTECT YOUR RADIATOR WITH A SHIELD OR SCREEN....ON A WET TRACK IT DOESN'T TAKE MUCH TO LOAD IT UP WITH MUD....YOU CAN OVER HEAT QUICKLY AND SIDELINE YOU WHEN YOUR NEEDED.

#16...PUT YOUR NAME OR SOME IDENTIFIER IN AN EASILY SEEN SPOT ON YOUR TRUCK...WHEN THE TRACK OFFICIALS KNOW YOU ARE MONITORING THEIR FREQUENCY THEY WILL MANY TIMES TALK TO YOU SPECIFICALLY...AN EXAMPLE IS "TIM" PLACED IN THREE INCH HIGH WHITE LETTERS ON THE CENTER TOP OF THE WINDSHIELD....THIS WILL GIVE TRACK PERSONNEL A NAME TO CALL OUT TO GIVE DIRECTIONS TO INSTEAD OF CALLING FOR THAT DODGE TRUCK DURING YELLOW OR RED FLAG CONDITIONS...THIS WORKS EVEN IF YOU ONLY HAVE A SCANNER...NOTE: THE DOWN SIDE IS WHEN YOU SCREW UP , THEY KNOW WHO TO TALK TO ALSO.

#17...YOU CAN CARRY A FEW TOOLS TO ASSIST WITH ACCIDENTS....A WRECKING BAR , HACKSAW WITH EXTRA BLADES , FIRE BOTTLE , A JUG OF WATER , WRENCHES TO REMOVE WINGS , ETC. , DUCT TAPE , BUNGE CORDS AND PAPER TOWELS....MOST OF ALL MAKE SURE YOUR PUSH TRUCK IS IN GOOD RUNNING ORDER.

#18...OFF TRACK ACCIDENTS DO HAPPEN ...STARTING A SPRINT CAR AT THEIR SHOPS HAS RESULTED IN MANY DRIVER ACCIDENTS....I PERSONALLY HAVE SEEN ONE HIT A TREE BECAUSE THE DRIVER COULDN'T GET IT OUT OF GEAR IN TIME....ANOTHER ON THE WEST COAST HIT HIS PORCH AND WAS HOSPITALIZED....STILL ANOTHER HIT A CAR ON HIS STREET AND ONE OTHER ENDED UP IN A LAKE....MOST OF THE TIME THEY EITHER DIDN'T HAVE ON THEIR SEAT BELTS OR HELMETS....I HATE TO SEE A DRIVER GET HURT FOOLISHLY BECAUSE HE THINKS HE IS SAFER AT HOME.....

RETURN TO JIMMYJEEPS FRONT STRETCH
Copyright 2004 JimmyJeep All Rights Reserved