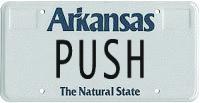 IF YOU GET A CHANCE TO VIEW A RACE AT I-30 SPEEDWAY IN LITTLE ROCK , ARKANSAS BEWARE OF THE NEW SLIME MOBILE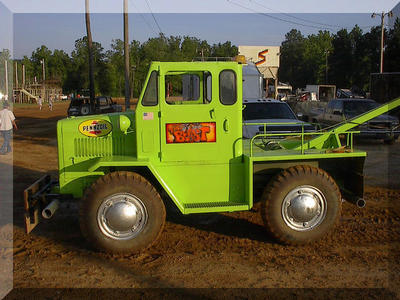 WELL THIS IS THE NEWEST MUD PUPPY FROM THE BOYS AT PARKER AUTOMOTIVE GROUP IN LITTLE ROCK...RANDY PARSLEY , RICHARD GREENE AND ROBERT TAYLOR HAVE PUT A LOT OF HOURS ON GETTING IT READY FOR THE TRACK...SPECIAL CREDIT GOES TO GLEN AND ALLAN BROWN FROM "GLEN BROWN EXCAVATING" FOR ALL THEIR ASSISTANCE ON THE PROJECT...ALSO FRANK McCOY'S WELDING AND THE PEOPLE AT PENNZOIL/QUALITY DISTRIBUTING...IT CERTAINLY TAKES A GROUP OF DEVOTED PROPLE TO PUT THIS BEAST ON THE TRACK....
IT IS BASED ON A 1972 COLEMAN U.S. AIR FORCE TOW TRACTOR...POWERED BY A 318 DODGE AND HOOKED TO AN ALLISON 4-SPEED AUTOMATIC TRANNY WITH 4-WHEEL DRIVE AND 4-WHEEL STEER.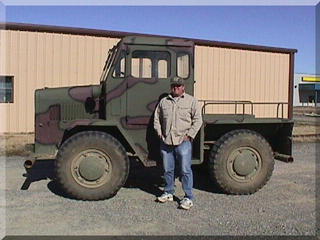 THEY HAVE ADDED A 10,000 lb. PIERCE WINCH ON AN EXTRA LONG TOW BOOM....THIS GIVING THEM THE ADDED LENGTH TO PICK UP A SPRINT CAR WHOLLY INSTEAD OF DRAGGING IT....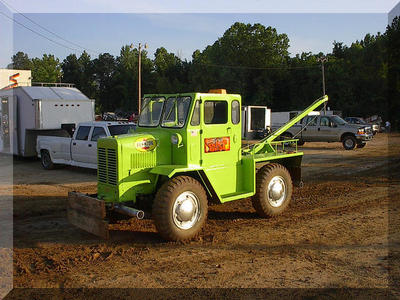 THERE CUSTOM BUILT PUSH BUMPER IS MADE WITH 2 INCH THICK OAK BOARDS...TOP PUSHING SPEED IS 25 MPH WHICH IS OBTAINED IN THE FIRST 20 FEET...FAST ENOUGH TO START A SPRINT CAR....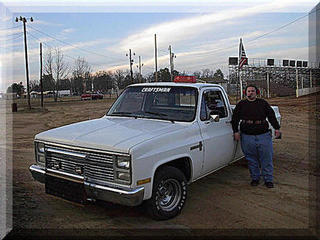 SAMMY BAER

Sammy Baer has been working at I-30 Speedway in Little Rock for the last 7 years...He has been pushing the last 2 years with his daily driver,"White Lighting" shown here..It is a 1985 2wd Chevy longbed pickup that is powered by a 350. ....His mother and dad have worked at I-30 for 12 years, his dad a paramedic and back-up flagman and his mother working line-ups.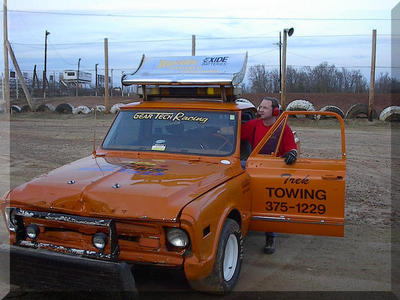 ROBERT TAYLOR

Robert Taylor shown here with "Punkin", I-30 Speedways "Official" push truck..This rig is a dedicated pusher and is not street legal..."Punkin" is a 69 short wheel base that was donated by our wrecker service as a theft recovery...It has a 350 with a mild cam, but no other real mods.  Since the truck is not street legal it has to left at the track during the season... Robert tried for several years running dirt late model tires on the truck but never could keep them aired up for a full night..He was always having to keep an air tank handy..They now are running a set of Goodyear Eagles off my teams All-Pro asphalt late model...They have not lost any air in over a year but he found out that they had to be grooved,though...Slicks didn't work good in the pits pushing....
Robert is assisting Randy Parsley in the Build a Truck project....This was the first pusher they built 5 years ago, and other than some heavy front end damage several years ago by an out of control IMCA car it has worked well...The heavy grill guard was added after the collision

Back to JimmyJeeps Front Page
Copyright © 2005, JIMMYJEEPS PUSH TRUCK WORLD, All Rights Reserved.