Randy Parsley has been pushing for a most of a decade at I-30 Speedway in Little Rock, Arkansas a 1/4 mile clay oval... He built a '67 chevy 2WD pusher in 1994 and it has lasted for 8 seasons, but it is just about worn out all over.
So he is in the process of stripping a '87 4WD suburban that will become a true track vehicle....It will contain fire equipment and a light wrecker boom for lifting wadded up sprinters that wont roll after a nasty tumble....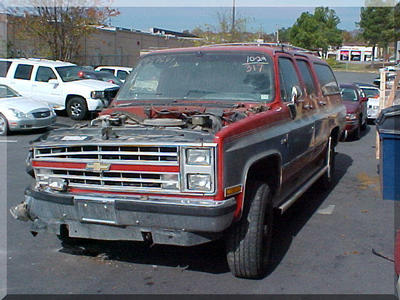 They intend to make this more of a functional vehicle then the old chevy "push truck.".. We will post photos of the project as it progresses.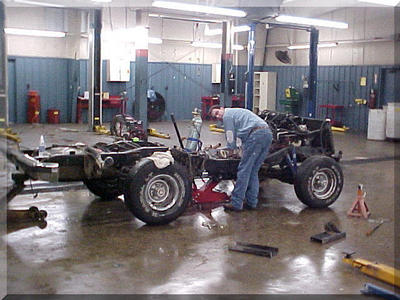 With the body removed Richard "sawzall" Green has taken about 36 inches from the middle and cut another 16 inches off of the rear behind the rear axle...That will give them about a 94 inch wheelbase and about 168 inches overall length.  This should let it be a little more maneuverable..

They are trying to make this a fine track vehicle , or at least they are hoping it will be anyway.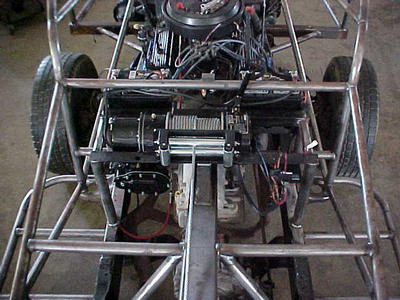 The gentlemen who is doing the fabrication is a true artist, and these photos don't begin to do his work justice.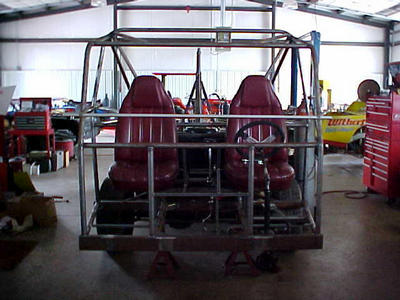 His name is Steve "Wink" Winkler and the shop they are in is Loux Motorsports of Little Rock...They do some great metal and fabrication work on racecars of all kinds. 

 Even with the motor off the hydraulic cylinder steering system still lets them steer it.  After that they will hang the body and be ready to roll.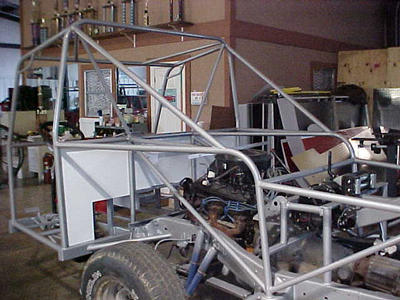 Lots of detail going into this truck..From a front engine vehicle to mid-engine..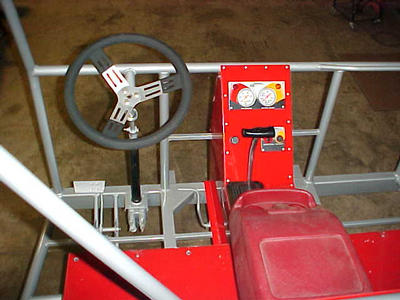 A quick release steering wheel from Summit Racing and Longacre gauges..Look at the detail its so nice and clean...Steve Winkler's fabrication is very professional..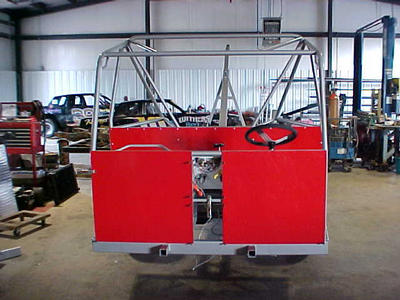 Now were getting into the finishing stage with the custom fabricated pre-coated aluminum panels being installed..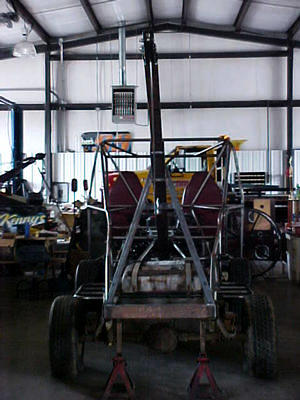 Rear shot of the boom area...Very well built and secured to the frame..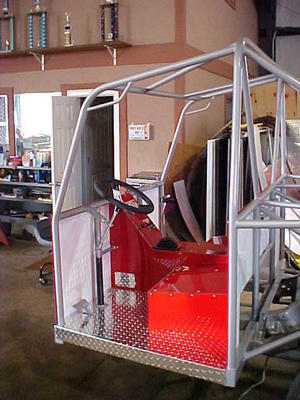 Shiny diamond plate floors...Easy to clean floor areas...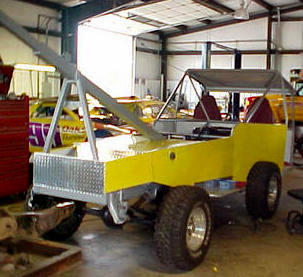 Doesn't that look neat...The colors really make it a class act..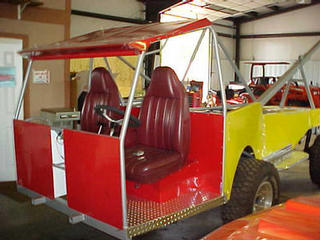 Does it have to get dirty...A show and shine vehicle..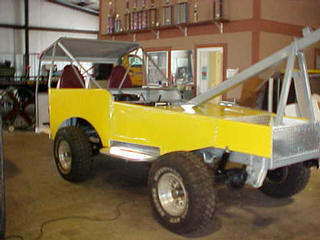 Makes you wish you had one as a kid to play in the sand box....Love those colors..

RETURN TO JIMMYJEEPS FRONT STRETCH
Copyright 2004 JimmyJeep All Rights Reserved