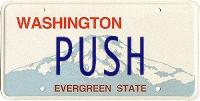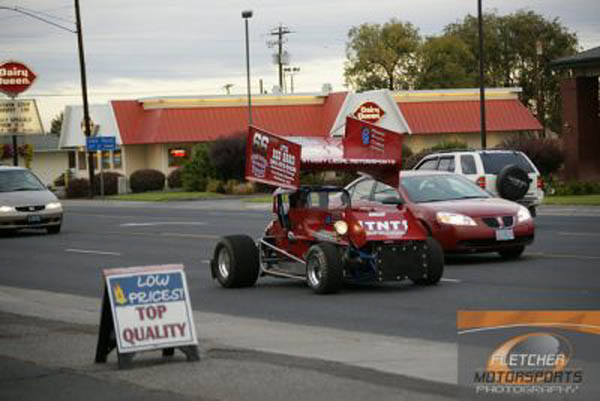 GET OUT OF MY WAY AS TOBY TOBASH CRUISES IN DOWNTOWN HERMISTON, OREGON..HE WAS AT THE NEWLY REOPENED COLUMBIA MOTOR SPEEDWAY AND DECIDED TO TAKE A DRIVE..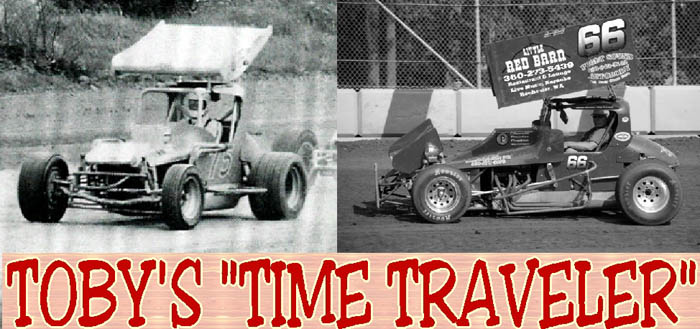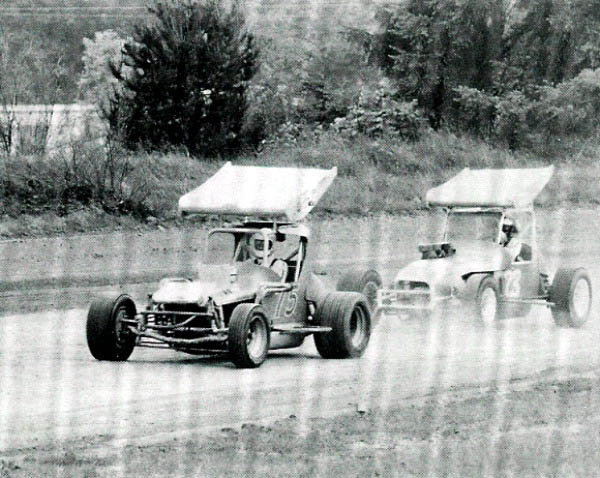 THIS IS RICK GREVES & RAY STEVENS AT ELMA SPEEDWAY IN THE EARLY 70'S..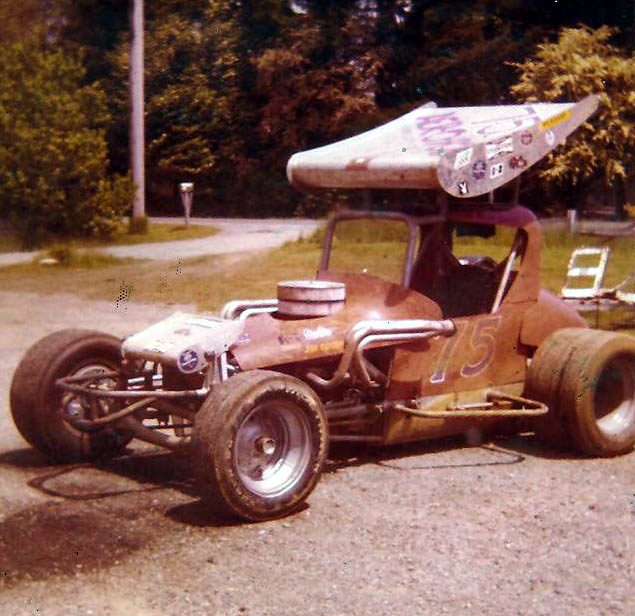 TOBY TOBASH BOUGHT CAR #75 WHICH WAS OWNED AND DRIVEN BY RICK GREVES IN THE 70'S..THE ENGINE IS A 292CI MODIFIED 283 CHEVY WHICH WAS BORED AND STROKED..THIS IS THE ORIGINAL RACE MOTOR WHICH IS STILL IN THE CAR..IT WAS BUILT BY JOHNSON MACHINE IN OLYMPIA, WASHINGTON IN 1969..
THE CAR WAS ORIGINALLY REGISTERED BY STEVE PARKER AS STREET LEGAL IN 1982 WHEN THE TRACKS WENT TO THE NEW SPRINT CAR TYPES OF TODAY..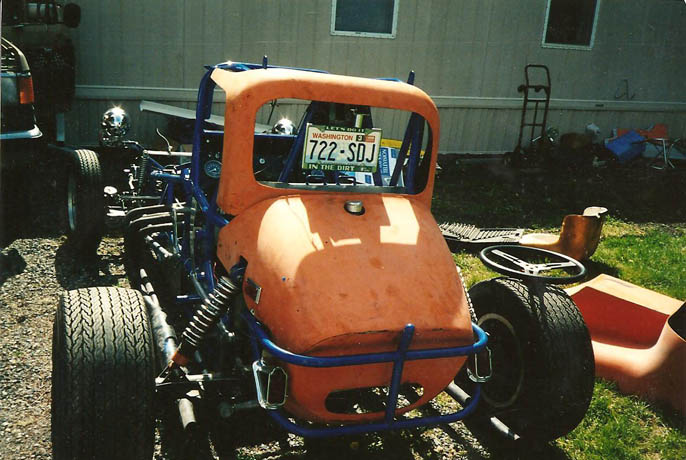 TOBY TOBASH BOUGHT THE CAR IN 2001 AND STARTED REBUILDING AND FINISHED IN 2003..THE CHASSIS IS THE ORIGINAL WHICH WAS BUILD IN 1969 BY ED KVISTAD IN BREMERTON, WASHINGTON..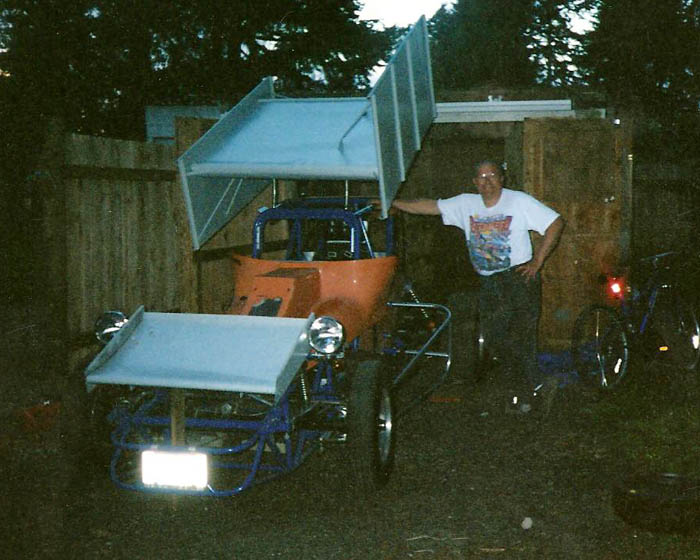 FITTED WITH A NEW STYLE WING IT WAS GETTING CLOSE TO COMPLETION IN TOBY'S BACKYARD..
NEW COLOR AND NEW TIRES IT SURE LOOKS GOOD..TOBY'S "TIME TRAVELER" SURE IS A NICE PUSHER..
TOBY TOBASH HAS HIS NEW PAINT AND GRAPHICS ON PUSH VEHICLE..HE IS SEEN PUSHING AT RIVER CITY SPEEDWAY IN ST. HELENS, OREGON..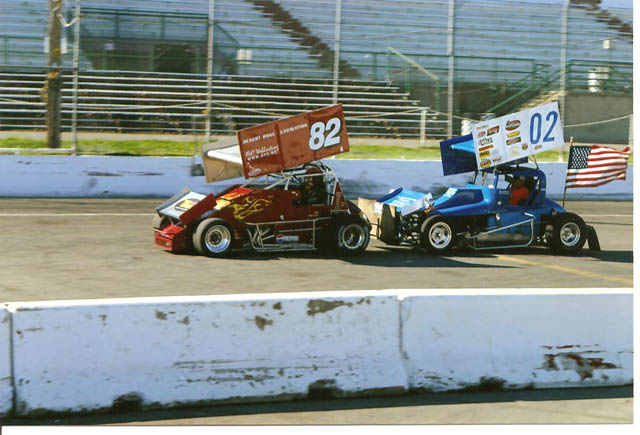 WE WELCOME MICHAEL "TOBY TOBASH" AS THE NEWEST MEMBER OF JIMMYJEEPS PUSH TRUCK WORLD..HE IS FROM OLYMPIA, WASHINGTON AND DRIVES A 70'S STYLE MODIFIED/SPRINT PUSH CAR..THE PUSHER IS STREET LEAGAL AND DOES A GREAT JOB ON ASPHALT..THE CAR WAS BUILT BY ED KVISTAD IN BREMERTON, WA. AND WAS DRIVEN BY STEVE PARKER FROM OLYMPIA. WA..THE CAR HAS HAD A 292 CI ENGINE IN IT SINCE IT WAS BUILT..THE CAR USED TO PUSH AT GRAY HARBOR RACEWAY IN ELMA, WA, WHEN IT WAS A 1/2 MILE..SKAGIT SPEEDWAY IN ALGER, WA, AND THE OLD SKY VALLEY SPEEDWAY..SHOW PICTUED HERE IS TOBY PUSHING OFF MONTE ZEMA #82 AT EVERGREEN SPEEDWAY..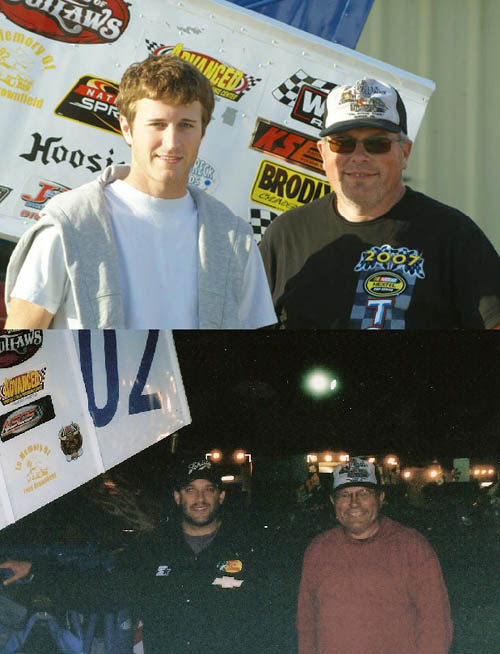 KASEY KAHNE AND TONY STEWART ARE SOME OF TOBY'S FAVORITES..
BEFORE WHEN HIS CAR WAS ON THE RACE CIRCUIT AND NOW AS A PARADE FAVORITE & PUSH VEHICLE..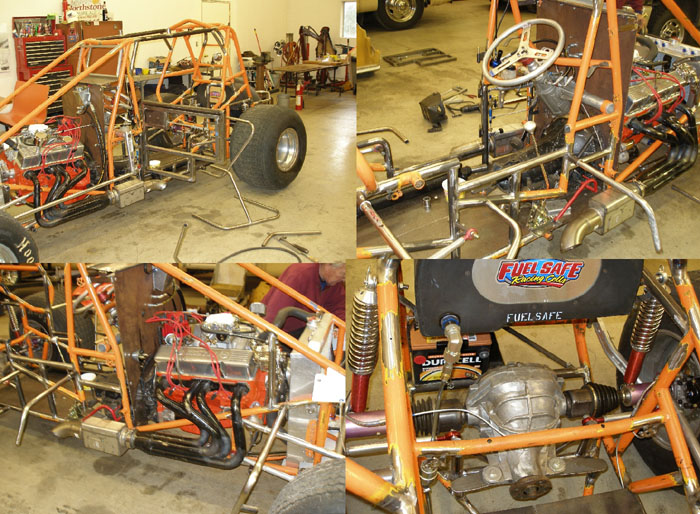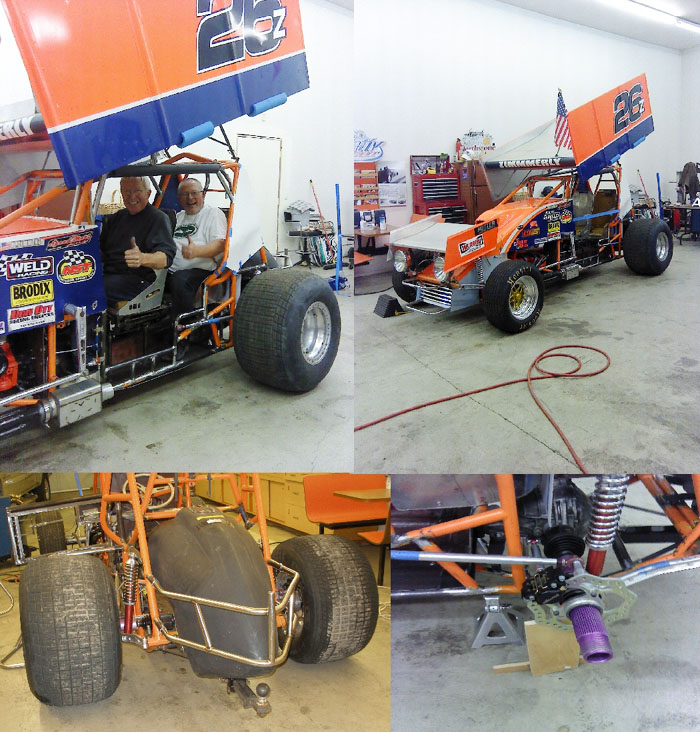 Toby Tobash writes: I have been busy up here in WA. helping a friend, Ken Holtmann build a new car..It is not ready yet but I am sending you some pictures of the the construction of it, hope you like it..The chassis is a 2003 Rocket built by Shawna Wilsky & Ben Curtis..We stretched it 26" for the second seat, we have a 350C.I. Chevy Engine with a 4 barrel carb, 3 speed tranny & a Lincoln Mark 9 rearend mated to sprint car axels, 4 wheel disc brakes & independent rear supension & coil overs on all 4 corners..The seat frames are also out of the Lincoln and are electric & mated to Joe's racing seats, five point harnesses front & rear, the car has head lights, tail lights, turn signals, stop lights & running lights, LED's will be on the top wing & nose wing along with flashers front & rear run by a Galls wig-wag flasher sys..I have also installed this sys. on my street legal sprint car/ push car, very easy to tell me from the regular sprint cars..It will also be equipped with CB radio, & charging sys. for phones & other accessories, a trailer hitch for towing, 28 gal. Fuel Safe fuel cell that will take methanol or pump gas, push board, we have modified the left side for a door for easy access & much more..The car will have street legal Hooshers on all for corners with wide 5 sprint car rims on the front & left rear sprint car rims on the rear. We hope to have the car ready by the end of April 2013..Sent you a couple of photo's with the car mocked up setting on tires..Hope you like them, will have the finshed photo's soon I hope with my trailer & car hooked up to it.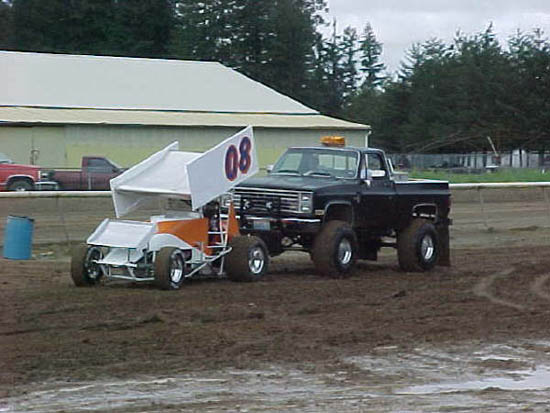 RYAN JOHNSON FROM THE ELMA, WASHINGTON AREA WHO PUSHES AT GRAYS HARBOR RACEWAY...HIS 4x4 TRUCK IS 1986 CHEVY 1/2 TON WITH A 350 MOTOR..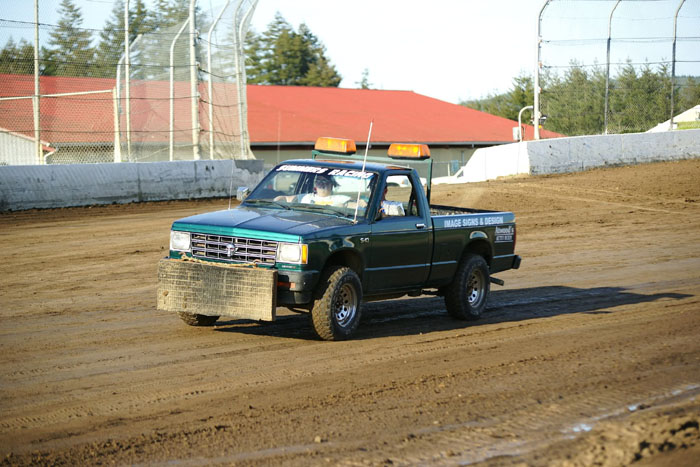 DUSTIN SUMMERS..(John Fletcher photo)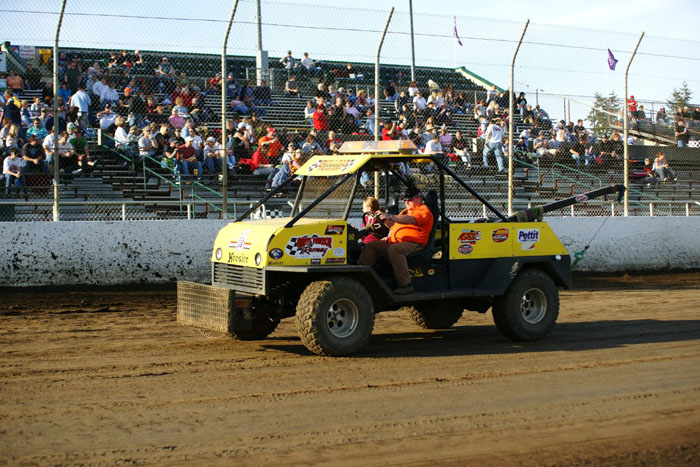 TIM HOLMES..(John Fletcher photo)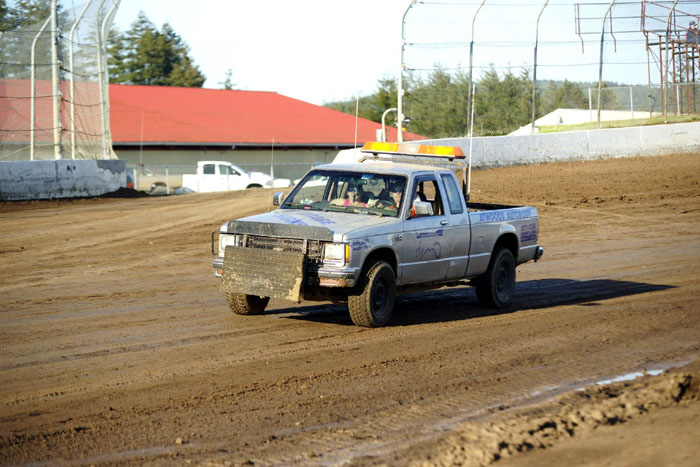 ED SUMMERS..(John Fletcher photo)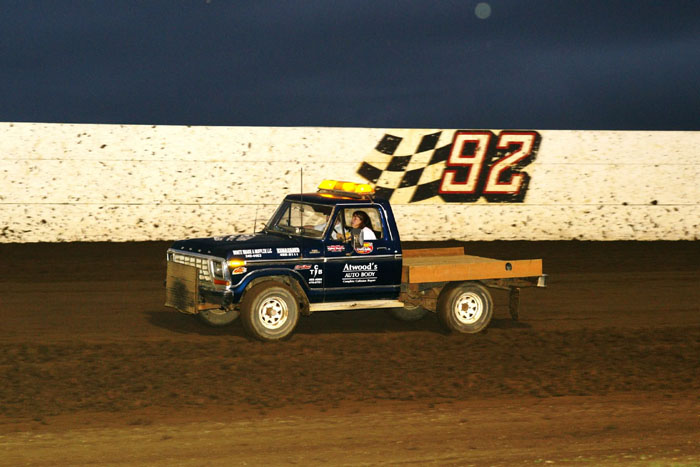 BRANDY BACHMAN..(John Fletcher photo)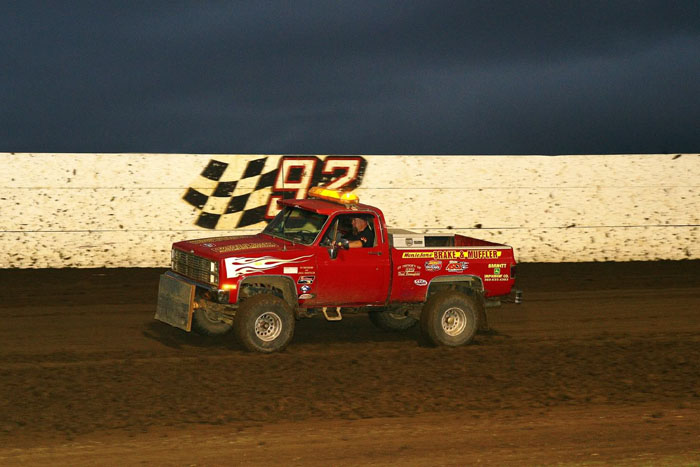 DAVE DAVIS..(John Fletcher photo)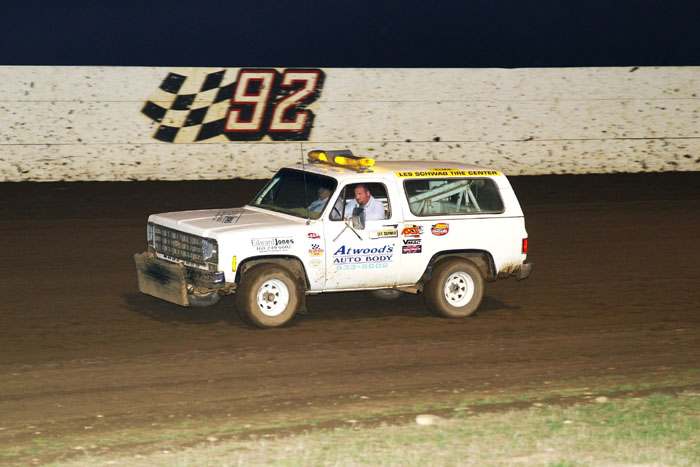 DONNIE GIBSON..(John Fletcher photo)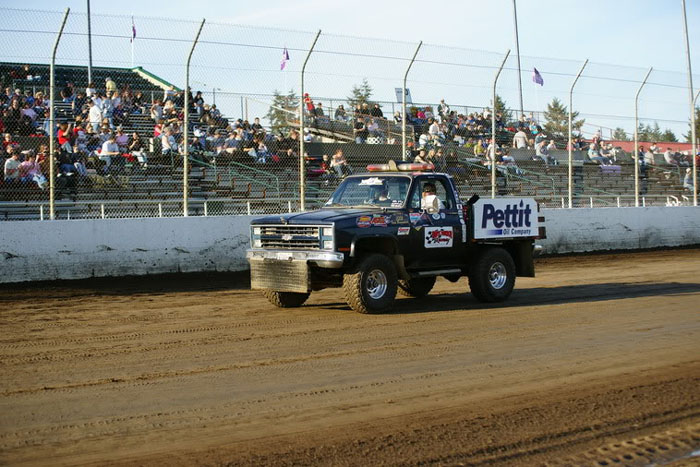 FRANK HENJA..(John Fletcher photo)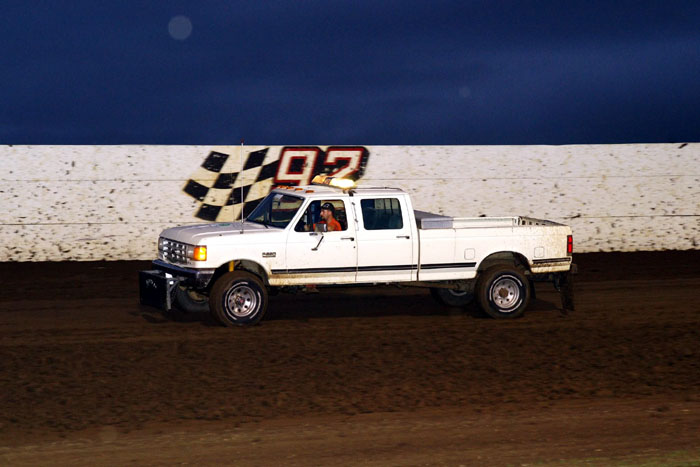 MICAH MULLINS..(John Fletcher photo)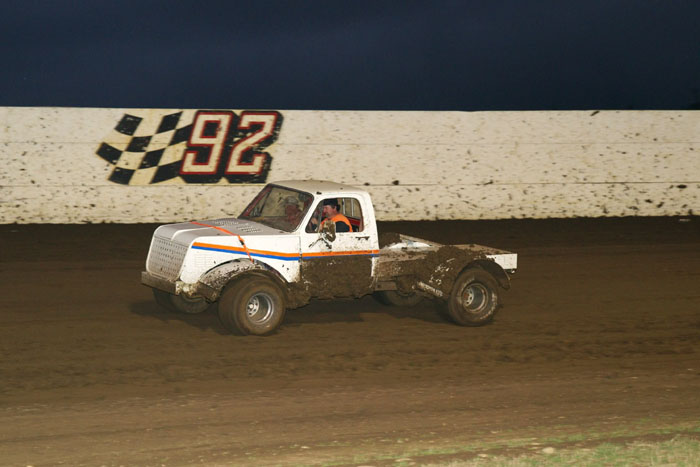 MUD TRUCK..(John Fletcher photo)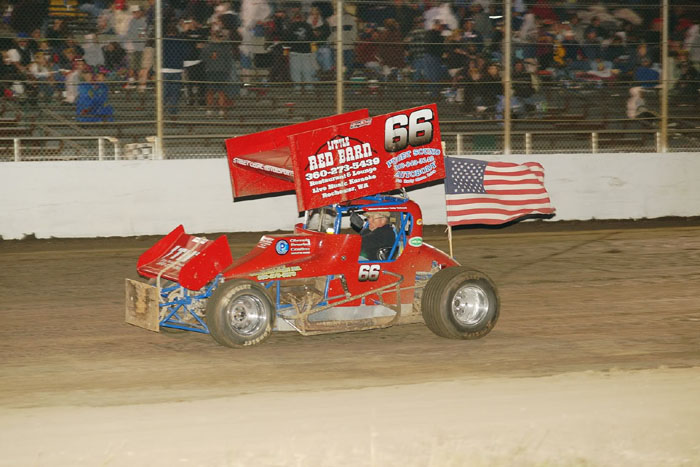 TOBY TOBASH..(John Fletcher photo)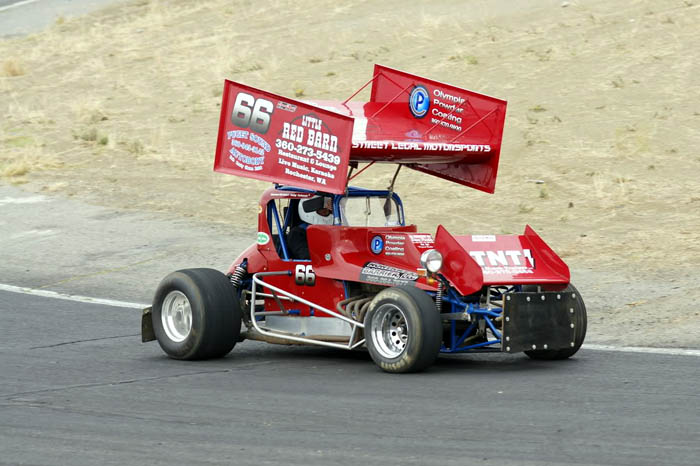 TOBY TOBASH..(John Fletcher photo)



My name is John Krause and I am a member of the Cascade Push Truck Association..My truck is a '71 Chevy 3/4 ton 4/4 drop with a 350 engine backed by a 700R4 tranny, great for launching Sprint cars. The wheels are very old 16 inch aluminum spokes that are about 9 inches wide. The tires are BFG 275 50 16's. Some thing you may want to think about is where we have our fire extinguishers. If you can see just behind my board is a 2 1/2 gallon extinguisher with a water and Cold Fire mix. I also have a 5 lbs dry chem as well as a jug of track dry (we only push asphalt) and my back-down strap also. I hope you like what you see, let me know what you think. Keep on pushin!!!!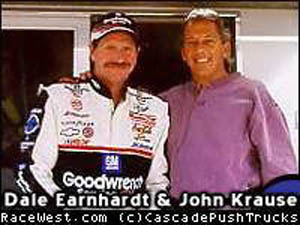 DALE EARNHARDT AND JOHN KRAUSE

JOHN KRAUSE UPDATE---APRIL , 2002

Asfor me I'm doing pretty good. Every now and then a different part of my body will hurt and sometimes more then one spot. Right now I have pain in my ribs, neck and left foot. All parts that we pretty trashed in the accident. The worst part is the ribs, boy can those bring tears to my eyes when I sneeze. Other then that I'm back to pushing and staying out of the way of fast moving race cars...


JOHN KRAUSE STORY---8/19/01
by Rebecca Schaaf
Monroe, Wa.( Aug. 5, 2001) - Saturday night John Krause made an official 'come back' out here at Evergreen Speedway. He not only came out to the track, but he worked. He drove his truck with the Cascade Push Truck Association. What is ironic is this is the exact same line-up as the accident occurred during at the beginning of the season. He even pushed the same driver who accidentally hit him on that fateful night. It is my understanding that they have become pretty good friends through all this. I managed to catch up with John at the end of the evening with only 6 laps to go in the Raybestos Brakes tour race. I walked up to his truck and introduced myself and he made the comment, "You know it is exactly 4 months to the day since the accident." I had not idea. I told him he looked great, which he did. He immediately introduced me to his wife, Shelly and said, "She is the reason I made it and am here today to talk about it." He said he had over 100 broken bones in his body and through all the rehabilitation and his friends and family support, he is here today. I asked him how long he had been in the hospital and he said, "Five long weeks. I was so happy to get out have there and get home to start being a dad again". John and Shelly have 2 daughters, Kassidy who is 5 and Lindsey who is 8. He said, "Have been coming out to this track for 20 years and doing the Push Truck job for 12, I just had to come back, I love it." At the beginning of the evening just before the races began, speeches were given by the announcers and IPI President, Mickey Beadle, welcoming John back and he was presented with a #3 Dale Earnhardt blanket. There were pins I saw people wearing that were photos taken with Dale and John, arms around each other at a race where John had met Dale. It simply state, 'thanks for the support'. To say the least, it was an emotional night at Evergreen Speedway. WELCOME BACK JOHN ................................................ Seems that his trany broke that night in his push truck and he was helping the track crew with an oil spill...He got hit by a sprint car doing 80 mph during a caution while he was on the track...While he has been laid up his friends and the towing company that helps out at the track repaired his trany...

The CASCADE PUSH TRUCK ASSOCIATION by Bob Coyle

The Washington State club consists of 16-20 trucks who mainly work on pavement. We have pushed all over Washington, about 11 tracks and have sent trucks to Oregon and Idaho up to 800 miles away. We support our home track which is Evergreen Speedway in Monroe WA for nothing and try to get fuel expenses to the out of towners. The local open wheel groups appreciate our work and are very pleased when the guys in Orange are pushin the event. I must brag, a group of our members started invading the Copper Classic in Phoenix about 6 years ago and have sent open wheel pushing to a new level for that event. That is a quote from the speedway steward and management. We all wear uniforms and have radios (2 ways and scanners) Out the twelve trucks that Chevrolet supplies for that event we now get to drive about eight, what a thrill in February after not pushin for 4 months...
NOTES FROM THE 2003 COPPER CLASSIC-- John Krause has sent us a report about their road trip to Phoenix and the Copper World Classic...This was their 7th year and of the 10 trucks provided for pushing their club got 9...This year they only pushed Midgets and helped with the Silver Crowns when they asked...Before they also had the Supermodifies to work with and thought they would be board with out them... But they had as much fun as ever (when don't you at a race track)...  Attached is a picture of the kind of transportation they got free of charge from their home track.  It was pretty rough driving the 3500 miles in 10 days.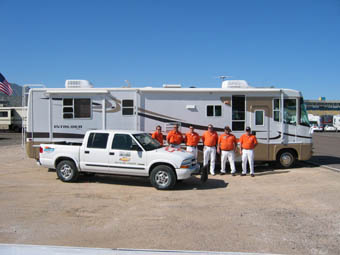 Members of the Cascade Push Truck Association at PIR

They also be having , for the first time in Washington area , the USAC Western States Sprints...USAC wants them to push at all the tracks in the NW that they will be stopping at...After working with these guys for 7 years you start to build some trust and get comfortable, so they hope to put on some good shows up there.
[ NOTES FOR 2002 COPPER CLASSIC-- We also did go to the Copper World this year and had a great time. Of the 10 trucks pushing out club got 7 of them and it looks like we may get more next year. I don't know if I ever said, but they give us brand new Chevy S10's to use so we just have to show up...The only problem we had was the drive home. I-5 was closed north of LA for snow so we went around towards the coast, so the part added 3-4 hours more, but shorter then waiting for the snow to melt. Then we made a wrong turn when we got back on I-5 and started to head to Oakland, that cost us another 3-4 hours. SO the trip home was 30 hours long. We've been talking since we got back and this is the third year we've drove down and each year the van rental is about $500. So we are going to look for a cheap van that we can fix up and use that to go down for the next few years. So, we're taking donations!!!]
We have association rules, bylaws, vehicle standards, and required equipment that we have developed over the years. We include strobes, rotating beacons, backdown straps, fire extinguishers, tow straps, minimum and maximum push board dimensions and vehicle appearance..

Back to JimmyJeeps Front Page
Copyright © 2013, JIMMYJEEPS PUSH TRUCK WORLD, All Rights Reserved.