A BAD SITUATION HAPPENED TUESDAY NIGHT (7/24/01) AT LERNERVILLE WHEN SAMMY SWINDELL RAN UNDER A PUSH TRUCK DURING TIME TRAILS..THE BAUMAN'S COMPUTE—ALIGN PUSH TRUCK DRIVEN BY KEITH STIVENSON HAD PUSHED OFF TIM SHAFFER AND HIS CAR HADN'T FIRED IN THE ALLOWED PUSHING LANE ON THE TRACK.. NOT WANTING TO DUMP THE CAR WITH SAMMY SWINDELL ON THE CLOCKS HE KEPT WITH HIM TO GET HIM OUT OF HARMS WAY...THIS TURNED OUT TO PUT HIM IN A DANGEROUS WAY....
HE WAS HIT AT OVER 105 MPH AS SWINDELL DROVE UNDER THE TRUCK...AS WHAT I CAN PUT TOGETHER SAMMY LOOKED AT THE POSTED TIME ON THE BOARD FROM HIS FIRST LAP AND NEVER SAW THE TRUCK...SAMMY HAS NUMEROUS INJURIES BUT NONE LIFE THREATENING...KEITH'S PREGNANT WIFE LINDA WAS IN THE TRUCK WITH HIM BOTH ARE SAID TO BE WELL..BUT I KNOW THEY MUST BE HURTING FROM THE INPACK...I TALKED WITH ART MALIES TONIGHT AND HE I KNOW IT WAS ONE OF THOSE THINGS THAT JUST HAPPENED..WE CAN PUT IT IN STEPS LEADNG UP TO THE ACCIDENT AND ITS HARD RESOLVE...THE PUSH TRUCK WAS TOTALED BUT THEIR HEALTH IS MORE IMPORTANT..
CLICK HERE TO VIEW THE SWINDELL VS PUSH TRUCK CRASH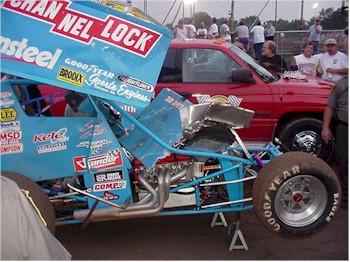 PHOTO BY WADE BREON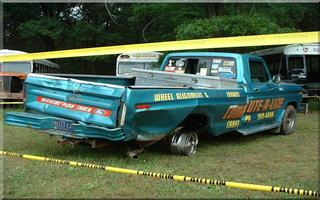 PHOTO BY ED SPANGLER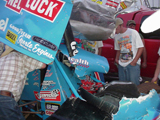 PHOTO BY WADE BREON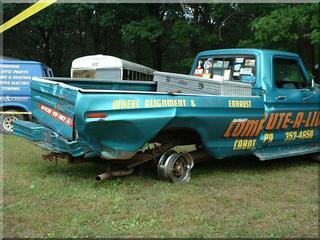 PHOTO BY ED SPANGLER
STORY BY ED SPANGLER
Sammy was on the second of his time trial laps and was looking at the scoreboard in the infield,to see his times. At Lernerville when a car completes his first lap we push the next car out so we have a car continuously on the clock. I believe it was Tim Shaffer that was being pushed off and his car wouldn't fire till about 1/2-2/3 of the way down the front straight. The pushtruck didn't have time to get off the track and since Sammy wasn't watching where he was going he plowed directly into the rear of the truck. He never left off the throttle and said he never saw the truck. It was a 1/2 ton Ford and on inpact the rear bumper was over the steering wheel. The bumper went right over the top of the engine and took off the injecters, bent the down tubes back into the cockpit and pretty much destoyed the front of his car. The pushtruck is junk! The bed is buckled the rear end was torn loose and the frame must have twisted pretty bad because the radiator blew. The passenger in the truck is supposedly 5-6 months pregnant. Sammy's car stopped dead on impact and the pushtruck probably slid about 75 yards. I can't believe Sammy walked away from it. I really thought he was dead.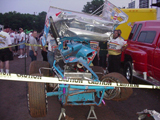 PHOTO BY WADE BREON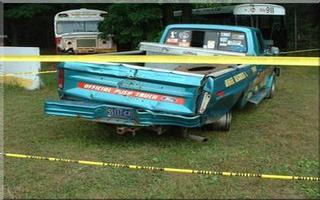 PHOTO BY ED SPANGLER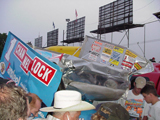 PHOTO BY WADE BREON

RETURN TO JIMMYJEEPS FRONT STRETCH
Copyright © 2013 JimmyJeep All Rights Reserved