"THE INDIANA MILITIA PUSH TRUCKS"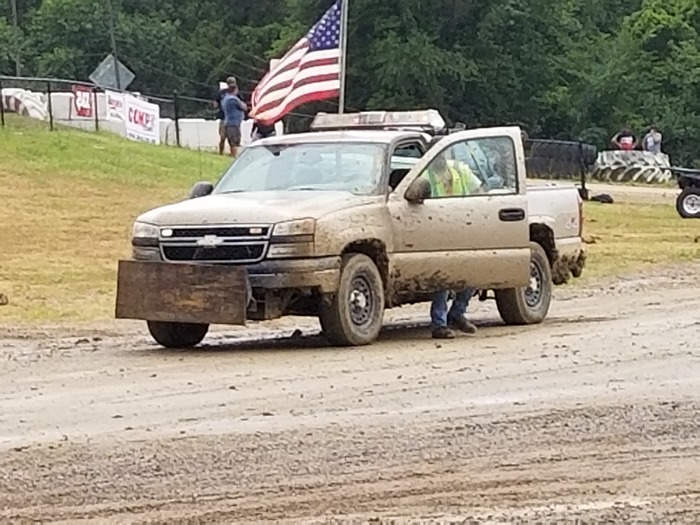 JACK STONER IS A PUSHER WITH HIS 2006 CHEVY SILVERADO AT PLYMOUTH SPEEDWAY IN PLYMOUTH, INDIANA..HE IS A WELDER BY TRADE FOR TOPP INDUSTRIES WHICH IS HIGHLY INVOLVED IN SPRINT CAR RACING..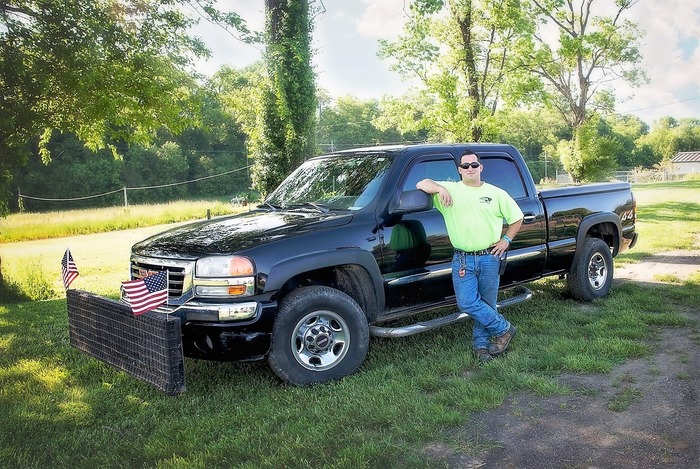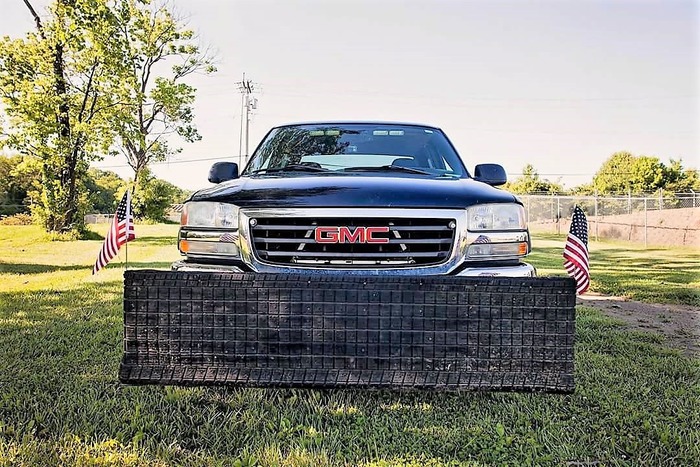 NICHOLAS TRULOCK FROM NORTH VERNON, INDIANA WITH HIS "BLACK BETTY" 2006 GMC SIERRA 4 DOOR 4X4 PUSH TRUCK..THE CUSTOM MADE BUMPER OF TWO INCH SQUARE TUBING COVERED WITH 2X6 TIMBER AND DRESSED WITH RECYCLED BIG RIGHT REAR TIRES IS HELD ONTO THE TRUCK WITH REESE HITCH CONVERSIONS..SAFETY LIGHTS ARE 3rd GENERATION LED STROBES IN FRONT AND REAR TAILIGHTS CONTROLED BY A PUSH BUTTON SWITCH BOX..2017 IS HIS FOURTH YEAR OF PUSHING AND LAWRENCEBURG SPEEDWAY IS HIS HOME TRACK NOW WORKING WITH BOBBY GUMP'S CRACK PUSH AND RESCUE TEAM..PREVIOUS TRAINING WAS FROM WORKING AT TWIN CITIES SPEEDWAY DOING EVERYTHING EXCEPT FLAGING..WORLD OF OUTLAWS, USAC MIDGETS, AND BOSS ARE SOME THE GROUPS HE HAS PUSHED FOR..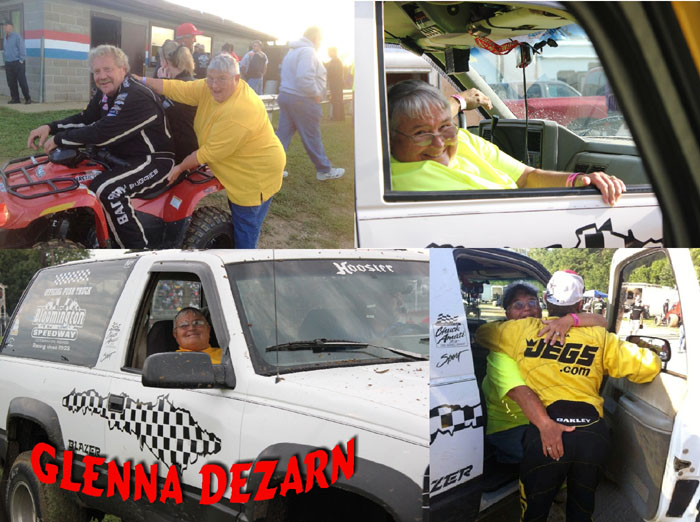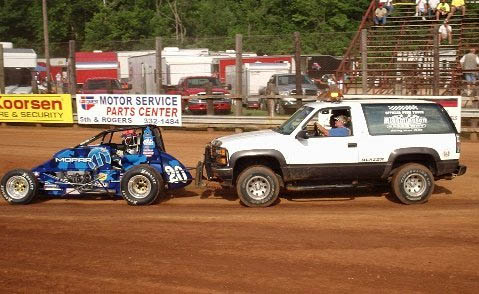 The name is Glenna Dezarn the lady with the big foot..Must of us know her as "LIL DARLIN" a name given her by former All Star official Rich Nichols...But sprint car drivers only know that when she's pushing you better be ready to go..(Joe Chambers photo)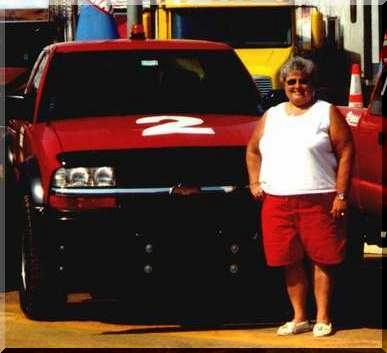 GLENNA WITH HER RIDE AT BRISTOL 2000
She is one of a handful of traveling pushers left in the country..I always anticipate seeing her and her "piano playing" shotgun Bobby Gill at Volusia in February...A regular at Bloomington and Lincoln Park and specials at Terre Haute Action Track...She was also one of Bristols Best 2000 & 2001...A hand picked group of pushers by Art Malies ...
A banker by trade from Bloomington ,Indiana for 38 years she schedules her vacation to go to the races...Which over the years has taken her to Ohio , Wisconsin , Florida , Georgia , Illinois , Kentucky and Bristol , Tennessee...Also new to her list last year was "The Dirt Track" at Charlotte , North Carolina...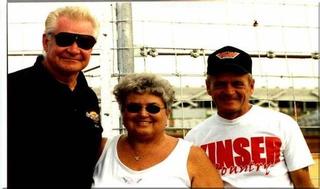 RICK FERKLE , GLENNA , and BOBBY GILL AT CHARLOTTE
She started pushing with her late husband Gene in 1976...Then in 1985 she got her own truck when her husband had health problems and later passed away in 1997...Her regular pusher is a black 1987 Ford Bronco with a spring loaded bumper..She also has a 1983 Chevy Blazer also black...The "piano player" Bobby Gill now maintains her equipment and started pushing in 1998 himself...He is one of the best for controlling traffic in the pits during time trials for push trucks that there is...You would think after working for the following groups : WoO , All Stars , USAC , NAMAR , and the Gumout series you wouldn't make a mistake....But if you do make sure its in a new Chevy S-10 in front of 40,000 people at Bristol when you do hit the inside wall.....I just couldn't let that go by....
A fan of all the drivers but being from Bloomington the Kinsers are at the top of the list...Now with Kraig Kinser driving she's hoping to add him to her list along with the legends of Bob Kinser and Chuck Amati...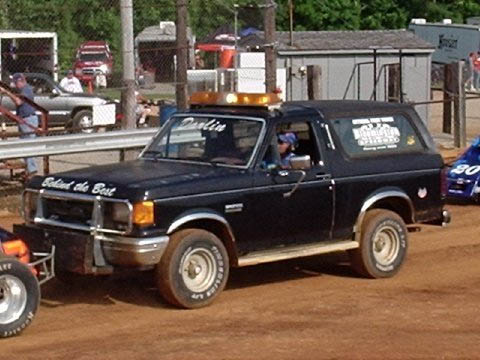 "THE PIANO PLAYER" BOBBY GILL GETS THINGS DONE IN THE OLD STAND BY BLACK FORD BRONCO..(Joe Chambers photo)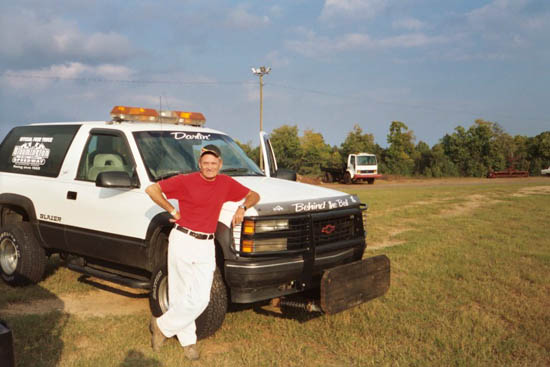 BOBBY GILL @ THE USAC SHOW AT LOWES SHORT TRACK OCTOBER 2004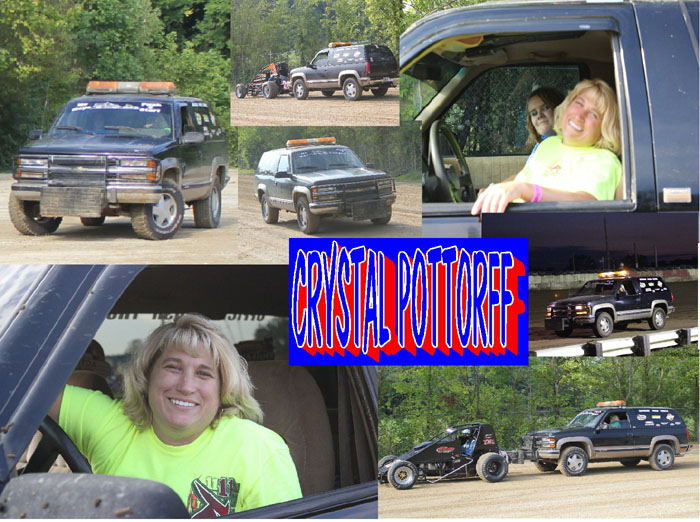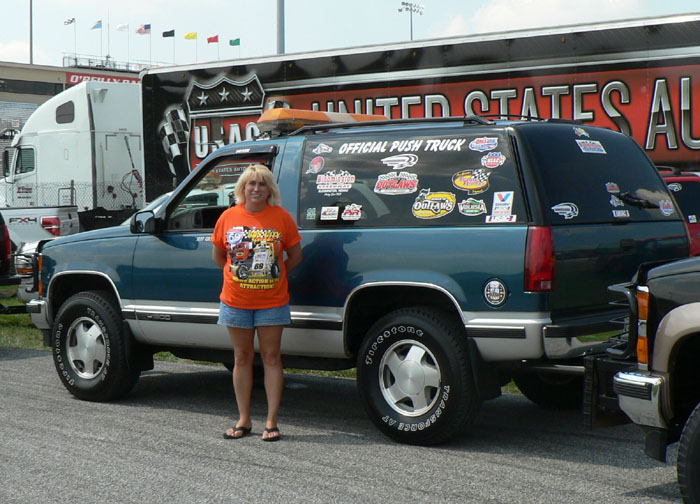 CRYSTAL POTTORFF FROM PARAGON, INDIANA IS NOW A FULL FLEDGED PUSHER..(G.Lacer photo)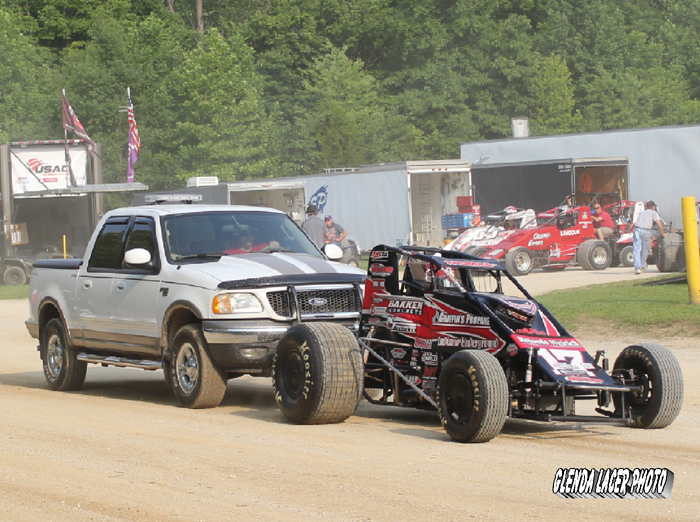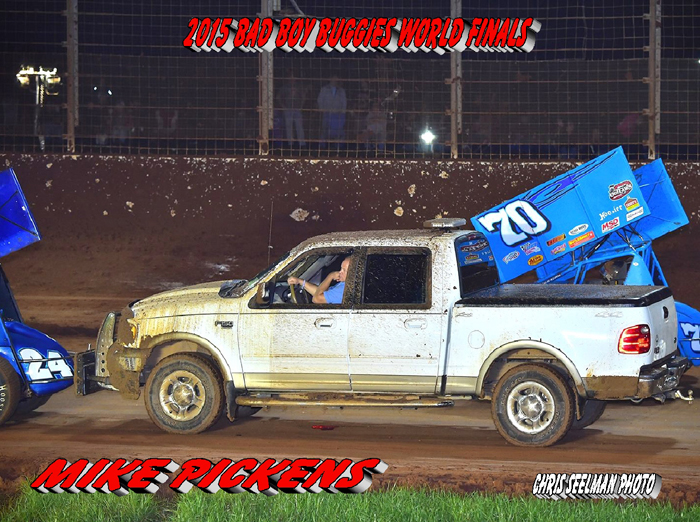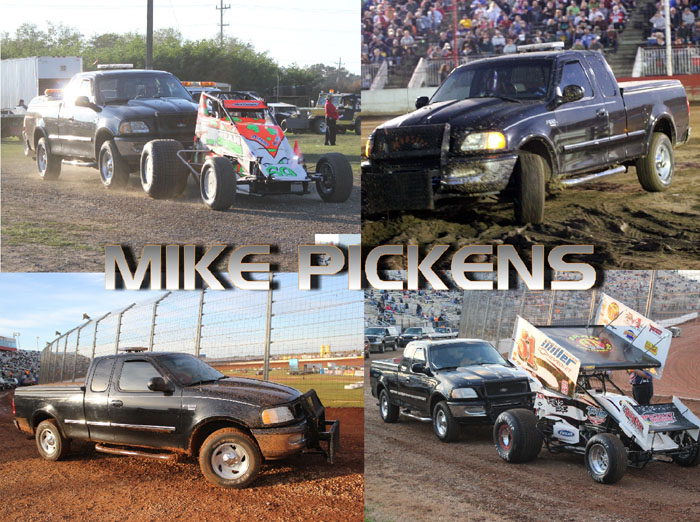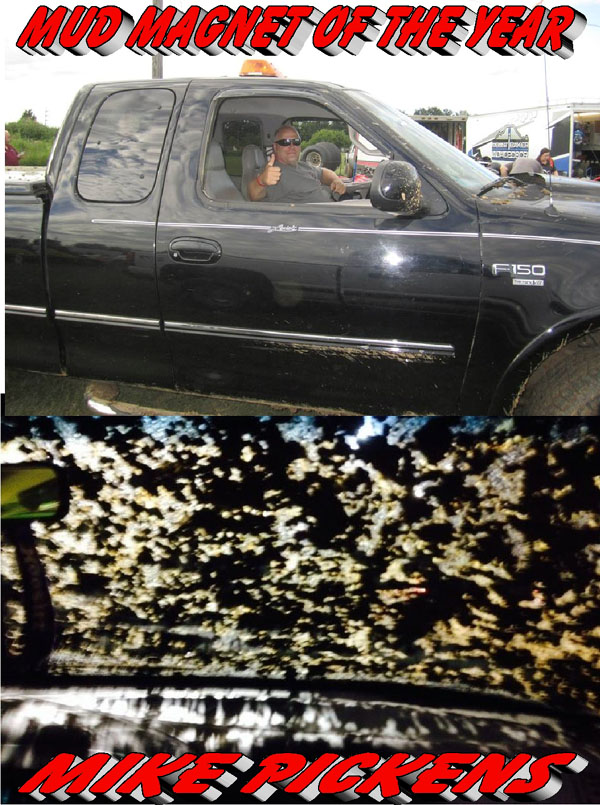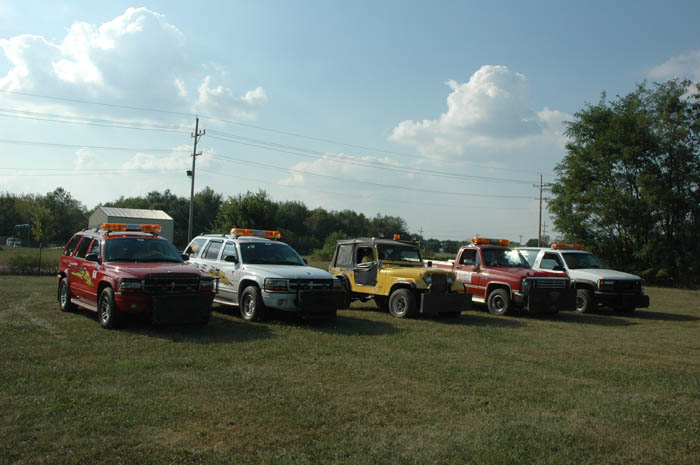 SOME OF THE INDIANA MILITIA PUSH CREW POSE AT THE TERRE HAUTE ACTION TRACK..FROM THE LEFT IS TIM CHAMBERS, JOE CHAMBERS, JIMMYJEEP, PAUL BROWN, AND BOBBY GILL AT TERRE HAUTE..(Adam Krackenberger photo)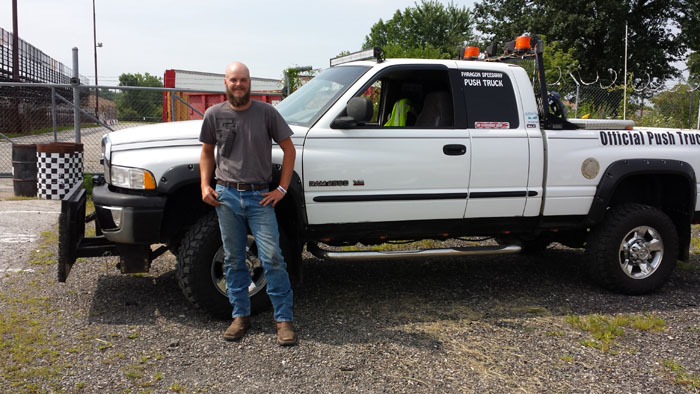 ANTHONY "AJ" EDGAR WHO PUSHES AT PARAGON SPEEDWAY SET UP OUR PUSH TRUCK CREW AT THE SPEEDROME..(Glenda Lacer photo)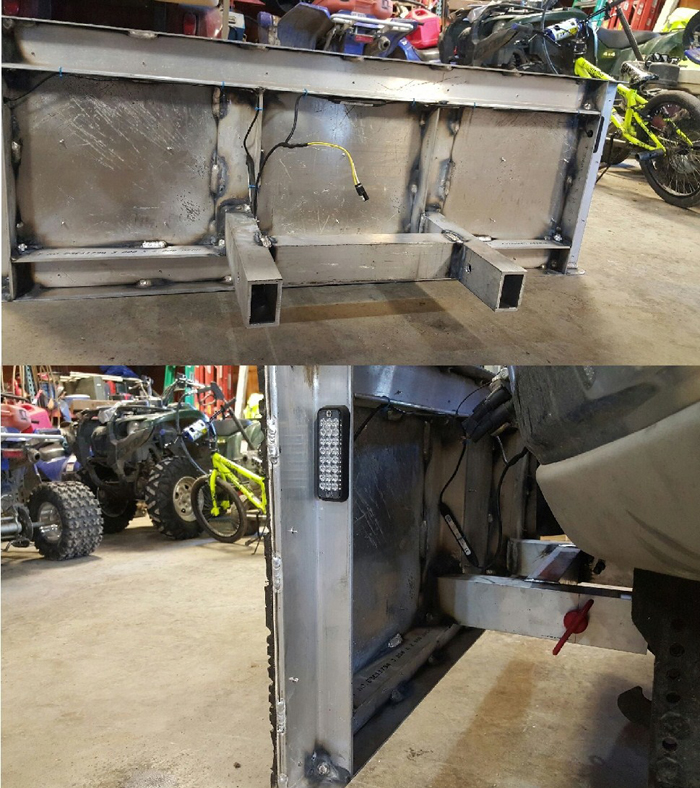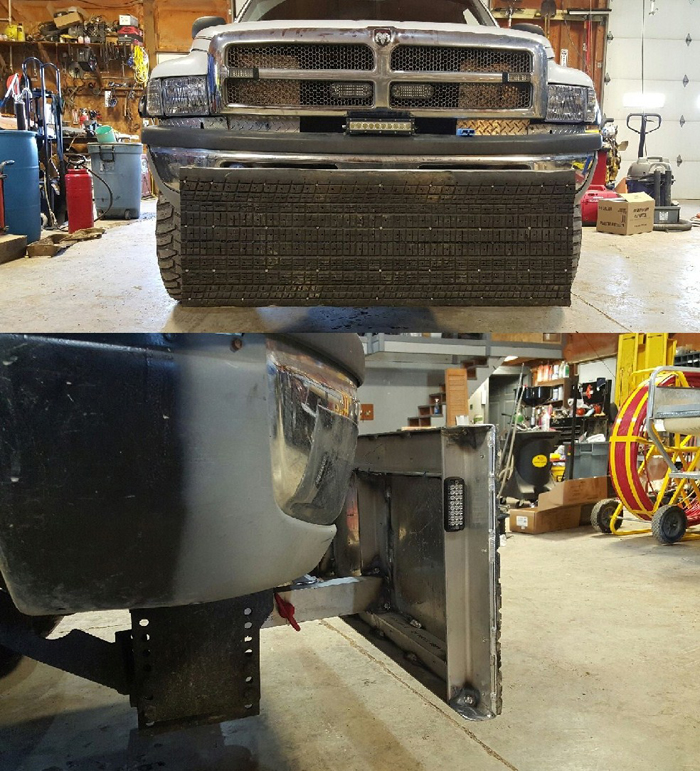 THE NEW ALUMINUM FRAMED BUMPER OF ANTHONY "AJ" EDGAR FROM MARTINSVILLE, INDIANA..("AJ" Edgar photo)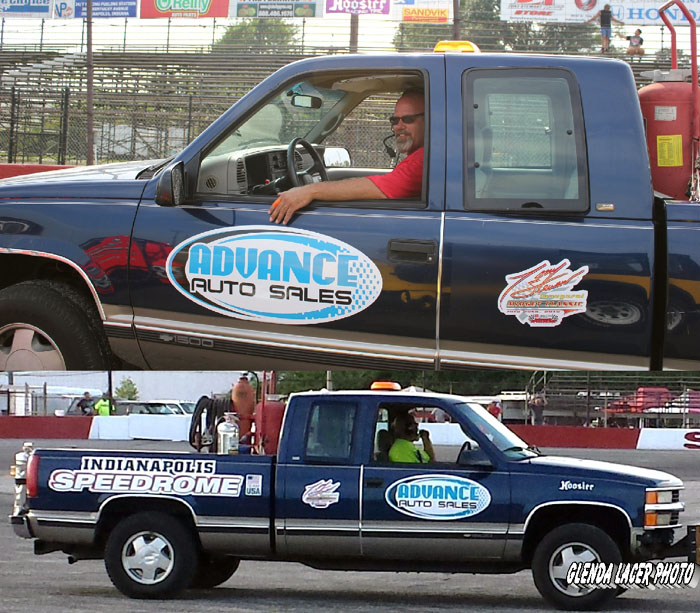 GERALD THOMPSON WORKS FOR THE 1/5 MILE INDIANAPOLIS SPEEDROME WHICH RUNS REGULAR FIGURE 8 RACES..(Glenda Lacer photo)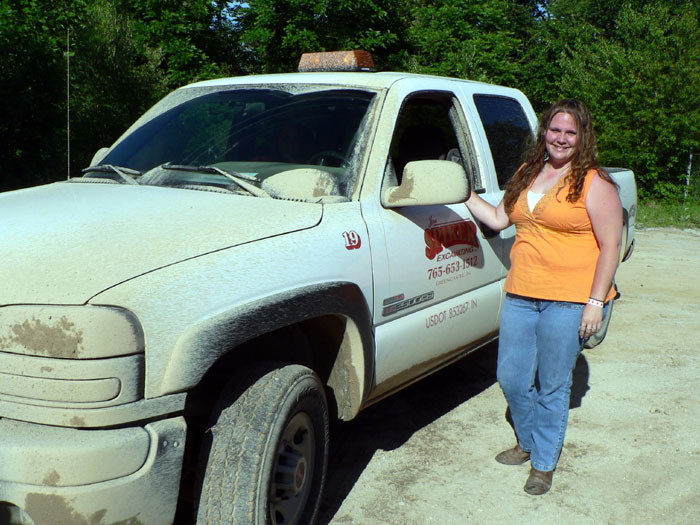 TRACY SMITH FROM GREENCASTLE, INDIANA HAS BEEN PUSHING AT LINCOLN PARK SPEEDWAY SINCE 2008..(G.Lacer photo)

YOU TAKE TWO BROTHERS AND TWO PUSH TRUCKS AND WHAT DO YOU GET..
MY TRUCK IS BETTER THAN YOURS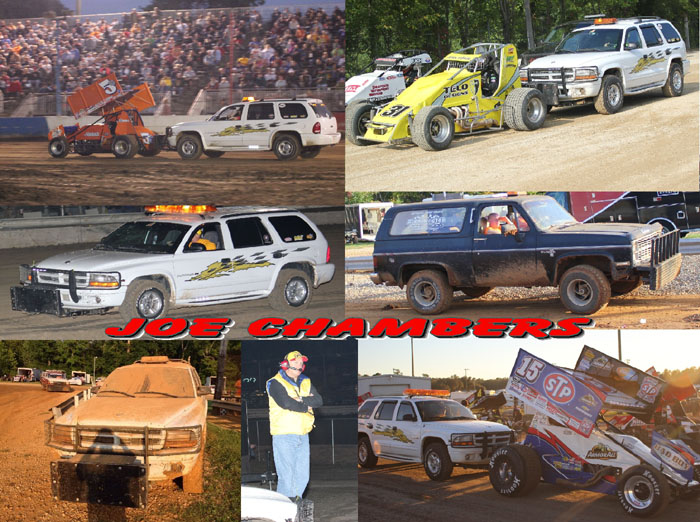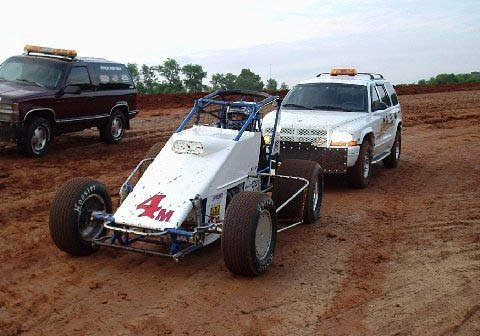 JOE CHAMBERS WHITE DODGE DURANGO..(Joe Chambers photo)
YOU TAKE A RETIRED PARAMEDIC WHO HAS WORKED THE RACES FOR YEARS WATCHING THE KINSERS, GORDON, SCHRADER, STEWART AND HUNDREDS OF OTHERS FOR FREE AND THEN HE RETIRES...NO PROBLEM FOR THE CAR SALESMAN HE BOUGHT A PUSHTRUCK..
JOE CHAMBERS FROM CLINTON, INDIANA CALLS LINCOLN PARK SPEEDWAY IN PUTNAMVILLE,IN. HIS HOME TRACK...BUT IF THERE'S A TRACK THAT NEEDS A PUSH TRUCK HE IS READDY TO GO...ONE OF THE FEW TRAVELERS HE HAS PUSHED AT BRISTOL,TN.,THE DIRT TRACK AT CHARLOTTE, N.C., TALADEGA SHORT TRACK, AL.,VOLUSIA SPEEDWEEKS, FL. AND NUMEROUS OTHERS..HE PUSHES APPROXIMATELY 50 TO 55 RACES A YEAR...
JOE HAS TO KEEP UP WITH HIS BROTHER TIM EVEN IF ITS JUST PUSH TRUCKS...HIS WHITE DODGE DURANGO IS WELL EQUIPPED WITH ALL THE BELLS AND WHISTLES AND CREATURE COMFORTS..
THE NEW BUMPER WAS CONSTRUCTED IN THE BODY SHOP AT MIKE'S MOTORS AND WAS MOUNTED ON A MODIFIED FRONT MOUNT TRAILER HITCH FOR EASY REMOVAL BY PULLING TWO TRAILER HITCH PINS...THE FRONT WIG WAG LIGHTS IN THE PUSH BUMPER GRILL ARE CONNECTED BY A FLAT FOUR WIRE TRAILER CONNECTOR ALSO FOR EASY DISCONNECT..
HE HAS INSTALLED A NEW FOUR LIGHT SWITCH BOX ON THE CENTER CONSOLE WHICH CONTROLS THE NEW 20 INCH MINI LIGHT BAR, WIG WAG YELLOW LIGHTS IN THE FRONT GRILL AND LOWER REAR (SWINDELL LIGHTS), WHICH CAN BE QUICKLY REMOVED WITH TRAILER CONNECTORS AND ONE BOLT, AND FRONT AND REAR STROBE LIGHTS AND A DASH MOUNTED STROBE LIGHT..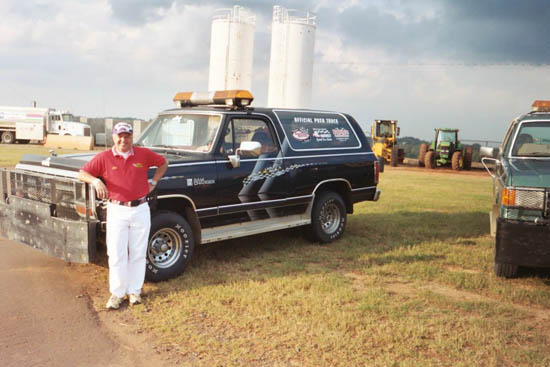 JOE CHAMBER'S FORMER RIDE WAS A 1988 DODGE RAMCHARGER..
TIP:BEFORE EVERY RACE HE PUTS TWO COATS OF RAIN-X ON HIS WINDSHIELD, LIGHTBAR, AND HEADLIGHTS..THE MUD FALLS OFF WITHIN A SHORT TIME..HE ALSO PUTS RAIN-X ON HIS ENTIRE TRUCK ONCE A MONTH, DOUBLE COATING THE HOOD..CLEAN-UP IS A SNAP AFTER THE RACE..
---
---
---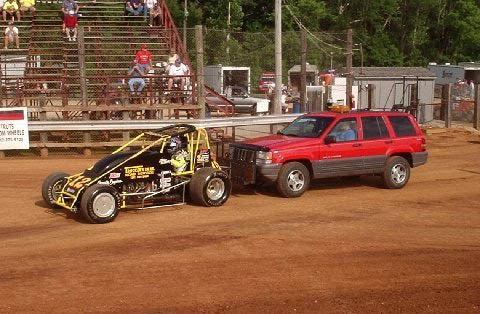 TIM CHAMBERS RED JEEP GRAND CHEROKEE..(Joe Chambers photo)
Tim Chambers who pushes with his red Jeep Grand Cherokee (aka Suitcase Man) is traveling mechanical engineer who along with his wife Dorothy enjoy sprint car racing..He began riding with his brother Joe at Lincoln Park Speedway and the Terre Haute Action Track.....The rest is history....he was hooked.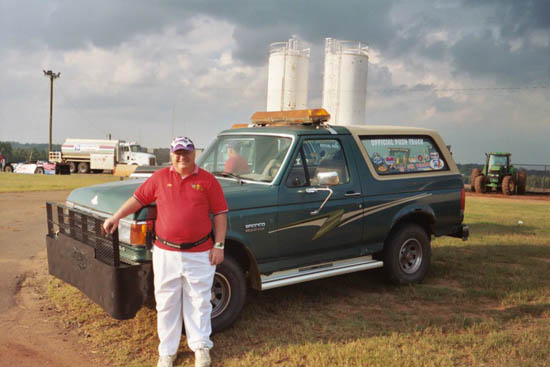 TIM'S FORMER RIDE WAS HIS 1990 FORD BRONCO TRUCK WAS A REGULAR AT LINCOLN PARK SPEEDWAY..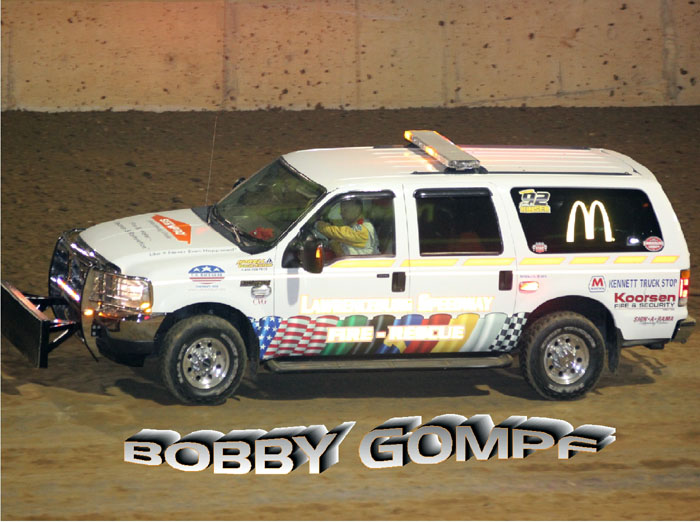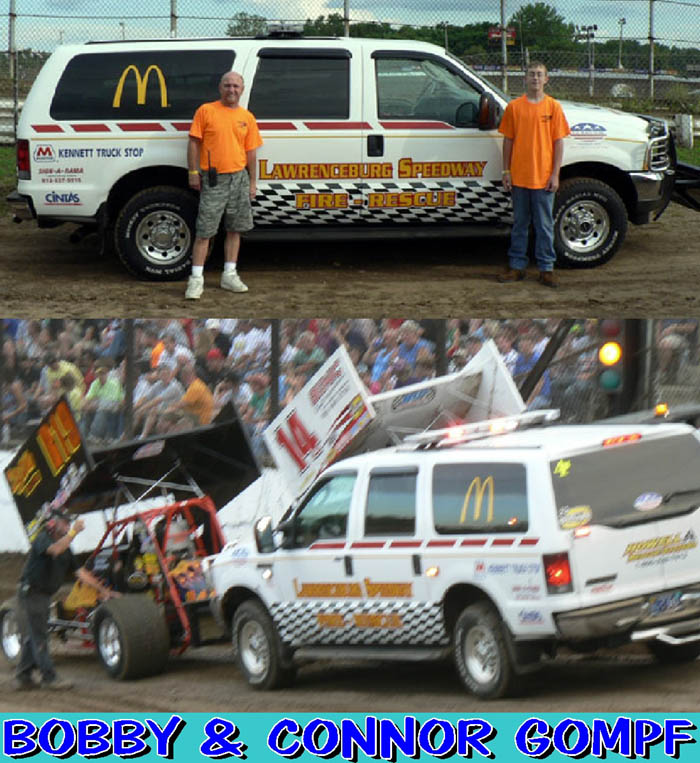 LAWRENCEBURG TRUCK #1--BOBBY & CONNOR GOMPH..(JimmyJeep photo)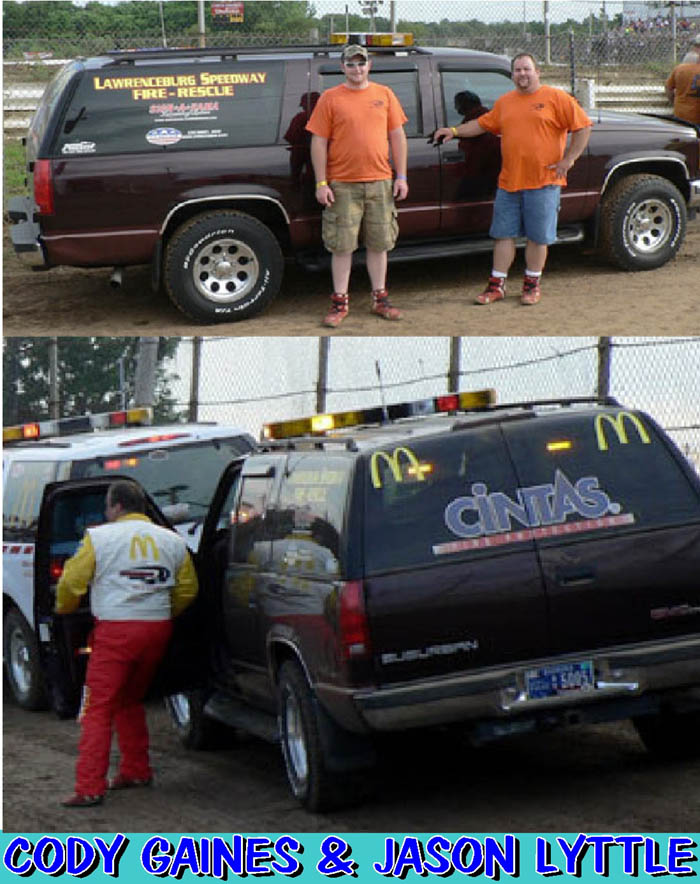 LAWRENCEBURG TRUCK #2--CODY GAINES & JASON LYTTLE..(JimmyJeep photo)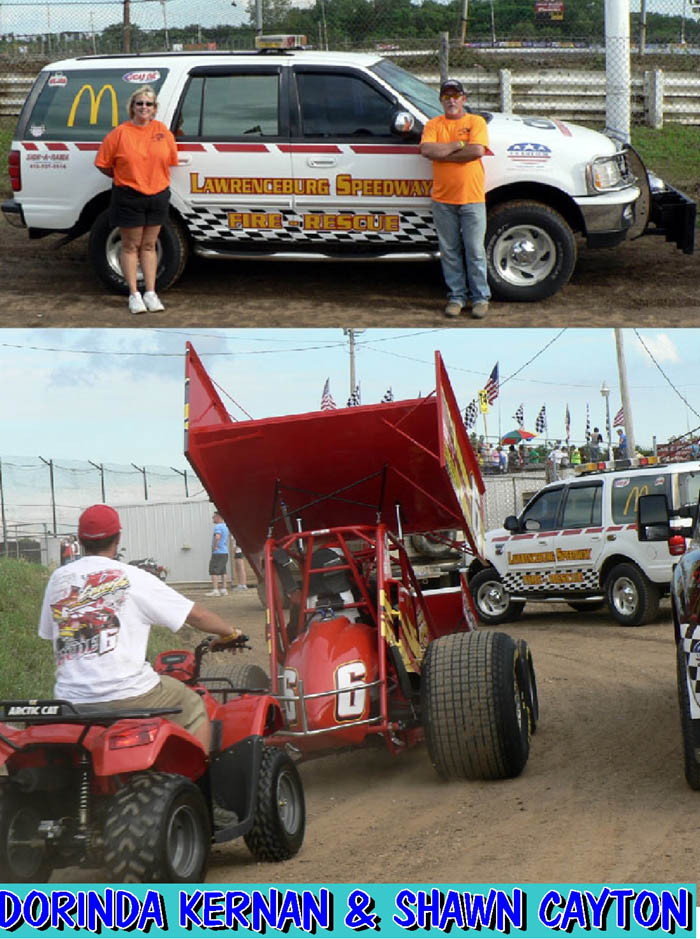 LAWRENCEBURG TRUCK #3--DORINA KERNAN & SHAWN CAYTON..(JimmyJeep photo)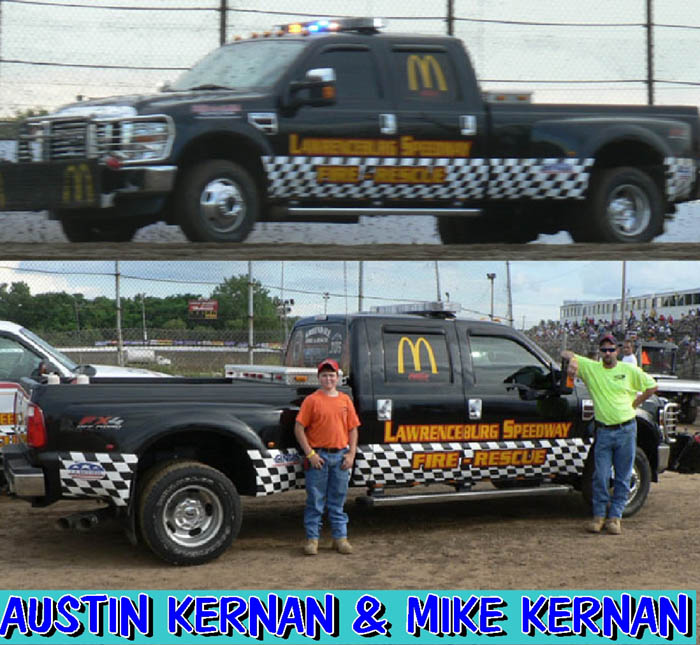 LAWRENCEBURG TRUCK #4--AUSTIN KERNAN & MIKE KERNAN..(JimmyJeep photo)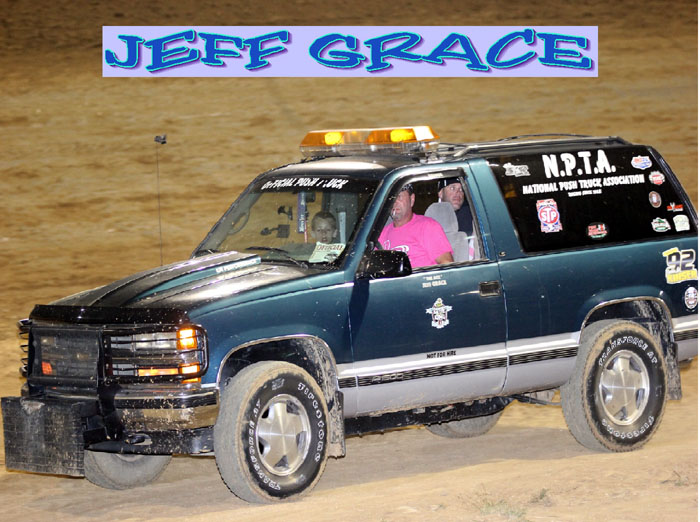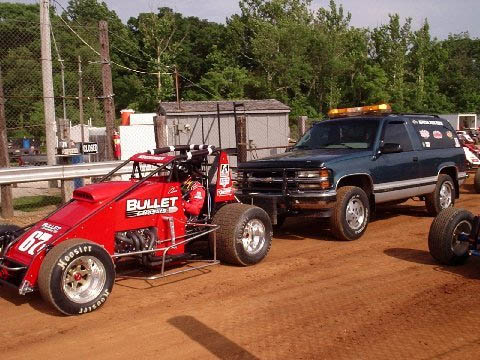 JEFF GRACE PUSHING OFF IN HIS BLUE CHEVY BLAZERHIS HOME TRACK IS BLOOMINGTON, IN..HE HAS PUSHED AT LAWRENCEBURG, TERRE HAUTE, BRISTOL, TN.,ELDORA, AND THE DIRT TRACK @ CHARLOTTE..HE HAS WORKED WITH THE WOO, USAC, AND THE ALL STARS..IN HIS SPARE TIME HE HELPS OUT DICKIE GAINES WITH HIS SPRINT..(Joe Chambers photo)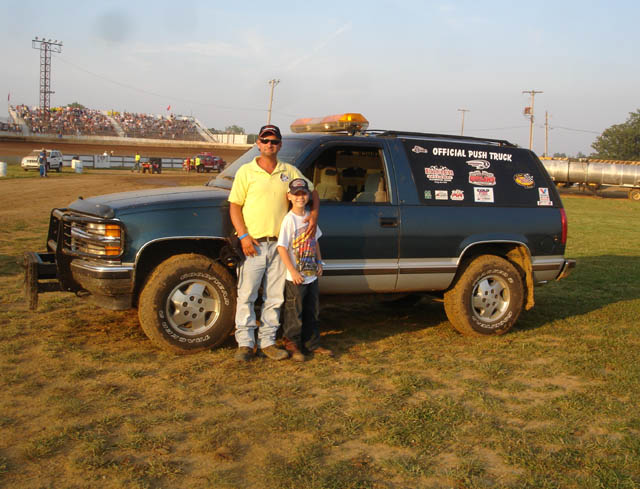 JEFF GRACE AND HIS SON MIKIE RIDING AS SHOTGUN KAMP MOTOR SPEEDWAY IN BOSWELL, INDIANA..(Knapp photo)
THIS PHOTO OF JEFF GRACE WAS TAKEN AT BRISTOL 2001..(JimmyJeep photo)
Jeff Grace was a two year veteran at pushing at Bristol with the rest of chosen ones..A post frame and pole barn erecter by trade is from Rising Sun , In....A regular at Bloomington and Terra Haute its not uncommon for him to hit the road for Eldora..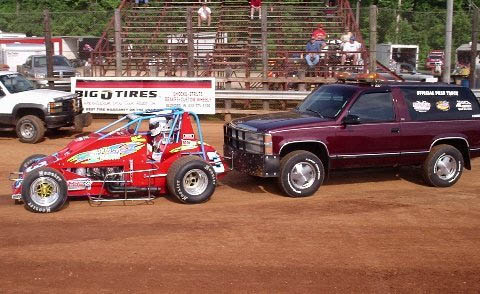 STEVE MOAT'S 1994 FULL SIZE BURGANDY CHEVY BLAZER PUSHES OFF THE 2008 SEASON..HE STARTED PUSHING IN 1995 AND WORKS NUMEROUS TRACKS AROUND THE TRI-STATE AREA (Joe Chambers photo)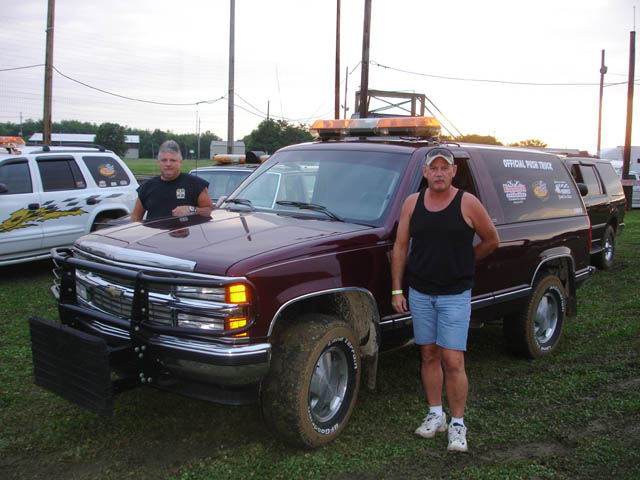 STEVE MOAT FROM BLOOMINGTON, INDIANA SHOWN HERE WITH HIS SHOTGUN STEVE GROGAN AT THE JULY 4th, 2008 ALL STAR SHOW AT TERRE HAUTE..(Knapp photo)
Photo taken at Bristol 2001 by JimmyJeep..
Another of the group of Indiana Travelers is Steve Moat from Bloomington , In....A fork truck operator at the GE plant in Bloomington he also runs the sprint car circuit...Lawrenceburg, Putnam, Bloomington,and Mt. Vernom being some of his favorite tracks he pushes at..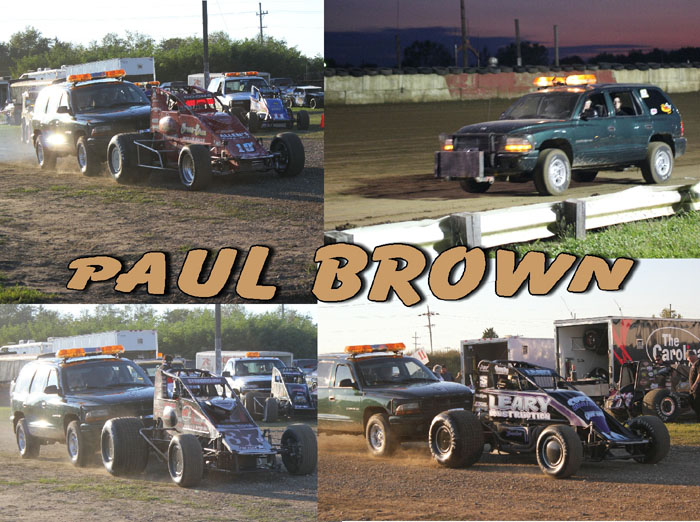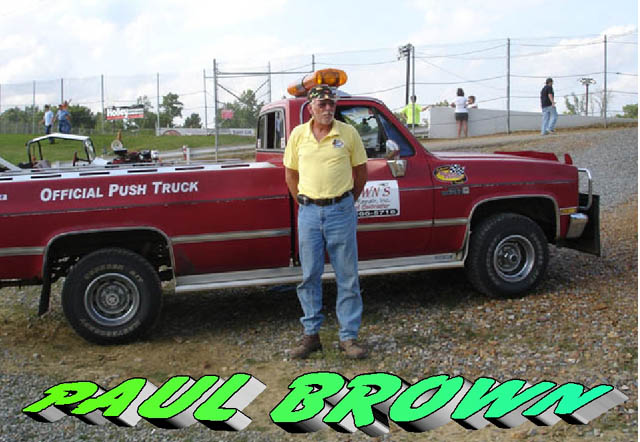 PAUL BROWN IS A CARPENTER BY TRADE FROM TERRE HAUTE, INDIANA..HE PUSHES WITH HIS 1985 GMC 1500 TRUCK AT TERRE HAUTE, UPPER BOSWELL, AND ROMAIN COUNTY, IL..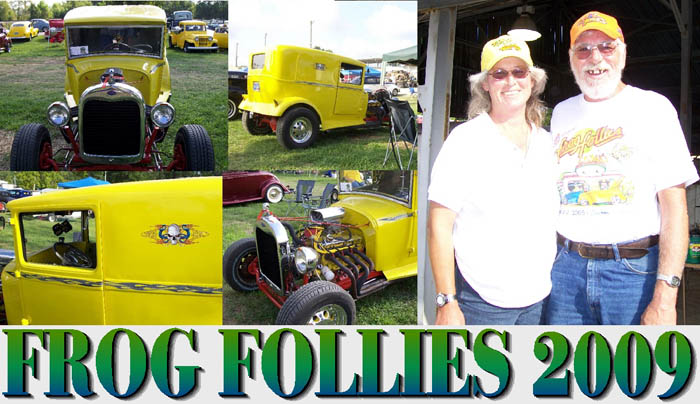 WHEN PAUL BROWN ISN'T PUSHING HE LIKES TO TAKE HIS STREET ROD TO CAR SHOWS..HE IS SEEN HERE AT THE 2009 FROG FOLLIES..(JimmyJeep photo)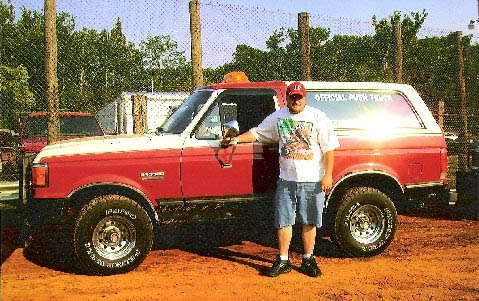 BOBBY KINSER BLACK FORD BRONCO..(Joe Chambers photo)

THIS ISN'T YOUR REGULAR PUSH TRUCK BUT ONE WORD MAKES IT INTERESTING AND THAT IS "HEMI"..STEVE GIBSON FROM OSSIAN, INDIANA 1923 FORD ROADSTER PICKUP RUNS A 331 c.i. HEMI THAT WAS ONCE IN A 1956 DODGE DUMP TRUCK..IT WAS BUILT AS A HIGH SCHOOL AUTO SHOP PROJECT BEFORE HE BOUGHT..THE WINDSHIELD FRAME AND RADIATOR ARE ORGINAL 23 FORD PIECES..HE RECENTLY FABBED UP THE DIAMOND PLATE ALUMINUM STORAGE BOXES AND ADDED THE NERF BARS..STEVE HAS BEEN PUSHING FOR 45 YEARS ALL OVER INDIANA, EASTERN OHIO, AND SOUTHERN MICHIGAN..HE PRIMARILY PUSHES NOW AT WINCHESTER AND GAS CITY IN INDIANA AND ELDORA SPEEDWAY IN OHIO..(Brent Seelman photos)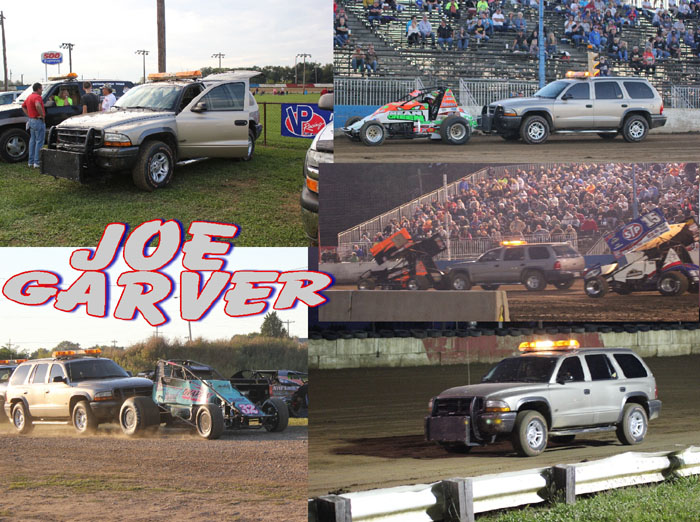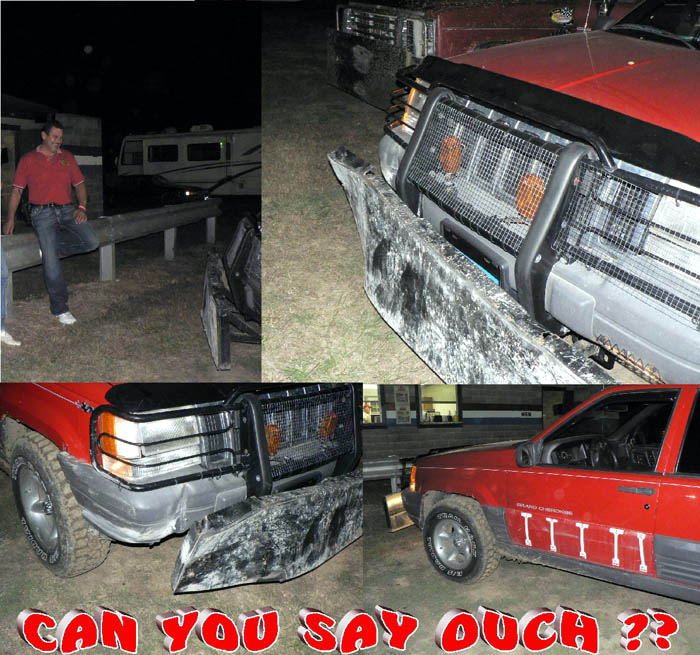 FELLOW PUSH TRUCK DRIVER JOE GARVER FROM CLINTON, INDIANA WAS SLAMED BY A SILVER CROWN CAR AT THE TRACK EXIT DURING THE OCTOBER 9, 2010 USAC SILVER CROWN SHOW AT TERRE HAUTE..JOE TRIED TO SMILE FINISHED THE NIGHT BUT DAMAGE WAS OVER $1000 DOLLARS..(JimmyJeep photo)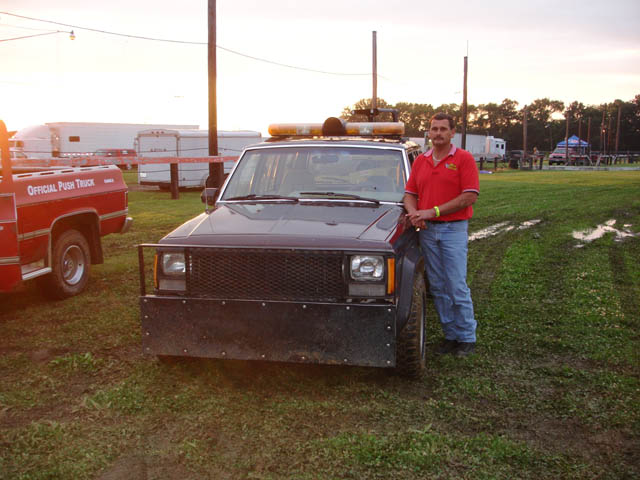 JOE GARVER FROM CLINTON, INDIANA DRIVES A 1992 JEEP CHEROKEE PUSH TRUCK..EMPLOYED AS A AUTO TECHNITION AT MIKES MOTOR COMPANY HE HAS BEEN PUSHING SINCE 1992..TERRE HAUTE ACTION TRACK, VERMILLION COUNTY SPEEDWAY, CHARLESTON SPEEDWAY, LINCOLN PARK SPEEDWAY, BLOOMINGTON SPEEDWAY, AND RED HILL RACEWAY ARE THE MAIN TRACKS HE PUSHES AT.(Knapp photo)

WE ADD A NEW PUSHER TO THE SITE..BILL SHARP FROM KOKOMO, INDIANA HAS BEEN PUSHING FOR 15 YEARS..HE USES A 1988 DODGE DAKOTA WITH A 3.9 ENGINE..HE HAS PUSHED AT KOKOMO SPEEDWAY, GAS CITY SPEEDWAY, MT PIER SPEEDWAY, AND KAMP MOTOR SPEEDWAY..(JJ photo)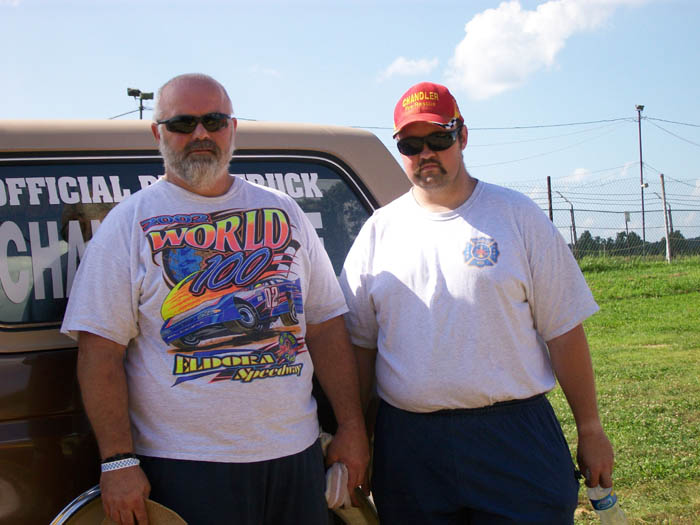 THE LUKER DOUBLE DOUBLE FAMILY..FATHER DAVID LUKER AND SON JAKE FROM CHANDLER, INDIANA..THEY WORK AS PUSH TRUCK AND FIRE & RESCUE AT CHANDLER MOTOR SPEEDWAY..PLUS THEY BOTH ARE ASSISTANT CHIEF'S OF THE CHANDLER FIRE DEPARTMENT..(JimmyJeep photo)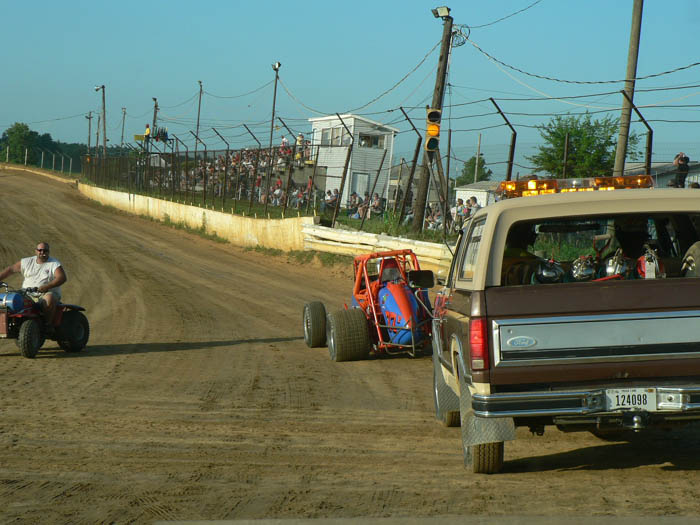 DAVID LUKER GETS READY TO PUSH OFF A SCORA SPRINT CAR AT CHANDLER MOTOR SPEEDWAY WITH HIS FORD BRONCO..SON JAKE RIDING AS SHOTGUN HAS ON HIS FIRE SAFTY GEAR AND IS READY TO USE THE FIRE BOTTLES STAGED IN THE BACK OF THE FORD..IN TURN ONE THERE IS MORE OF THE RESCUE CREW READY TO ASSIST..(JimmyJeep photo)


STEVE GROGAN DRIVES A 1988 BLACK-SILVER GMC JIMMY..HE HAS BEEN PUSHING FOR 8 YEARS AT THESE TRACKS..BLOOMINGTON, TERRE HAUTE, NORTH VERNON, AND BRISTOL..(Joe Chambers photo)

Back to JimmyJeeps Front Page
Copyright © 2018, JIMMYJEEPS PUSH TRUCK WORLD, All Rights Reserved.