WE SCOOPED SPEEDVISION ON THIS BY TWO MONTHS.... THIS IS REPLY TO A QUESTION I ASKED WAYNE ESTES ABOUT THE FUTURE OF SPRINT CAR RACING AT BRISTOL MOTOR SPEEDWAY.....
AUGUST 22 , 2001
Hello Jim, Sorry to report to all the great sprint car fans that we cannot continue with our dirt races here at Bristol. We sure seemed to be heading in the right direction. The track was better, the racing was better, and we knew that after that last feature between Swindell and Shepard that we were going to have a ton of people show up in 2002. We were firm in our decision to run the races again -- until our post-race clean-up began to show some signs of wear on the facility that we didn't expect. In the beginning, our concern was the concrete track surface. If anything, it seemed like putting dirt on it for a couple of the hot months actually protected the concrete surface. Unfortunately, the extensive clean-up required after the races -- and the thousands of trucks driving in and out of the speedway, hauling the dirt in and out -- caused some wear to buildings, access roads, infield pavement, and grandstands. It wasn't anything that was going to cause a short-term problem, but clearly, we were advancing the aging process on the facility, and over the next 10 years, it was going to cause problems. It's a shame, because our guys really made a lot of progress on the track and the racing, and I know the fan base was going to build from here. It's one of the few times you'll ever see a race promoter discontinue an event that is profitable, but the staff members here are caretakers of the most important property in NASCAR, and we take that responsibility very seriously, Wayne Estes, BMS

THE ARENA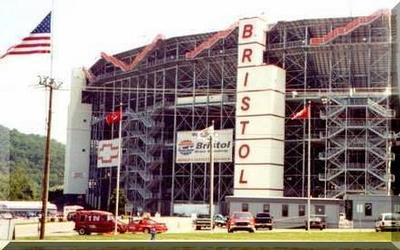 LIVING NEAR DAYTONA AS I DO YOU EXPECT SIZE AS YOU DRIVE BY THE TRACK...BUT AT BRISTOL IT SEEMS TO RISE UP IN THE AIR LIKE A CASTLE..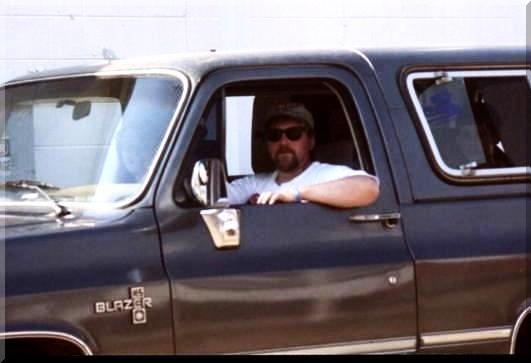 DAN BOCKBRADER FROM PENBERVILLE, OHIO LOADED UP HIS "MAGICAL MYSTERY TOUR BUS" AND HEADED SOUTH...THE TRACK PROVIDED HIM WITH A PUSH TRUCK IN WHICH HE HAD AMADA LENTZ FROM FENTON, MICHIGAN RIDING AS "SHOTGUN"...WERE NOT SURE IF SHE HAS RECOVERED FROM THE TRIP...
CURTIS and CRAIG DEFFENBAUGH FROM WAYNE, OHIO
CRAIG ALSO DROVE ONE OF THE TRACK TRUCKS...ITS ALSO GREAT TO HAVE YOUR SON RIDING AS "SHOTGUN" SINCE A POWER STEERING HOSE GROUNDED HIM SATURDAY NIGHT...WE WON'T SAY WHAT HAPPENED FRIDAY NIGHT WILL WE CRAIG.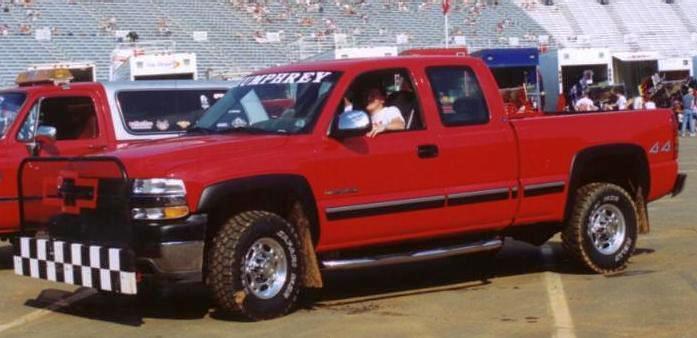 KEVIN HUMPHREY FROM SHEBOYGAN FALLS, WISCONSON DROVE HIS NICE LOOKING PUSH TRUCK DOWN FROM THE "CHEESE HEAD STATE."...HE WASN'T AFRAID TO GET IT DIRTY AND ALSO DID THE TOUR OF THE SPEEDWAY...HE WANT TO BUY A SUITE OVER LOOKING THE FINISH LINE.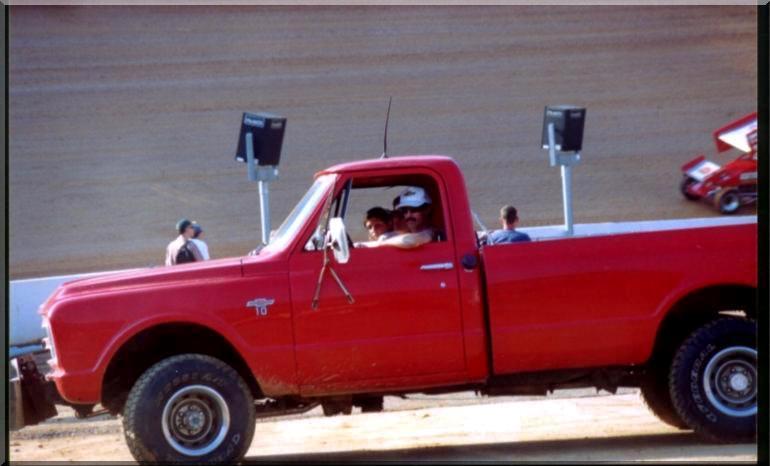 RON DOLL FROM LUCKEY, OHIO WAS ANOTHER SECOND YEAR PUSHER...HE WAS ACCOMPANIED BY HIS BEAUTIFUL DAUGHTER ASHLEY AND CATHY PETCHTLE RIDING AS "SHOTGUN"..
USING HIS OWN TRUCK THIS YEAR JEFF GRACE FROM RISING SUN, INDIANA FELT COMFORTABLE PUSHING IN HIS OWN VEHICLE...LAST YEAR BRAND NEW TRUCKS WERE PROVIDED BUT MOST OF THE PUSH CREW MISSED THEIR OWN RIDES..
STEVE MOAT WAS ALL BUSINESS..THE BLOOMINGTON, INDIANA NATIVE DID A GOOD AND SAFE JOB PUSHING.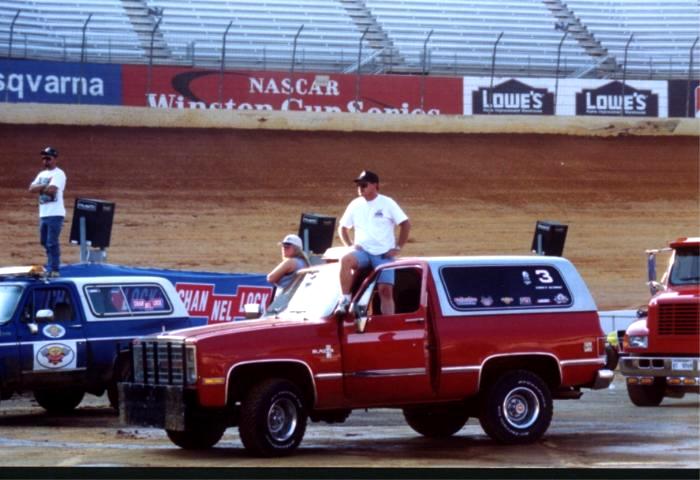 OUR BLOOMINGTON BOYS JEFF GRACE AND STEVE MOAT VIEWING THE SHOW IN TURN TWO..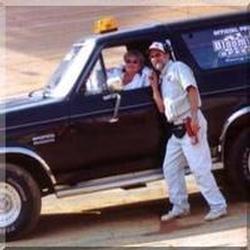 ALWAYS FUN TO SEE GLENNA AT THE RACES WITH HER NICE SMILE AND BIG FOOT...SHE DOESN'T MESS AROUND WHEN ITS TIME TO RACE...ART MALIES OUR "GENERAL" IN CHARGE WAS HAPPY TO HAVE REAL PUSH TRUCKS THIS YEAR..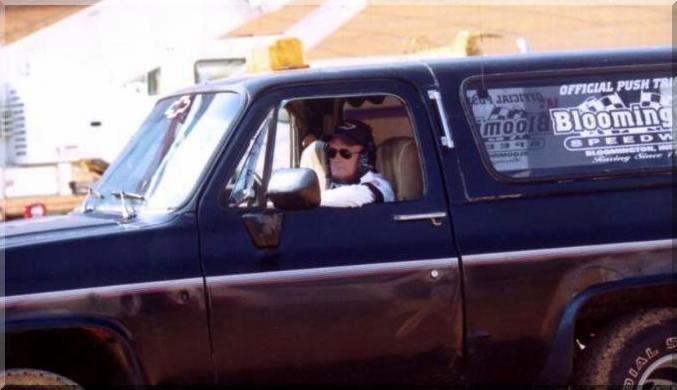 BOBBY GILL THE "PIANO PLAYER" AND GLENNA CAME IN FULL FORCE WITH BOTH TRUCKS FROM INDIANA...A GAS LEAK SATURDAY NIGHT WAS TAKEN CARE OF QUICKLY BY THE WHOLE PUSH CREW...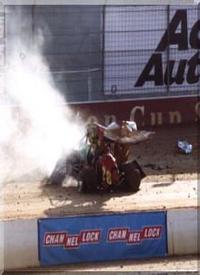 BRIAN PAULIS TOOK A E-TICKET RIDE DURING HOTLAPS SATURDAY NIGHT..SPEEDS WERE SO FAST THAT IF YOU WRECKED THE CAR WAS TRASH.. E TICKET RIDE
WE DON'T HAVE A SMILING FACE FOR DAN CRUMLING FROM CAMP HILL, PA. BUT DAN'S PRETTY BLAZIER WAITING FOR ACTION...HE DID A GOOD JOB WITH THESE PROS OF PUSHING BECAUSE HE HAD A GOOD TRAINING COMING FROM WILLIAMS GROVE..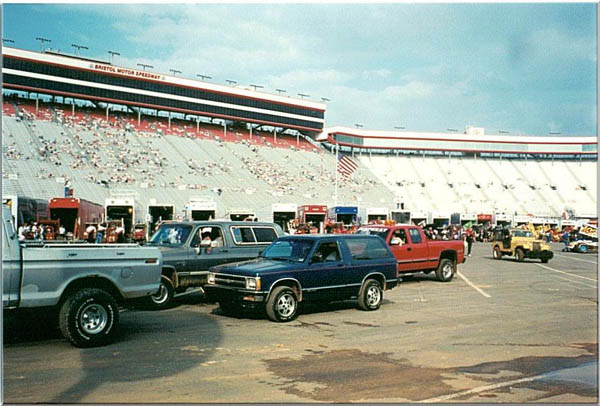 THATS THE ONLY PICTURE OF JIMMYJEEP SINCE I HAD A BAD ROLL OF FILM...IF ANYONE HAS A SHOT OF ME PLEASE SEND IT...

Back to JimmyJeeps Front Stretch
Copyright © 2021, JIMMYJEEPS PUSH TRUCK WORLD, All Rights Reserved.