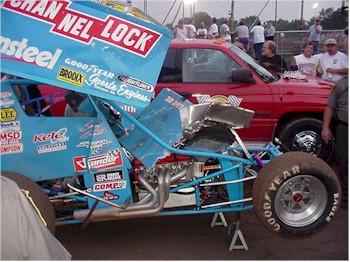 SAMMY SWINDELL'S SPRINT CAR WAS DEMOLISHED AND SAMMY WAS INJURED AND LUCKILY WASN'T KILLED....SINCE THEN WE HAVE PUSHED TO GET PUSH TRUCK DRIVERS TO ADD SAFETY LIGHTS TO THEIR VEHICLES...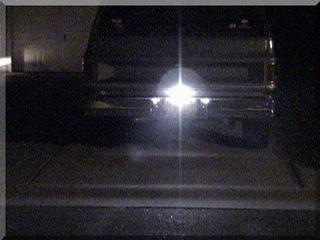 FELLOW PUSHER DON BLANEY CAME UP WITH THE FIRST IDEA TO PLACE THE FLASHING LIGHT LOW ON THE REAR BUMPER TO CATCH THE SPRINT CAR DRIVERS ATTENTION....VIEWED HERE IN THE PICTURE..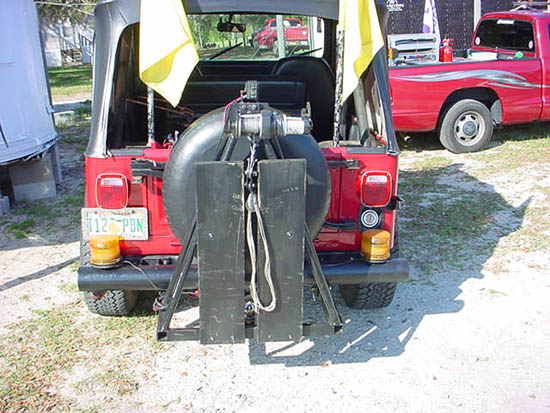 JIM REID NOW HAS TWO STROBE LIGHTS MOUNTED ON THE REAR OF HIS JEEP PUSH TRUCK PLUS TWO YELLOW FLAGS..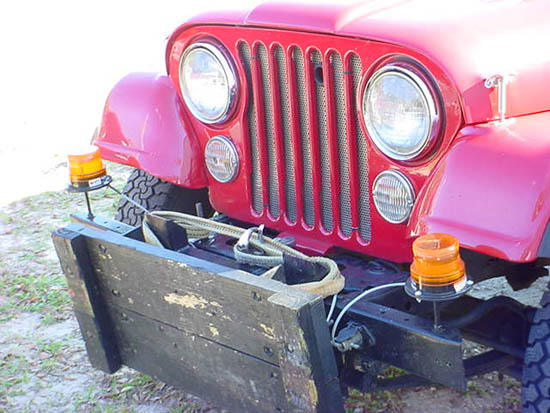 JIM REID ALSO HAS MOUNTED STROBES ON HIS FRONT BUMPER AREA...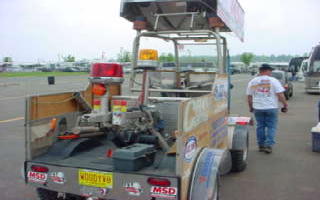 THE WORK'N WOODY HAS A RED AND YELLOW LIGHT IN THE REAR OF THE VEHICLE...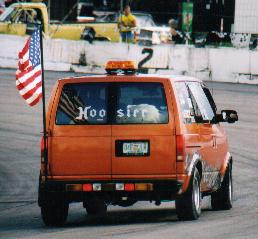 KEVIN SCOTT'S VAN HAS A EXTENSIVE STROBE LIGHTING SYSTEM....
---
THERE ARE MANY STYLES OF AMBER LIGHTS YOU CAN USE ON YOUR TRUCK...THE MORE THE CANDLEPOWER THE BETTER...A MILLION OR MORE IS BEST...YOU CAN BUY NEW OR FIND USED EQUIPMENT IN MANY PLACES...FIRE, POLICE, CITY OR COUNTY MUNICIPALITIES USUALLY HAVE USED EQUIPMENT SALES EACH YEAR...TELEPHONE, POWER, CABLE AND OTHER COMPANIES USE LIGHTS...CHECK WITH YOUR FRIENDS THEY MAY KNOW SOMEONE...
HERE ARE SOME LINKS TO CATALOGS YOU MIGHT LIKE TO USE AS REFERENCES OR BUY FROM...

CLICK HERE FOR THE LINK TO AW DIRECT
CLICK HERE FOR THE LINK TO GALLS
---
ART MALIES: SUGGESTS THAT YOU DON'T USE WHITE STROBE LIGHTS AS THEY ARE TO BRITE....ALSO WHEN ENTERING THE PITS SHUT OFF YOUR LIGHTS AS THEY CAUSE TO MUCH REFLECTION WHEN THE LIGHT BOUNCES OFF THE TRAILERS..
---
DAN CRUMLING: SUGGESTS A LIGHTING SYSTEM THAT ROTATES HIS BRAKE AND REVERSE LIGHTS ON THE REAR OF THEIR TRUCK...HE SAYS IT HAS BEEN A GREAT HELP KEEPING THE SPRINT CARS FROM CRANKING UP TO CLOSE TO HIM..
---
Thanks for the opportunity to give some input. The "Swindell Light" as it has come to be known is certainly the best idea yet for push trucks...Due to their design sprinters can't see very much above or below their eye level..They try to keep their forward opening as small as possible to prevent injury from rocks and debris, as well as penetration by another car during accidents..
Late models are just as bad, if not worse than sprints with the roof angle they run and the way they add visors, etc. to their cars...I know most of the push trucks mostly work open wheel stuff, but some of us are in play for all kinds of racecars..
Thanks for all your efforts!
---
THE CASCADE PUSH TRUCK ASSOCIATION HAS A RULE THAT ALL PUSH TRUCKS HAVE TO HAVE A THIRD BRAKE LIGHT..
---
Good idea...you can't have enough lights...you also might tell your readers (and fellow pushers) that small strobes (appx 2X3 inch) are available at most auto parts stores for less than $10.00 and come in several different colors...the tuners use them a lot, but they will make a great attention getter on the rear bumper and on the front..they arent big, but put out a pretty good amount of light..Robert Taylor
---
NEXTELL JOE WRITES:
Jimmy I don't know the cost but the new style tail lights you see on semi trailers and firetrucks like on all traffic lights would be great as supplements to regular tailights along with your yellow beacons. Those REALLY get your attention. Firetrucks also have them on the sides that flash. Big truck stops should carry these now. Available in red and amber!NASCAR uses the bright strobe style supplemental flashers that replace turn signals They are bright too! Check out Whelen's website, if they have one for ideas. Sprints need something you can see that is not dead center but spaced so they can see around their hood scoop. You can't get to where they are blinded by the lights and can't judge distance either....joe

RETURN TO JIMMYJEEPS FRONT PAGE
Copyright ©2014 All Rights Reserved