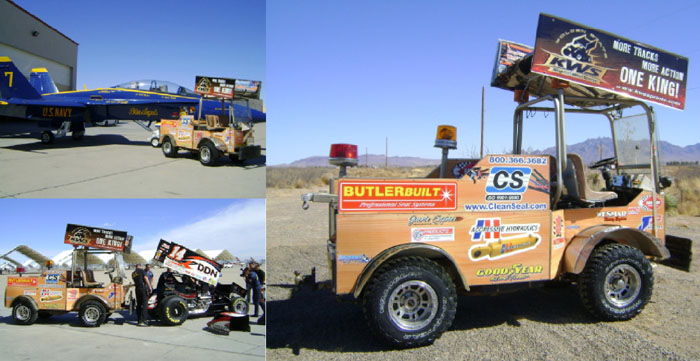 THE WORK 'N WOODY FLYING THE GOLDEN STATE KING OF THE WEST SPRINT CAR SERIES COLORS WITH JASON MYERS AND THE NAVY'S BLUE ANGELS..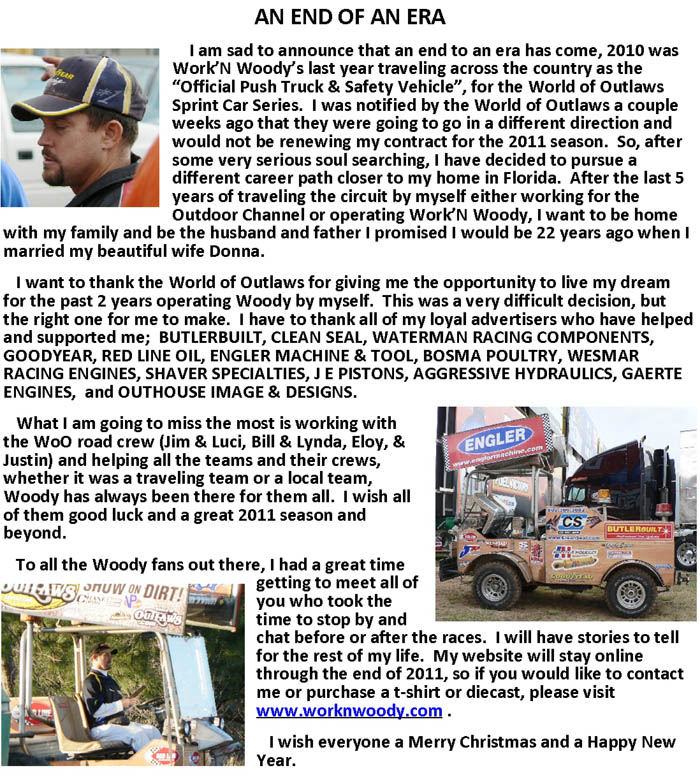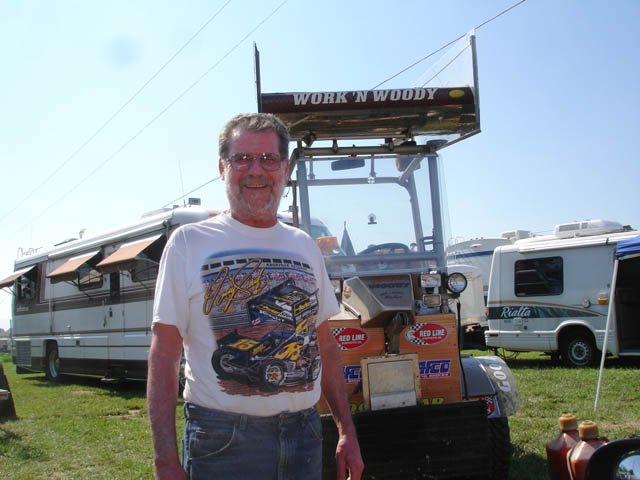 ART MALIES HAS ANNOUNCHED THE HE AND CAROL WILL BE RETIRING AT THE END OF THE 2008 WORLD OF OUTLAW SEASON...THEIR SON ERIC WILL TAKE OVER THE "WORK'N WOODY IN 2009..(Knapp photo)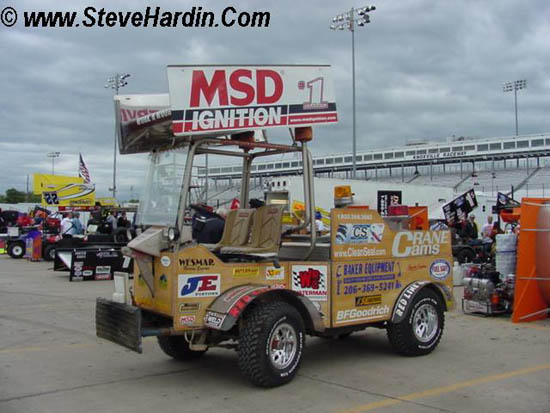 THE WORKIN WOODY AT KNOXVILLE (photos by Steve Hardin)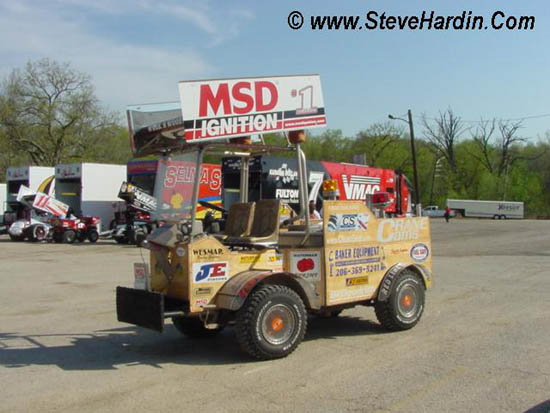 2004 PHOTOS OF THE WORK'N WOODY FROM STEVE HARDIN.COM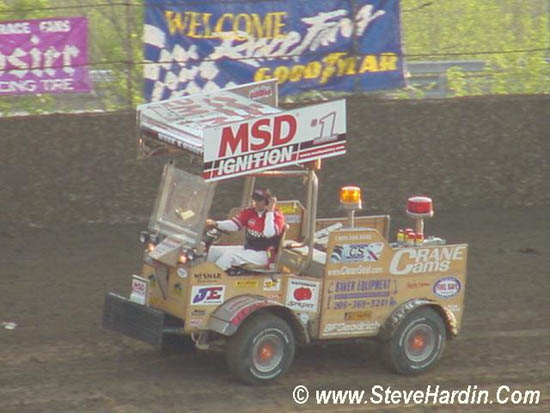 ART MALIES AT SPEED WITH THE 2004 WORK'N WOODY..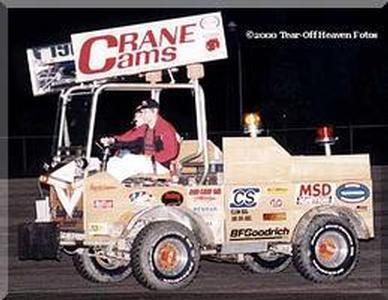 CAROL AND ART AT HANFORD , CA. DURING THE WoO 2000 SEASON OPENER..photo by Tear Off Heaven
WHO DO YOU THINK WOULD DRIVE 35-40 THOUSANDS MILES A YEARS TO GET DIRT THROWN AT THEM EVERY NIGHT..IF THE NAMES CAROL AND ART MALIES SOUND FAMILIAR THE NAME "WORK'N WOODY" SURE DOES...THE OWNERS OF THE MOST WORKED PUSH TRUCK IN THE COUNTRY RUNNING OUT OF THEIR NEW RESIDENCE IN DENNING , NEW MEXICO..2003 STARTS THEIR 15th YEAR FOLLOWING THE WORLD OF OUTLAWS AND THE 25th YEAR OF SPRINT CAR PUSHING.. STARTING IN NARC SERIES FROM THEIR FORMER HOME IN CARMICHAEL , CALIFORNIA...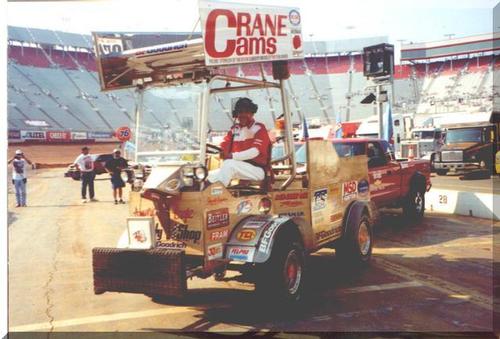 BEFORE PUSHING TOOK OVER THEIR LIVES AS A PROFESSION ART WAS A CARPET AND INTERIOR SPECIALIST AND A INDEPENDENT INSURANCE AGENT..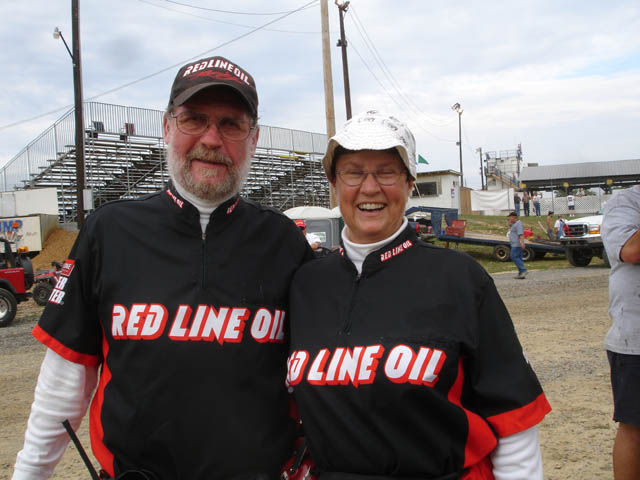 CAROL WAS A COMMERCIAL INSURANCE RATER BEFORE SHE BECAME PIT BOSS ON THE WOO CIRCUIT..
THE PUSH BUMPER HAS COIL OVER SHOCKS TO SOFTEN THE CONTACT WITH THE SPRINTERS...THERE IS A ELECTRIC HOIST TO PICK UP CARS WITH FLAT REAR TIRES AND CARRY THEM TO THE WORK AREA...THE SIDE PANELS ARE MADE OF PLYWOOD AND ARE REFINISHED EACH YEAR WITH THEIR NEW SPONSORS..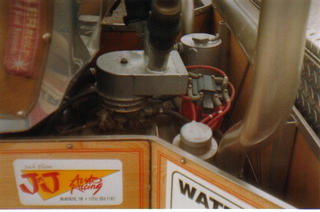 THE 368 CHEVY WESMAR IS EQUIPED WITH HOLLEY INJECTION , KSC PUMPS , AND CRANE COMPONENTS..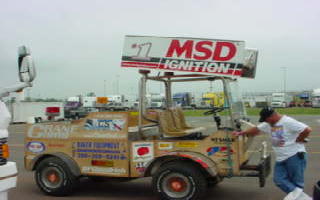 THE WOODY STARTED OUT AS A 1957 FC CABOVER JEEP...EARLY IN THEIR CAREER THEY USE TO RENT OUT THE TOP WING TO LOCAL DRIVERS..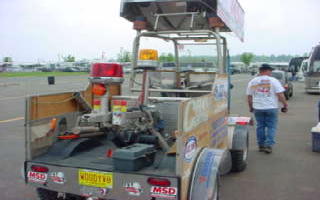 THEY HAVE RED AND YELLOW SAFETY LIGHTS ON THE REAR TO WARM THE DRIVERS ON TRACK CONDITIONS...THERE IS ALSO AN ENGINE HOIST THAT IS WELL USED AT TIMES..BUT ON MARCH 15 , 2001 THIS TRAVELING SHOW ALMOST CAME TO AN END WHEN FIRE STRUCK...THEIR MOTORHOME CAUGHT ON FIRE NEAR THE TEXAS & OKLAHOMA LINE DURING A COLD FRONT WITH HIGH WINDS...THE MOTORHOME WAS A TOTAL LOSS WITH THE TRAILER GETTING SOME DAMAGE...SPRINTER THEIR SIXTEEN YEAR OLD CAT WHO HAS LOGGED A MILLION MILES WAS NOT VERY HAPPY AT ALL..

RETURN TO JIMMYJEEPS FRONT STRETCH
Copyright 2011 JimmyJeep All Rights Reserved