RANDY PARSLEY GETTING READY TO PUSH OFF JACK HEWITT WITH THE "BULLDOG" AT THE 2004 CHILI BOWL NATIONALS..THIS WAS JACKS FIRST TIME BACK BEHIND THE WHEEL SINCE HIS ACCIDENT...(photo by Jim Smith)
MORE NEWS FROM RANDY PARSLEY....."BULLDOG TWO IS IN THE WORKS."
If all goes as planned the "Bulldog" will have a new home next month. When I was at the Chili Bowl this guy kept coming by every day looking all over/under the rig and asking a lot of questions. He came by Saturday morning and said he wanted to buy it! I said it wasn't for sale, but he kept on and we finally made a deal. Turns out he owns Outlaw Motor Speedway in Muskogee, OK. From their website it looks like a first class operation, so the Bulldog will fit right in. If he is true to his word I will pick up another chassis from him when I drop off the original 'dog, to build him another one, a twin to the original except on a 3/4 ton chassis.
No, I'm not getting out of the business, I just bought a rolled over '96 3/4 ton Chevy to start building my next "toy". Hopefully we can whip this one out by Mid-April and be ready by the time the Outlaws come to Batesville speedway. I'll send you some photos of the build just like last time, if you would be kind enough to allow me the "build a truck" space again.
RANDY PARSLEY'S "BULLDOG" MEETS THE BEAUTIES
Just wanted to give you my report on the Chili Bowl. We didn't get to work the show near as much as we hoped to, but we did get some exposure. As you can imagine that event has a group that has been working it almost since day one, so a "new guy" doesn't get a lot of respect! We did get to tow (2) cars Wednesday night during the show, but after that we were pretty much relegated to pushing off cars outside to get heat in motors, test new engines, etc. My fabricator "Wink" Winkler of Loux Motorsports built me a "lift bar" to use when picking up a car completely off the ground and it worked great- maybe too good 'cause I think it made the other wrecker there look bad! We packed the track a couple of nights also, but due to the tight turnaround area we weren't able to push indoors. At least we got ring-side seats for all 4 nights! They quoted Lasoski as saying that a "A" main win at the CB was bigger than the Knoxville nationals- wonder how the folks in Iowa are taking that?!?
The racing was great and the closer it got the Saturday "A" Main the more aggressive everyone got. It was good to see Gary Wright, National 360 Driver of the Year make the "A" as well as J.J. Yeley who passed nearly 70 cars to come from the "F" to the "A".

RANDY PARSLEY'S "BULLDOG" 2003 SEASON REPORT
RANDY PARSLEYS "BULLDOG" ON THE FRONT STRETCH AT DELTA BOWL SPEEDWAY
As you know we opened the season at I-30 Speedway in Little Rock, our home track on March 15th. We had a good car count and a good night of racing. A couple of weeks later we traveled to TMS (Texas Motor Speedway) to work the WoO show for a couple of nights. Back home to I-30 for a few weeks, then to Batesville Speedway on 5-30-03 to kick off the ASCS national series Speedweek. Batesville is a "bad fast" 3/8 track with concrete barriers inside and out, which unfortunately leads to some tore-up race cars when they climb that wall with the right rear. No one hurt but some good equipment totaled. We were on the spot to clean things up and keep the show rolling.
Back home for a few shows then on the road again with ASCS to North Central Arkansas Speedway on 6-20-03 and I-30 on 6-21-03 made for a busy weekend. Quite a few miles logged but a great weekend of Sprint Car action. Worked the weekly shows at I-30 for a few more weeks and ASCS was back at I-30 on 7-12-03. July 25th Saw us back at North Central Arkansas Speedway with ASCS, then Saturday night 7-26 at West Plains Missouri for yet another ASCS Show. We did manage to slip a few days vacation in that week and got some needed R&R. More great weekly shows at I-30 in August with MARS late models and the SUPR late models too. Not a big late model fan but they were fun for a change of pace. September saw us back on the road with ASCS shows at Batesville on the 5th and Little Rock on the 6th. The 6th Annual Coca-Cola Topless Modified Nationals at I-30 was a good show with some 120 IMCA cars on hand over the 3-day show. The comes October!
RANDY WATCHES AS SAMMY SWINDELL AUTOGRAPHS THE "BULLDOG".

October was our busiest travel month this year by far. It was only one month, but it gave us a feel for how the guys that travel full time feel! Let's see, the first weekend was Delta Bowl Speedway in Tunica, Mississippi with the ASCS circuit. Delta Bowl is one of, if not the finest 3/8-mile, high bank, black dirt, go fast, motor-eater tracks I have had the pleasure to attend. The cars were hooked "too good" with wing side panels and motors were stretched to the breaking point. A great show won by the strong up and comer Shane Stewart.

Next weekend was back to Texas Motor Speedway for the "Cheaper Than Dirt" WoO event. Always good to be back at TMS. With the paved pits and great track, not to mention accommodating track management, it is a joy to work that show. The tunnel exit from the infield is always one of the most fun parts- through the tunnel on the gas is a hoot! Jason Jennings snuck up on the WoO regulars and kicked butt!
ANYTIME YOU CAN GET YOUR PUSH TRUCK IN OR NEAR VICTORY LANE ITS GOOD FOR YOUR SPONSORS.
Third weekend in October was back to Tunica for the Inaugural WoO show at Delta Bowl. What a show it was! The high bank, gumbo track made for some great racing and there were some 48 cars there making for an awesome weekend of Outlaws racing. The chief photographer for the Outdoor Channel (WoO televiser for '04) came by the pits Saturday afternoon and asked if he could get our angle on Sprint Car racing and the role push trucks play. Never one to miss a chance for free publicity we spent about 45 minutes with Tom Kelsey giving him the scoop on how vital good push trucks are to the show. We invited him to ride along when we started pushing and he jumped at the chance to get in on the action. When we started pushing off time trials he couldn't believe the choreography that takes place to keep (2) cars on the track at all times and not mess up the clocks or get a push truck run over. Tom didn't want to get out, so I let him stay on board until we pushed off the first heat so he could get some good photos on track along side cars as we pushed onto the track. Thanks to my loyal spotter/shotgun Jim Smith for giving up his seat! Greg Hodnett dominated the program winning both nights and making it look easy. Whew, 3 road trips in 3 weeks takes a toll on you and your wallet!
October 23/24/25 was our big finale, the 16th Annual Team Affiliated Short Track Nationals presented by Hoosier Tire. We carried advertisement for the STN to both TMS and Tunica and I think it helped the show. At least a lot of people got to see the dates and a lot of them asked questions. We got in the Thursday and Friday events, locking 4 cars into the feature and then mother nature stepped in, raining out the Saturday night $15,000 to win feature event. No problem, lets try it again the following weekend (Halloween) and just to bring everyone back, lets give 'em another qualifying night (Friday the 31st) and add another $10K to the purse. The plan worked as we had a great group of cars on Friday night and an outstanding finale on Saturday November 1st. Gary Wright (National 360 driver of the year) had 'em covered for the 40 lap feature and took home over $20,000 for a great drive. As you can see it made for a long, busy, fun month in the life of the Bulldog. Can't wait to get back on the track for 2004! Trying to add 4-wheel steering this winter and a "speedy dry" dispenser to help speed the show along after a "catastrophic" engine failure. Also searching for new advertisers as Pennzoil has cut back there motorsports advertising for 2004. No Pennzoil car in Nextel Cup (that don't sound right yet) as they are scaling back due to the Shell buyout.
2003 was very good for our "inaugural season" of working the Bulldog. We hope to get a little more exposure by working some rumored USAC shows in Memphis and at TMS in 2004. Someday we will make it to Knoxville- not giving up yet!

BUULDOGS ROAD TRIP TO TEXAS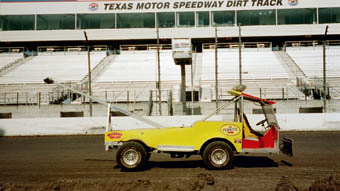 PARKED WITH PRIDE ON THE FRONT STRETCH AT TEXAS MOTOR SPEEDWAYS DIRT TRACK SPRING 2003
The first "road-trip" for the "Bulldog" was March 28th and 29th to Texas Motor Speedway Dirt Track. The "U.S. Air Force Showdown" was a great show and we had a great time working with the "Outlaws". Richard "Sawzall" Greene, Jim Smith and I rented a little motor home and drove down on Friday morning. We met up with the "King of the Pushers" Art Malies and his wife Carol to get a briefing on how the traffic flow worked and what the schedule was for the evening. After the driver's meeting we had a pretty good crowd of admirers crawling all over the rig- everyone wanted to know what it was built out of and who the builder was. Art looked it over and gave it his blessing, a vote of confidence we were glad to receive.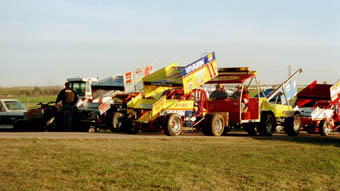 PIT LANE PUSHING JEFF SHEPARD IN THE VIVARIN #11
TMS is a great place for sprint cars, without a doubt the nicest dirt track I have ever attended, and I have seen a few. All paved surface in the pits, roads and push-off areas makes the job much easier.   No turning cars sideways in the mud, climbing rear tires or any of that stuff that all push truck drivers fear. Did I mention they have a tunnel out of the infield? One of the coolest things about working the event was coming through the tunnel on the gas!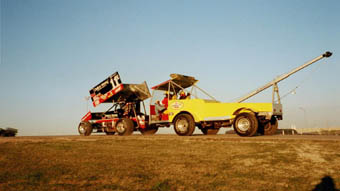 WORKING WITH THE FUTURE KING...KRAIG KINSER #11
The track surface was perfect both nights with two grooves and some of the most exciting Sprinter action I have ever witnessed. Kinser and Lasoski put on a fabulous show Saturday night, giving the crowd their money's worth and more. To top it all off we got to push Steve Kinser out of victory lane and back to his hauler. Great way to wrap up the trip.
RICKY LOGAN IS A LITTLE ROCK LOCAL CAR...
We are going to try and work some of the ASCS events in our area, as well as our home track, I-30 Speedway in Little Rock. Hopefully we will be back at TMS in the fall for the WoO event. Our greatest hope is to work the Knoxville Nationals this August.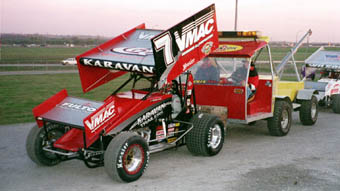 CRAIG DOLLANSKY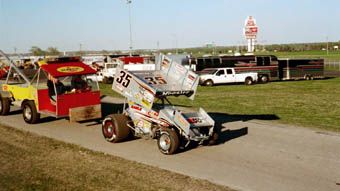 TYLER WALKER DRIVES AWAY

RETURN TO JIMMYJEEPS FRONT STRETCH
Copyright © 2007 JimmyJeep All Rights Reserved