WISCONSIN "CHEESEHEAD" TRUCKS

THE OTHER WISCONSIN WHITE KNIGHT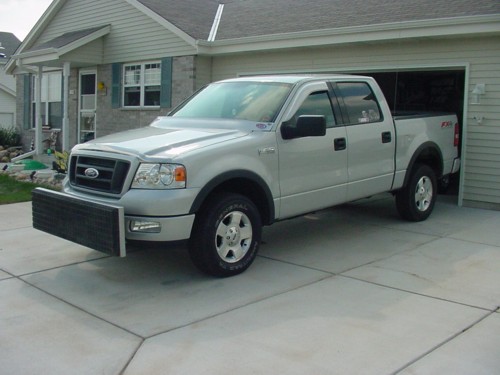 JEFF WESELL'S 2004 FORD F-150 READIES TO BATTLE THE DIRT AND STILL LOOK CLEAN...A SCRATCHED WINDSHIELD IS ONE OF THE FIRST THING JEFF DISCOVERED THAT PUSHING PRODUCES....HE USES REMOVEABLE PLASTICS HEADLIGHT COVERS WHICH HE PAINTED WHITE TO PROTECT THE HEADLIGHTS WHILE PUSHING...

JEFF WESELL FROM HARTFORD, WISCONSIN TOOK A HIATUS FROM RACING MINI SPRINTS AND DECIDED THAT PUSHING WOULD KEEP HIM INVOLVED IN RACING AND IT WOULD SAVE HIM SOME MONEY....BOY I HAVE HEARD THAT ONE BEFORE... ALTHOUGHT EAGER TO RACE AGAIN HE HAS FOUND THAT PUSHING CAN BE EXCITING TOO...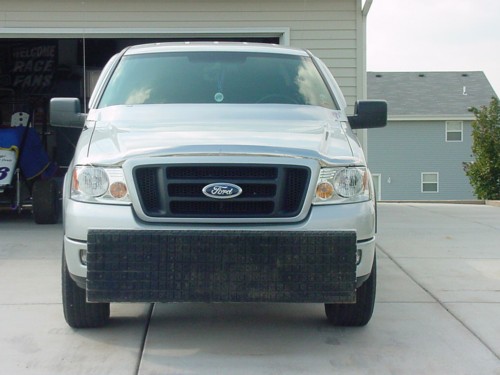 JEFF AND HIS FATHER-IN-LAW ROMY BAUS PUT TOGETHER A PUSH BAR FOR HIS 2004 FORD F-150 SUPER CREW... .MATERIALS FOR THE PROJECT CAME FROM HEPFNER RACING PRODUCTS IN HARTFORD....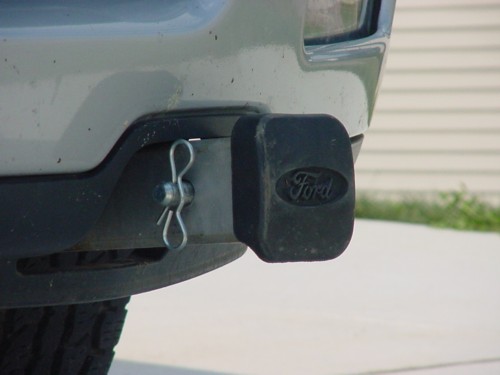 THE PUSH BAR IS REMOVABLE USING 2 INCH TRAILER RECEIVER INSERTS WHICH TAKE THE PLACE OF FACTORY TOW HOOKS ON THE FRONT OF THE TRUCK....THE BUMPER IS HELD IN PLACE WITH TWO HITCH PINS FOR EASY REMOVAL...ALL THE FABRICATION WAS DONE BY JEFF'S FATHER-IN-LAW ROMY BAUS....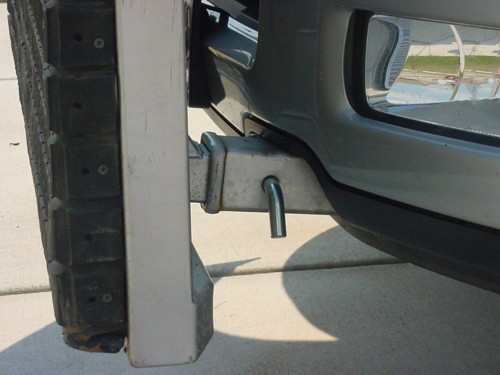 MORE AND MORE PUSHERS ARE USING THE RECEIVER HITCHES ON THEIR TRUCKS TO SHED THE BUMPER DURING THE WEEK... FRIENDS ASK "WHO'D TAKE A NEW TRUCK AND DO THAT"...ANSWER IS ONLY A SPECIAL BREED OF PUSHERS...AM I RIGHT OR NOT..?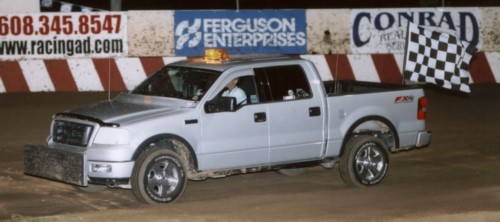 SO FAR JEFF HAS PUSHED FOR IRA, BMARA, USAC, and MSA....TRACKS INCLUDE THE MILWAUKEE MILE , SHEBOYGAN COUNTY FAIRGROUNDS, DODGE COUNTY FAIRGROUNDS, WILMOT SPEEDWAY,POWERCOM PARK AND THIS USAC MIDGET SHOW AT ANGELL PARK SPEEDWAY...

JEFF WRITES: WITHOUT A DOUBT, THE BEST INFORMATION WE NEED TO BECOME PROFESSIONAL LOOKING PUSHERS COMES FROM JIMMYJEEP PUSH TRUCK WORLD...

"DON'T SCRATCH THE PAINT"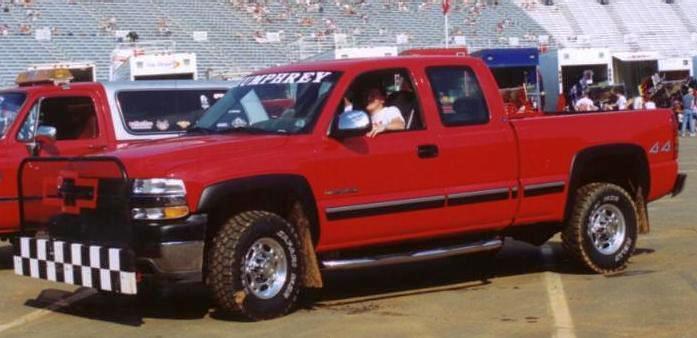 If your going to push you might as well enjoy it in a new truck...Kevin Humphey a material handler of Sheboygan Falls brought his 2001 Chevy Silverado to Bristol this year...Pushing for the IRA series and the WoO Gumout when there in the area...His regular tracks are Beaver Dam and Oscard...

Back to JimmyJeeps Front Page
Copyright © 2007, JIMMYJEEPS PUSH TRUCK WORLD, All Rights Reserved.