You take a sour looking and beat up old truck and squeeze out all the defects you can find.....Stir in a little TLC to sweeten the pot and your on the way to a new creation...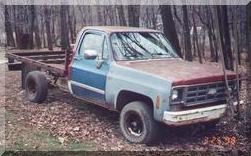 Ed Spanglers truck is frame up restoration 1978 1/2 ton Chevy.A crane operator at ALLEGHENY LUDIUM STEEL its his toy.New sponsers this year are Jim Lei Construction for tires and Kosecki Racing with engine parts..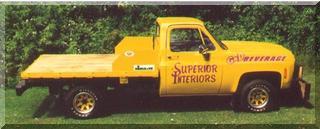 Ed Spangler's "LEMONADE" from Freeport,Pa.


WELL PETE SHARKINS HAS COME UP WITH ANOTHER MOTOARTS PUSH VEHICLE FOR 2002....THIS TIME ITS A LAND BASED SUBMARINE....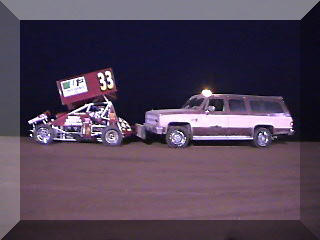 Backstretch at Lernerville with #33 Brent Matus

HIS 1982 CHEVY SUBURBAN HAS 273,000 MILES AND LOVES GAS AND FEASTS ON 700R4 OD TRANNIES (it's on the 6th one)....THE 350 IS ORIGINAL AND UNTOUCHED SINCE IT WAS BOUGHT NEW BY PETE'S UNCLE AL SHARKIN.....
ALTHOUGH ITS FOUR WHEEL DRIVE PETE ONLY USES 2 WHEEL HIGH WHEN PUSHING....FITTED WITH 3.42 GEARS THE POSI AIDS THE OVERDRIVE TRANNY...TRACKTION COMES FROM 31" HOOSIER ALL TERRAINS FITTED ON STOCK 8" RALLY WHEELS....
RECYCLING HIS OLD BUMPER FROM HIS FORMER JEEP ALONG WITH HIS ROOF BEACON AND "SWINDELL LIGHTS" WHICH HE MOUNTED INSIDE THE REAR TAILGATE GLASS FOR SAFETY.....FUTURE LIGHTING INCLUDES 2 FOG LIGHTS UNDER THE REAR BUMPER AND ADAPTING THE SHO–ME EMERGENCY STROBE SYSTEM TO THEM.....GIVING HIM A TOTAL OF 5 REARWARD–FACING STROBES....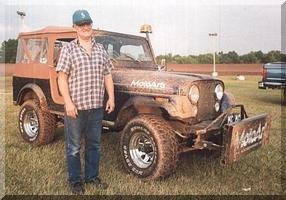 The "shotgun" Ray Sharkins is Pete"s dad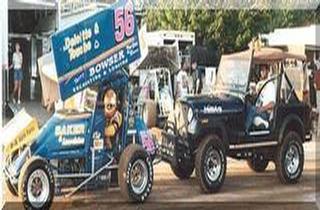 Pete's former push truck his '81 Jeep CJ-7 aka "The Heap".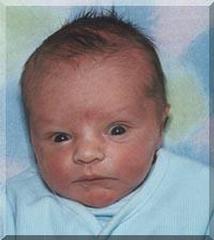 Hunter Mitchel Sharkins born 4/14/01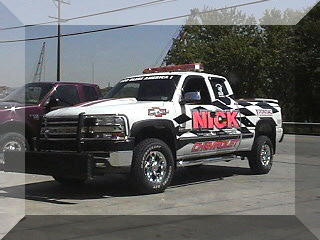 Pete's next creation a 2002 Chevy push truck owned by Nick's Chevrolet/Pontiac of Tarentum , Pa.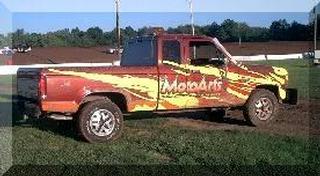 Pete's 1986 Ford Ranger $600 wonder.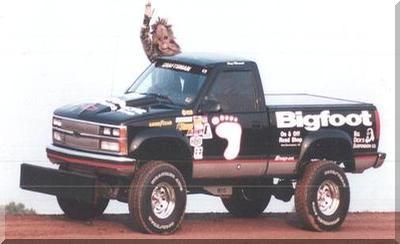 Newly created for the 1999 season is Doug Marencik's 1989 Chevy Silverado shortbed. It has a 350/5 speed, only 170,000 miles, 6" Big Dicks suspension lift w/ Rancho traction bars, and 35" Goodyear Wranglers (of course). It is the show truck for Doug's truck accessory business.
Bigfoot On & Off Road Shop

2222A Greensburg Road

New Kensington, PA 15068

724-337-7080
He can help with lighting, lift kit sales and installation, engine swaps...you name it.

Back to JimmyJeeps Front Page
Copyright © 2009, JIMMYJEEPS PUSH TRUCK WORLD, All Rights Reserved.