DAVID HOLLINGERS "OUTLAWED 4X4 REAR ENGINED SUPER MODIFIED"

RUN OUT OF TOWN AND BANNED FROM THE TRACKS FOR OVER THIRTY YEARS IT BACK AND ITS BAD..READY TO GUN DOWN ANYONE WHO CHALLENGES IT...DAVID HOLLINGER'S REAR ENGINED FOUR WHEEL DRIVE SUPER MODIFIED IS A BAD DUDE..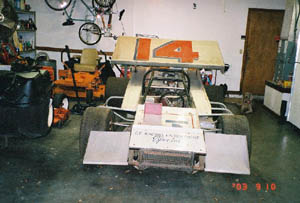 BUILT BY BILL HITE FOR MID WEST AUTO SPECIALTITES OWNER BILL PORT IT HAS BEEN IN STORAGE FOR THIRTY YEARS...DAVID HOLLINGER IS RESTORING THE CLASSIC CAR TO RACE AGAIN..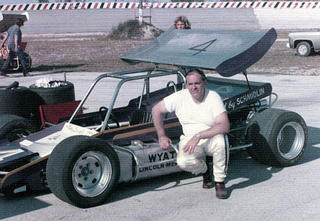 PICTURED HERE IS TONY LAVATI WITH A SIMILAR REAR ENGINED FOUR WHEEL DRIVE SUPER MODIFIED COPY POSSIBLY BUILT BY TODD GIBSON...THESE CARS WERE OUTLAWED IN THE EARLY SEVENTYS..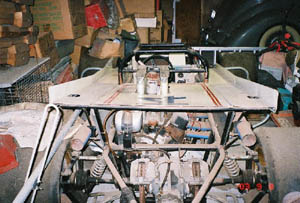 ARMOND HOLLEY WAS THE FIRST DRIVER...THE CAR WAS LATER PURCHASED BY TONY LAVATI WHO DROVE IT PLUS USED HOLLEY AS A DRIVER ALSO.. THE CAR HOLDS THE TRACK RECORD AT THE NOW DEFUNCT WEST PALM BEACH SPEEDWAY WITH THE TIME OF 15.25.
AFTER REMOVING LAYERS OF DUST ITS A PROJECT OF LOVE FOR DAVID...
THOUGH NOT TO USED AS A PUSH TRUCK AS DAVIDS "SUPER PUSHER"

RESTORATION IS TAKING PLACE TO BRING THE CAR BACK TO OSWEGO SPEEDWAY ON JULY 10, 2004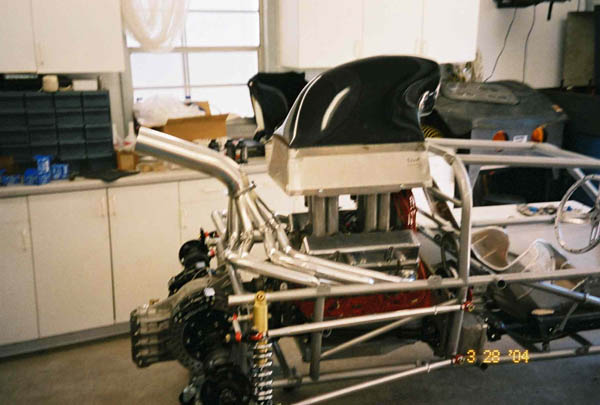 DAVID MODIFIED THE INTAKE SCOOP TO GIVE THE MOTOR ALL THE AIR IT NEEDS FOR OSWEGOS BIG 5/8 TRACK ..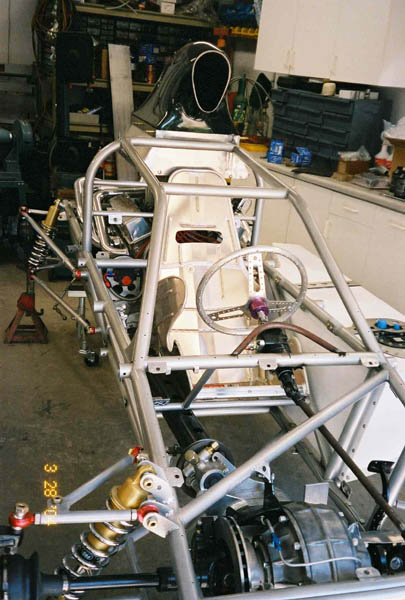 NOTICE THE THE FRONT UNIT FOR THE 4 WHEEL DRIVE SYSTEM..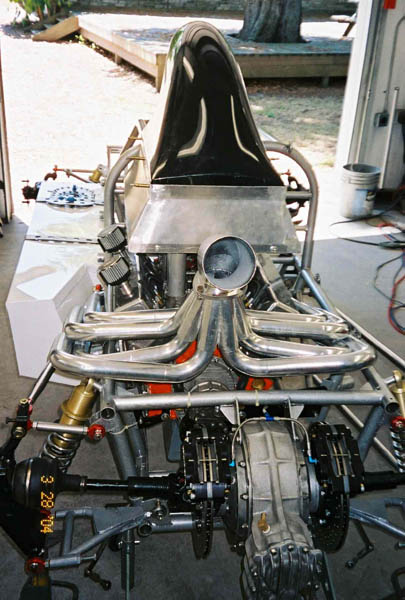 THE BEAUTIFUL HEADERS ARE FROM SMOKEY YUNICK'S INDY CAR THAT HAD TO HAVE EXTENSIVE RESTORATION..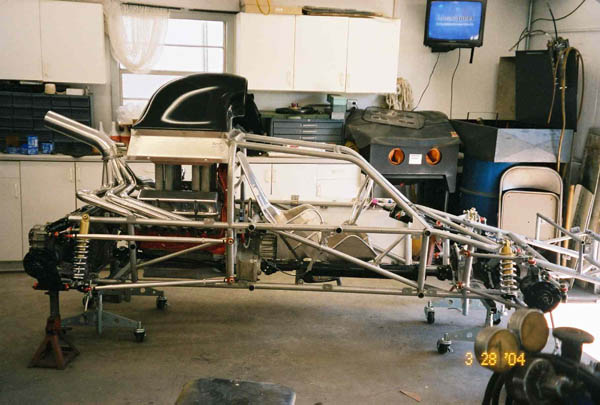 WAITING TO FIT IN A 810 HORSE POWER 410 ALUMINUM MOTOR..

FIRST TEST AT ORLANDO SPEEDWORLD APRIL 30, 2004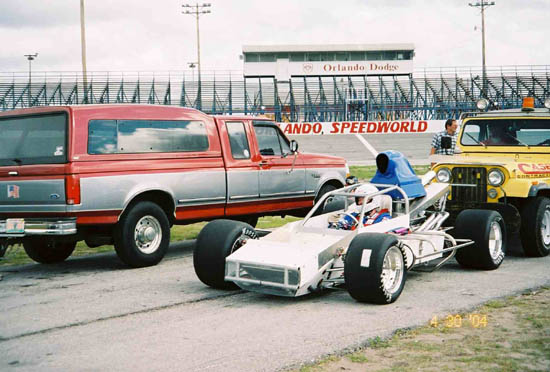 JIMMYJEEP RETURNS DAVID HOLLINGER TO THE INFIELD AFTER RUNNING THE CAR ON THE TRACK FOR THE FIRST TIME IN CLOSE TO THIRTY FIVE YEARS.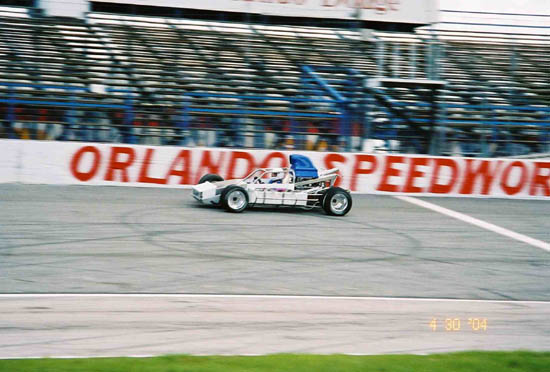 FRONT STRETCH AT ORLANDO SPEEDWORLD.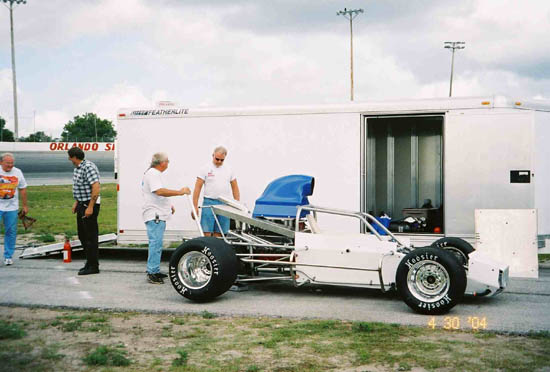 WELL LETS SEE WHAT WE NEED TO DO NEXT..(left to right) DAVID HOLLINGER , CARL BATES , DON HECKMAN AND RED STAUFFER..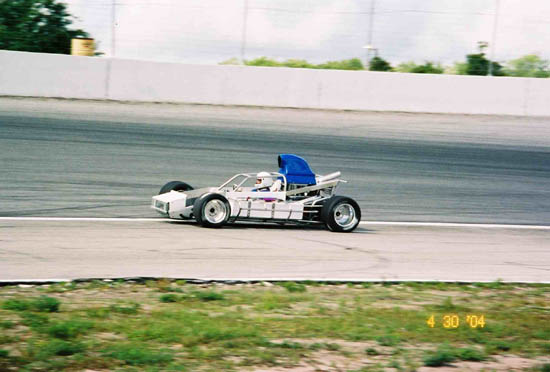 GETTING READY TO BRING IT UP TO SPEED.

SECOND TEST AT HIALEAH SPEEDWAY MAY 22, 2004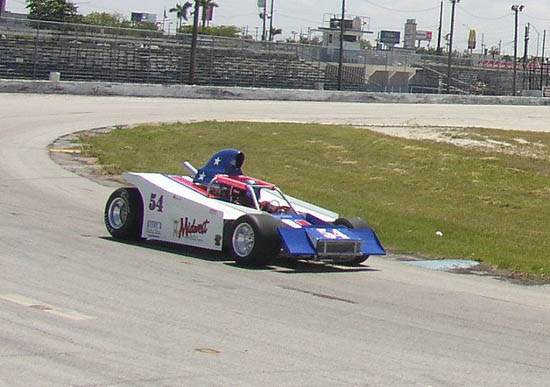 DOUG HEVRON GIVES IT A HARD TEST WITH THE FULL BODY PANELS IN PLACE.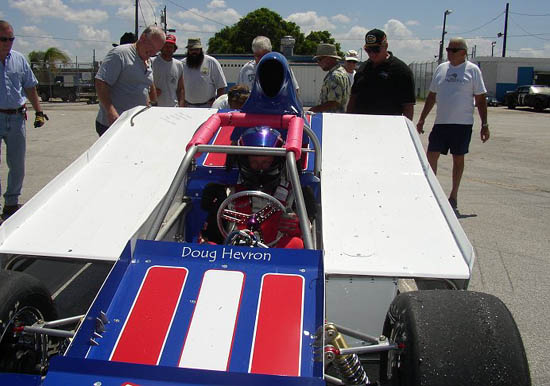 DOUG LOVES SUPERS AND BEING ABLE TO RUN THIS CAR IS A TRIP. TESTING WAS FINE BUT TEST BRAKES NEED A LITTLE WORK.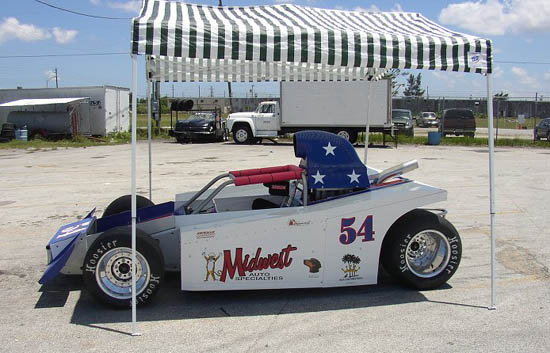 I WOULD LOVE TO HAVE ABOUT A DOZEN.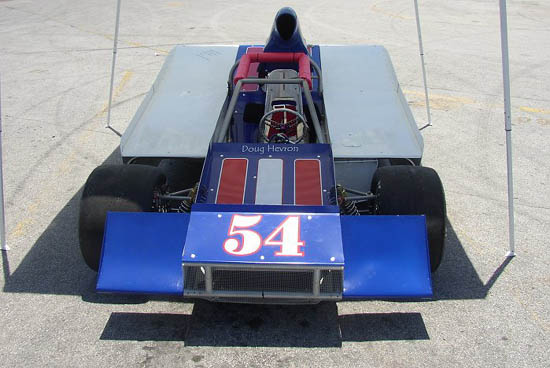 THE NEWLY REFRESHED PANELS GIVES IT A 100 MPH LOOK STANDING STILL...DAVID WRITES:...HIS HAS INSTALLED A 410 WoO MOTOR IN THE FRAME...HE HAD TO CUT THE OIL PAN APART AFTER THE SCAVENGE LINES CAME ON THE WRONG SIDE EVEN AFTER HE TOLD THE MOTOR BUILDER MANY TIMES THAT THE MOTOR SAT IN THE CAR BACKWARDS...A NEW SET OF HEADERS HAD TO BE BUILT AND THE FRAME HAD TO BE MODIFIED TO FIT THE DOWN NOSSLE INJECTER MOTOR....DAVID WAS HEARD MUMBLING THAT HE NOW RECALLED WHY HE QUIT RACING YEARS AGO..

OUTLAWED 4X4 RETURNS TO OSWEGO
Hite Four-Wheel Drive Car to Race in the Open Competition 45
Submitted By Oswego Speedway
One of the Bill Hite built four wheel drive rear engine Supermodifieds from the seventies will be on hand to race in this Saturday night's "Open Competition 45" at the Oswego Speedway. This particular car was built in 1971 in Alabama by Bill Hite for Cleveland, Ohio resident Bill Port. The car was numbered the Midwest Auto Specialties #54 and was driven by such drivers as Armond Holley and Todd Gibson. Tony Lavati purchased the car and it became #00. Tony Lavati, Todd Gibson and Armond Holley drove it while it was #00 at tracks such as Oswego, and tracks in Ohio, Michigan and the New England area. Herb Ellmers purchased the car for the 1976 season and it became #14 with Armond Holley was again the driver. The car set the track record at Palm Beach Fairgrounds Speedway in 1976, touring the ˝ mile track in 15.25 seconds. The car was discovered by David Hollinger last year and he purchased it from Herb Ellmers and restored it to its current condition. The team thanked Doug Heveron for taking it through some test sessions earlier this year in Florida. The car carries sponsorship from Rex Engineering Corporation in Titusville, Florida; Heckman Motor Sports in Miami, Florida and Steve's Body Shop in Mexico, New York. The car will be driven here at the Oswego Speedway this weekend by Gene Lee Gibson. Be sure to pick up his week's Oswego Speedway Eagle program which will have a "then and now" photo feature of this car.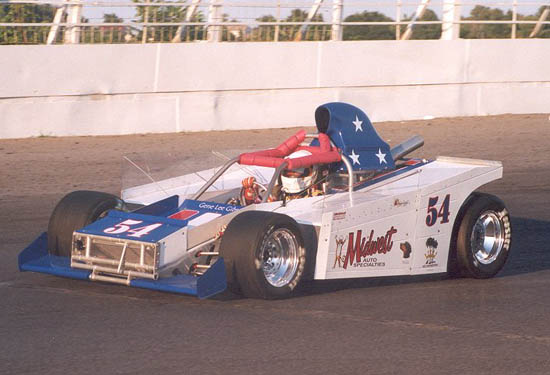 WELL THERES ALWAYS NEXT YEAR
WELL OUR FELLOW PUSHER DAVID HOLLINGER'S PROJECT HAS COME TO A END..HIS RESTORATION OF THE HITE BUILT FOUR WHEEL DRIVE REAR ENGINED SUPERMODIFIED MADE ITS RETURN TO THE RACE TRACK...AFTER BEING FOUND IN STORAGE FOR ALMOST 30 YEARS DAVID PUT BLOOD, SWEAT AND $$$$$$$$$ TO BRING THE ONLY COMPLETE CAR OF ITS TYPE BACK TO LIFE...DAVID HAS TRIED TO KEEP US UPDATED ON THE RESTORATION AND NOW ITS COMPLETE..
HE RECEIVED THE RPM 410 DOWN NOSSLE SPRINT CAR MOTOR A MONTH LATE...THEN HAVING TO DO MANY CHANGES TO GET IT TO WORK IN THE FRAME HE HAD TO REDO THE OIL PAN TO GET THE DRY SUMP OIL LINES TO WORK...THAT FOLLOWED BY BUILDING A NEW SET OF HEADERS..NOT HAVING TIME TO TEST IN FLORIDA DAVID WENT TO SHOP OF STEVE MILLER IN MEXICO, NEW YORK A SUPERMODIFIED BUILDER AND OWNER..FINAL PREP WAS MADE THERE WITH GETTING HEAT IN THE MOTOR AND EVERYTHING LOOKED GOOD SO FAR..
FRIDAY JULY 9th THEY RENTED THE NEW OSWEGO SPEEDWAY FOR TESTING...WITH GENE LEE GIBSON AS THE DRIVER AND GENE'S FATHER TODD THEY DID THE FINAL SHAKEDOWN TEST...OILING PROBLEMS APPEARED FROM THE START...FINDING WHERE IT WAS COMING FROM TOOK A WHILE BUT FINALLY IT WAS FOUND THAT THE INTAKE MANIFOLD HAD GAPS OF UP TO THIRTY THOUSANDS AND WAS BLOWING A OUT FINE SPRAY IN THE CORNERS..AT IDLE IT WOULDN'T SHOW UP...BUT WHEN YOU SPEND $23,000 FOR A FRESH MOTOR YOU EXPECT BETTER QUALITY...GENE DID GET IN A FEW HOT LAPS AND WAS HAPPY WITH THE CAR.
BACK AT STEVE MILLER'S SHOP THE DECISION WAS MADE TO REPLACE THE MOTOR WITH THE CARL BATES BUILT 406 STEEL BLOCK TEST MOTOR....OSWEGO IS NO PLACE TO HAVE A PROBLEM WITH THE BOILER PLATE OUTSIDE WALLS...THE OLD HEADERS AND BODY PANELS WERE IN THE TRAILER SO THE SWAP WAS COMPLETED..
SATURDAY AND READY FOR THE OPEN RACE OVER HEATING SHOWED UP DURING PRACTICE..THE PILL WAS CHANGED AND THAT HELPED BUT THE WATER PUMP WAS ACTING UP AND THE SPARE WAS BACK IN FLORIDA...A FEW HOT LAPS WERE RUN AND THE CAR WAS QUALIFIED FOR THE FEATURE...BUT THE OVER HEATING CONTINUED AND A EXPANTION TANK WAS TO FULL AND WATER SPRAYING OUT...BLACK FLAGED AFTER A FEW LAPS GENE LEE SAYS HE'S READY TO DRIVE IT AGAIN NEXT YEAR...SO THIRTY YEARS LATER AFTER THE CAR WAS OUTLAWED FROM COMPETION IT MADE ITS MARK AND AS IT WAS LOADED BACK ON THE TRAILER IT NOW WARES A NEW DONUT ON THE SIDE PANEL..

PHOTOS FROM PINNER'S BAR AND GRILL SUPERMODIFIED WEBSITE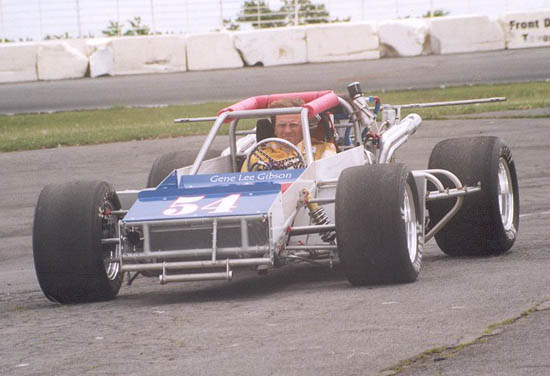 GENE LEE GIBSON FIRES UP THE DAVID HOLLINGER REAR ENGINED 4 WHEEL DRIVE #54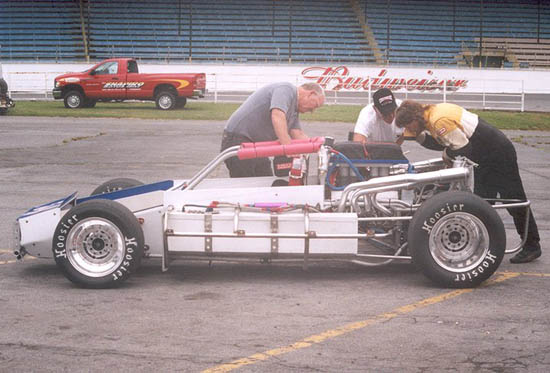 DAVID HOLLINGER AND GENE LEE GET TO WORK ON TRYING TO FIX AN OIL PROBLEM AS OSWEGO SUPERMODIFIED LEGEND TODD GIBSON LENDS HIS KNOWLEDGE OF THE MACHINE HE DROVE SUCCESSFULLY MANY TIMES IN THE PAST.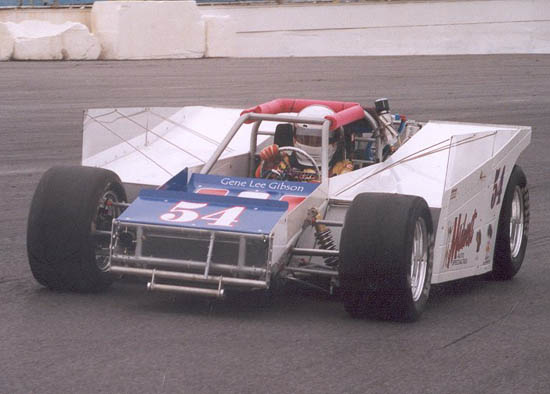 GENE LEE DIVES INTO THE FIRST TURN WITH THE #54...NOTICE THE FOAM BLOCK SAFE WALLS..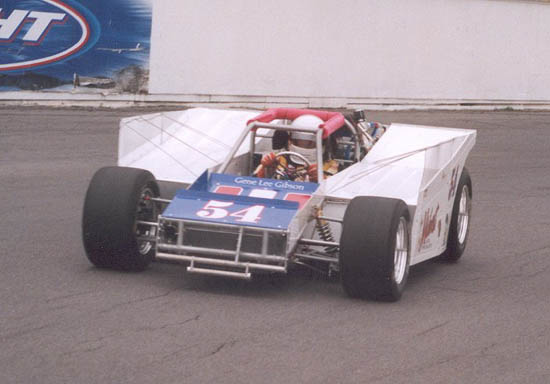 DIALING IN THE CAR TAKES SOME TIME FOR GENE LEE GIBSON..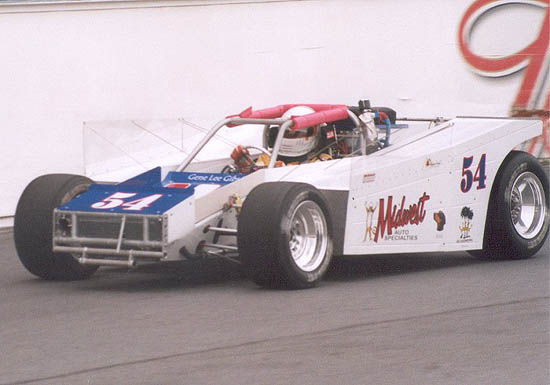 AT SPEED ON OSWEGO'S FAST 5/8's OVAL..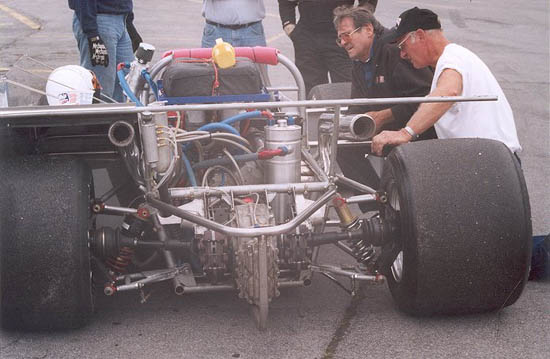 JUST AS IN THE YEARS OF THE PAST AT OSWEGO, TODD GIBSON IS RIGHT AT HOME AS HE WORKS ON THE MOTOR ALONG WITH CARL BATES(left).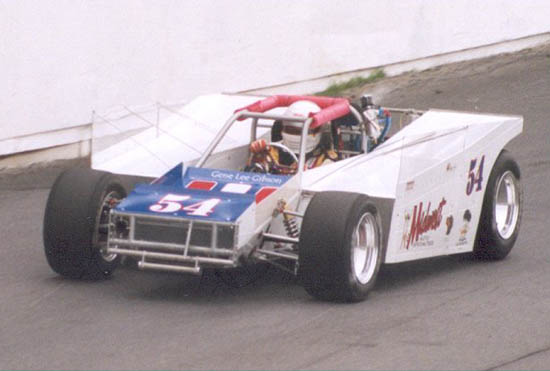 GENE LEE GIBSON PUTTING THE #54 THROUGH ITS PACES..NOTICE THE BREATHER IS SMOKING HEAVILY DO TO OILING PROBLEMS EARLY IN THE DAY FRIDAY..

Back to JimmyJeeps Front Page
Copyright © 2007, JIMMYJEEPS PUSH TRUCK WORLD, All Rights Reserved.