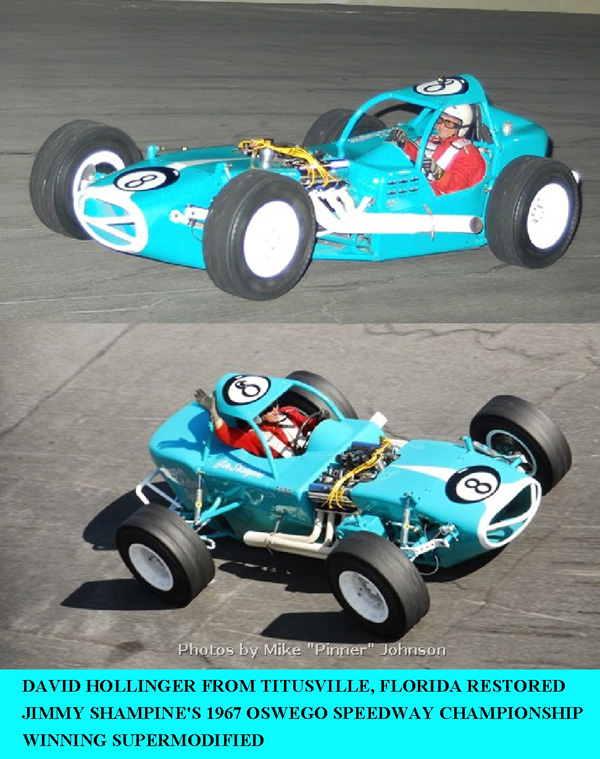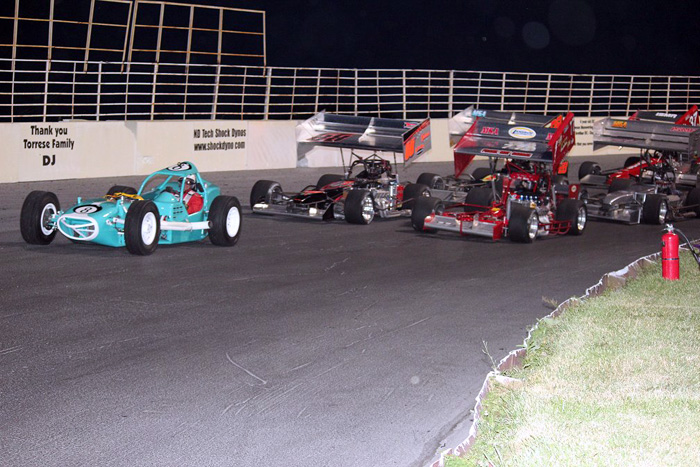 DAVID HOLLINGER IS KNOWN FOR HIS LOVE OF CLASSIC SUPERMODIFIEDS BROUGHT HIS NEWEST RESTORATION BACK TO ITS OLD TRACK OSWEGO SPEEDWAY..(Piner photos)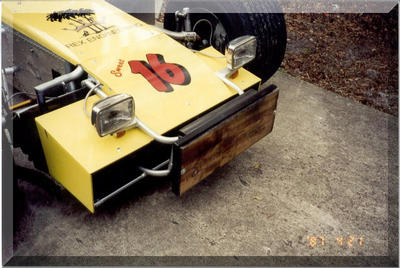 Well I thought I had seen everything used as a push vehicle until I pulled into Orlando Speedworld for the third night of the 2002 NAMARS midget series...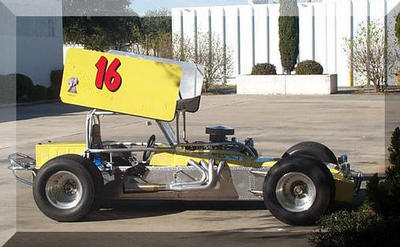 But David Hollinger of Titusville,Florida changed everything..There's more to the story than this bumper..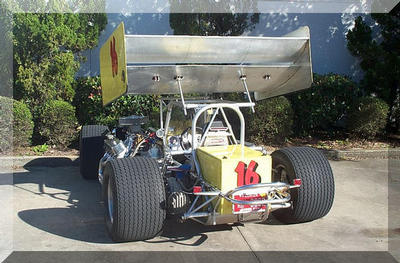 The car was built in 1981 by Steve Miller in Mexico New York. It raced until the middle 90's.. 
Steve parked it in the back of his barn until David bought the chassis, brakes etc for his street rod project in 2000..Steve Miller continues to race today and has two Supermodifieds now..Randy Ritskes is his driver..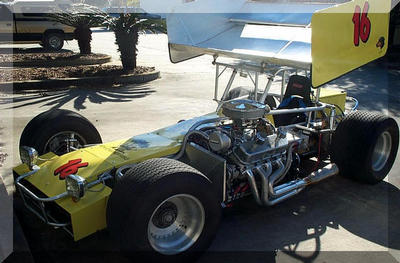 The car has a 496 big block Chevy with Edelbrock aluminum heads, Carillo rods, forged 1/4" stroker crank, hydraulic roller cam, ans 10.5/1 compression ratio Wiseco pistons.  It has a 3 stage drysump system, power steering and a drag race style shorty Powerglide transmission.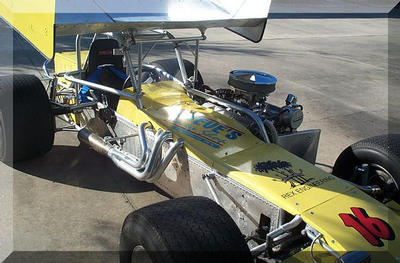 The rear end is a Frankland quick change with about 17" of offset..He uses a True Trac differential and a 4:11 ring and pinion..The brakes are all Hurst Airheart and uses 2 master cylinders and a balance bar..Since it is street legal it has hi and lo beam headlights, turn signals, 4-way flashers, parking brake, speedometer, fuel gauge, and rear view mirrors..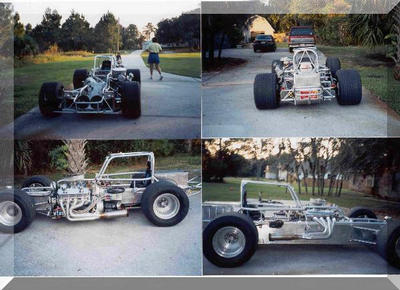 Now this picture does show the bumper and trust me its a real one..Yes it does lite up the tires if he gets on it but damn wouldn't you...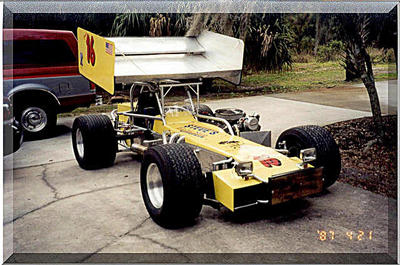 "Restoration labor of love for Mexico man" by John Hill
If A.J. Foyt is recognized as the patriarch of driving and Indy car chassis setup, and A.J. Watson the king of the design of front-engine Indy cars, then Steve Miller of Mexico is the master of race car restoration.
Miller, who runs an auto repair and body shop near his home and builds supermodified race cars, is a man who regards himself as most fortunate to live in the right place at the right time.
Of the 23 Offenhauser-powered Indy roadsters Watson built, Miller has restored nearly half of them. More in his shop await his expertise.
The roadster era is considered among the most colorful years of Indy racing. While the restorations are a labor of love and excitement for Miller, they also represent a time of carelessness.
"I was one of those guys in the late 1960s who butchered those beautiful old Indy roadsters, making them into supermodifieds to race at Oswego Speedway," he said.
"Now, rebuilding them is like a curse, punishment for what we did to them 40 years ago," he said. "There's a lot of work trying to put the chassis back to their original configuration, and we have to chase all over to find as many of the original parts as we can or just make new ones."
When supermodified racers began discarding their old Indy car chassis and building their own, Miller realized that the old roadsters soon would become collector's items. He began searching for them and collecting as many of the original parts that he could find.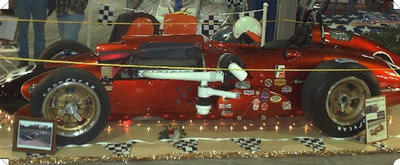 Most of Miller's restorations have been for historian Bob McConnell of Urbana, Ohio, who owns a formidable collection of old Indy cars.

Last year, Miller enjoyed his painstaking restoration of the Watson-built Leader Card Racers No. 1 "Kaiser Aluminum Special." Rodger Ward drove the car to a fourth-place finish in the 1963 Indy 500.

The car was raced at Oswego Speedway for years as a supermodified until 1978, when it was retired as the last of the Indy roadsters running at Oswego.

McConnell bought and handed the car to Miller, who restored it and hauled it to Indianapolis for last May's special tribute to the roadsters during pre-500 final practice.

"When A.J. (Watson) saw the car," Miller said, "he was a bit indignant and asked me, 'Where'd you get my car? I thought it was cut-up for a modified.' A.J. didn't believe it was original until he looked in the cockpit and saw it still had the original two-speed transmission."

With speedway president Tony George leading, 33 roadsters lined up for a lap around the 2.5-mile track, with Miller starting the Kaiser car in the middle of the front row.

"I was so nervous," Miller said. "We went rumbling down into the first turn and through the South short straightaway, but as we came out of the second turn and started down the back straight I though I was going to have a heart attack.

"I mean, here I was, driving an Offy roadster just like the old days around the famed Indianapolis Motor Speedway with a bunch of cars all around me. I'll tell you, it was the biggest thrill I've ever had in my life."

© 2002 The Post-Standard. Used with permission.

RETURN TO JIMMYJEEPS FRONT STRETCH
Copyright 2011 JimmyJeep All Rights Reserved