JIMMYJEEPS 2013 PHOTO GALLERY

CLICK HERE FOR MIKE TERRY FLIP AT PUTNAMVILLE
CLICK HERE FOR THE XTREME SPEED CHALLENGE AT WINCHESTER SPEEDWAY MAY 19, 2013
CLICK HERE FOR THE USAC SPRINTS TONY HULMAN CLASSIC @ TERRE HAUTE ACTION TRACK JUNE 21, 2013
CLICK HERE FOR THE USAC SPRINTS @ LINCOLN PARK SPEEDWAY-PUTNAMVILLE, INDIANA JULY 4, 2013
CLICK HERE FOR THE TONY HULMAN/JIM HURTUBISE CLASSIC AMSOIL USAC SPRINT CAR NATIONAL CHAMPIONSHIP RACE--AUGUST 31, 2013 @ TERRE HAUTE
CLICK HERE FOR THE PASTOR DUDLEY BALMER COLUMNS
CLICK HERE FOR 2013 PHOTO GALLERY NUMBER ONE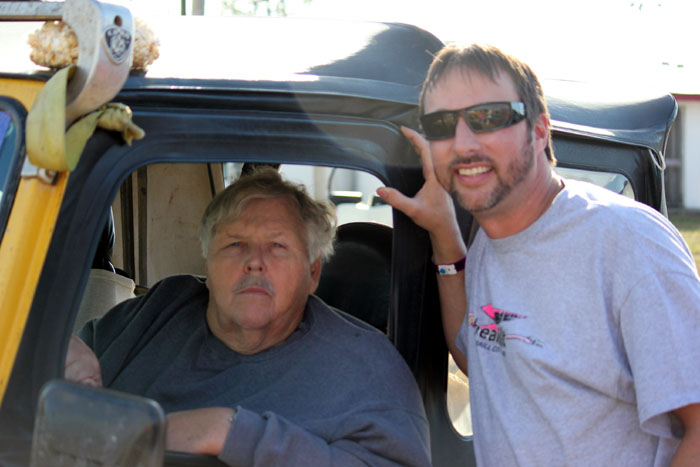 JIMMYJEEP AND MY BUDDY DAVID REUTIMANN DURING THE 2013 SPEEDWEEKS AT VOLUSIA SPEEDWAY PARK..(Glenda Lacer photo)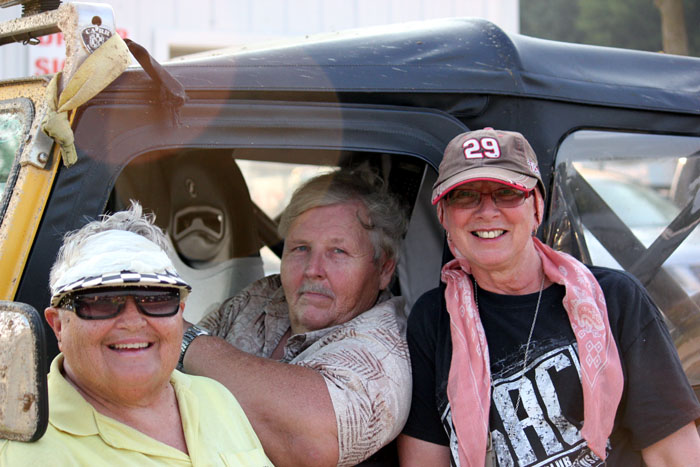 GLENNA DEZARN, JIMMYJEEP, AND OUR FRIEND JENNY BARKER FROM ENGLAND DURING THE USAC SPRINT WEEK AT PUTNAM..(Glenda Lacer photo)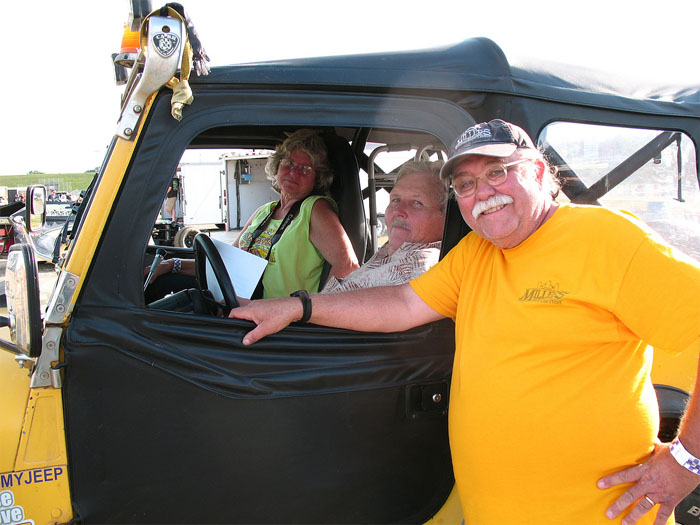 GLENDA, JIMMYJEEP, AND A.J. WATSON INDY ROADSTER RECREATER TOM MCGRIFF..HE HAS BUILT MORE THAN A.J. EVER DID..(Randall Cook photo)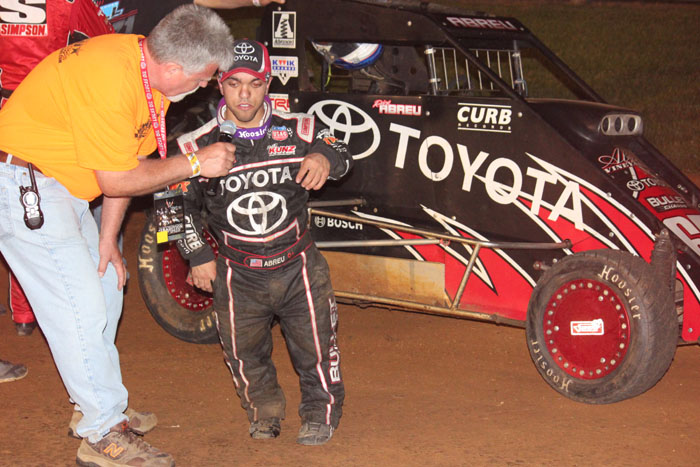 HAVE YOU SEEN RICO ABREU DRIVE THE USAC KUNZ/CURB-AGAJANIAN MIDGET..HE IS A HECK OF A DRIVER..(Glenda Lacer photo)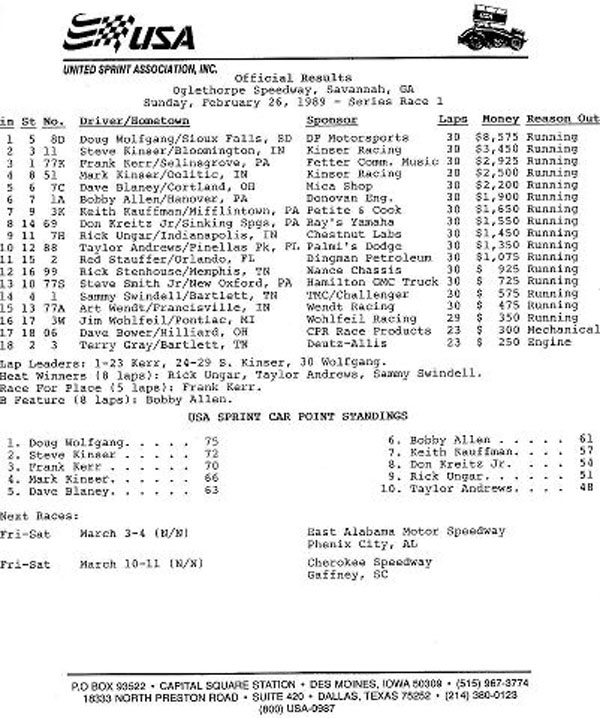 JIMMYJEEP PUSHED THE FIRST UNITED SPRINT ASSOCIATION RACE AT OGLETHORPE SPEEDWAY IN SAVANNAH, GEORGIA ON FEBRUARY 26, 1989..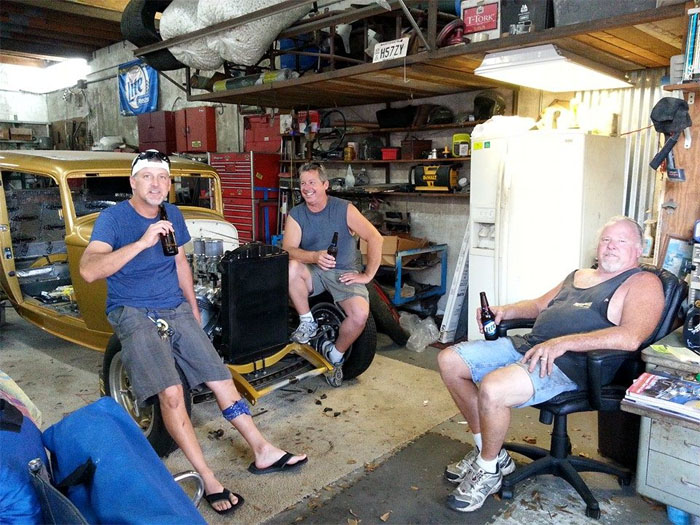 MIKEY, PATRICK, AND MY BUDDY RED STAUFFER WHO FINISHED 11th IN THE FIRST USA SHOW..(Stuaffer photo)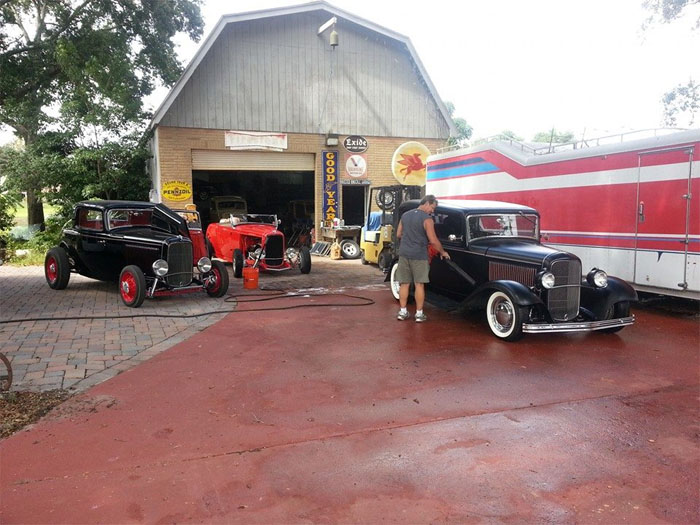 WHERE WE USE TO WORK ON HIS SPRINTS CARS IN WINTER PARK, FLORIDA HIS FIRST LOVE OF STREET RODS FILL THE DRIVEWAY NOW..(Stuaffer photo)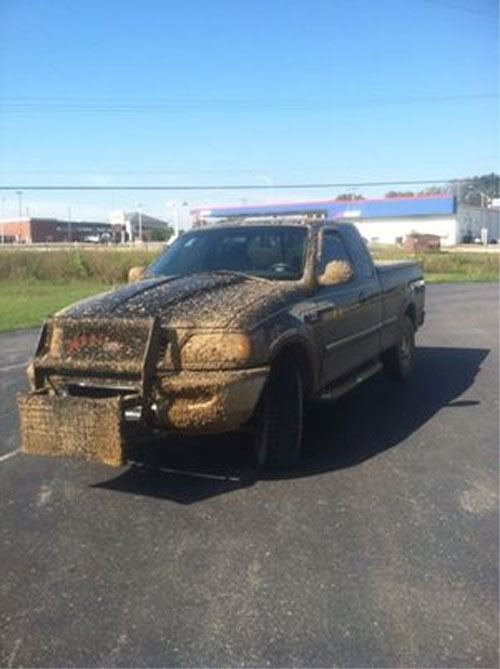 MIKE PICKENS LAST INDIANA SPRINT CAR PUSH OF THE SEASON AT BROWNSTOWN SPEEDWAY RESULTED IN A LONG MORNING AT THE CAR WASH..(Pickens photo)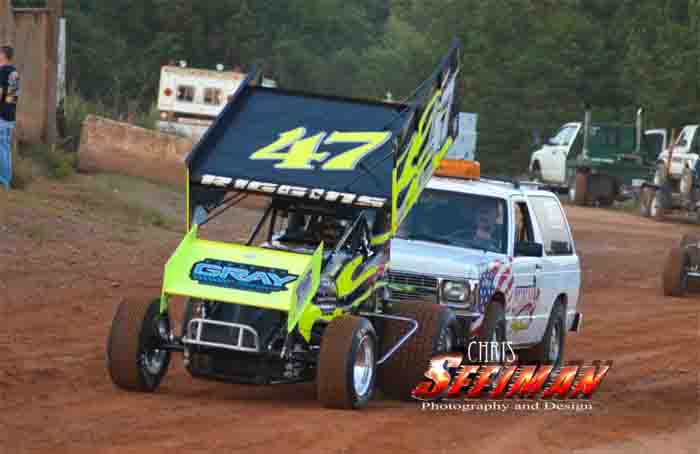 MARVIN BERTHOFF PUSHES OFF 47 ERIC RIGGINS, JR DURING THE USCS NORTH VS SOUTH SHOW AT CAROLINA SPEEDWAY..(Chris Seelman photo)
AFTER A SATURDAY MORNING TRIP TO THE CARWASH NORTH CAROLINA'S MARVIN BERTHOFF AND PENNSYLVANIA'S KAREN MANSFIELD GET READY TO HEAD TO CHEROKEE SPEEDWAY IN GAFFNEY, SOUTH CAROLINA FOR THE USCS vs. URC SPRINT CAR SHOW..(Berthoff photo)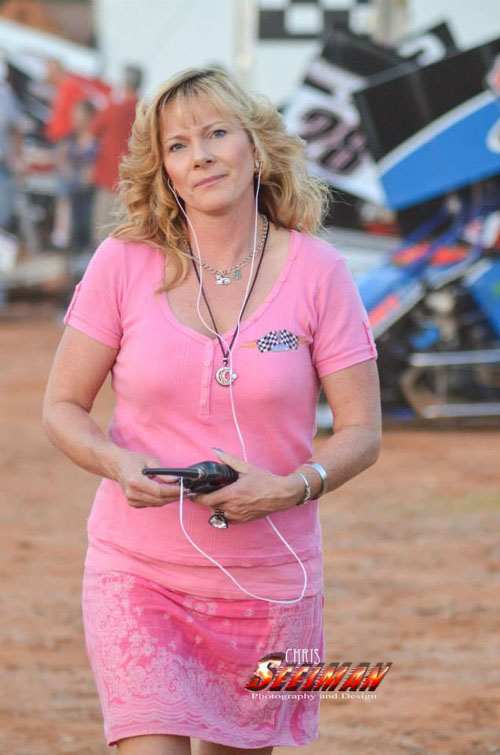 PRETTY IN PINK PUSHER ALICIA CAMPBELL-SZEREDY IN THE PITS AT THE CAROLINA SPEEDWAY..(Chris Seelman photo)

CLICK ON THE BELOW LINKS FOR SOME BOARD TRACK RACING AND WRECKS..
CLICK HERE FOR BOARD TRACK RACING..
CLICK HERE FOR 1920's AUTO RACING ON ALTOONA RACEWAY WOODEN TRACK..
CLICK HERE FOR EARLY CRASHES AT THE INDY 500..


ALL HAVE DRIVEN ONE by Pastor Dudley Balmer
Few pictures we have posted have gotten the response as the picture of the "R Z" #42 Trevis car featured in the last column. Several emailed with names of drivers that had been in the car at one time or another. Others had raced against the car at some time and others remembered it as the car flipping at Terre Haute at the opening of ABC's Wide World of Sports. We thank all who took the time to call or write. Maybe we should spend a few minutes and remember the era of the Trevis Craft sprint cars and their place in eastern sprint car history.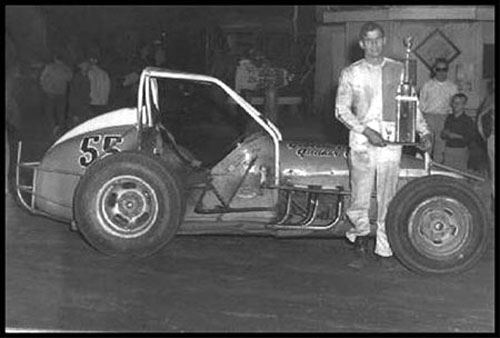 Larry Dickson in Long Bros 55
First we all drove'em. Few drivers from the sixties and seventies have not spent some nights in a Trevis built sprint car. This was the time that the supermodified coupes had given way to the caged sprint cars with a little piece of tin on top of the cage that allowed them to be run as a "super". There were several builders at the time but if you were racing in Ohio or further east the Trevis Craft was the way to go. These rugged four bar cars became the beast of burden for area racers and travelers alike. There was a time that in a field of twenty cars, fifteen quite possibly were out of the North Lima, Ohio shop of Floyd Trevis. Most owners of the day had one car, would freshen it up over the winter and run it for several seasons. If you twisted it up too badly to fix it at home it would take the ride back to North Lima for repairs. They were built to survive the rigors of weekly racing for multiple seasons. I remember helping Ted Swiontek bolt the injection and mag on a Chevy crate engine, set it in his Trevis #12, run it for twenty minutes, change oil and head to the track for Dave Lundy to win the feature. Ted later built his own school bus yellow #12 creations. No tie down shocks, hydraulic wings or trick stuff of today. Race it this weekend, wash it and race it next week end.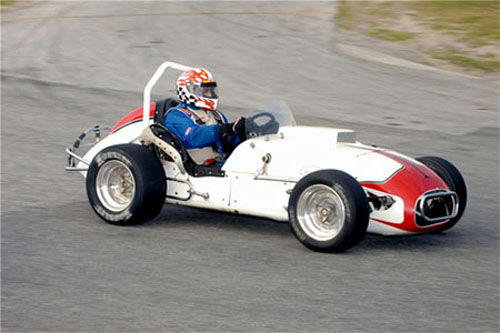 Dale Miller's 1950 Trevis Midget
The Trevis legacy didn't mean much to the guys running his cars on a regular basis. The fact that he had been building midgets since the 1940s didn't mean a whole lot. His Indy car history likewise was well known but not the focus of the sprint car contingent. Trevis' first Indy effort was in 1946. At least five Indy roadsters followed. Trevis also rebuilt and updated some Indy roadsters, a few of which were mistakenly credited to be his original creations. The fact that he was the pole winning mechanic in 1958 and was to be inducted into the National Sprint Car Hall of Fame in 1990 meant little to the guys that campaigned his sprinters. They only cared that the cars were competitive everywhere they ran and that Trevis and son Ron would put them back together in short order if need be. One can't really list the names of drivers that have driven Trevis creations. During the 60's and 70's nearly every driver had a turn in a Trevis. During the years I have driven three of them and last year had the opportunity to drive Dale Miller's Trevis midget roadster. Supposedly only four of these were ever built and this is the only one that survives in racing condition. Probably the most storied of the Trevis sprinters was Bob Weikert's 1971 car known as "Old Blue". The car had a total of 146 feature wins. Some of the more notable were the 1973 and 74 Knoxville Nationals, the 1972 Florida IMCA Winternationals and the 1972 and 73 Willliams Grove National Open 150- lappers. There has to be many Trevis sprint cars surviving in old garages and barns around the country. We still hope to come across one of these survivors to use in the vintage portion of our ministry. Trevis sprint cars, everybody drove one.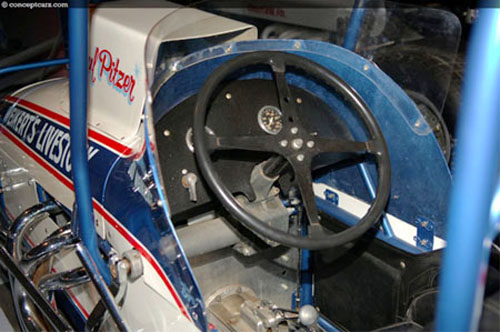 Weikert's Old Blue
Just a reminder to our vintage racing friends. The Daytona Antique Auto Racing Association Fall Nationals are just around the corner. The dates are November 14 through 17 and the venue is Florida's Marion County Speedway. The heat and humidity have passed and it should be a great time of the year for some dirt racing vintage style. The annual business meeting will also be held during the banquet at the Holiday Inn & Suites Ocala Conference Center. Area rooms can be had for $59.00 and up with information available on the web site. All members should make an effort to attend. With the weather cooling down and hopefully the rain tapering off for the season we should expect a good field of cars in each division. The only negative about the upcoming DAARA fall event is that it will be missing Jim Kaserman. Jim passed away October 18th. Please keep Sarah Jane and the family in prayer. Further event information may be found at www.mydaara.com . For additional details you may contact Karen Dunn at totallydunn@aol.com. Midgets, sprints, stock cars, coupes, speedsters all make their way onto "The Bull Ring " for some high speed exhibition racing. An absolutely great way to wind down your racing activities for the season. I would be remiss if I failed to thank all who added me to their prayers and well wishes for my eye problems. The specialists in Tallahassee gave me a clean bill of health. Two conditions resemble each other upon examination. One requires surgery and presents future challenges. The other, though appearing similar requires no intervention. Again I was blessed and all is well. Pastor commitments and the failing of Nancy's mother will determine how we end up the 2013 season. An emergency trip to West Virginia could be necessary at a moment's notice. I am also filling in for a pastor who is recovering from open heart surgery. Retirement? No thoughts of that in the foreseeable future. As we look forward to the 2014 season, we hope it is you that we see somewhere along the way. God bless and see you at the races.

RETURN TO JIMMYJEEPS FRONT STRETCH
Copyright © 2013 JimmyJeep All Rights Reserved