JIMMYJEEPS 2013 PHOTO GALLERY PART ONE

VARC AT LAWRENCEBURG SPEEDWAY SEPTEMBER 28, 2013--GLENDA LACER PHOTOS..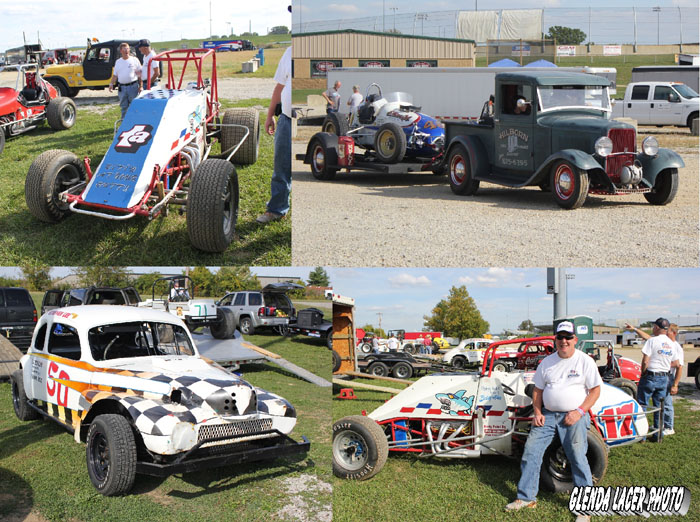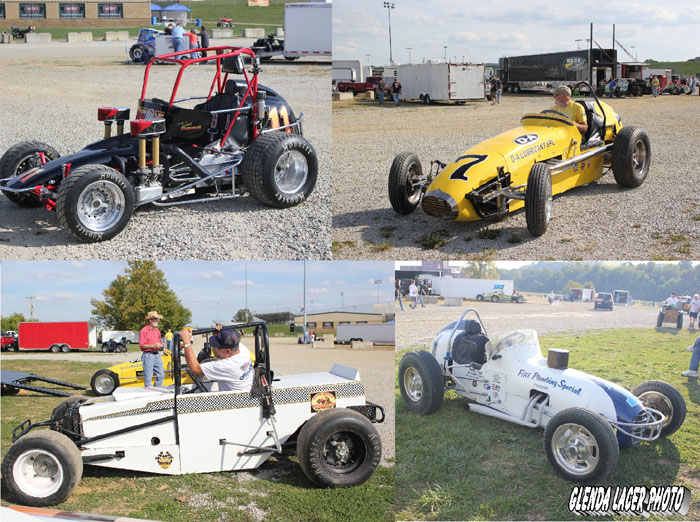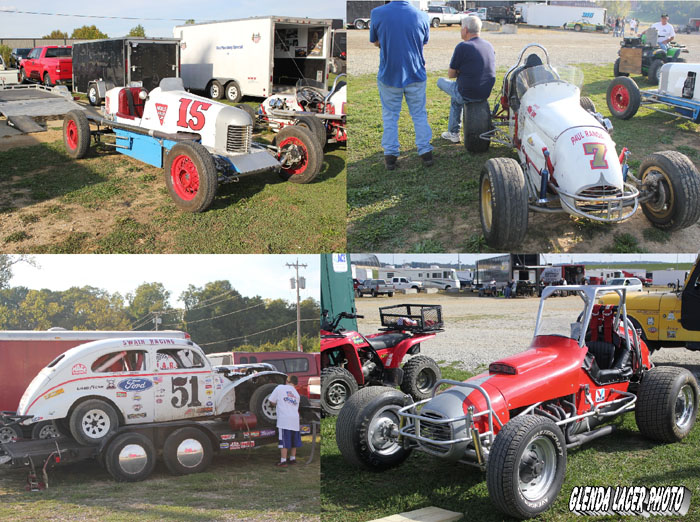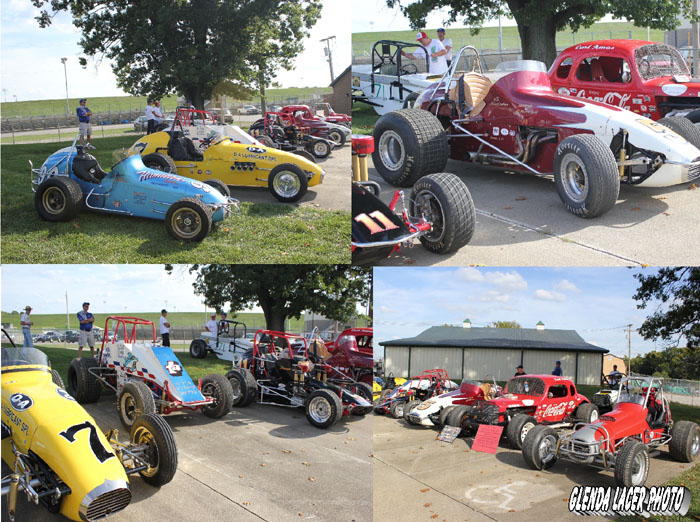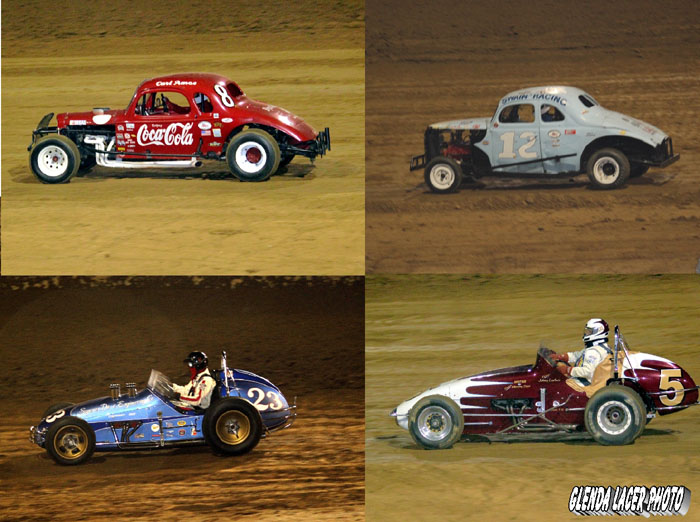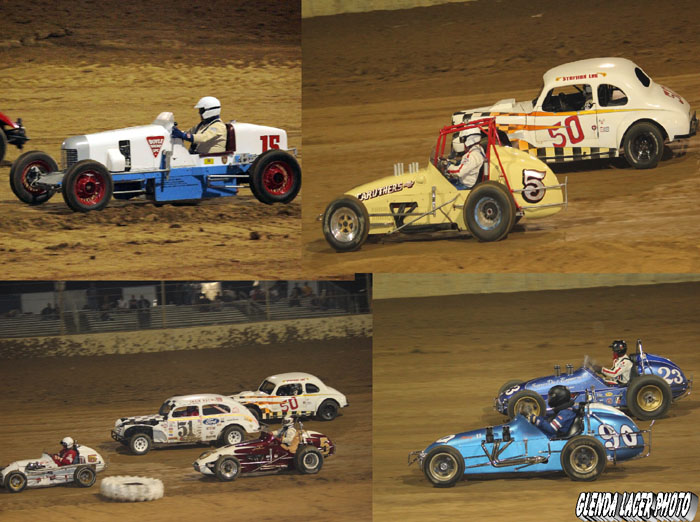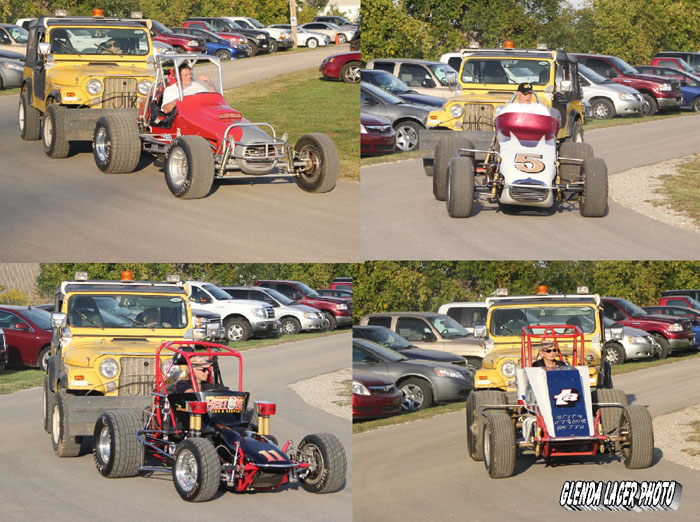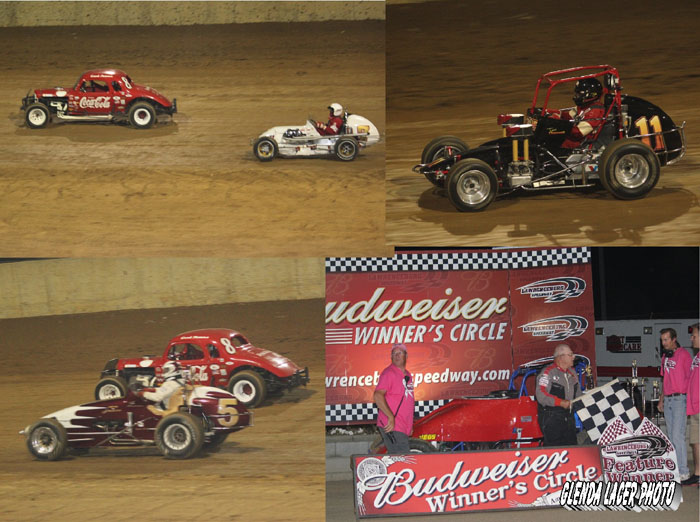 EASTERN MUSEUM OF MOTOR RACING CARS AT SUSQUEHANNA AND HAGERSTOWN SPEEDWAYS..RICK MANDELSON PHOTOS..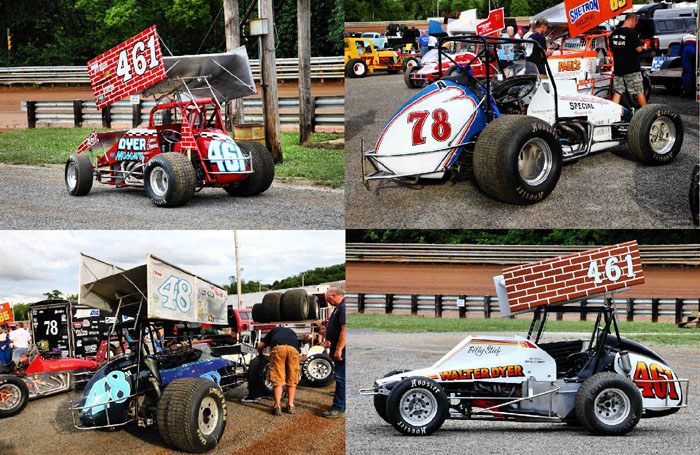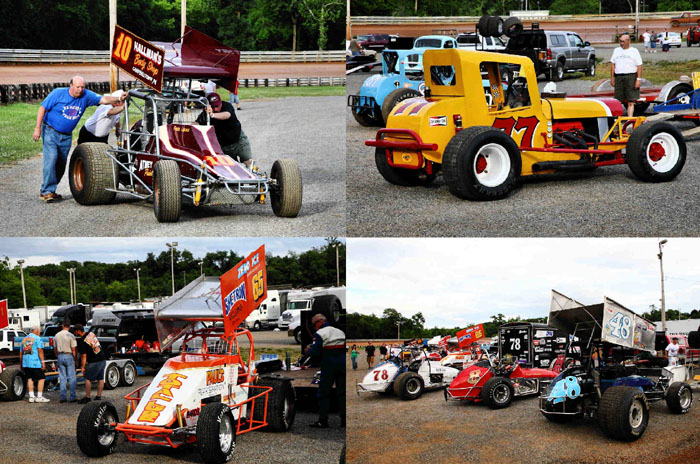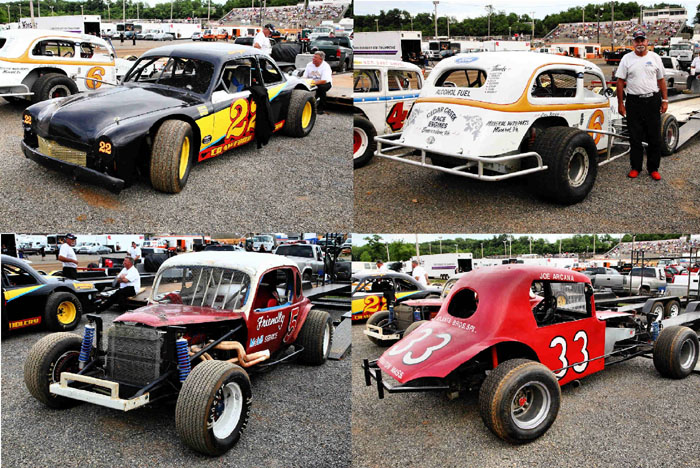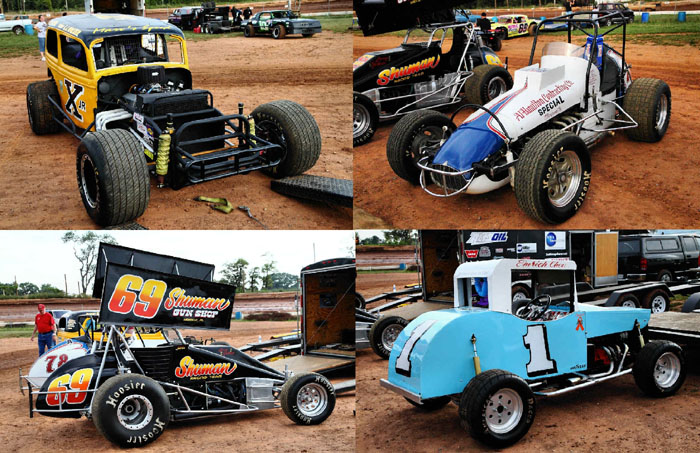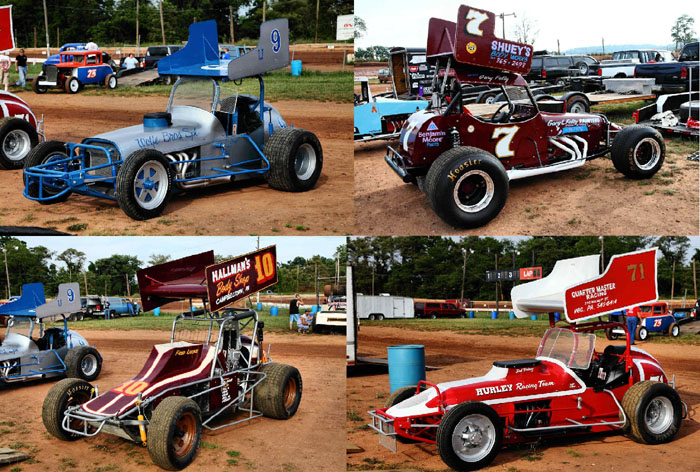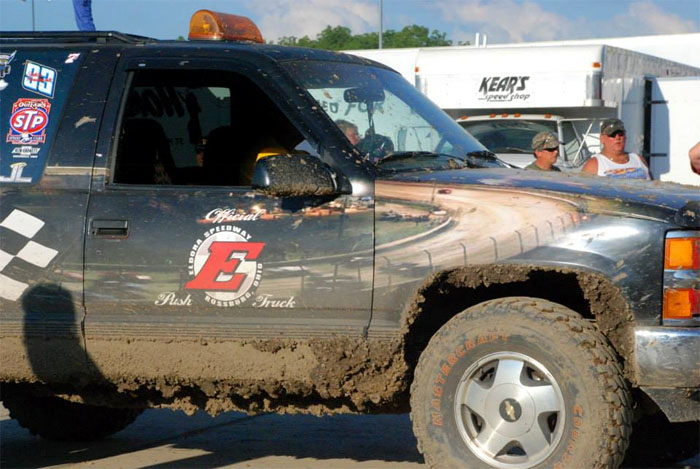 IT MAY BE AN ELDORA PUSH TRUCK BUT THEY STILL GET MUDDY..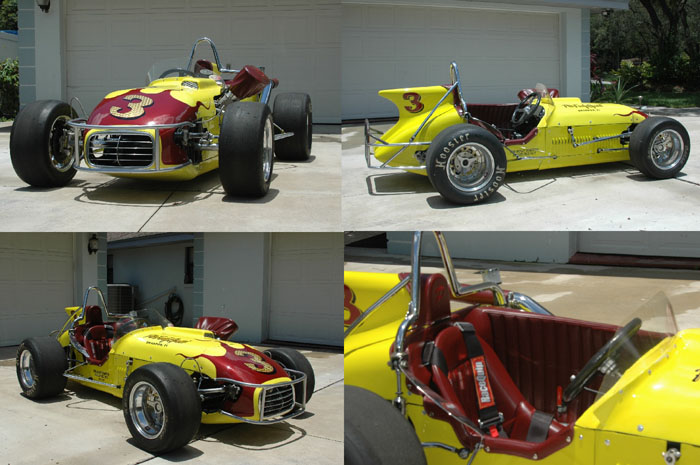 PHIL PETE HAS RESTORED HIS FATHER FRED PETE'S #3 1959 ROADSTER MIDGET WITH A CHEVY II ENGINE..(Pete photo)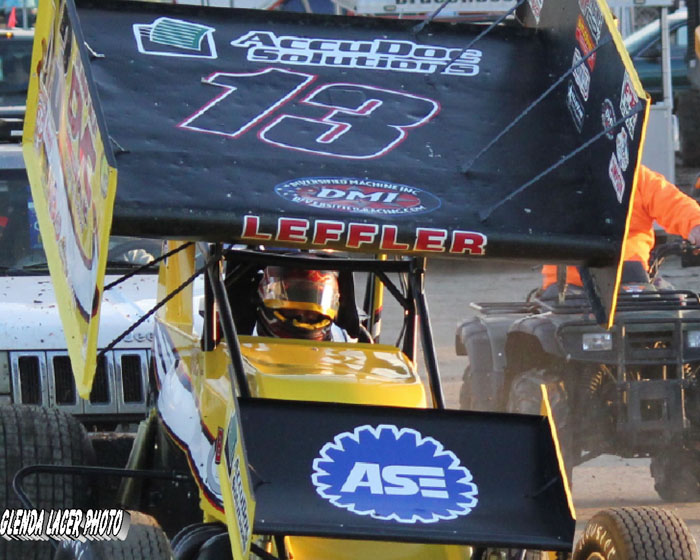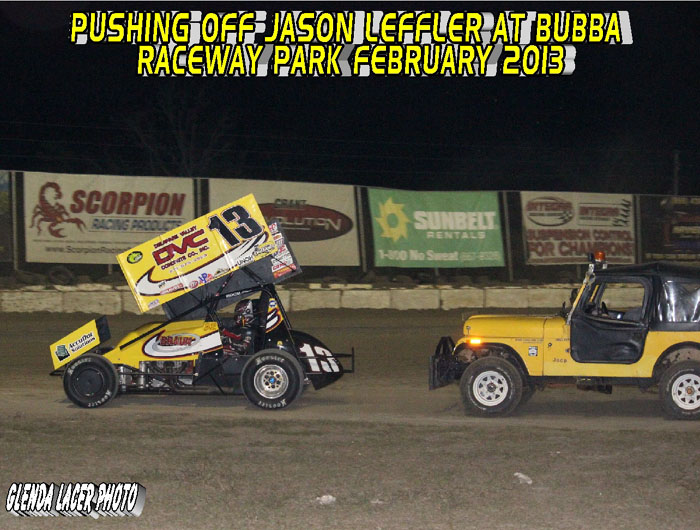 JASON LEFFLER TOOK HIS FINAL CHECKERED FLAG JUNE 12, 2013 DOING WHAT HE LOVED..REST IN PEACE JASON..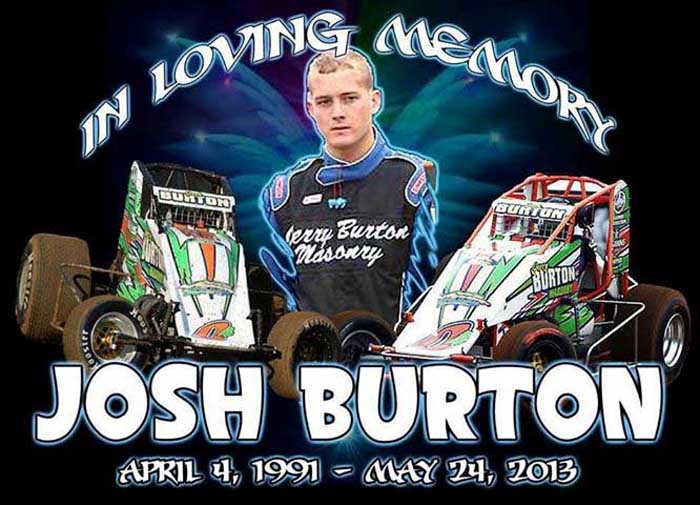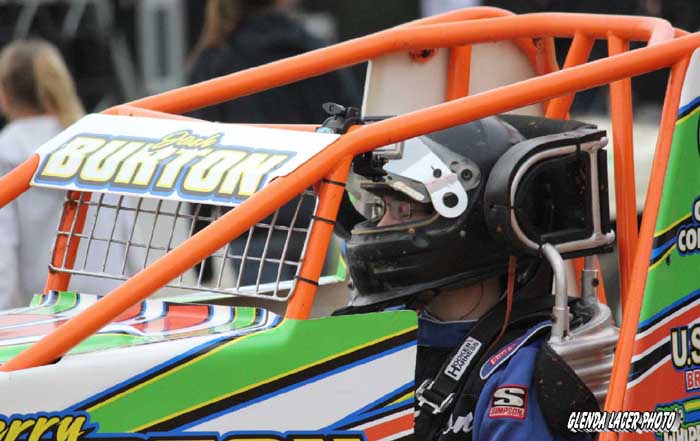 WHEN I FIRST STARTED PUSHING 28 YEARS AGO I KNEW SPRINT CAR RACING WAS A FAST BUT DANGEROUS SPORT..I WOULD LEAVE THE TRACK AS SOON AS THE RACE WAS OVER SO I WOULDN'T GET TO KNOW THE DRIVERS TO GOOD IF SOMETHING WOULD HAPPEN TO THEM..THINGS CHANGE AND THEY BECOME YOUR FAMILY EVEN IF YOU DON'T SHARE TIME WITH THEM..YOU PUSH THEM OFF AND MAKE SURE THEY GET BACK TO THEIR PITS WHEN THE RACING IS DONE..YOU WATCH THEM STRIVE TO BE THE VERY BEST WITH THE EQUIPMENT THEY HAVE TO WORK WITH..ITS A VERY FINE LINE THEY FOLLOW AND THEN IT HAPPENS..JOSH BURTON'S STORY ENDED HOURS AFTER A CRASH AT BLOOMINGTON THIS PAST WEEK..SO YOUNG TO TAKE HIS FINAL CHECKERED FLAG BUT SO WELL REMEMBERED..RIP IN PEACE JOSH..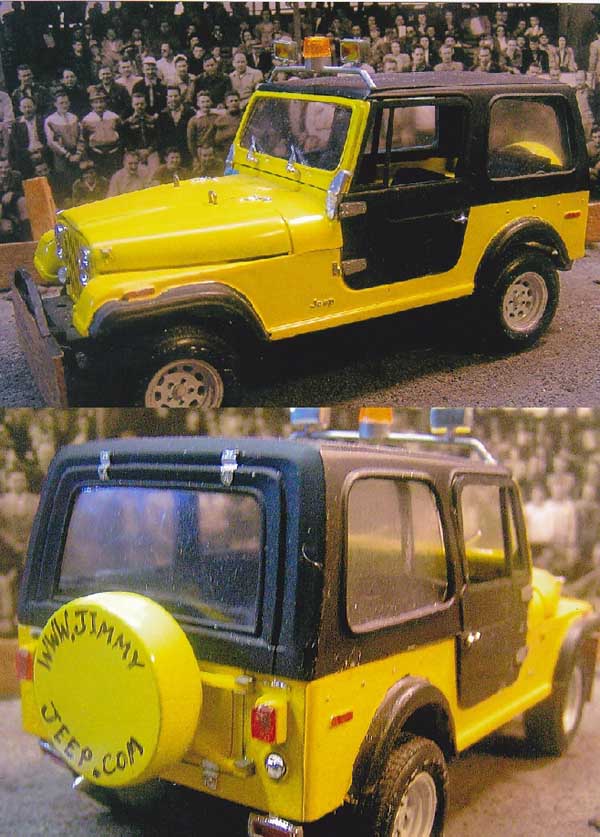 I HAVE A MODEL NOW OF MY JIMMYJEEP'S "WAR WAGON"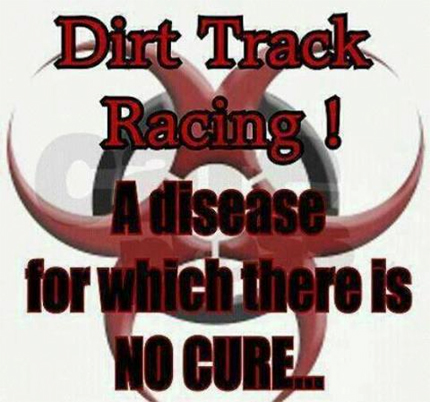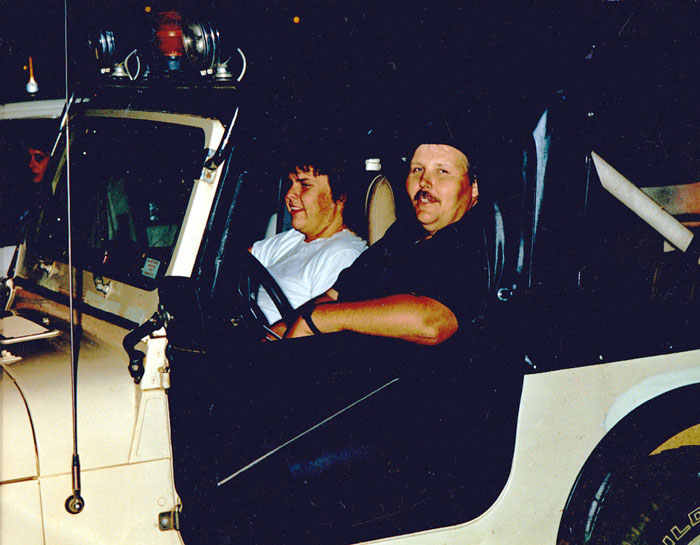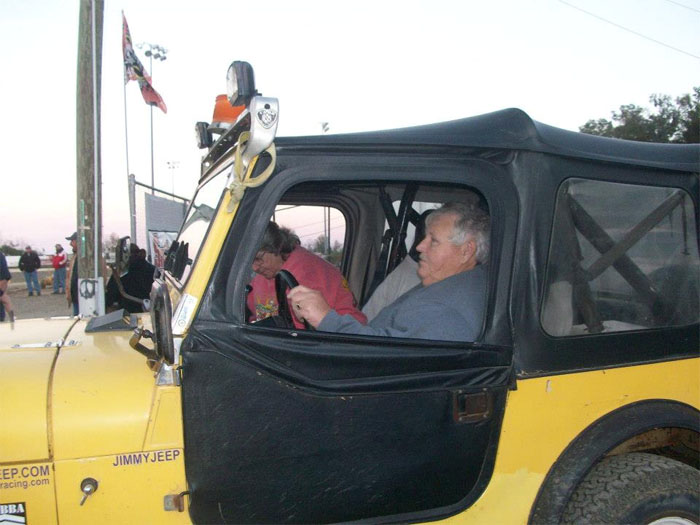 TWENTY EIGHT YEARS OF PUSHING HAS CHANGED MY HAIR COLOR AND MY JEEP'S PAINT COLOR..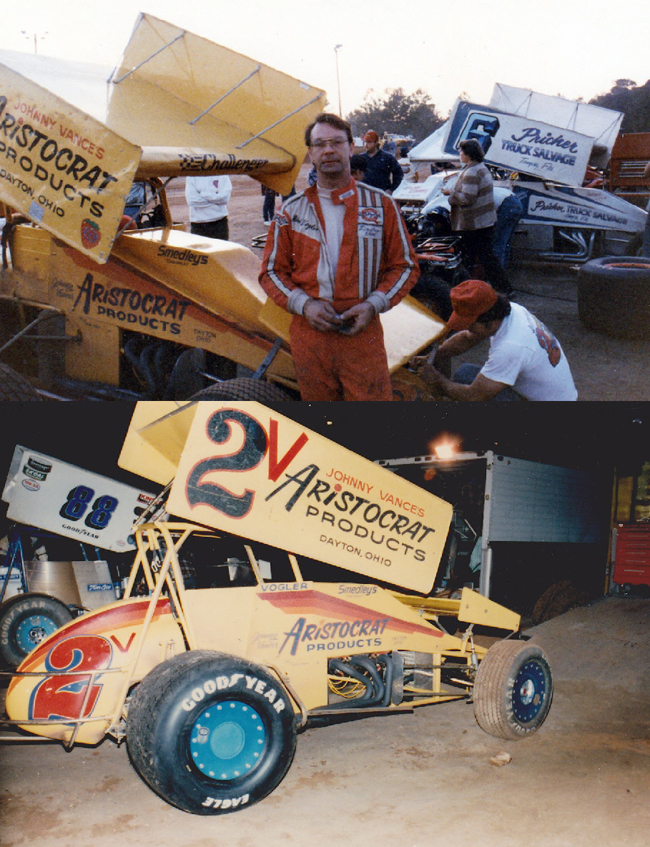 THE FIRST TIME I PUSHED RICH VOGLER WAS AT VOLUSIA IN THE LATE 80's..(JimmyJeep photo)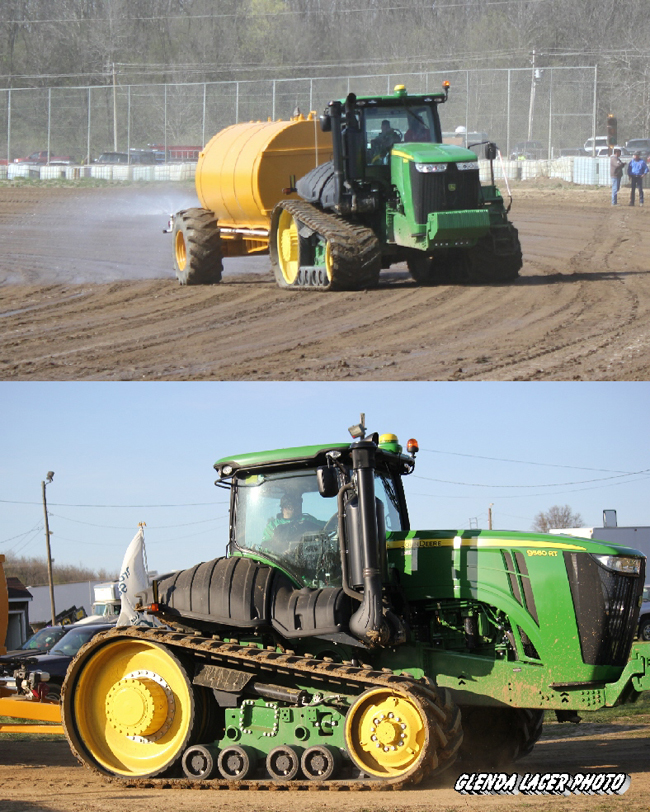 HOW ABOUT THIS RACE TRACK VEHICLE THEY WERE USING AT DANVILLE, ILLINOIS..THIS JOHN DEERE LISTS FOR OVER $400,000..(Glenda Lacer photo)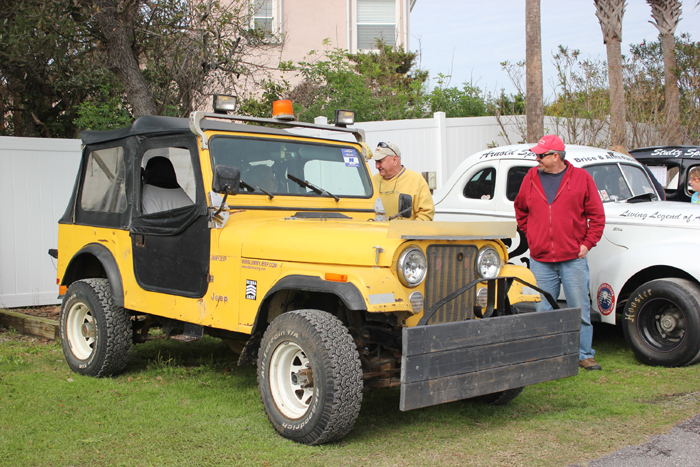 WERE BUSY DURING THE 2013 FLORIDA SPRINT WEEKS..I SURE DID TALK WITH A LOT OF MY FRIENDS AND GLENDA TOOK THOUSANDS OF PICTURES..WE WORKED THE ALL STARS, WORLD OF OUTLAWS, USAC SPRINTS, USAC MIDGETS, DAARA SPRING NATIONALS, TWO PARADES, AND PUSHED AT FOUR TRACKS..(Glenda Lacer photo)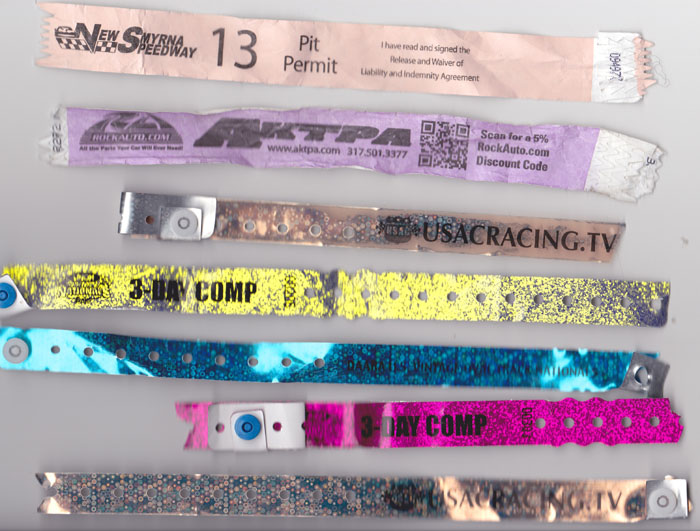 LOTS OF ARMBANDS..(Glenda Lacer photo)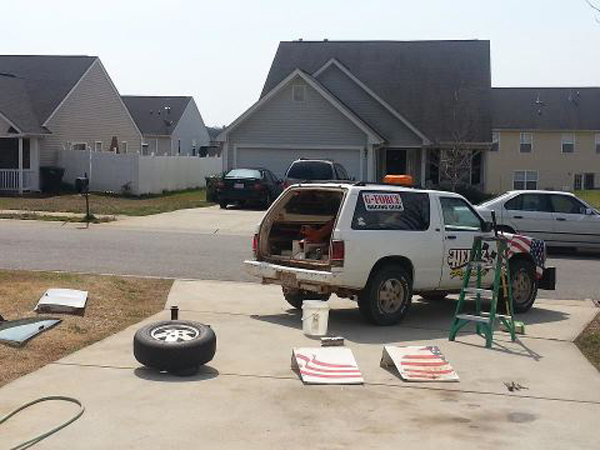 CHARLOTTE PUSHER MARVIN BERTHOFF DID SOME SPRING CLEANING..(Berthoff photo)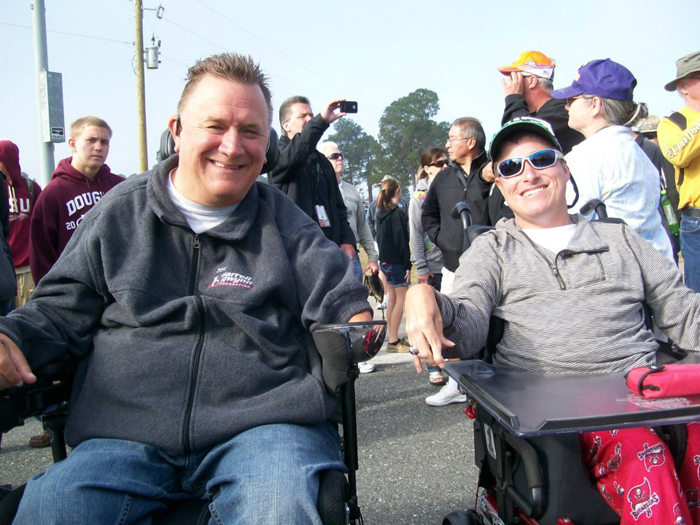 FORMER DRAG RACER DARRELL GWYNN WITH BRIAN LOUGHHEAD AT THE GATERNATIONALS..(Loughhead photo)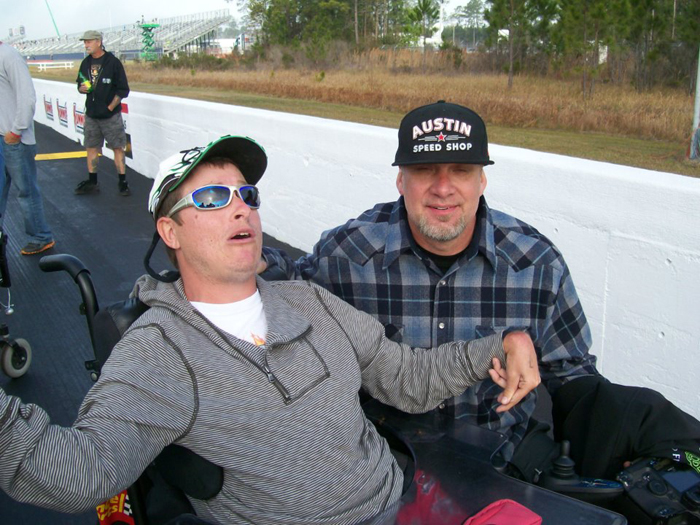 BRIAN GOT TO MEET WITH BAD BOY JESSE JAMES AT THE GATERNATIONALS..(Loughhead photo)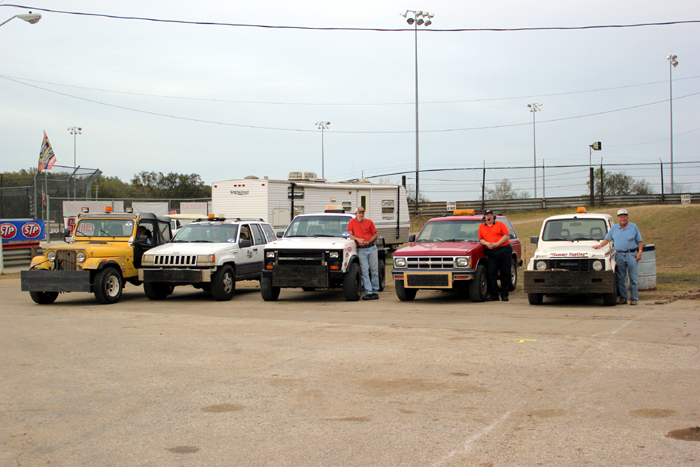 PUSH TRUCKS FOR THE USAC SPRINTS AT BUBBA RACEWAY PARK FEBRUARY 21-23, 2013..FROM THE LEFT ARE JIMMYJEEP, CHARLIE SHARP, ROBERT PLATT, BRENT SEELMAN, AND VAUGHN ROCKNEY..(Glenda Lacer photo)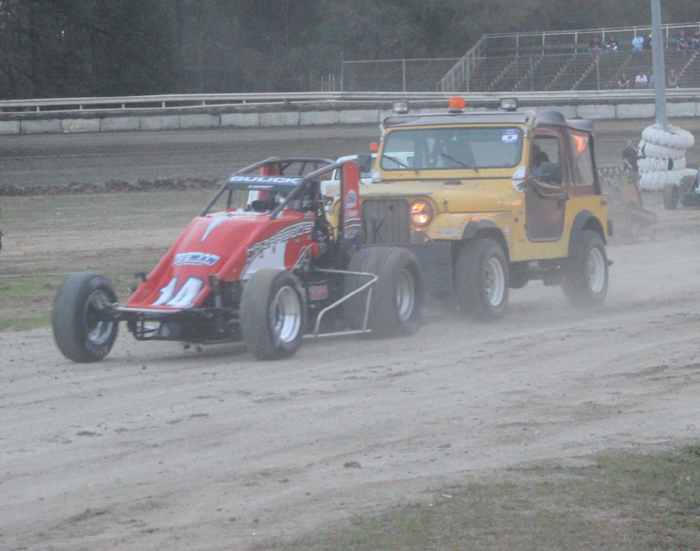 JIMMYJEEP PUSHING OFF #14 COLEMAN GULICK..(Glenda Lacer photo)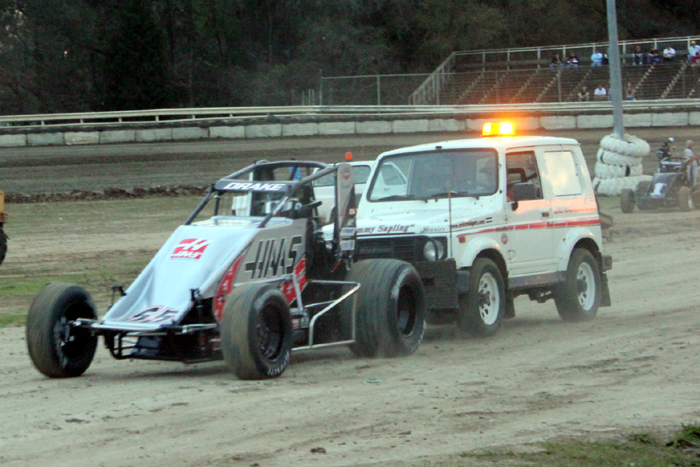 VAUGHN ROCKNEY PUSHING OFF #55 NICK DRAKE..(Glenda Lacer photo)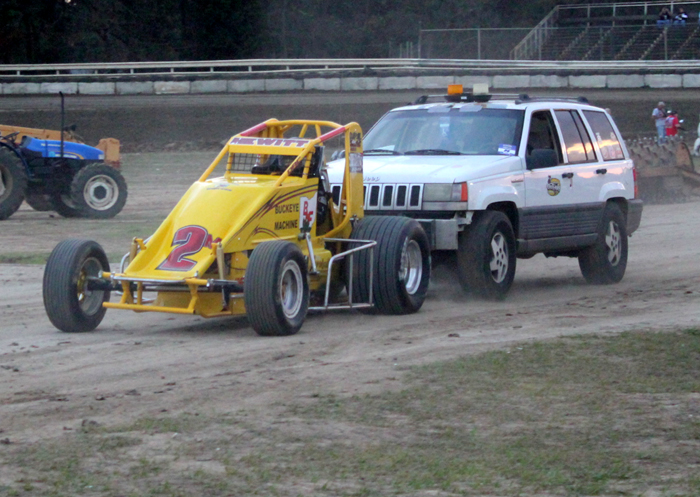 CHARLIE SHARP PUSHING OFF #2M DALLAS HEWITT..(Glenda Lacer photo)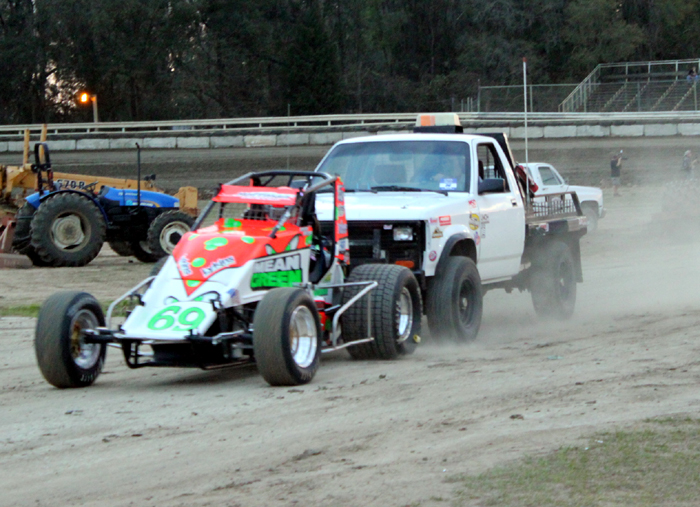 ROBERT PLATT PUSHING OFF #69 BRADY BACON..(Glenda Lacer photo)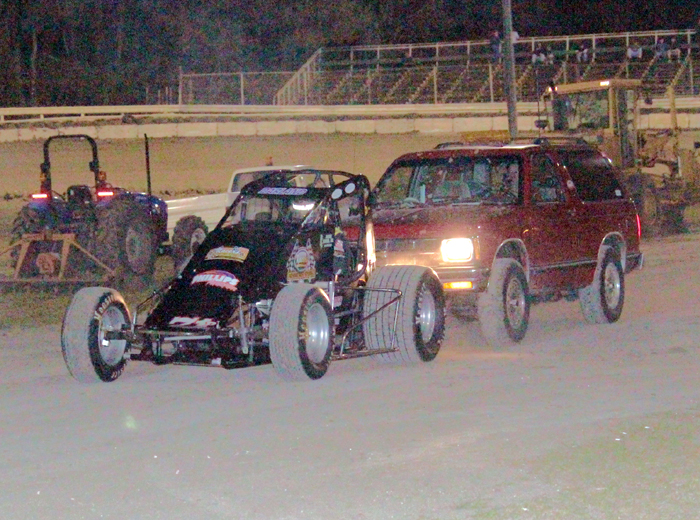 BRENT SEELMAN PUSHING OFF #71P DAVE DARLAND..(Glenda Lacer photo)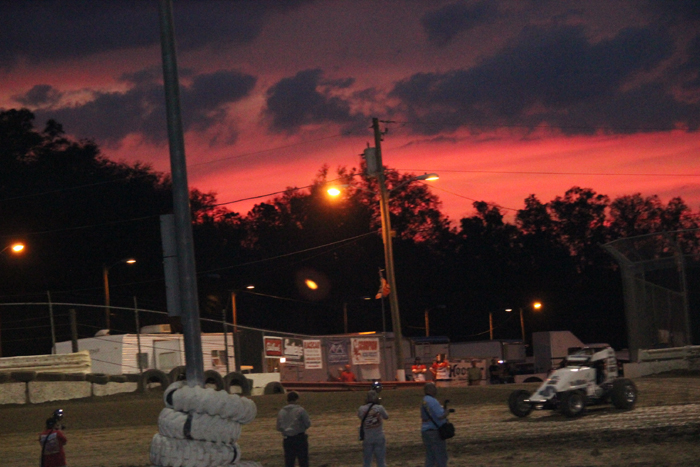 THURSDAY NIGHTS SUNSET WAS PRETTY..(Glenda Lacer photo)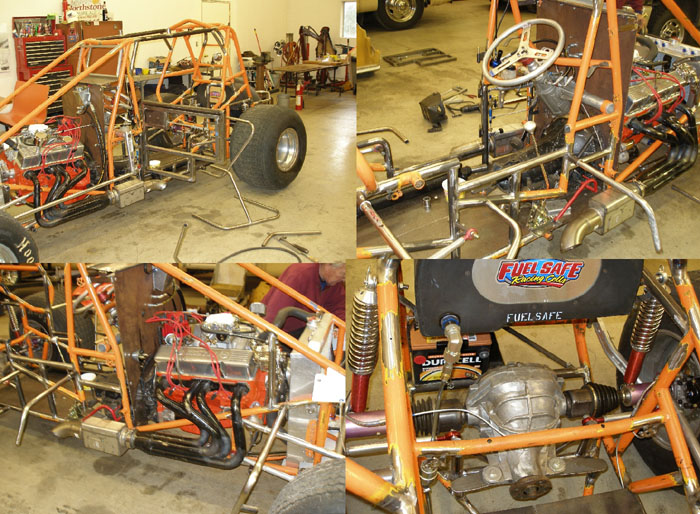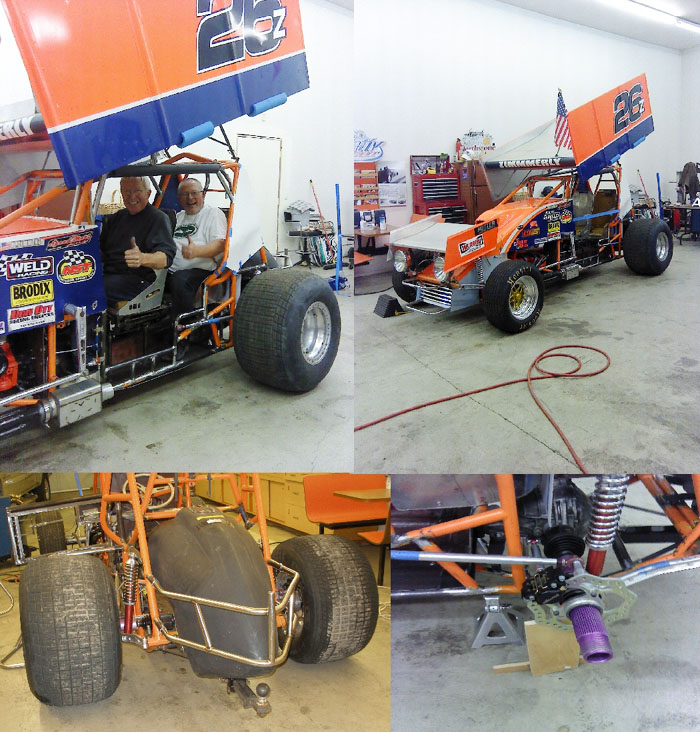 Toby Tobash writes: I have been busy up here in WA. helping a friend, Ken Holtmann build a new car..It is not ready yet but I am sending you some pictures of the the construction of it, hope you like it..The chassis is a 2003 Rocket built by Shawna Wilsky & Ben Curtis..We stretched it 26" for the second seat, we have a 350C.I. Chevy Engine with a 4 barrel carb, 3 speed tranny & a Lincoln Mark 9 rearend mated to sprint car axels, 4 wheel disc brakes & independent rear supension & coil overs on all 4 corners..The seat frames are also out of the Lincoln and are electric & mated to Joe's racing seats, five point harnesses front & rear, the car has head lights, tail lights, turn signals, stop lights & running lights, LED's will be on the top wing & nose wing along with flashers front & rear run by a Galls wig-wag flasher sys..I have also installed this sys. on my street legal sprint car/ push car, very easy to tell me from the regular sprint cars..It will also be equipped with CB radio, & charging sys. for phones & other accessories, a trailer hitch for towing, 28 gal. Fuel Safe fuel cell that will take methanol or pump gas, push board, we have modified the left side for a door for easy access & much more..The car will have street legal Hooshers on all for corners with wide 5 sprint car rims on the front & left rear sprint car rims on the rear. We hope to have the car ready by the end of April 2013..Sent you a couple of photo's with the car mocked up setting on tires..Hope you like them, will have the finshed photo's soon I hope with my trailer & car hooked up to it.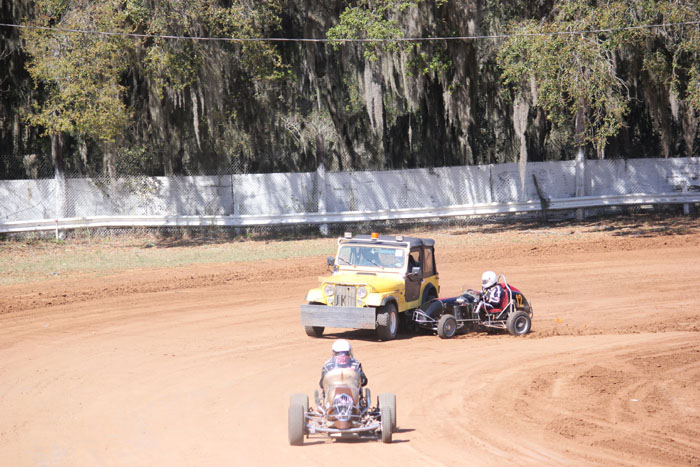 MY JEEP WAS BODY SLAMMED BY A MIDGET UNDER CAUTION AT THE BULLRING..I DROPPED IT OFF AT HARTSVILLE 4X4 AGAIN FOR FRAME AND LIGHTS REPAIR AGAIN SO I'M BEHIND ON PICTURES..(Glenda Lacer photo)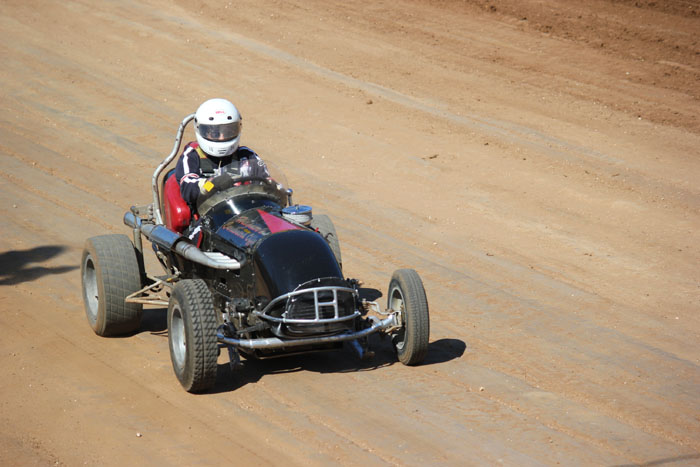 MY FRIEND HAD BEEN PUSHED OFF AND WAS UNDER CAUTION AS WE GOT THE REST OF THE DAARA ANTIQUES STARTED..(Glenda Lacer photo)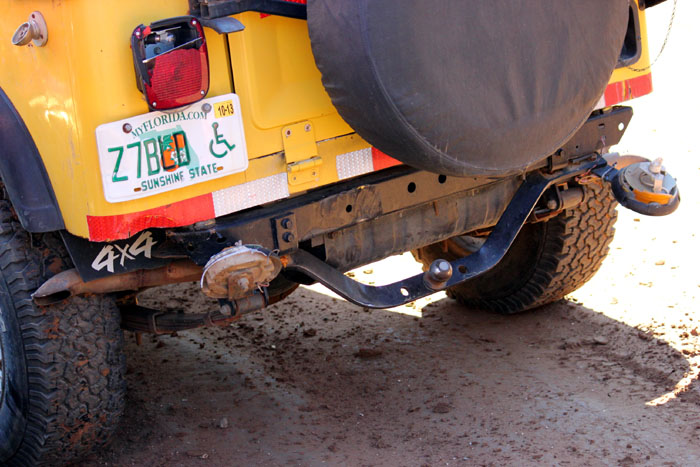 HE BROADSIDED ME WITH HIS RIGHT SIDE AND BOUNCED OFF AND END UP WITH HIS RIGHT FRONT WHEEL STUCK UNDER MY JEEP IN FRONT OF MY LEFT REAR TIRE..(Glenda Lacer photo)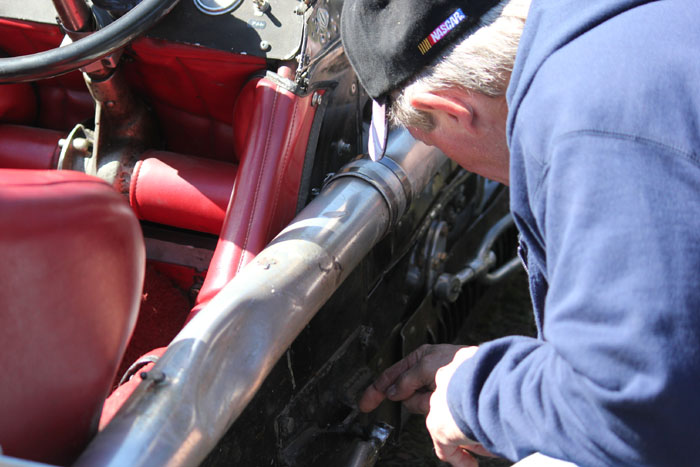 THE 1946 SOLAR MIDGET HAS A STAINLESS STEEL FRAME AND RECEIVED MINIMAL DAMAGE..(Glenda Lacer photo)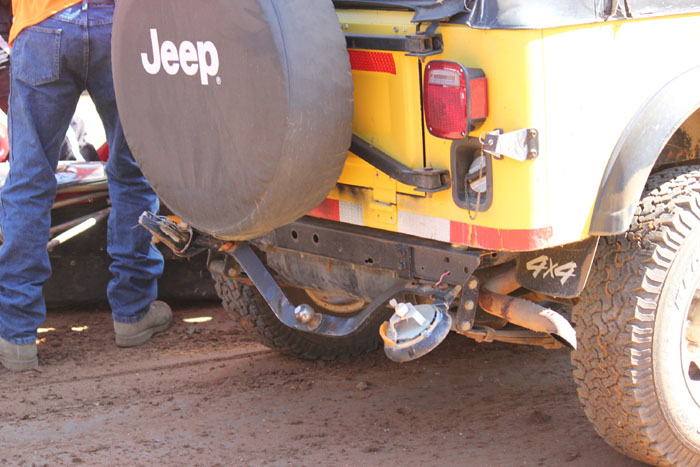 THE TOW BAR WAS DROVE STRAIGHT DOWN AND DENTED THE STONE SHIELD ON MY GAS TANK..(Glenda Lacer photo)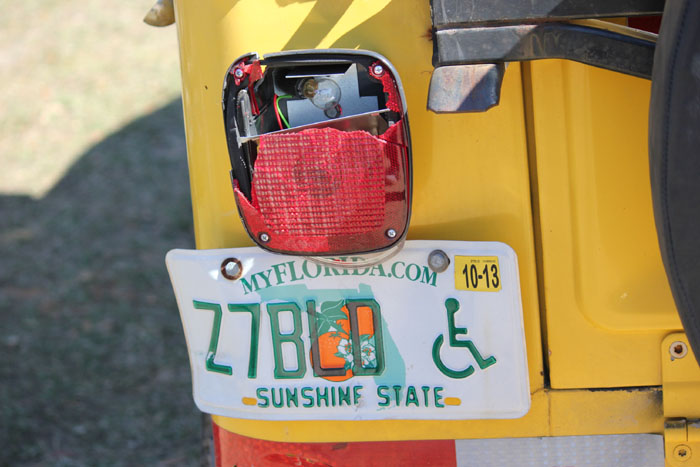 HIS NEW FULL FACE HELMET MUST HAVE TAKEN OUT MY NEW TAIL LIGHT..(Glenda Lacer photo)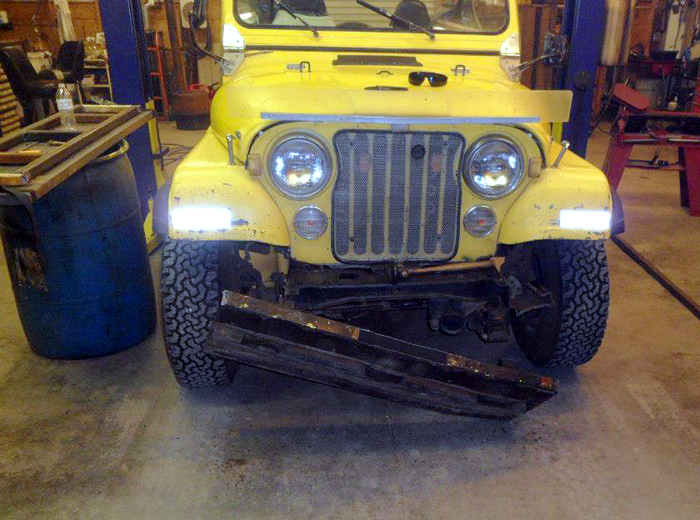 FOR SALE: A SLIGHTLY USED 27 YEAR OLD PUSH BUMPER FRAME..USED TO PUSH TOM BIGELOW, JEFF GORDON, RICH VOGLER, TONY STEWART, BRAD DOTY, DOUG WOLFGANG, STEVE KINSER, SAMMY SWINDELL, AND TO MANY TO LIST..(Tammy photo)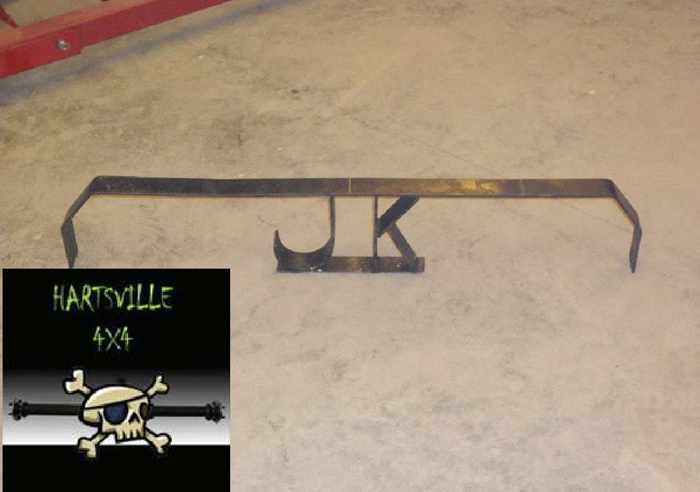 LENNIE DAIGLE AT HARTSVILLE 4x4 SAVED MY INITIALS..(Tammy photo)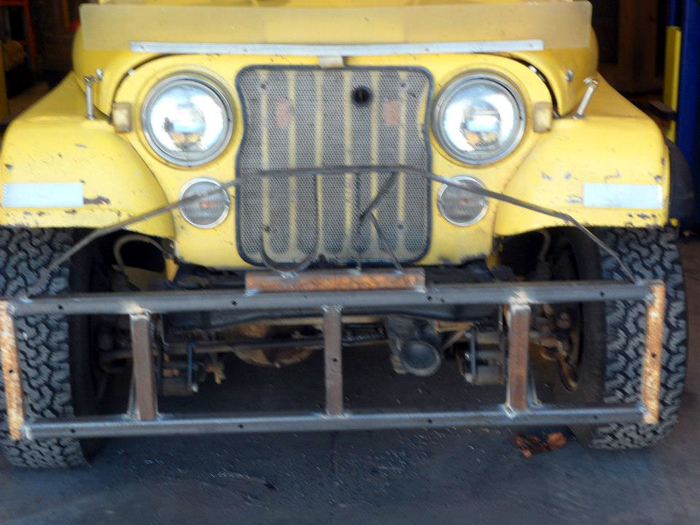 MY NEW BUMPER WILL BE A RECEIVER BUMPER..(Tammy photo)

27th ANNUAL CHILI BOWL NATIONALS 2013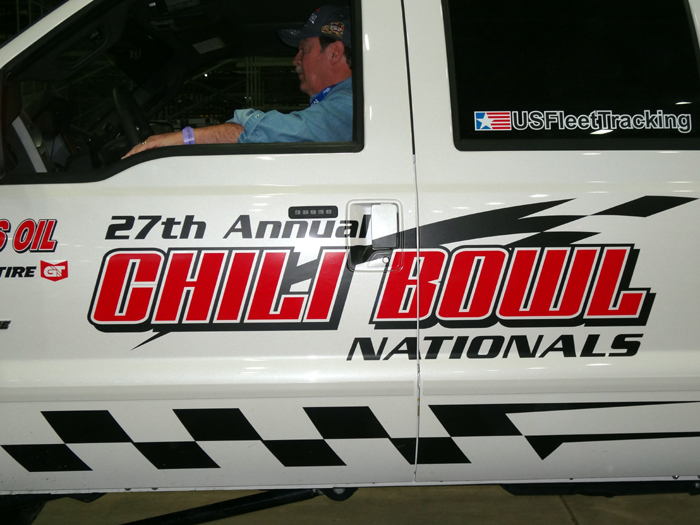 PACE TRUCK FOR THE 27th ANNUAL CHILI BOWL NATIONALS..(Dave Cash photo)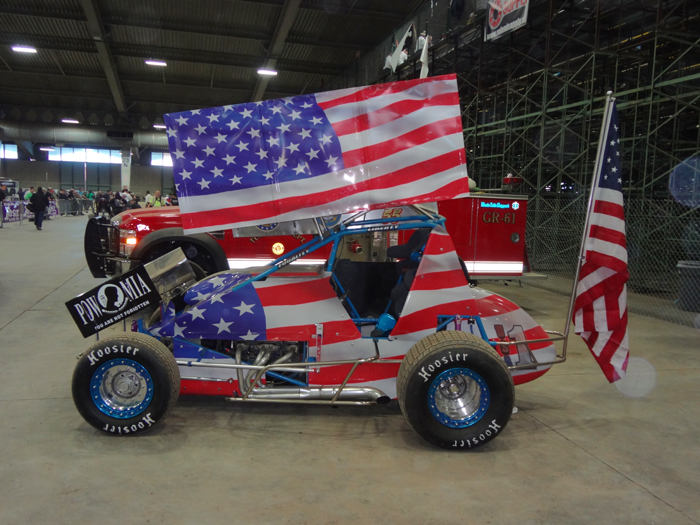 NEAT LOOKING PAINT JOB..(Dave Cash photo)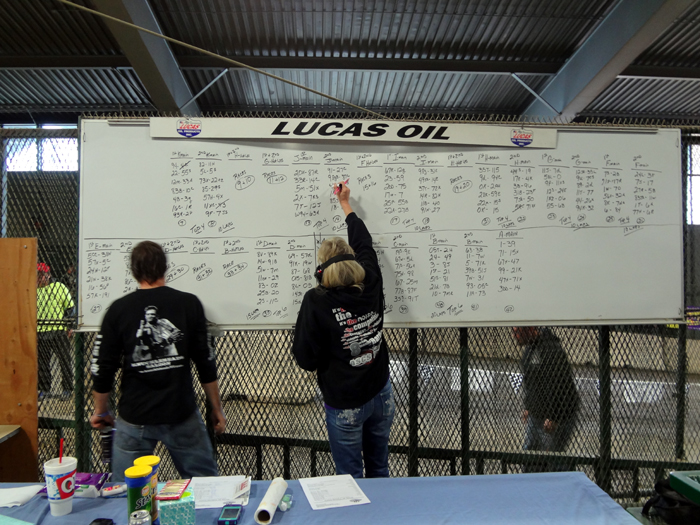 BUSY LINEUP BOARD FOR THE SATURDAY SHOW STARTING WITH THE K MAINS..(Dave Cash photo)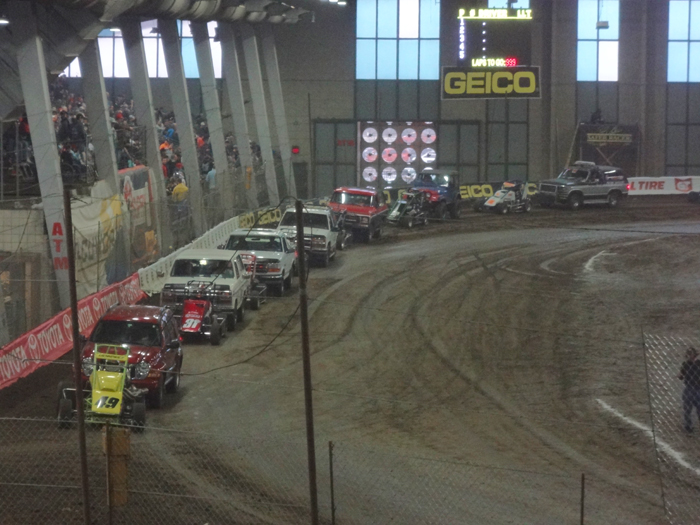 LINED UP AND READY TO PUSH OFF A HEAT..(Dave Cash photo)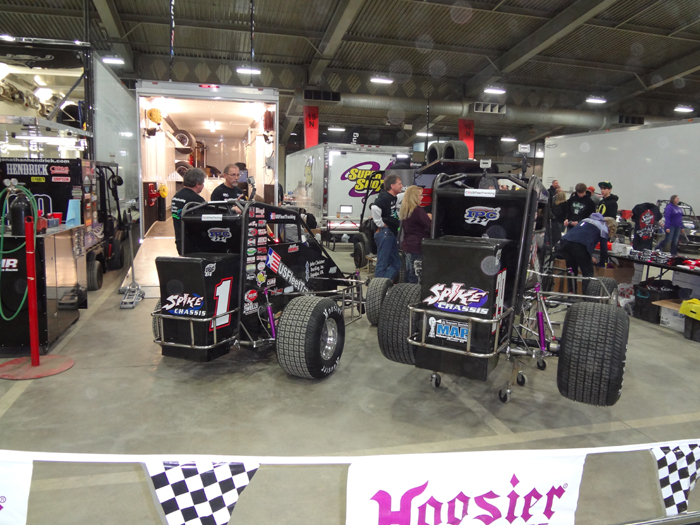 SWINDELL PITS..(Dave Cash photo)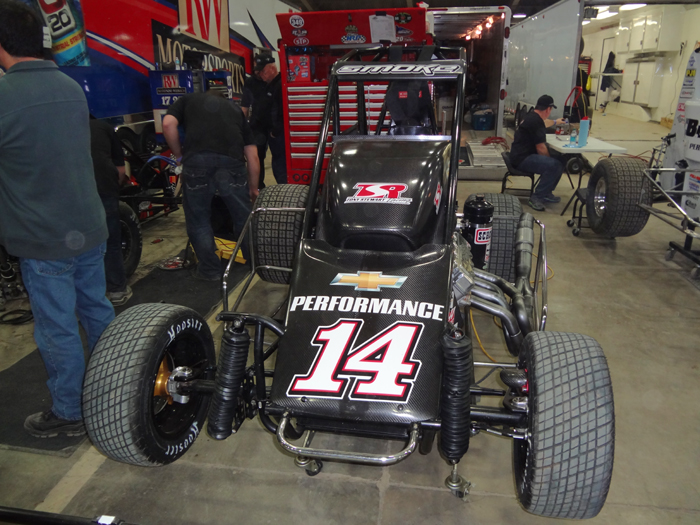 TONY STEWARTS RIDE..(Dave Cash photo)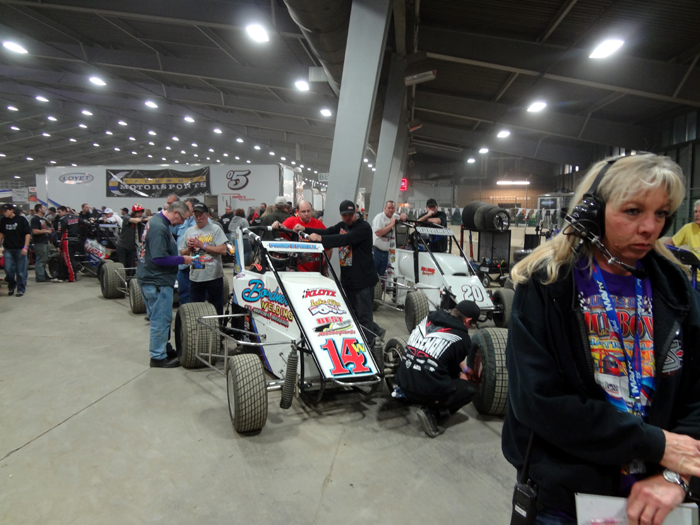 PIT STAGING..(Dave Cash photo)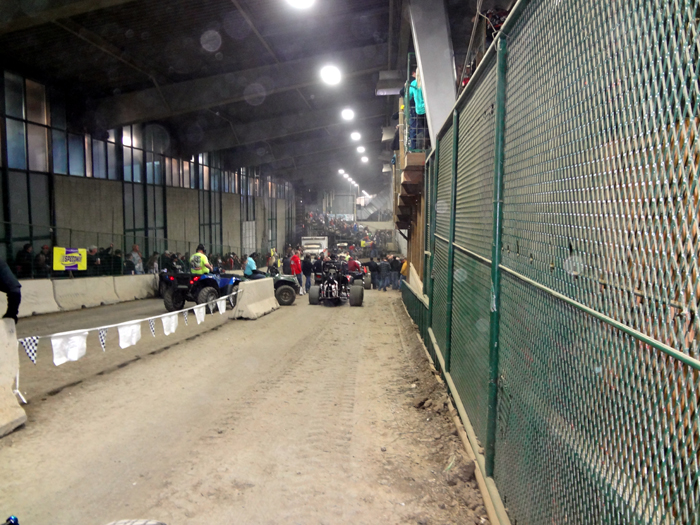 RAMP STAGING..(Dave Cash photo)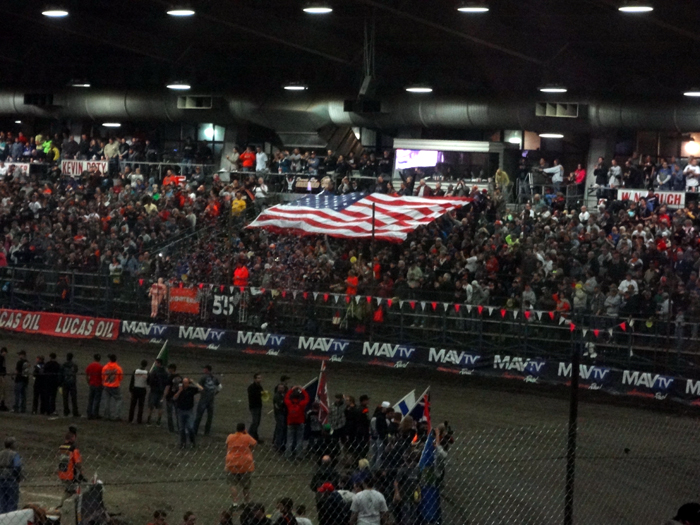 DRIVERS AND THEIR STATE FLAGS..(Dave Cash photo)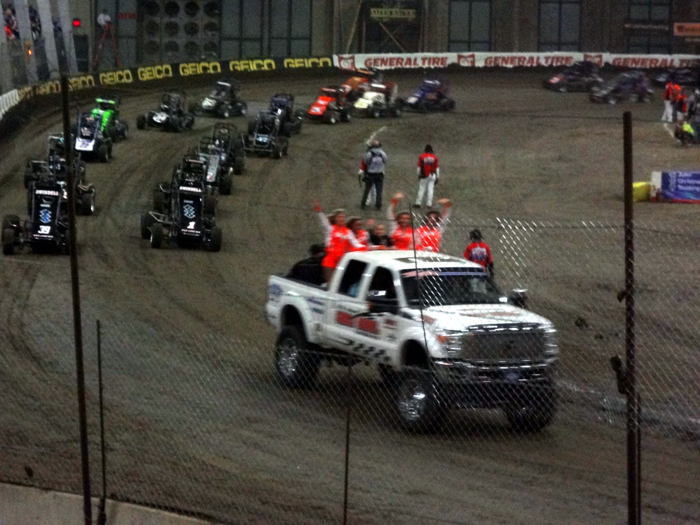 THE HOOTER GIRLS PACING THE FEATURE..(Dave Cash photo)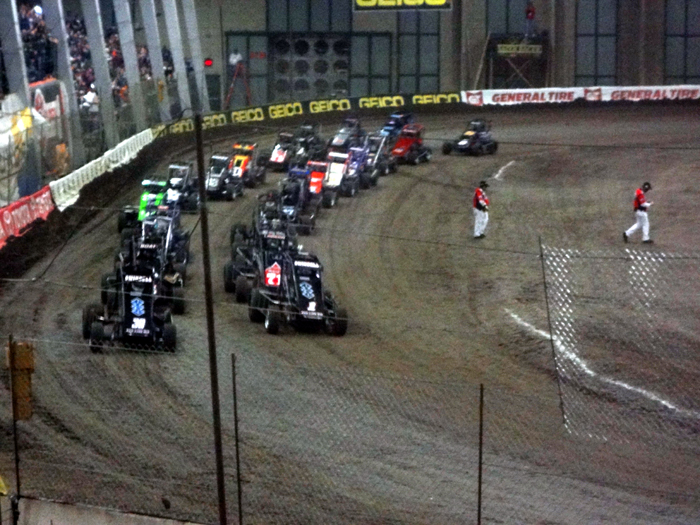 THE SWINDELLS LEAD THE FEATURE..(Dave Cash photo)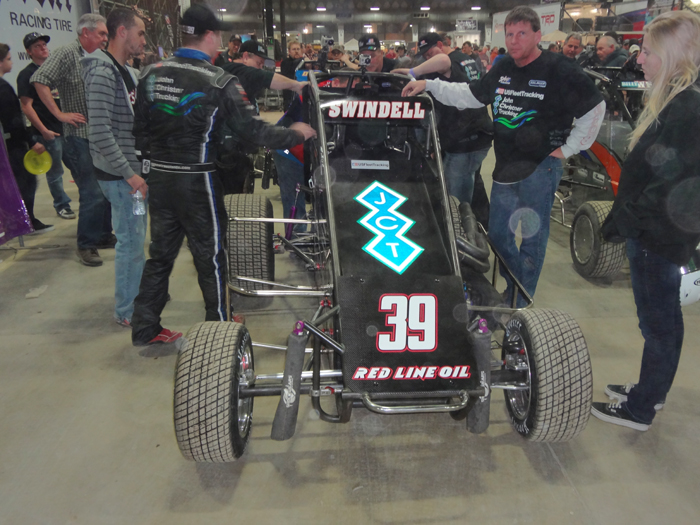 THE WINNER KEVIN SWINDELL..(Dave Cash photo)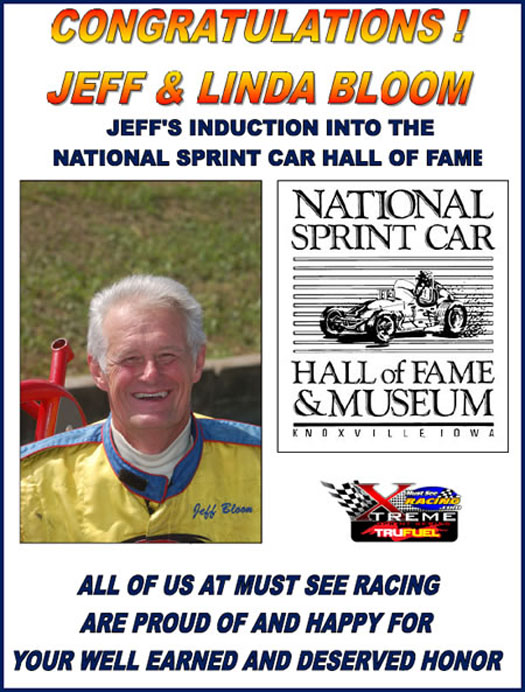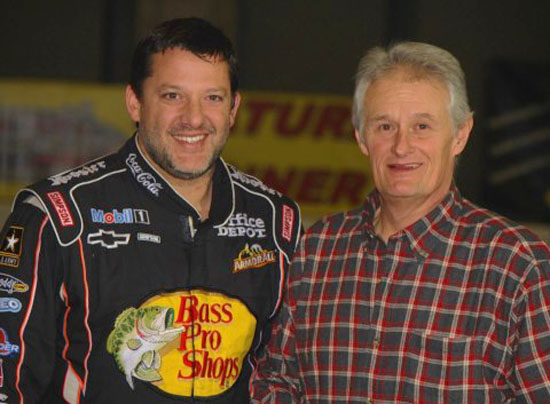 TONY AND JEFF AT FT. WAYNE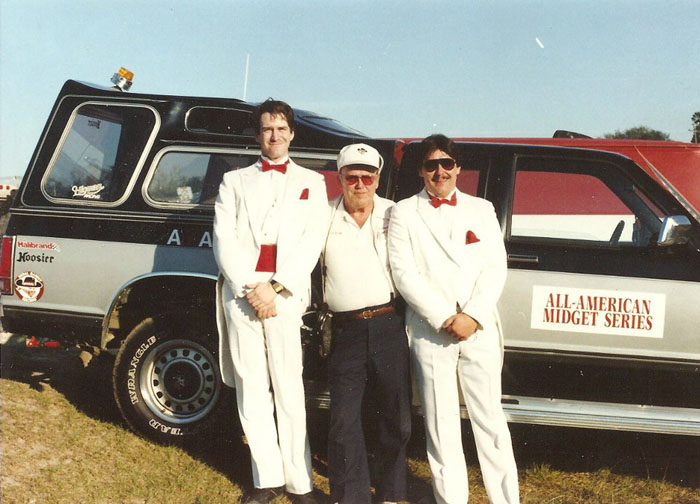 FUNNY HOW THINGS GO IN A CIRCLE..THIS PICTURE WAS TAKEN AT VOLUSIA COUNTY SPEEDWAY DURING THE 1988 WINTERNATIONALS..FROM THE LEFT IS BRENT SEELMAN, ED ADAIR FROM THE ALL AMERICAN MIDGET SERIES, AND BILLY SHIPMAN..I WAS PUSHING THAT SHOW AND REMEMBER THE DUDS IN THE WHITE TUXS..FOWARD A COUPLE DECADES AND I NOW PUSH WITH BRENT, WHO RUNS THE PIEDMONT PUSH TRUCK ASSOCIATION, AT THE W00 WORLD FINALS AND OTHER RACES EACH YEAR..BILLY SHIPMAN I MET MANY TIMES AT USAC SHOWS AT TERRE HAUTE..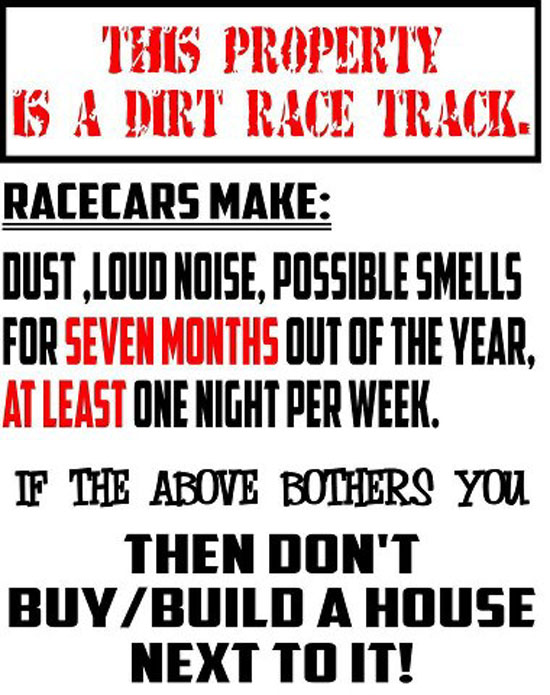 RETURN TO JIMMYJEEPS FRONT STRETCH
Copyright © 2013 JimmyJeep All Rights Reserved