USAC @ CHARLOTTE REPORT OCTOBER 3, 2003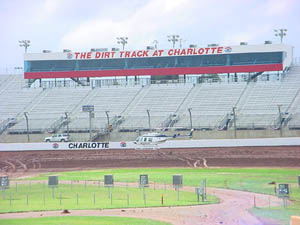 YOU KNOW YOU HAVE A WET TRACK WHEN YOU BRING IN A HELICOPTER TO DRY IT..(THE HELICOPTER IS SEEN JUST RIGHT OF THE CHARLOTTE LOGO ON THE TRACK WALL)...USAC @ CHARLOTTE GAVE TRACK MANAGER ROGER SLACK AND HIS CREW A BIG HEADACHE TRYING TO PUT ON THE RAIN DELAYED SHOW...(photo by Bev and Jim Reid)
AFTER A ONE DAY RAIN DELAY AND THE USE OF A HELICOPTER TO DRY THE TRACK AT CHARLOTTE..THEY NEVER STARTED THE USAC RACE UNTIL AFTER 3:30 THURSDAY AFTERNOON THE BOYS REPORTED...THE TRACK WAS WET AND SPONGY AND THE CROWD WAS LOW... IT GOT OVER CLOSE TO NINE IN THE EVENING...GLENNA DEZARN (IN.) AND BOBBY GILLS (IN.) AIR CONDITIONING COMPRESSOR LOCKED UP AND BROKE THEIR SERPENTINE BELT....LUCKLY JOE CHAMBERS (IN.) AND JIM REID (FL.) HELPED GETTING REPAIR DONE ON HER TRUCK..JIM REIDS (FL.) NEW HOIST ON THE REAR OF HIS JEEP DID A PRETTY GOOD GETTING A FEW CARS OFF OF THE TRACK..THE WRECKERS COULDN'T GET OUT OF THE INFIELD DUE TO THE WET CONDITIONS SO A BACK HOE TRACTOR DID A LOT OF THE WORK...DON BLANEY (N.C.) IS STILL COMPLAINING ABOUT GETTING HIS NEW TRUCK DIRTY AFTER ONE OF THE USAC BOYS LAID INTO THE CUSHIN GOING BY...LUCKY HIS WINDOW WAS SHUT..MARVIN BERTHOLF (N.C.) AND SOME OF THE WILLIAMS CONSTRUCTION TRUCKS (N.C.) WERE ALSO THERE..
Update from Joe Chambers: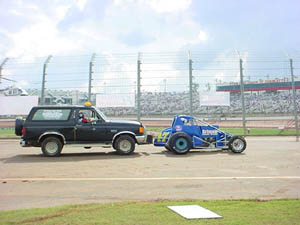 GLENNA AND BOBBY @ CHARLOTTE..(photo by Bev and Jim Reid)
It was Glenna and Bobby's truck that had the air conditioning compressor lock up and break the serpantine belt and Bobby, Jim and I replaced it with a new compressor and belt from AutoZone at the track following the race Thursday night.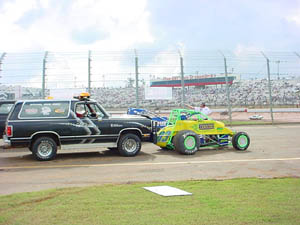 JOE CHAMBERS PUSHING OFF @ CHARLOTTE..(photo by Bev and Jim Reid)
My 1988 Dodge Ramcharger made the 1500 mile round trip flawlessly.
Due to the race postponement, we had to get Glenna an airline ticket from Charolette to Chicago for Friday morning so she wouldn't miss a meeting she had there on Friday and Bobby drove their truck back to Bloomington, IN.
Glenna has already purchase a new pushtruck for next year (a 1993 Chevy Blazer) and they are in the process of getting it set up for pushing.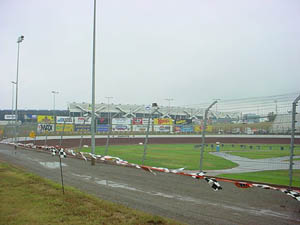 A RAINY DAY AND A WET TRACK...(photo by Bev and Jim Reid)
The dirt track at Charolette sold all but 1500 of their seats for the USAC and Late Model show, but due to the rain, by race time only about 3000 fans returned for the following afternoon's rain date to watch the show on a one lane rough surface. Tony Stewart hopped into one of his MOPAR sprinters and tagged the tail of the feature using a provisional...just to have a little fun.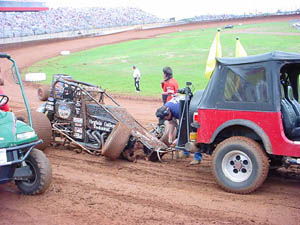 JIM REID USING HIS HOMEMADE LIFT @ CHARLOTTE..(photo by Bev and Jim Reid)
The facilities are fabulous at Charolette, but because of all of the rain it was difficult to get the track surface into a competative condition. There was one low groove....and above that was very rough and spongy. Unfortunately, the fans at Charolette did not get to see the kind of show USAC usually puts on. With rain in the forcast for Wednesday, Thursday, Friday and Saturday the Charlotte schedule was thrown off completely. The only race that was not off schedule or hampered by rain was the Winston Cup show Saturday night.
All of the staff at Charlotte Motor Speedway and the USAC staff were very good to work with..The rain and cool weather was a "pain in the ass". Talk to you later. Joe Chambers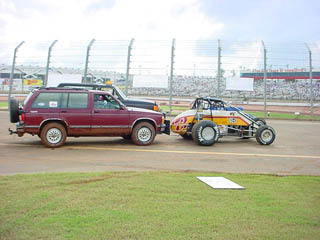 MARVIN BERTHOLF TAKES HIS TURN AT CHARLOTTE..FOUR WHEEL DRIVE TRUCKS HAD THEIR WORK CUT OUT THAT DAY.
DON BLANEY ON THE UPPER PAVED..?. STAGING...(photo by Bev and Jim Reid)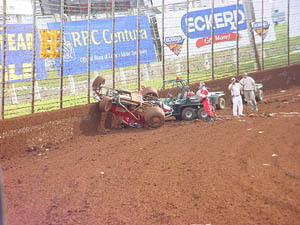 LOTS OF WRECKED CARS MADE FOR A LONG DAY...(photo by Bev and Jim Reid)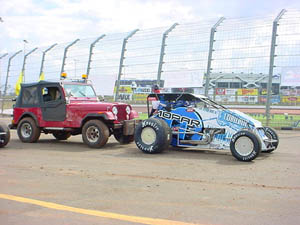 JIM REID PUSHING OFF TONY STEWART...(photo by Bev and Jim Reid)

Copyright © 2007, JimmyJeeps Push Truck World, All Rights Reserved.
RETURN TO JIMMYJEEPS FRONT PAGE