RUNNING A PUSH TRUCKS AT "SHARON SPEEDWAY" GOOD SPONSORS ARE NEEDED AND JEFF THANKS THE FOLLOWING: KING BROS. READY MIX, WHOLESALE TIRE CO., JMS PRO PHOTO, IMPACT DESIGN AND IMAGES, AND JEFF CLEER SIGNS.

Nineteen year old push truck driver Mike McVetta from Grafton, Ohio makes sure you don't miss his 1948 CJ 2A on or off the track..The daily driver in the summer which supports an all original body is painted Fluorescent orange with a candy blue roll cage, so it canít be missed!!!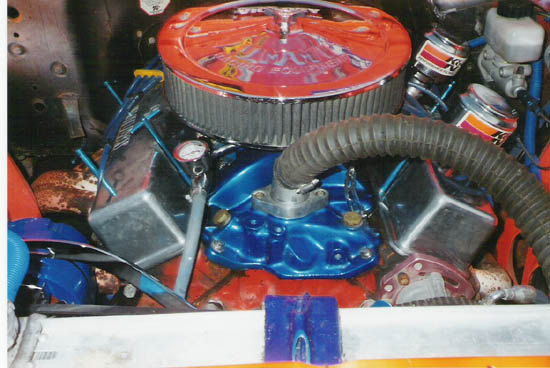 For power he uses a 355 Chevy which gets 13 mpg is mated to a Jeep T-150 3 speed tranny and a model 20 transfer case. The frame is mostly original except for a few areas that needed to be modified to fit in the small block. It has a model 30 front axle with disk brakes and a model 20 rear axle with 3.73 gears. The steering uses a Sweet mfg. rack and pinion connected to a Sweet p/s pump to turn the wheels.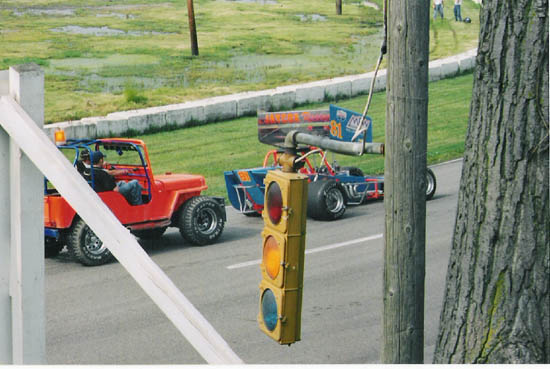 Show here pushing off a Super at Sandusky you know his Jeep can't be missed..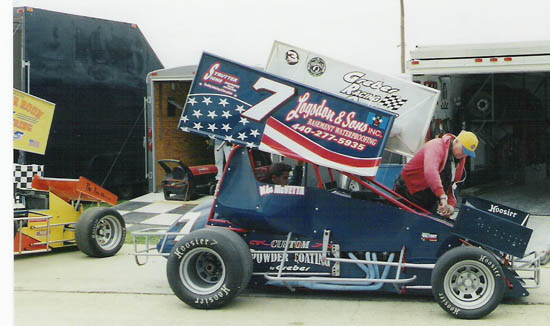 When he is not pushing with his Willys he is racing his 305 sprint car at Sandusky Speedway. He has pushed for USAC, ISMA, and MSA at Toledo speedway, Sandusky Speedway, and Mansfield speedway. 2003 was my first year pushing.

"FAT BOTTOMED GIRL"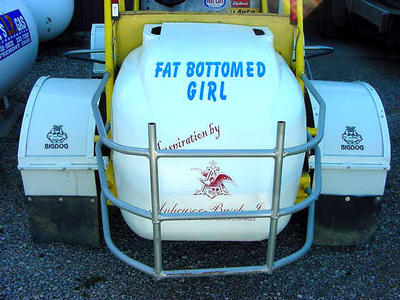 CAL MILLER IS FROM ATTICA, OHIO AND WORKS FOR UNDERGROUND UTILITIES INC...THE SAME COMPANY THAT SPONSORS CHAD KEMENAH'S SPRINT CAR...HE HAS BEEN PUSHING FOR AROUND†SEVEN YEARS AT ATTICA RACEWAY PARK...CAL VERY SELDOM GOES TO OTHER AREA TRACKS DUE TO HIS WORK AND OF COURSE HE LIKES THE PEOPLE THERE..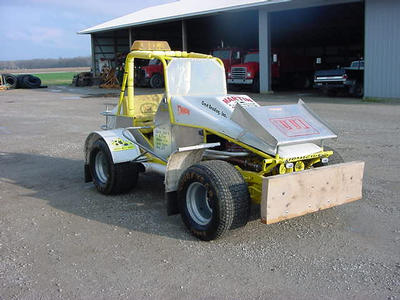 †††HIS PUSHER STARTED OUT AS A RAGGED OUT '78 CJ-5...THE POWER PLANT IS A "350" CHEVY BEEFED UP A LITTLE AND JOINED TO AN AUTOMATIC TRANNY OUT OF THE BONE YARD...THE FOUR WHEEL DRIVE PROJECT TOOK A LITTLE OVER A YEAR TO BUILD...
HERE IS A PRICE LIST SO DON'T BE SHOCKED WHEN YOU SEE WHAT WAS SPENT ON THE BIGGER PARTS...
† 1.JEEP FRAME--FREE
2.SPRINT FRAME--$ 50.00
3.MOTOR--$ 250.00
4.TRANNY & TRANSFER--$ 300.00
5.RIMS & TIRES--FREE
6.ALL TUBING--DONATED
7.DRIVE SHAFTS--DONATED
8.SHIFTER--$ 100.00
9.MISC.--$†200.00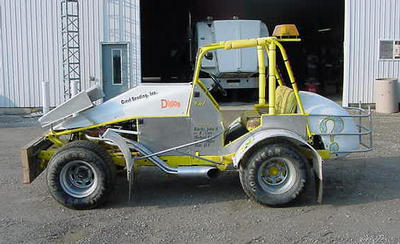 AS YOU CAN SEE HE HAS FULL FENDER COVERAGE....HEADERS , A FULL SIZED PUSH BUMPER , AND GOOD SAFETY LIGHTS INCLUDING A "SWINDELL" LIGHT....A NICE JOB DONE ON A BUDGET
CAL DOESN'T TAKE CREDIT FOR IT ALL OR IT WOULD PROBABLY STILL BE IN THE SHOP...A FUN TIME WAS HAD WITH HELP FROM THE CREW , CLOSE FRIENDS AND PAST CO-WORKERS THAT MADE THE DREAM POSSIBLE.
†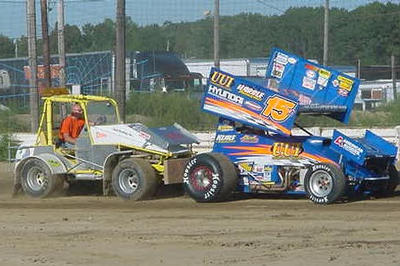 DOING HER JOB AS CAL HOLDS ON AT ATTICA SPEEDWAY...

"YOUNGBLOOD"

THE NEXT GENERATION OF PUSHERS HAS ARRIVED FROM ELIDA , OHIO...BRUCE FRICKE RECENTLY GRADUATED FROM ELIDA HIGH SCHOOL IN 2002 AND IS CURRENTLY ATTENDING UNIVERSITY OF NORTHWEST OHIO.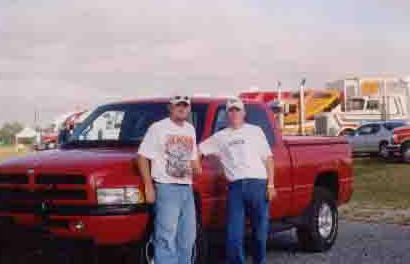 Pictured here on the left in the pits at the "Dirt Track" in Charlotte..Fall WoO show 2002..

HE IS A REGULAR PUSHER AT LIMALAND MOTORSPORTS PARK AND ELDORA SPEEDWAY.....WHEN NOT PUSHING HE HELPS OUT ON THE 360 SPRINT CAR OF DARREN LONG..HE WORKS AT A LOCAL LAWN AND LANDSCAPE COMPANY AND ALSO ON THE FAMILY FARM.....
OTHER TRACKS HE HAS WORKED AT INCLUDE: SOUTH BOSTON , HARFORD , WINCHESTER , ATTICA , GARNERTOWN , AND CHARLOTTE...

"BUCKEYE BLUE"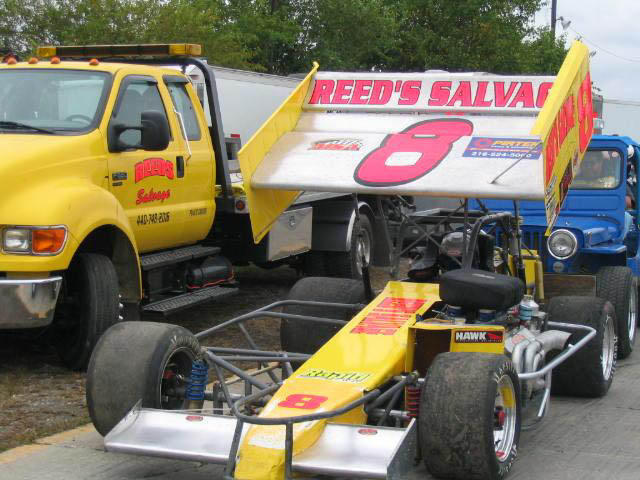 IF THERE'S SUPERMODIFIEDS TO BE PUSHED IN OHIO..WELL THEN THERE WILL BE JEEPS TO PUSH THEM..TOM SCHEEL IS READY TO GIVE #8 SOME POWER.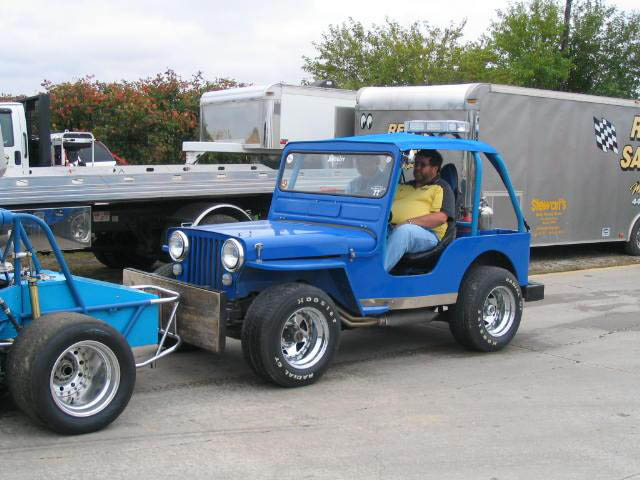 TOM SCHEEL AND HIS "BUCKEYE BLUE" JEEP WERE AT WORK AT SANDUSKY SPEEDWAY IN SEPTEMBER 27, 2008..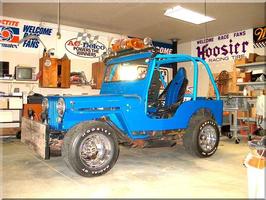 This is Tom Scheel's CJ3A Replica with an aftermarket body, home made box frame, 355 chevy with a Lakewood Bellhousing coupled to a Ford T-10 tranny. † It runs a T-20 transfer case, and centered rear end from a '75 CJ. The front brakes are converted to disc's from a 1978 CJ.
Tom has been pushing as a hobby since 1973 and has worked with USAC, ISMA Supermodifides, Local (Ohio) Supermodifides, sprint cars & midgets both asphalt and dirt. His home track is Sandusky Speedway in Ohio but has worked at tracks all across Ohio, Jennerstown PA and even a trip north to Ontario for a CanAm 3/4 Midget show.
They currently have 4 regular Jeeps at Sandusky and about 10 more in the area that work other tracks & come to Sandusky for the big shows.

"THE BRUSH STROKE BUGGY"
Ron Doll is a painter by trade and a sprint car fan second...He drives a 1967 Chevy 1/2 ton with a 383 motor..His 4x4 sits on a Suburban frame with a 350 ptransmission...Nice and clean and always dependable..
(JimmyJeep photo)
A regular at Attica on Friday nights for the last four years you always count on him for any major show at Eldora..Riding SHOTGUN with him is his daughter Ashley..She is a student at Eastwood High School in Pemberville , Ohio..

Back to JimmyJeeps Front Page
Copyright © 2018, JIMMYJEEPS PUSH TRUCK WORLD, All Rights Reserved.