NEBRASKA TRUCKS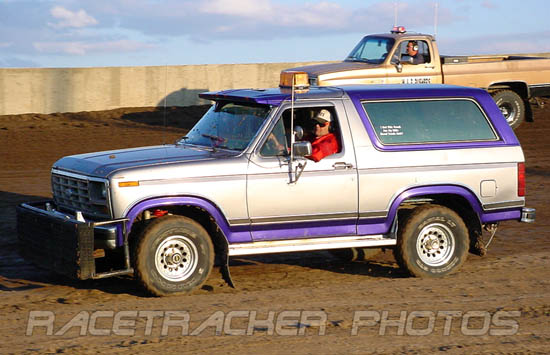 THIS IS BRUCE STEENSON'S 1984 FORD BRONCO XLT PUSH TRUCK SHOT DURING A ESTS RACE AT JUNCTION MOTOR SPEEDWAY IN McCOOL JUNCTION, NEBRASKA...BRUCE ALSO HEADS UP THE PUSH TRUCK STAFF AT EAGLE RACEWAY AND ALSO PUSHES AT BUTLER COUNTY SPEEDWAY (RACETRACKER PHOTO)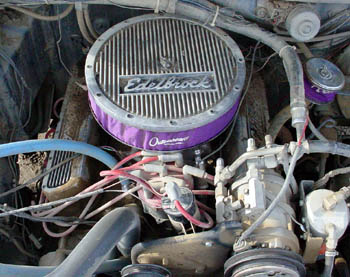 BRUCE'S SMALL BLOCK MOTOR IS BORED 30 OVER AND STROKED OUT TO 393 CUBIC INCHES...IT HAS CUSTOM EDELBROCK CAMSHAFT, A HOLLY 600 CARB , MSD IGNITION, WITH FORD GT-40 CAST IRON HEADS USING HEADMAN HEADERS...HE USES A C6 FORD TRANSMISSION WITH A TWO QUART DEEP PAN AND A EXTERNAL OIL FILTER AND PUSHES THE POWER TO A 9" REAR END WITH 3.50 GEARING AND A DETROIT LOCKER...TIRES ARE MICKEY THOMPSONS 31.10.5 TURNED BY A CUSTOM COOLED POWER STEERING UNIT WITH AN OIL FILTER...WITH ALL THAT WORK MAYBE ITS BECAUSE HE WORKS MOST EVENINGS FOR WOOLEN RACING ENGINES. (RACETRACKER PHOTO)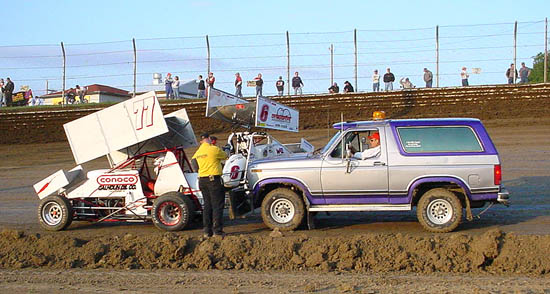 LOOKS DON'T GET IN THE WAY WHEN A JOB NEEDS TO BE DONE..YOU CAN BET HE HE VISTS THE CAR WASH A GREAT DEAL. SIGN ON THE SIDE WINDOW SAYS "I GOT THIS TRUCK FOR MY WIFE, GOOD TRADE HUH"...A SPECIAL THANKS TO RANDY LAWRENCE FROM RACETRACKER PHOTOS FOR PROVIDING THESE SHOTS. BRUCE AND RANDY ALSO WORK ON THE MIDWEST RACERS AUTOGRAPH DAY COMMITTEE.


STEVE BAILEY FROM GENEVA, NEBRASKA LOVES BIG TOYS AND HIS 1982 CHEVY BLAZER FILLS HIS WANTS... (RACETRACKER PHOTO)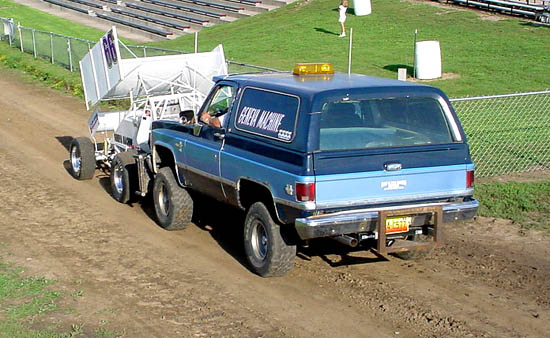 POWERED BY A 355 CUBIC INCH CAMED CHEVY MOTOR BUILT BY GENEVA MACHINE...RUNNING FLAT TOP PISTONS, PORT MATCHED HEADS, HEADERS AND 3" EXHAUST, AND TWISTING 3:73 GEARS... (RACETRACKER PHOTO)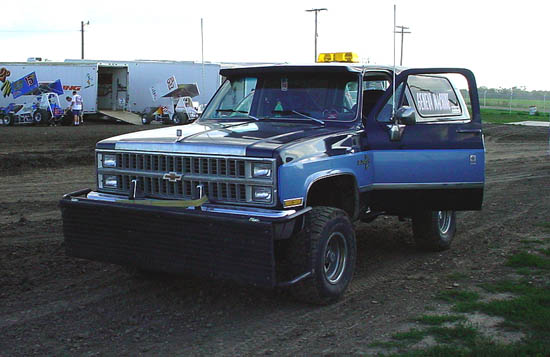 (RACETRACKER PHOTO)
STEVE PUSHES AT BUTLER COUNTY SPEEDWAY IN RISING CITY, NE. AND ALSO AT JUNCTION MOTOR SPEEDWAY IN McCOOL JUNCTION, NEBRASKA..PLUS A FEW OTHERS AROUND THE CENTRAL NEBRASKA AREA WHEN SPRINT CARS OR MIDGETS ARE RUNNING..

Copyright 2004 JimmyJeep All Rights Reserved