"MICHIGAN PUSH TRUCKS"

"I WANT TO BE A STAR"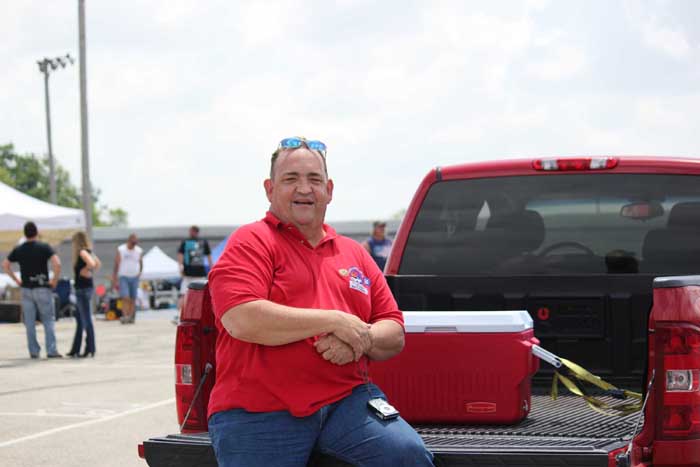 RANDY CRONK TAKES A PUSHING BREAK AT WINCHESTER..(Glenda Lacer photo)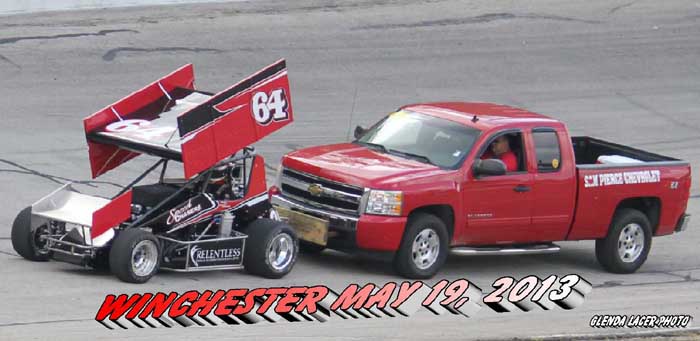 RANDY CRONK MADE THE TRIP DOWN FROM MICHIGAN TO PUSH AT WINCHESTER..(Glenda Lacer photo)
I LIKE IT WHEN A FELLOW PUSHER E-MAILS ME AND SAYS I SAW YOUR WEBSITE AND I WANT TO BE ON IT..RANDY CRONK DID JUST THAT AND HE IS OUR FIRST MICHIGAN PUSHER..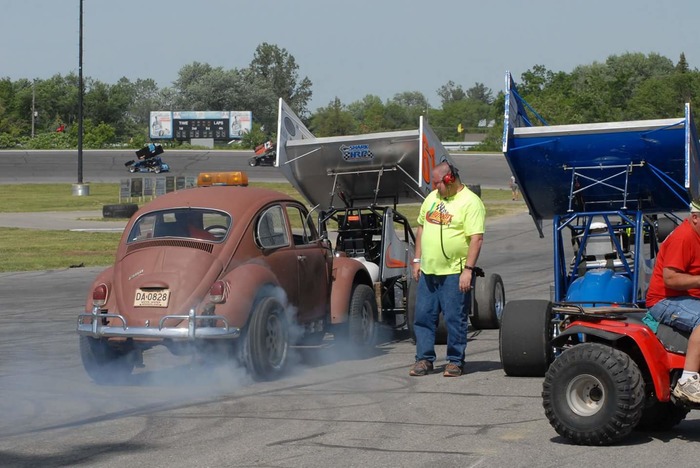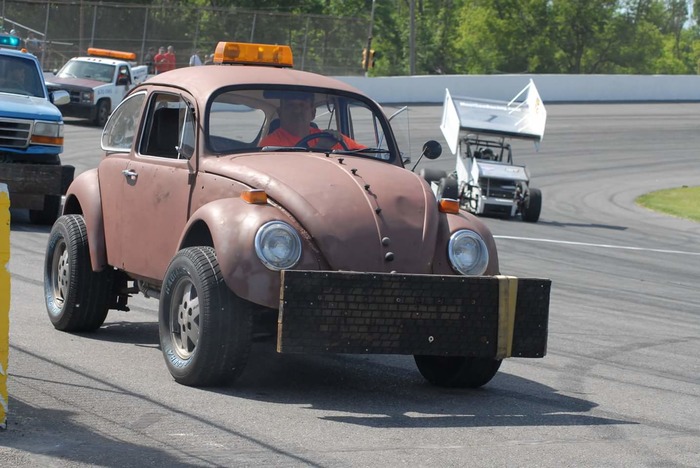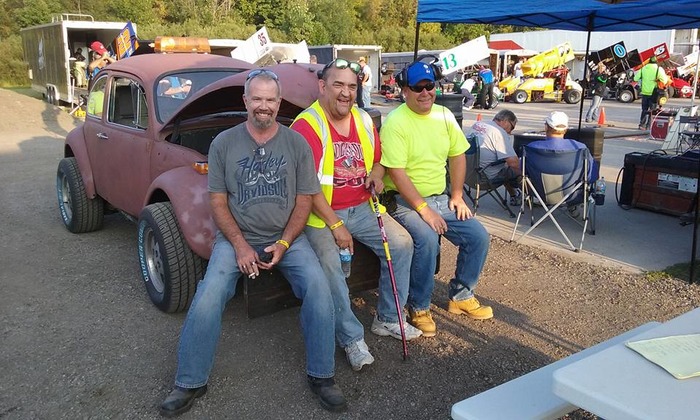 MICHIGAN'S RANDY CRONK HAS GOT HIS BUG SMOKING AND IS HAVING FUN..
WHEN MICHIGAN'S RANDY CRONK'S BACK YARD BUG COMES CRAWLING ACROSS THE CONCRETE ITS SEARCHING TO HOOK UP WITH A SPRINT CAR..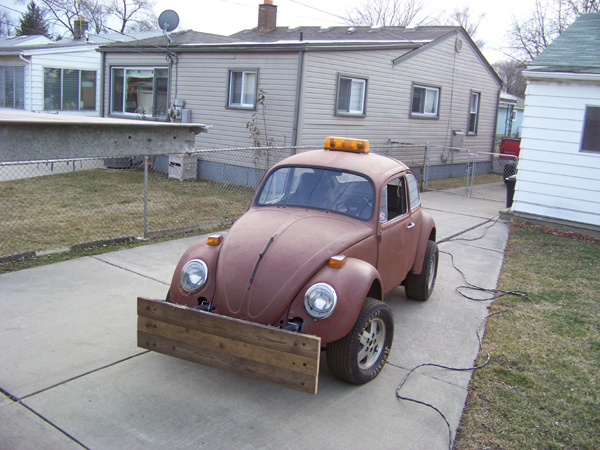 It will be based on a S-10 chassis shortened 6 inches, my friend Jerry Whitney welded on it for almost 2hrs and I ended up in emergency at 2am with welders flash eye burn..Didnít look that much so I thought, it is painful never look at someone welding without a shield..Powered by a Stock for now 4.3 V6, Automatic, and 4WD..Got a Tuned Port 4.3 in the shed if this doesnít work out..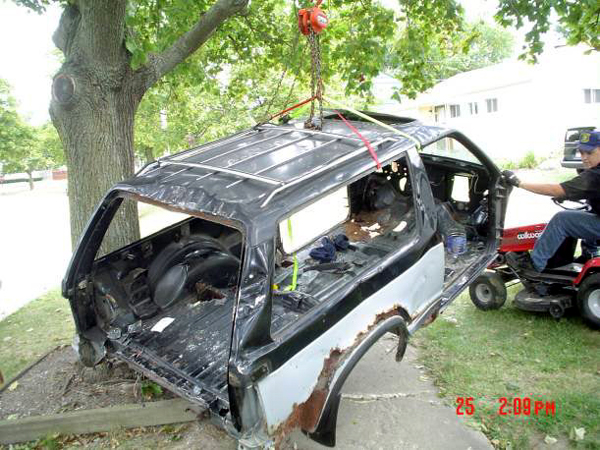 You are a Redneck if you do this..This is how my son and his buddy pulled the body off while I was at work..Andrew (our son) used the lawn tractor to pull chassis around..Neighbor moved right after this, donít know why..(Cronk photo)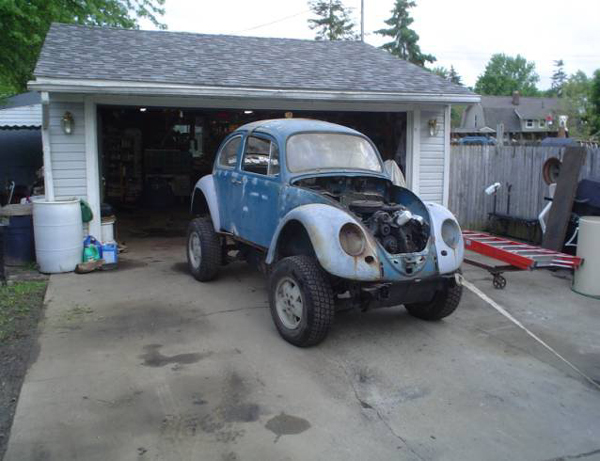 Son and I got antsy and set the body on the chassis just get a look at what itíll look like..It will be sitting lower as I donít care for this look..(Cronk photo)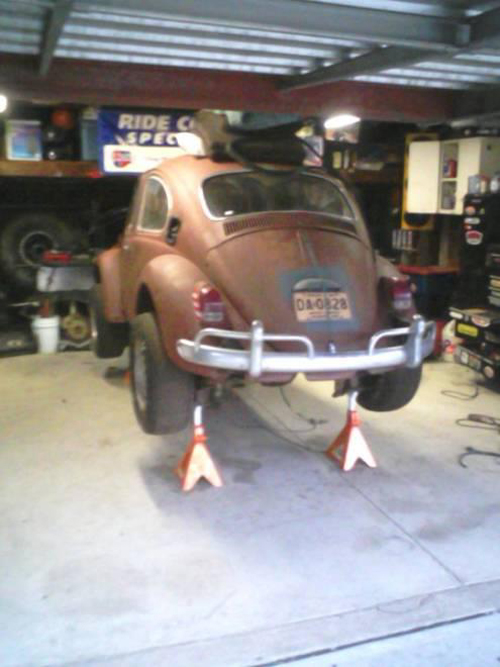 Getín wired up in Sons garage, did a great job too and its good thing I can screw up putting batteries in a flashlight..He mated the GM harness with the VW speedometer, the turn signals, 4ways, headlights go off when the key does, and bright light switch works on the GM steering shaft (couldíve used a tilt wheel)..So proud of him 3 years at Ferris State paid off lol..Sprint car front tires mounted all the way around gives it a fat tire look, like the owner.. Radiator mounted in the back, used piping from a Hammock, neighbors glider he was throwing out, misc hoses I had laying around, couple dozen hose clamps I had from projects torn apart & some pipes I had laying around. I only bought 2 - 90deg pipes bent at local muffler shop for $10 and 4 hose clamps. Should have seen the look on the guys face when I told him they were for coolant lines on a 66 VW Bug..(Cronk photo)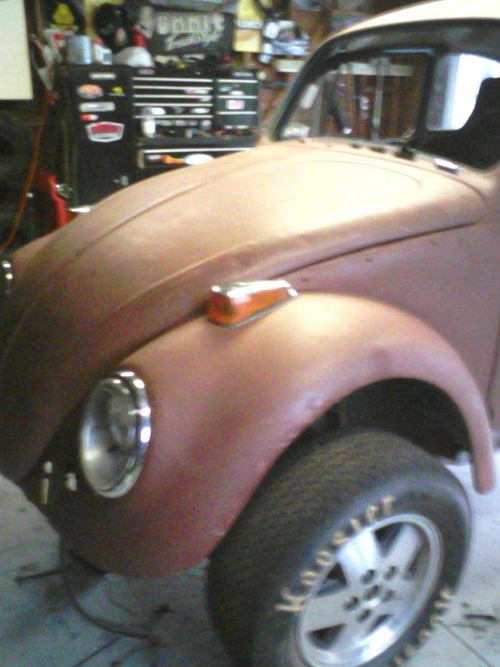 Hood is mounted on the hinges, right side fit is a little rough but a big hammer will fix that. My favorite tool..(Cronk photo)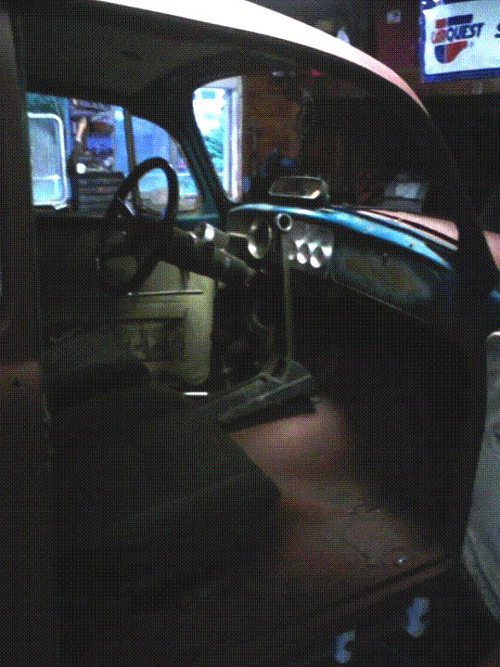 That wrench is the shifter my son rigged up, that plastic piece is gone now..Put your foot on the brake and if the Bug jerks backwards it's in reverse, 2 more tugs and it's in forward..If it doesn't go anywhere it's in neutral or somethings wrong..(Cronk photo)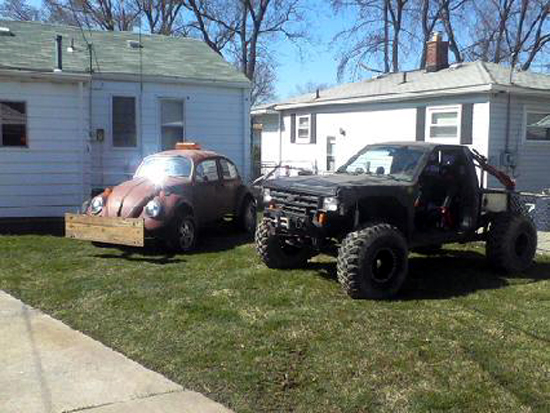 Father and son projects in my son place he's renting for now..Adult neighbors stay away from us but the kids talk to us all the time..(Cronk photo)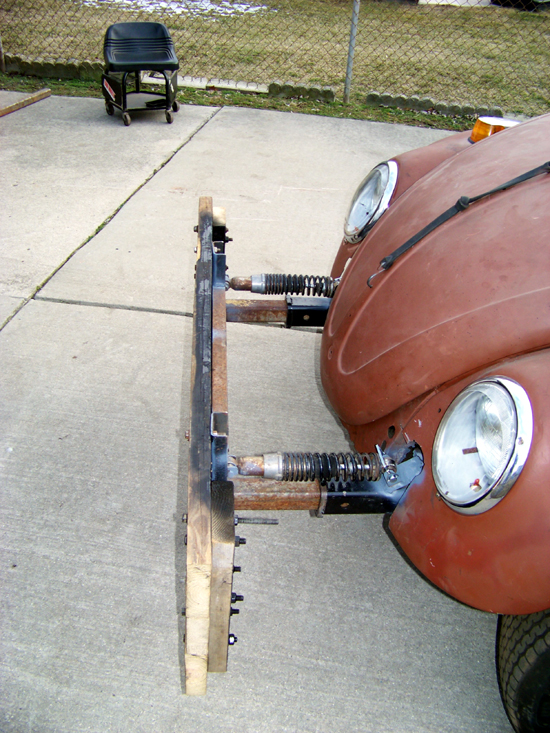 Almost ready to go, got some Hoosier sprint car front tires mounted all the way around..(Cronk photo)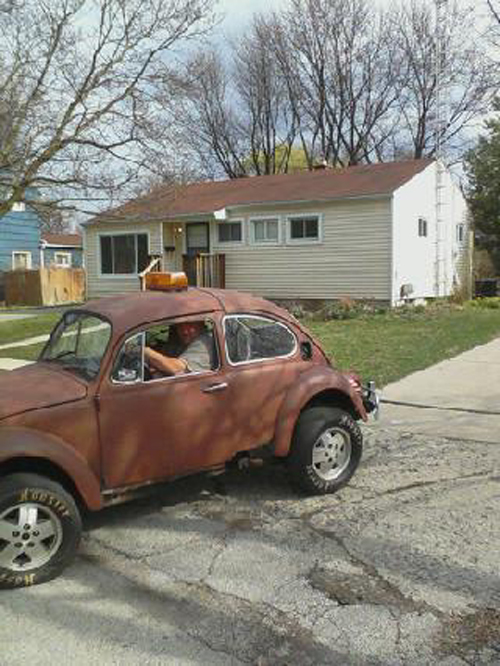 Fat man in a little car, yeah it's cramped in there but what a blast to drive..Drove it down the street and back..All it has for a muffler is a catalytic so it rumbles some..Light up top works, air horn & OOOOgah horn runs rough & has a gas leak I have to fix before driving very much..Did leave some black marks in the garage..I'd like to thank my friends who have helped me..Ed Norton, Jerry Whitney, Dan Roux (Roo) and most of all my son Andrew....(Cronk photo)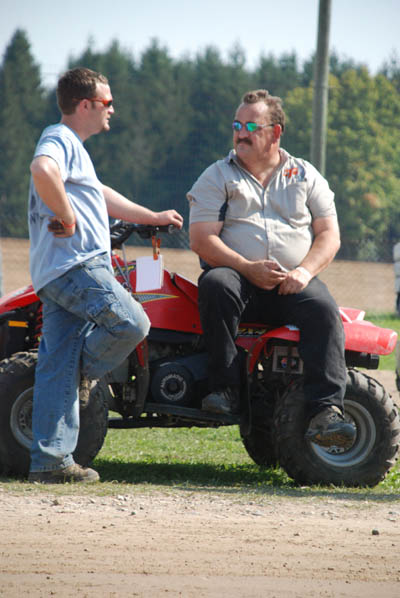 FELLOW PUSHER RANDY CRONK ON THE RIGHT TALKING TO MARK "NITRO" NICK LANDON WHO IS THE GRANDSON OF MICHIGAN HALL OF FAME RACER WAYNE LANDON AT THE RACES IN MICHIGAN..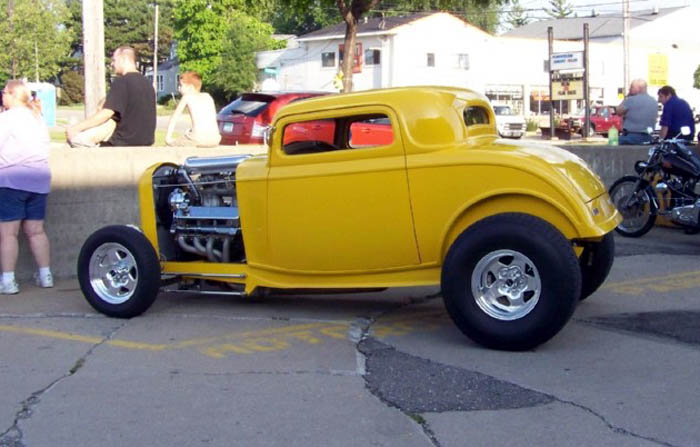 RANDY CRONK HAS WORKED WITH HIS LOCAL HIGH SCHOOL AUTO CLUB SINCE 1987..HE TEACHES HIGH SCHOOL STUDENTS ABOUT THE SPORT OF DRAG RACING..THIS COUPE WAS BUILT BY ONE OF HIS STUDENTS IN HIS SENIOR YEAR WITH HIS DAD TO DRIVE TO HIS PROM..IT HAS A BIG BLOCK 454 CHEVY W/TUNNEL RAM AND CARBS..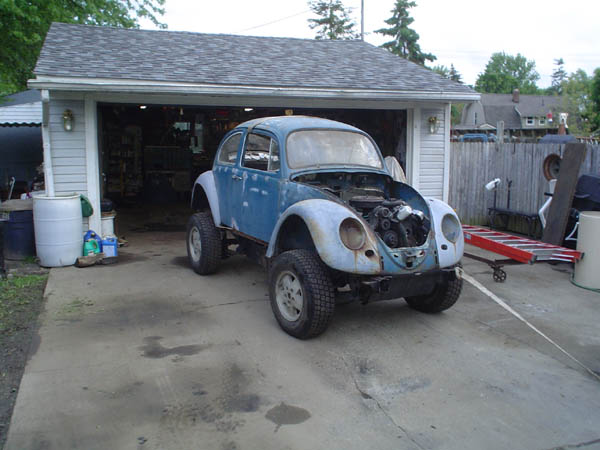 WE HAVE A NEW PUSHER FROM MICHIGAN..RANDY CRONK IS AN OFFICIAL WITH THE MICHIGAN TRADITIONAL SPRINTS..HE IS WORKING ON A SHORTENED 4WD S-10 CHASSIS WITH A 66 VW BUG FOR A BODY..NURSING A SLIPPED DISC HIS SON MAY HAVE TO FINISH THE JOB BEFORE THE 2008 SEASON..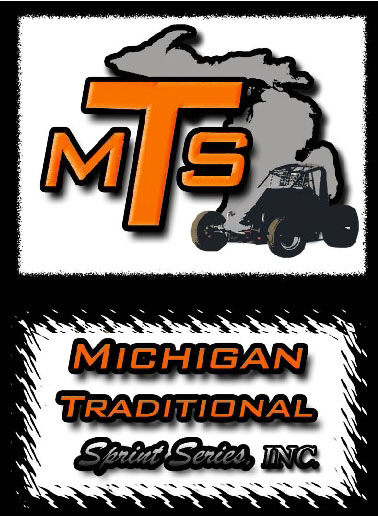 RETURN TO JIMMYJEEPS FRONT STRETCH
Copyright ©2017 All Rights Reserved