About Jimmy Jeep
---
---
---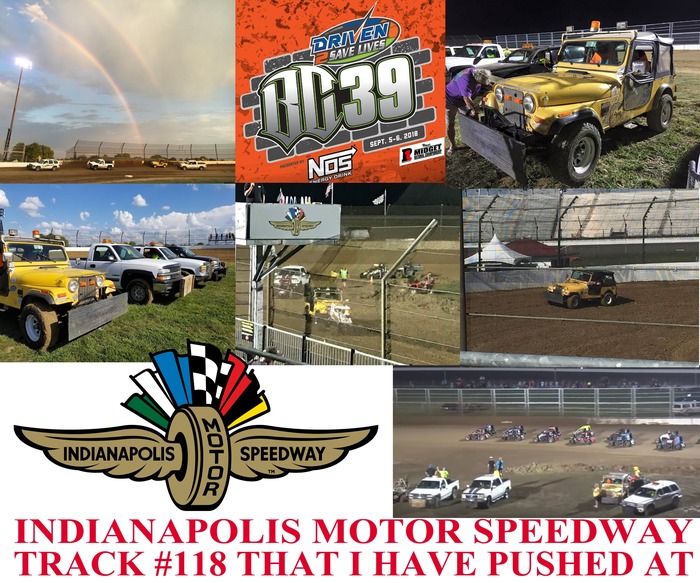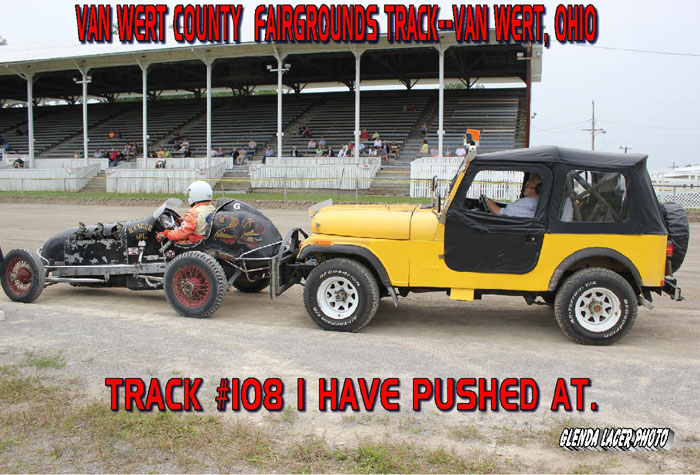 I FINALLY PUSHED AT MY 108th DIFFERENT RACE TRACK..IT TOOK 30 YEARS BUT I DID IT..(Glenda Lacer photo)
JIMMYJEEPS RACE TRACK LIST
ALABAMA—(5)
CENTRAL ALABAMA MOTOR SPEEDWAY_CLANTON, ALABAMA—3/8 DIRT
DEEP SOUTH SPEEDWAY (L.A. RACEWAY)--LOXLEY, ALABAMA—4/10 DIRT
EAST ALABAMA MOTOR SPEEDWAY—PHENIX CITY, ALABAMA—3/8 DIRT
FAIRGROUNDS RACEWAY—BIRMINGHAM, ALABAMA—5/8 PAVEMENT
TALLADEGA SHORT TRACK—EASTABOGA, ALABAMA—1/3 DIRT
FLORIDA—(32)
AUBURNDALE SPEEDWAY—WINTER HAVEN, FLORIDA—1/4 PAVEMENT
BRONSON MOTOR SPEEDWAY—BRONSON, FLORIDA—1/3 PAVEMENT
CHARLOTTE COUNTY SPEEDWAY—PUNTA GORDA, FLORIDA—3/8 PAVEMENT
CITRUS COUNTY SPEEDWAY—INVERNESS, FLORIDA—1/4 PAVEMENT
COLUMBIA MOTORSPORTS PARK—LAKE CITY, FLORIDA—1/2 PAVEMENT
DAYTONA BEACH ROAD COURSE--PONCE INLET, FLORIDA--4.2 MILES PAVEMENT AND SAND
DESOTO SPEEDWAY—BRADENTON, FLORIDA—3/8 PAVEMENT
EAST BAY RACEWAY—GIBSONTON, FLORIDA—1/3 DIRT
FIVE FLAGS SPEEDWAY—PENSACOLA, FLORIDA—1/2 PAVEMENT
FLORIDA STATE FAIRGROUNDS—TAMPA, FLORIDA—1/2 DIRT
FLORIDA SUNCOAST DOME—ST. PETERSBURG, FLORIDA—1/4 DIRT (INDOOR)
GULF COUNTY SPEEDWAY—WEWAHITCHKA, FLORIDA—5/8 DIRT
HOMESTEAD-MIAMI SPEEDWAY—HOMESTEAD, FLORIDA--1 ½ PAVEMENT
JAX RACEWAY—JACKSONVILLE, FLORIDA--1/2 OILED DIRT
LAKELAND SPEEDWAY—LAKELAND, FLORIDA—1/4 PAVEMENT
MARION COUNTY SPEEDWAY—OCALA, FLORIDA—1/4 DIRT
NEW SMYRNA SPEEDWAY—NEW SMYRNA BEACH, FLORIDA—1/2 PAVEMENT
NORTH FLORIDA SPEEDWAY—LAKE CITY, FLORIDA—3/8 DIRT
OCALA SPEEDWAY—OCALA, FLORIDA—3/8 DIRT
OCALA SPEEDWAY—OCALA, FLORIDA—3/8 PAVEMENT
ORANGE COUNTY RACEWAY—BITHLO, FLORIDA—1/4 DIRT
ORLANDO SPEEDWORLD—BITHLO, FLORIDA—1/3 PAVEMENT
PUTNAM COUNTY RACEWAY—SATSUMA, FLORIDA—3/8 DIRT
SAINT AUGUSTINE SPEEDWAY, ST. AUGUSTINE, FLORIDA—5/8 DIRT
SOUTHERN RACEWAY—MILTON, FLORIDA—3/8 DIRT
SUNSHINE SPEEDWAY-- ST. PETERSBURG, FLORIDA—1/4 PAVEMENT
VOLUSIA COUNTY SPEEDWAY—BARBERVILLE, FLORIDA—1/2 PAVEMENT
VOLUSIA COUNTY SPEEDWAY—BARBERVILLE, FLORIDA—1/2 DIRT
VOLUSIA COUNTY SPEEDWAY—BARBERVILLE, FLORIDA—3/8 PAVEMENT
VOLUSIA COUNTY SPEEDWAY—BARBERVILLE, FLORIDA—3/8 DIRT
WALT DISNEY WORLD SPEEDWAY—ORLANDO, FLORIDA—1 MILE PAVEMENT
ZEPHYRHILLS SPEEDWAY—ZEPHYRHILLS, FLORIDA—1/4 DIRT
GEORGIA—(19)
ALBANY MOTOR SPEEDWAY—ALBANY, GEORGIA—1/4--PAVEMENT
CORDELE MOTOR SPEEDWAY—CORDELE, GEORGIA—3/8 DIRT
DIXIE SPEEDWAY—WOODSTOCK, GEORGIA—3/8 DIRT
FOUR-FORTY-ONE SPEEDWAY (441)—DUBLIN, GEORGIA—1/2 DIRT
GOLDEN ISLES SPEEDWAY—BRUNSWICK, GEORGIA—1/2 DIRT
GORDON PARK SPEEDWAY—AUGUSTA, GEORGIA—1/2 DIRT
HIGHWAY 33—MOULTRIE, GEORGIA—1/4 DIRT
LANIER NATIONAL SPEEDWAY—BRASELTON, GEORGIA—3/8 PAVEMENT
LAVONIA SPEEDWAY—LAVONIA, GEORGIA—3/8 DIRT
OGLETHORPE SPEEDWAY PARK—POOLER, GEORGIA—1/2 DIRT
PEACH STATE SPEEDWAY—JEFFERSON, GEORGIA—1/2 PAVEMENT
ROME SPEEDWAY—ROME, GEORGIA—1/2 DIRT
SCREVEN MOTOR SPEEDWAY—SYLVANIA, GEORGIA—3/8 DIRT
SENOIA RACEWAY—SENOIA, GEORGIA—3/8 PAVEMENT
SEVEN FLAGS SPEEDWAY—DOUGLASVILLE, GEORGIA—3/8 DIRT
SOUTH GEORGIA MOTORSPORTS PARK—CECIL, GEORGIA—1/2 PAVEMENT
SPEEDWAY 33--MOULTRIE, GEORGIA--1/4 DIRT
THUNDERBOWL SPEEDWAY—VALDOSTA, GEORGIA—3/8 DIRT
WAYCROSS MOTOR SPEEDWAY—WAYCROSS, GEORGIA—1/2 OILED DIRT
ILLINOIS—(7)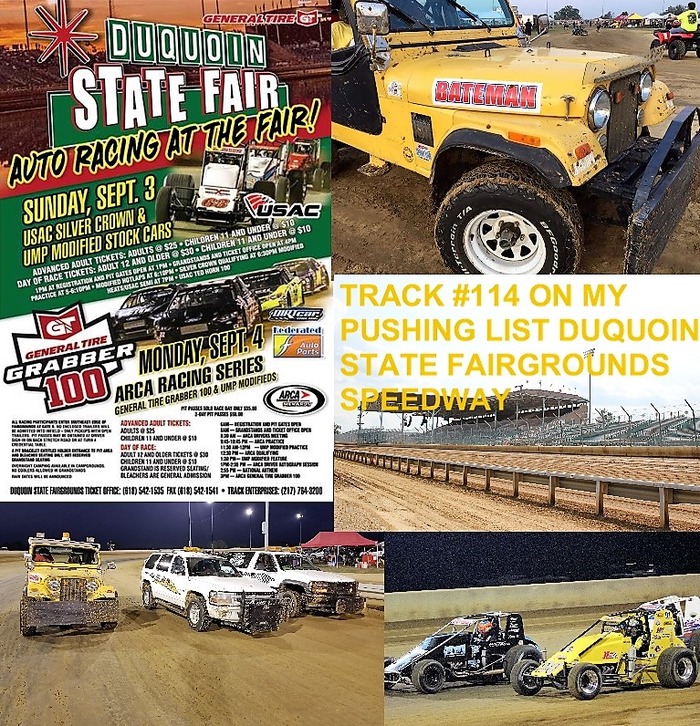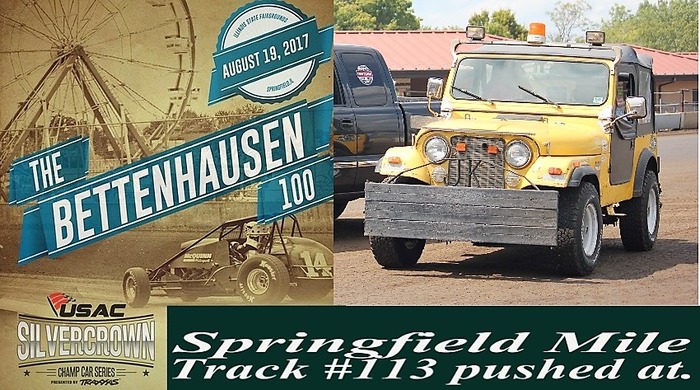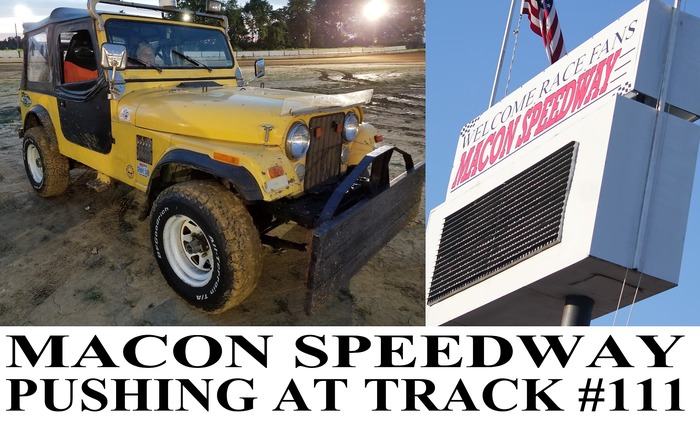 DUQUOIN STATE FAIRGROUNDS--SPRINGFIELD, ILLINOIS--1 MILE DIRT
ILLINOIS STATE FAIRGROUNDS--SPRINGFIELD, ILLINOIS--1 MILE DIRT
LASALLE SPEEDWAY—LASALLE, ILLINOIS—1/4 DIRT
MACON SPEEDWAY--MACON, ILLINOIS--1/5 DIRT
PIERCES VERMILLION CO SPEEDWAY--DANVILLE, ILLINOIS—1/4 DIRT
ROUTE 45 RACEWAY—FLORA, ILLINOIS—1/3 DIRT
TRI-CITY SPEEDWAY—PONTOON BEACH, ILLINOIS—1/2 DIRT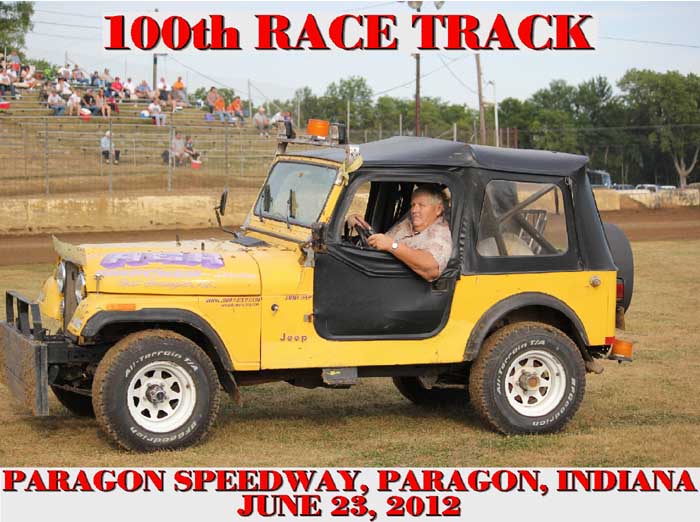 INDIANA—(17)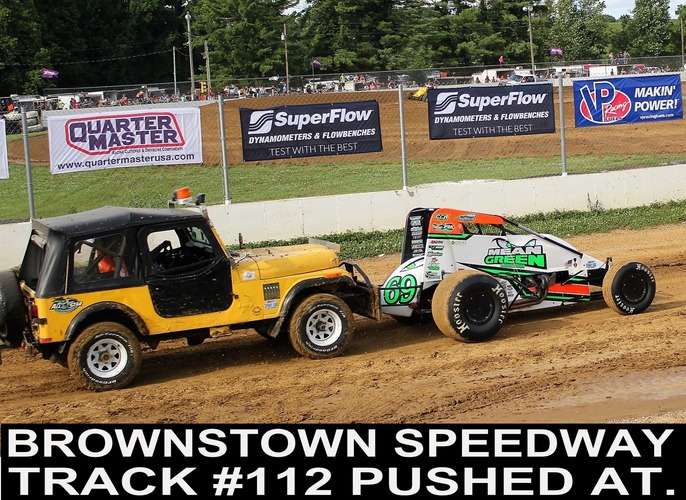 BLOOMINGTON SPEEDWAY—BLOOMINGTON, INDIANA--1/4 DIRT
BROWNSTOWN SPEEDWAY--BROWNSTOWN, INDIANA--1/4 DIRT
CHANDLER MOTOR SPEEDWAY--CHANDLER, INDIANA-3/8 DIRT
CIRCLE CITY RACEWAY--INDIANAPOLIS, INDIANA--1/4 DIRT
INDIANAPOLIS MOTOR SPEEDWAY--THE DIRT TRACK AT IMS--INDIANAPOLIS, INDIANA--1/4 DIRT
INDIANAPOLIS SPEEDROME--INDIANAPOLIS, INDIANA--1/5 PAVEMENT
INDIANA STATE FAIRGROUNDS—INDIANAPOLIS, INDIANA—1 MILE DIRT
LAWRENCEBURG SPEEDWAY-- LAWRENCEBURG, INDIANA-3/8 DIRT
LINCOLN PARK SPEEDWAY—PUTNAMVILLE, INDIANA-3/8 DIRT
LUCAS OIL RACEWAY (FORMALLY O'REILLY RACEWAY PARK)—CLERMONT, INDIANA 5/8 PAVEMENT
KEMP MOTOR SPEEDWAY—BOSWELL, INDIANA-3/8 DIRT
MONTPELIER MOTOR SPEEDWAY--MONTPELIER, INDIANA--1/4 DIRT
PARAGON SPEEDWAY—PARAGON, INDIANA—3/8 DIRT
PLYMOUTH SPEEDWAY—PLYMOUTH, INDIANA—3/8 DIRT
SALEM SPEEDWAY—SALEM, INDIANA—1/2 PAVEMENT
TERRE HAUTE ACTION TRACK—TERRE HAUTE, INDIANA-1/2 DIRT
WINCHESTER SPEEDWAY—WINCHESTER, INDIANA—1/2 PAVEMENT
IOWA—(1)
KNOXVILLE RACEWAY-KNOXVILLE, IOWA—1/2 DIRT
KENTUCKY—(3)
BLUEGRASS SPEEDWAY, BARDSTOWN, KENTUCKY—1/2 DIRT
CEDAR RIDGE SPEEDWAY (FORMERLY SOGGY BOTTOM RACEWAY)—MORGANTOWN, KENTUCKY—3/8 DIRT
PADUCAH INTERNATIONAL RACEWAY—PADUCAH, KENTUCKY—3/8 DIRT
NEW YORK--(7)
BREWERTON SPEEDWAY—BREWERTON, NEW YORK—3/8 DIRT
CANANDAIGUA SPEEDWAY—CANANDAIGUA, NEW YORK—1/2 DIRT
LEBANON VALLEY SPEEDWAY—WEST LEBANON, NEW YORK—1/2 DIRT
NEW YORK STATE FAIRGROUNDS—SYRACUSE, NEW YORK—1 MILE DIRT
ORANGE COUNTY FAIR SPEEDWAY—MIDDLETOWN, NEW YORK—5/8 DIRT
OSWEGO SPEEDWAY—OSWEGO, NEW YORK—5/8 PAVEMENT
ROLLING WHEELS RACEWAY PARK—ELBRIDGE, NEW YORK—5/8 DIRT
NORTH CAROLINA--(5)
ACE SPEEDWAY--ALTAMAHAW, NORTH CAROLINA—3/8 DIRT
ANTIOCH SPEEDWAY--MORGANTON, NORTH CAROLINA—1/2 DIRT
HICKORY MOTOR SPEEDWAY--NEWTON, NORTH CAROLINA—.363 PAVEMENT
METROLINA SPEEDWAY—CHARLOTTE, NORTH CAROLINA—1/2 DIRT
DIRT TRACK AT CHARLOTTE—CONCORD, NORTH CAROLINA—4/10 DIRT
OHIO--(8)
ATTICA RACEWAY PARK—ATTICA, OHIO—1/3 DIRT
ELDORA SPEEDWAY—NEW WESTON, OHIO—1/2 DIRT
FREMONT SPEEDWAY—FREMONT, OHIO—1/3 DIRT
MILLSTREAM SPEEDWAY—FINDLAY, OHIO—1/2 DIRT
RACEWAY 7—CONNEAUT, OHIO—7/16 DIRT
SHARON SPEEDWAY—HARTFORD, OHIO—1/2 DIRT
VAN WERT COUNTY FAIRGROUNDS—VAN WERT, OHIO—1/2 SAND
WAYNE COUNTY SPEEDWAY (BUCKEYE RACEWAY)—ORRVILLE, OHIO—3/8 DIRT
PENNSYLVANIA--(1)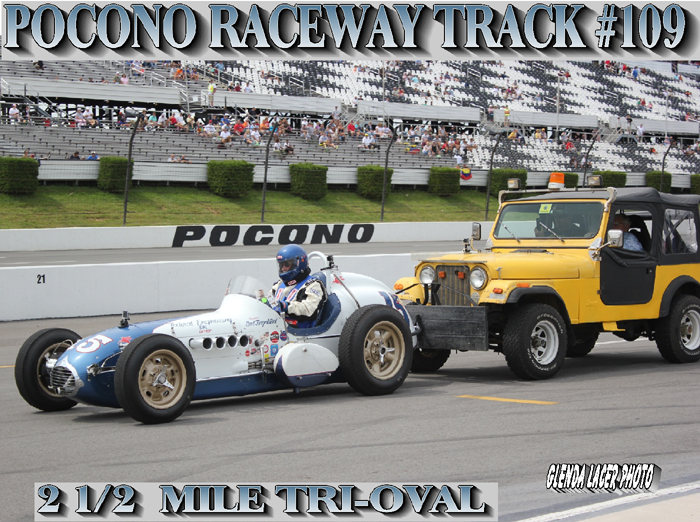 POCONO RACEWAY—LONG POND, PENNSYLVANIA—2 1/2 PAVEMENT
SOUTH CAROLINA--(4)
CHEROKEE SPEEDWAY—GAFFNEY, SOUTH CAROLINA—1/2 DIRT
DARLINGTON RACEWAY—DARLINGTON, SOUTH CAROLINA—1 1/3 PAVEMENT
FLORENCE MOTOR SPEEDWAY—TIMMONSVILLE, SOUTH CAROLINA—4/10 PAVEMENT
SUMTER SPEEDWAY—SUMTER, SOUTH CAROLINA—1/2 DIRT
TENNESSEE--(11)
ATOMIC SPEEDWAY—KNOXVILLE, TENNESSEE—1/3 DIRT
BRISTOL MOTOR SPEEDWAY—BRISTOL, TENNESSEE--.533 DIRT ON PAVEMENT
CLARKSVILLE SPEEDWAY—CLARKSVILLE, TENNESSEE—1/4 DIRT
CLEVELAND SPEEDWAY—CLEVELAND, TENNESSEE—1/3 DIRT
CROSSVILLE SPEEDWAY, CROSSVILLE, TENNESSEE—1/3 DIRT
HIGHLAND RIM SPEEDWAY—GREENBRIER, TENNESSEE—1/4 PAVEMENT
HOHENWALD MOTORSPORTS SPEEDWAY—HOHENWALD, TENNESSEE—1/3 DIRT
MEMPHIS MOTORSPORTS PARK—MILLINGTON, TENNESSEE—7/16 DIRT
MILAN SPEEDWAY—MILAN, TENNESSEE—3/8 DIRT
SMOKEY MOUNTAIN RACEWAY—MARYVILLE, TENNESSEE—4/10 DIRT
WINCHESTER SPEEDWAY—WINCHESTER, TENNESSEE—1/4 DIRT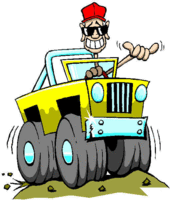 I've been involved with sprint cars for over 27 years now..Raised in the Finger Lakes area of New York State DIRT modified racing was in my blood..Until that day Red Stauffer drove onto our job site in Orlando pulling his sprinter. Well for the next 15 years I followed him around every Interstate highway in the southeast.You know you can only spell so many words out of Valvoline flashing off the rear door of his trailer.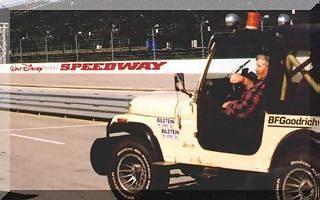 My faithful 1985 JEEP CJ-7 nicknamed the "WAR WAGON" has been with me the whole way..I drive it to and from the races..Always made it home from out of state under her own power.The mileage is now over 500,000 miles..A lot of people have helped get me there.Red Stauffer,Ron Johnson,and Mike Cronk have been my God Fathers..Eddie Luscomb and his late father Bob gave my trannys the life to push..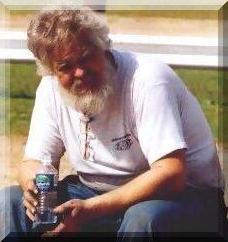 MIKE CRONK PREPARING FOR BATTLE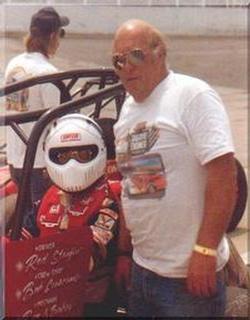 RED STAUFFER AND THE LATE BOB LUSCOMB AT SALEM..(JJ photo)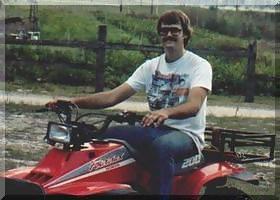 EDDIE LUSCOMB..(JJ photo)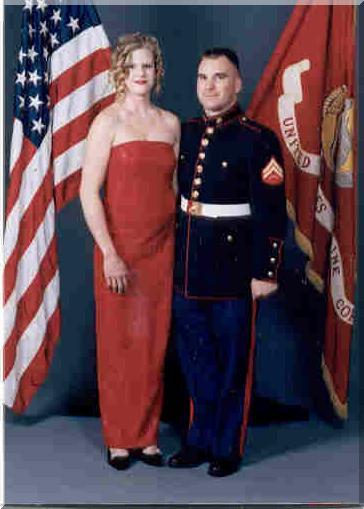 SGT.ROBERT DAVIS AND HIS WIFE APRIL..(USMC photo)

Now there's Bobby Davis who has been a part of the crew since his early high school days.We bribed him to stay in school with racing.After graduation he went to GM school and spent as much time with Red as he could.A love for sprint cars at 27 he decided to be a Marine and become a chef.I really don't know if it was because of the track food.Were all proud of him.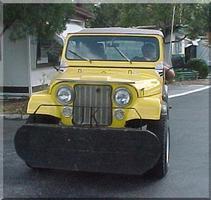 IN 2001 JIMMYJEEP TOOK ON A NEW LOOK THANKS TO EDDIE ROBBINS OF LK. HELEN, FL..ALL CLEAN AND PAINTED TO PUSH THE BEST SPRINT CAR DRIVERS IN THE WORLD...THE BUMPER WAS BUILT MANY YEARS AGO BY RED STAUFFER AND RON JOHNSON...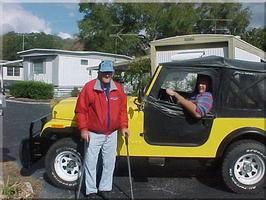 THIS IS HERBIE MY "SHOTGUN" WHO I LOST IN MARCH OF 2003..MY ENGINE, WHICH IS THE FOURTH IN 22 YEARS, IS A 305'CHEVY WITH A 4bl HOLLEY..THE ORIGINAL CHRYSLER AUTOMATIC HAS BEEN TOUCHED A FEW TIMES BY EDDIE LUSCOMB...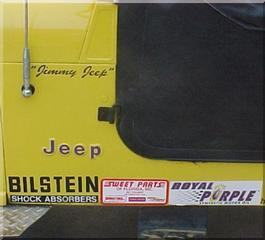 WITH OUT THE HELP FROM THESE GREAT PEOPLE THERE WOULDN'T BE A NICE RIDE FROM BILSTEIN OR SMOOTH LUBRICATED PARTS FROM ROYAL PURPLE AND THE NICE PEOPLE OF SWEET PARTS OF FLORDA.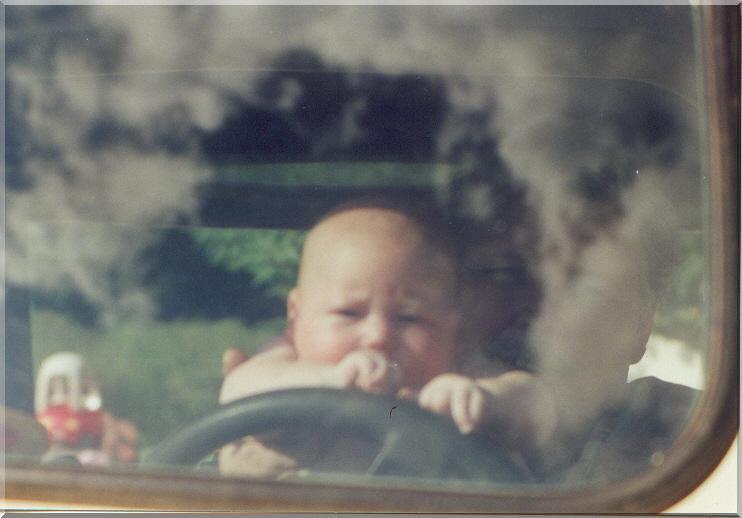 MY GRANDSON CODY THE YOUNGEST OF THE CLAN..NEVER TO EARLY TO GET THEM BEHIND THE WHEEL....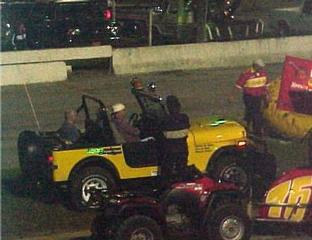 WAITING TO PUSH OFF THE TBARA FEATURE AT NEW SMYRNA SPEEDWAY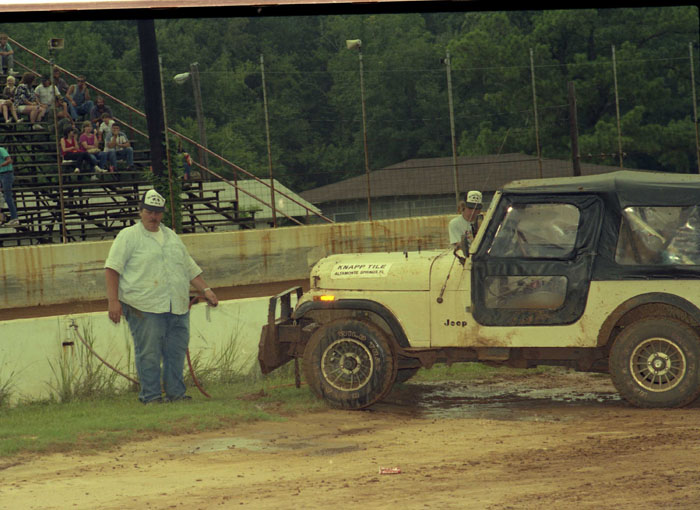 DAY SHOW 1989 AT SAVANNAH, GEORGIA..RED CLAY MESS..(Max Dolder photo)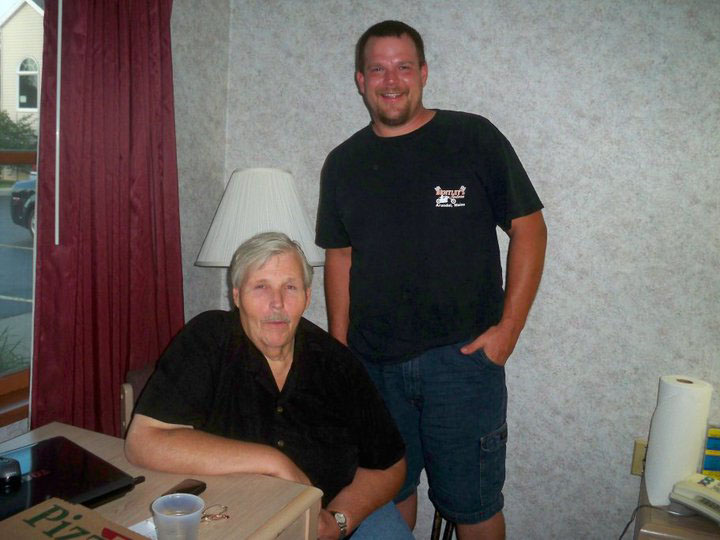 I MET JEFF FESKO IN 1997 THE LAST YEAR I WORKED THE SUPER DIRT WEEK ON THE MILE IN SYRACUSE..ALTHOUGH WE HAVE BEEN IN CONTACT EVERY WEEK WE HADN'T SEEN EACH OTHER UNTIL THIS SUMMER IN WEEDSPORT, N.Y.

RETURN TO JIMMYJEEPS FRONT STRETCH
Copyright 2018 JimmyJeep All Rights Reserved