"SUPER TROOPER"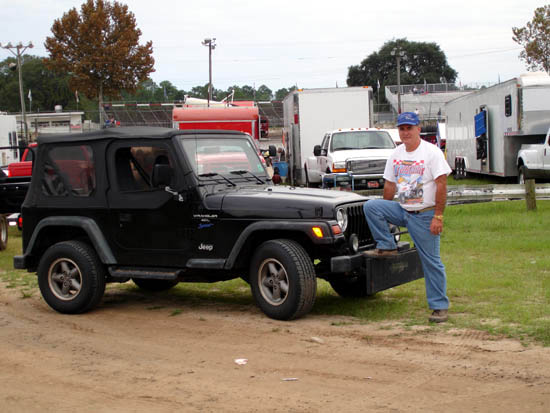 DON WILSON FROM ELKTON, FLORIDA IS A RETIRED ILLINOIS STATE POLICE OFFICER...DURING THE EIGHTY'S AND NINETY'S HE RAN STREET STOCKS AT JACKSONVILLE, MACON, SPRINGFIELD MILE, AND LINCOLN SPEEDWAYS...HE RAN LATE MODELS AT PEVLEY, MO., MT. VERNON, HIGHLAND, CANTON, AND FARMER CITY, ILL...HE MOVED TO FLORIDA IN 2002 AND HAS BEEN A TRACK OFFICIAL AT PUTNAM COUNTY SPEEDWAY SINCE....DON STARTED HELPING US PUSH AT PUTNAM WITH THE TRACK 4 WHEELER AND HIS OWN JEEP THIS YEAR FOLLOWED WITH THE USCS SHOW AT VOLUSIA S.W.P...

DON WAS MEMBER OF JIMMYJEEPS PUSH TRUCK CREW AT THE 2005 USAC PRI SHOW AT ORLANDO SPEEDWORLD..

"MIGHTY MIKE PARTIN"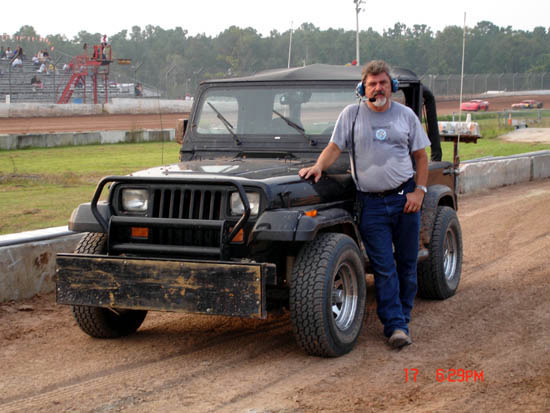 FORMER SPRINT CAR DRIVER MIKE PARTIN AND FORMER MANAGER OF PUTNUM COUNTY SPEEDWAY AND HIS JEEP WHICH HE USES CONSTANTLY AT THE TRACK...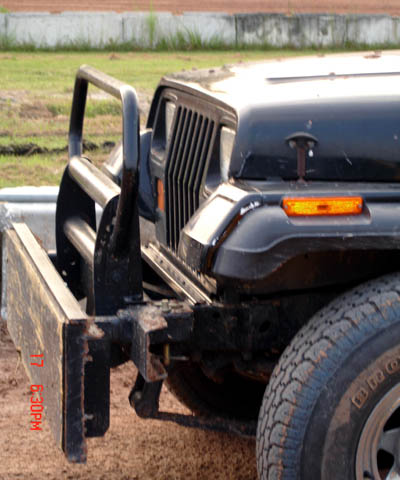 LIKE OTHER PUSHERS MIKE USES A PULL PIN RECEIVER COMBO TO SHED THE BUMPER WHEN HE NEEDS TO...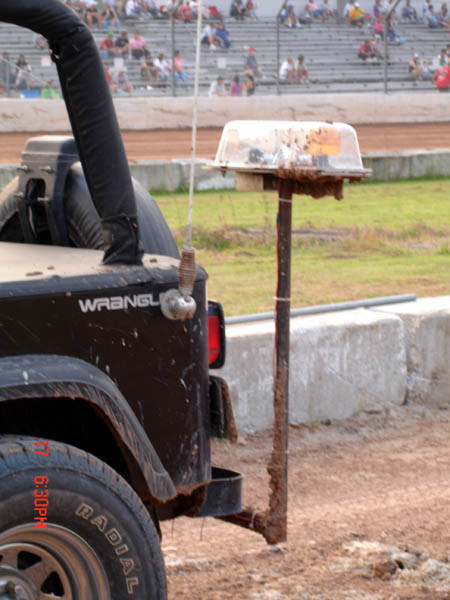 USING THE RECEIVER HITCH MIKE MOUNTED AN OFF SET LIGHT ON THE REAR....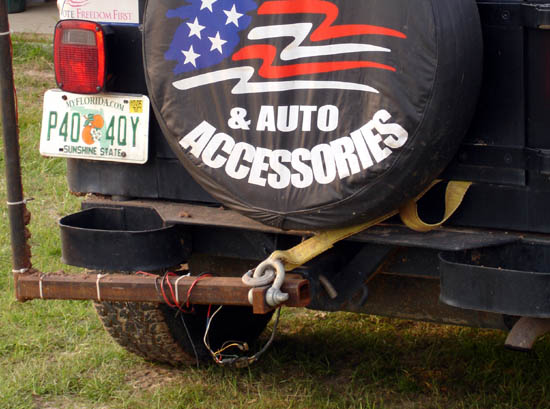 WHAT EVER IT TAKES TO BE SAFE....

"THE NEW KID"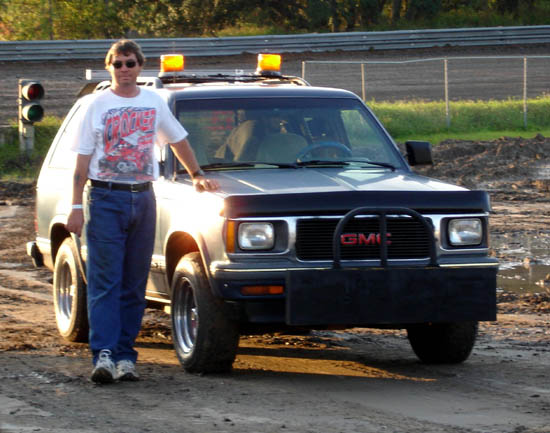 JIM IRWIN FROM DELAND, FL. PICTURED HERE DURING THE 2005 USCS OCTOBERFEST AT VSP...HE HAS ALWAYS BEEN A FAN OF SHORT TRACK DIRT RACING...HE IS EMPLOYED BY THE VOLUSIA COUNTY SCHOOL BOARD IN THE MAINTENANCE DEPT....THE 2004 SPEEDWEEKS AT VOLUSIA SPEEDWAY PARK WAS THE START OF HIS FIRST SEASON OF PUSHING....A QUICK LEARNER HE TOOK TO PUSHING LIKE A DUCK TO WATER AFTER RIDING WITH FELLOW PUSHER BUD WILLIS.
JIM'S PUSHER IS A 1994 GMC/JIMMY WITH A V-6 VORTECK ENGINE...THE 2 WHEEL DRIVE DAILY PUSHER DID A FINE JOB BUT JIM HAS A NEW PROJECT IN THE WORKS...A 1975 CJ-5 THAT WE WILL SHOW LATER THIS YEAR ON A SEPARATE PAGE...

"SECOND GENERATION"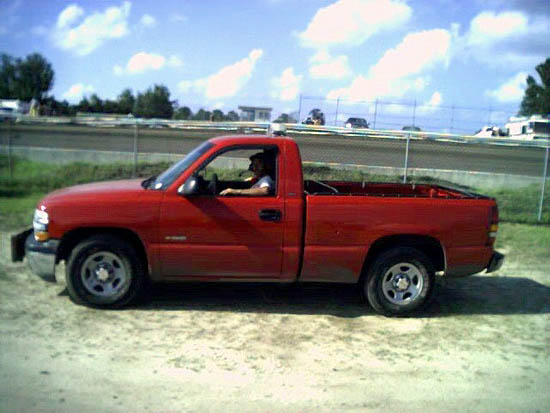 FRANK SHARP'S CHEVY PUSH TRUCK FROM HOLLY HILL, FLORIDA..
FRANK IS A SECOND GENERATION PUSHER FROM THE DAYTONA BEACH AREA..FRANK IS NOW WORKING FOR GOODYEAR RACING TIRES AND ALSO HELPS OUT AT VOLUSIA SPEEDWAY PARK WORKING THE WRECKER..

"LAW AND ORDER"

CHARLES SHARP IS ONE OF THOSE PEOPLE WHO HAS BEEN AROUND RACING ALL HIS LIFE...WORKING ON SPRINT CARS IN OKLAHOMA TO BEING AN EMPLOYEE FOR THE FIRESTONE TIRE RACING DIVISION....NOW RETIRED FROM THE COMMUNNICATIONS END FOR THE HOLLY HILL , FL. POLICE DEPARTMENT..
HE IS ASSOCIATED WITH JEFF AND ROBIN KOPKA RACING OF HOLLY HILLS...THEY HAVE A LIMITED LATE MODEL , TWO SUPER LATE MODELS , AND TWO STREET STOCKS....HIS SON RACES IN THE #66 STREET STOCK AT VOLUSIA SPEEDWAY PARK....

MARRIED TO JUDY FOR 31 YEARS HIS OTHER LOVE IS RACING....HE IS ALWAYS A REGULAR PUSHER AT VOLUSIA WHEN WE RUN SPRINTS AND DAARA ANTIQUES...HE NOW HELPS OUT THE FSCS SERIES...
CHARLIE AND HIS TRUSTY TRUCK "SCAR" ARE ALWAYS READY TO HELP AND ARE DOING SOME OUT OF TOWN SHOWS WITH THE JACKSONVILLE GROUP THIS COMING YEAR...

"EMERGENCY ONE"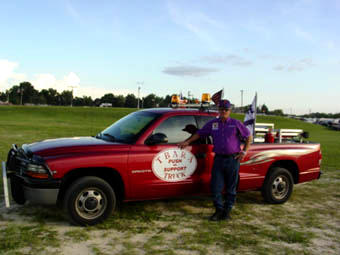 STEVE HENSLEY WHO PUSHES FOR THE TBARA SPRINTS IS ALSO A FULL TIME FIREFIGHTER FOR THE KISSIMMEE , FL. FIRE DEPARTMENT STATION #3..HIS 1998 DODGE DAKOTA HAS HIS OWN SAFETY EQUIPMENT ABOARD FOR FIRE AND ACCIDENTS..ONLY A LARGE FIRST AID BAG IS SUPPLIED BY TBARA...HE ALSO WORKS OTHER RACE TRACKS INCLUDING DAYTONA INTERNATIONAL SPEEDWAY , INDIANAPOLIS MOTOR SPEEDWAY , AND LAKELAND SPEEDWAY ON THERE TRACK RESCUE TEAMS...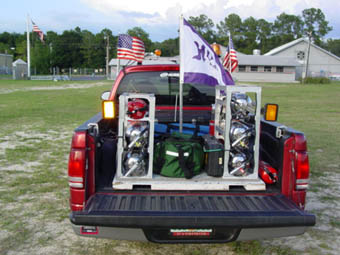 STEVES TRUCK IS WELL EQUIPED FOR MOST MISHAPS SUFFERED BY FELLOW TBARA DRIVERS...THE EQUIPMENT CONSISTS OF THE FOLLOWING: THERE ARE 7 PW'S WITH FOAM , 4—10 lb DRY CHEMS , A 10 TON PORT-A POWER SET AND A 18 VOLT SAW SAW PLUS OTHER SMALL TOOLS AND EQUIPMENT...

"BAD ATTITUDE"

KEVIN SCOTT'S 1987 CHEVY ASTRO VAN IS FITTED WITH A 305' VORTEC V-8 TWISTING A 700r4 TRANNY....GRIP IS DONE WITH 245-60-15 COOPER COBRA'S....WITH THE HELP OF JOE BYRS THEY HAVE FITTED IT WITH A STURDY PUSH BUMPER.....SAFETY LIGHTS INCLUDE 4 CORNER STROBES AND A ROOF MOUNTED STROBE...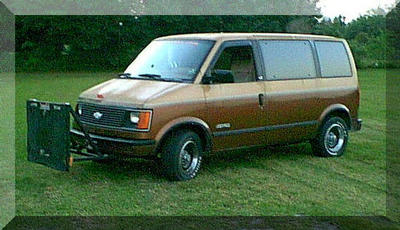 KEVIN SCOTT STARTED PUSHING AT ELDORA AND THE OLD MILSTREAM SPEEDWAY WITH A FORD VAN IN THE '80s...THIS WAS NO PROBLEM....HE ALSO GOT DIRTY AROUND THE LIMA , OHIO AREA....NOW WITH TWO YEARS PUSHING AT BRADENTON , FLORIDA'S 3/8 BANKED DESOTO SPEEDWAY HE'S BACK IN THE GROVE.. KEVIN WORKS FOR RELECTIONS GLASS & MIRROR IN SARASOTA...
KEVIN ON THE FRONT STRETCH AT CHARLOTTE...HE AND JIM REID SPENT HOURS PACKING THE TRACK THURSDAY AND FRIDAY DURING THE SPRING 2003 WoO SHOW...

STACEY'S CUSTOM MUFFLERS OF SARASOTA HAS GIVEN SCOTT A NEW SOUND AT THE TRACK WITH A FLOWMASTER EXHAUST SYSTEM...COMING ON TO BRIGHTEN UP THE PAINT AND BODY WORK IN THE NEAR FUTURE IS SYCO COLORS FROM SARASOTA , FL.. ....WITH ONLY SPECIALS FOR THE TBARA WINGED SPRINTS AT DESOTO...KEVIN WILL BE HELPING TBARA THIS YEAR WITH THEIR TRAVELING SERIES IN FLORIDA.

KEVIN'S VAN IS SPORTING A NEW 2003 PAINT JOB BY SYCOCOLORS...THE SAFETY LIGHTING HAS BEEN UPDATED TO STROBES BY THE GANG AT FLASH EQUIPMENT IN BRADENTON , FL....HE ALSO WANTED TO SAY THANK YOU TO CURTIS AND STEPHANIE CARTER FROM C&S HAULING ALSO OF BRADENTON...OWNERS OF THE TBARA SERIES #2c SPRINTER....

"BIG RED"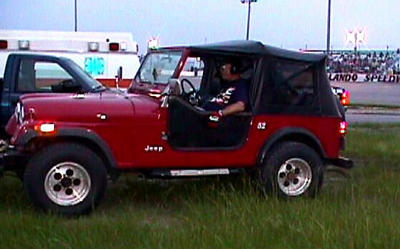 JIM REID'S 1985 CJ-7 "BIG RED"


JIM REED IS A NEW COMER TO PUSHING BUT HE HAS DONE A FINE JOB....HE STARTED WITH THE TBARA PAVEMENT SPRINTS IN MAY OF 2001 AND WORKED INTO DIRT AT EAST BAY....PROGESSING ON TO THREE SHOWS WITH THE USCS SERIES...ALTHOUGH AFTER WE FINISHED THE OCTOBERFEST AT VOLUSIA HIS JEEP BADLY SOILED HE WAS HEARD MUTTERING "HE WAS GOING TO STAY ON PAVEMENT IT WAS A LOT CLEANER"....BUT 2002 HAS ROLLED AROUND AND HE'S BACK PUSHING THE ALL STARS AT VOLUSIA...BUT WAS SEEN AT NEW SMYRNA SPEEDWAY WITH THE TBARA SPRINTS POLISHING HIS NEW RED PAINT JOB ON HIS STOCK 1985 CJ-7 258" STICK...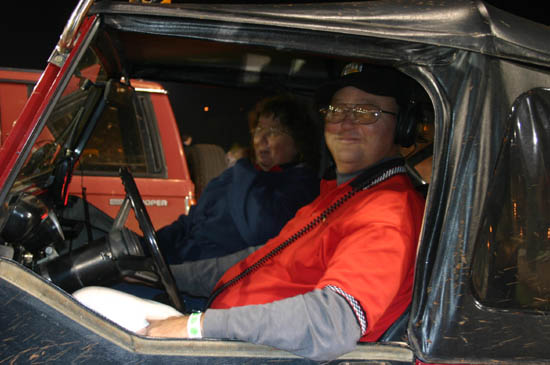 JIM AND BEVERLY REID @ THE LOWES SHORT TRACK AT CHARLOTTE 2004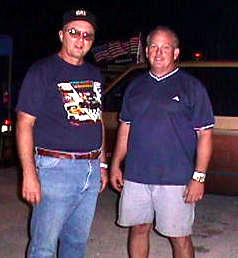 JIM REED AND DAVID HOLLINGER AT ORLANDO SPEEDWORLD
JIM HAS BEEN A FLEET MECHANIC FOR OVER THIRTY YEARS IN THE TAMPA , FLORIDA AREA...HE AND HIS WIFE BEVERLY ENJOY RVing WITH "BIG RED" HOOKED TO THE REAR OF THEIR MOTORHOME...A MEMBER OF THE NATIONAL STREET ROD ASSOCIATION AND A RACE FAN YOU NEVER WHERE THEY ARE HEADED WHEN THEY LEAVE THE DRIVEWAY...

"HURRICANE"


Curtis Whalin's 1978 Ford powered CJ-5 is a fame up aluminum constructed body by famed sprint car "HURRICANE" chassis builder Jerry Stuckey..With the help on the mechanical end by Steve Leipod of Performance Car Care..


Employed by Advantage Vacation Homes By Style he is there main maintenance person ..He has been pushing sprints since July 1994 mostly for the Tampa Bay Area Racing Association..When they aren't racing he also pushes for the Daytona Antique Auto Racing Association..Curtis also has been known to push for the TQ club in Florida..Since 1998 he has been a May regular at Anderson , In. pushing for USAC and the LITTLE 500..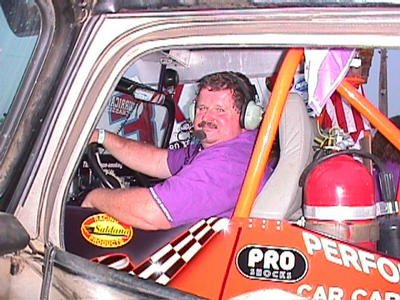 With the help of the following he presents a nice looking push truck at the track.. Don & Ann Rehn--RIVERVIEW RACING EQUIPMENT , Mr. & Mrs. BARFIELD , Eddie Curry Custom Painting , RESORT QUEST INTERNATIONAL , HI SIGNS , Don Heckman & Jimmy Adams

RETURN TO JIMMYJEEPS FRONT STRETCH
Copyright © 2005 JimmyJeep All Rights Reserved