"FLORIDA PUSH TRUCKS"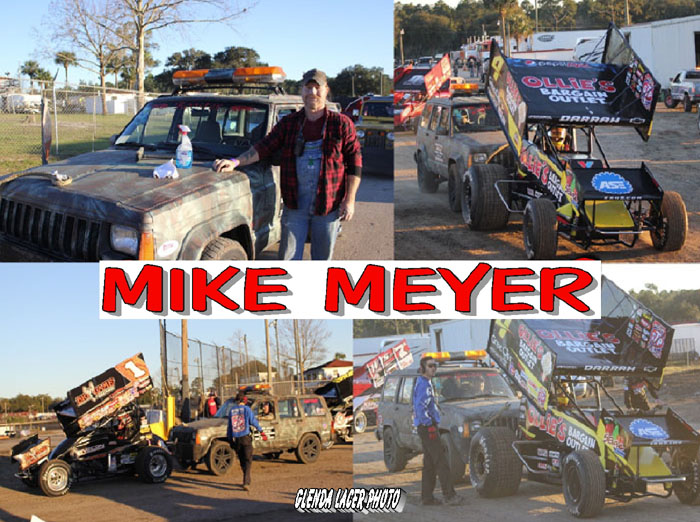 MIKE MEYER FROM DELEON SPRINGS..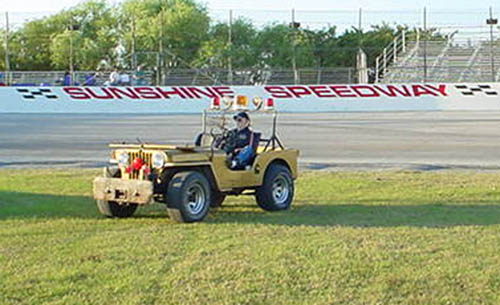 IT TAKES YEARS TO GAIN RESPECT BUT IF YOU KEEP COMING BACK YOU CAN WEAR DOWN THE BEST OF THEM...BILL LOUGHHEAD HAS DONE THEM BOTH...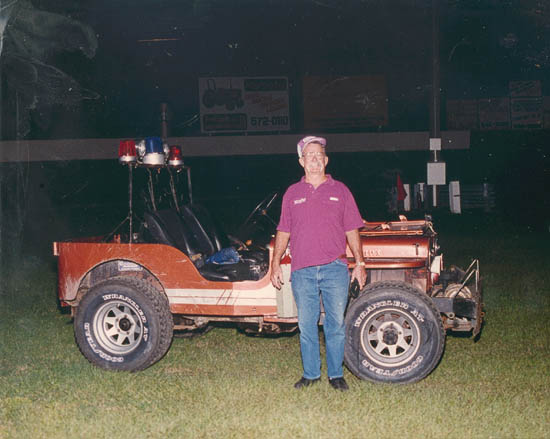 BILL LOUGHHEAD HAS OWNED THE "GENERAL" FOR 50 YEARS...THE 1947 WILLYS CJ2A PUSH TRUCK IS ALL ORIGINAL WITH OVER 200,000 MILES ON IT..IT STILL HAS THE FLATHEAD FOUR CYLINDER AND HAS BEEN USED WEEKLY AT SUNSHINE SPEEDWAY FOR 30 YRS.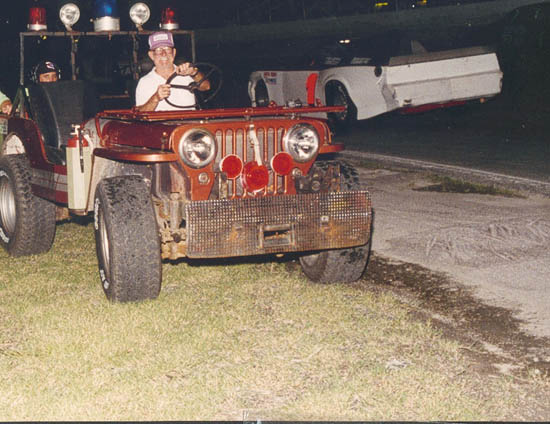 A FORMER MODIFIED STOCK CAR DRIVER WHO RACED FOR ALMOST SIXTEEN YEARS IN THE TAMPA BAY AREA...HE RACED HIS #66 FORD COUPE AT GOLDEN GATE SPEEDWAY AND PHILLIPS FIELD...BILL HAS ATTENDED RACES AT SUNSHINE SPEEDWAY OWNED BY FRANK AND BONNIE HILL FOR OVER 44 YRS. AND HOLDS THE TRACK POSITION FIRE CHIEF.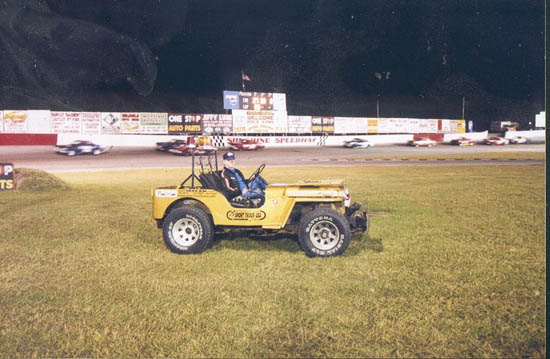 NOW AT THE AGE OF 79 BILL HAS BEEN MARRIED TO HIS WIFE EVELYN FOR 54 YEARS...THEY HAVE FOUR CHILDREN, 12 GRANDCHILDREN AND 5 GREAT GRANDCHILDREN...HIS HOBBIES INCLUDE HUNTING AND FISHING, WATCHING THE TAMPA BAY BUCS AND DEVIL RAY GAMES, AND NEXTELL CUP RACES...JEFF GORDON IS HIS FAVORITE DRIVER.

"BIG BUD"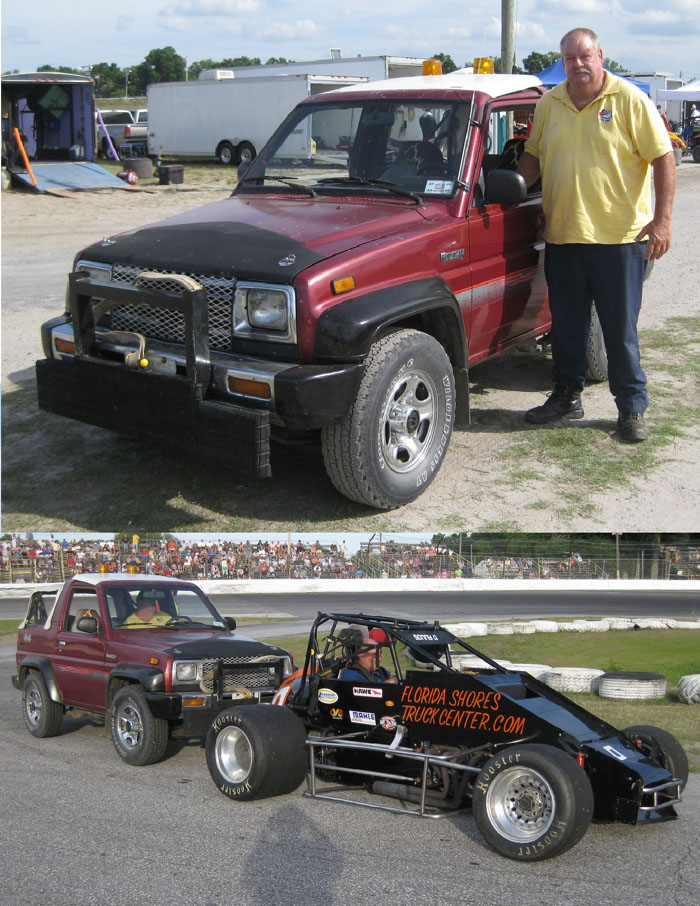 BUD WILLIS HAS A NEW PUSH TRUCK WHICH IS A DAIHATSU ROCKY..ITS A BIG CHANGE FROM HIS "BIG RED" CHEVY..BUD IS THE HEAD PUSH TRUCK FOR DAARA AND DOES THE SPRINT SHOWS AT VOLUSIA SPEEDWAY PARK WHEN THEY'RE ON THE SCHEDULE..(Rockney photo)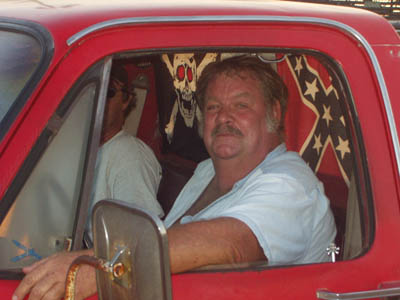 BUD WILLIS FROM THE DELAND, FL AREA HAS BEEN PUSHING AT VOLUSIA DURING OUR SPEEDWEEKS FOR MANY YEARS..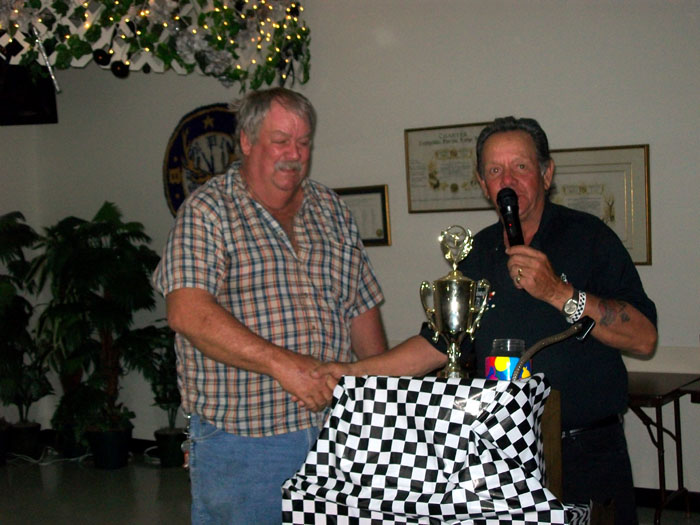 FELLOW PUSHER BUD WILLIS WAS AWARDED THE 2010 DAARA TROPHY FOR DOING SO MANY UNASKED THINGS FOR THE CLUB ABOVE AND BEYOND HIS PUSHING..(G.Lacer photo)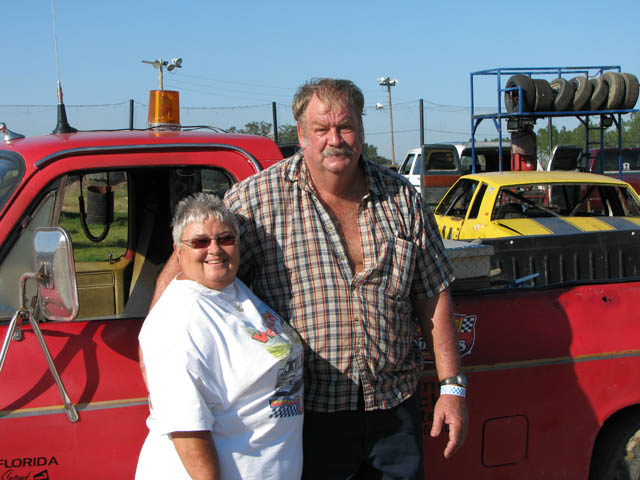 GLENNA DEZARN AND BUD AT NFS..BUD WAS WORKING WITH THE DAARA CARS SO GLENNA JUMPED INTO HIS TRUCK AND HAD SOME FUN PUSHING.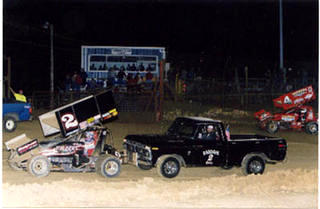 JOHN GILBERTSON II FROM TEMPLE TERRACE , FL. , 1974 FORD SHORT BED HAS BEEN IN THE FAMILY SINCE 1978...PASSING FROM JOHN II TO HIS DAD JOHN I , TO HIS SON JOHN III BETTER KNOW AS JOHNNY AND BACK TO JOHN II...THE TAG OFFICE MUST HAVE LOVED THEM...
THE "302" MOTOR HAS BEEN WORKED OVER WITH THE FOLLOWING MODIFICATIONS.....ROLLER CAM AND ROCKERS , EDLEBROCK PERFORMANCE INTAKE , EDLEBROCK 600 CFM 4V CARB AND OFFENHAUSER VALVE COVERS.....THE TIRES ARE MOUNTED ON EDELBROCK SPRINT CAR KNOCK OFF WHEELS..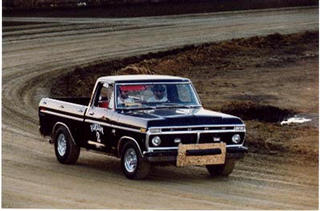 THE DECALS ARE A TAKE OFF FROM THE OLD BARDHAL OFFY AND WERE REPRODUCED BY JOHNNYS DADE CITY , FL. "GILBERTSON GRAFICS"... IT WAS A PERENNAL FAVORITE DURING THE WINTER NATIONALS AT THE OLD FLORIDA STATE FAIR TRACK IN TAMPA DURING THE 50's AND 60's...IT WAS DRIVEN TO THREE NATIONAL CHAMPIONSHIPS (IMCA) BY TAMPA'S PETE FOLSE A FRIEND OF JOHN I...
FATHER AND SON HAVE BOTH BEEN INVOLVED IN RACING....JOHN RACED GO CARTS AND OPEN WHEELED MODIFIEDS...JOHNNY DID THE MODIFIED BIT BUT WENT ON TO THE 360 WINGED SPRINTS...FIRST WINNING THE FL. 360 OUTLAW SPRINT CHAMPION IN 1998 AND THE EAST BAY TITLE IN 2000....THIS YEAR HE IS RUNNING HIS 2003 MAXIUM CHASSIS WITH GAERTE POWER THROUGHOUT FLORIDA...ALWAYS LOOKING FOR SPONSORSHIP HE USES HIS JHT MOTORSPORTS SPRINT CAR PARTS BUSINESS FOR SUPPORT..
JOHN AND HIS WIFE MAUREEN ARE ENJOYING THEIR FIRST GRANDCHILD AND FUTURE DRIVER...JOHNNY AND HIS WIFE HEATHER HAD A SON TYLER IN FEBRUARY OF 2003..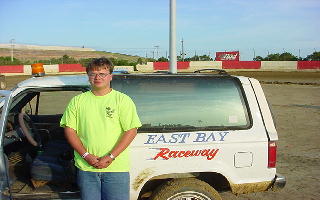 GLYNN GAMBRELL HAS BEEN A HIRED GUN AT EAST BAY RACEWAY PARK FOR OVER THREE YEARS NOW...THE RUSKIN , FLORIDA DRIVERS DAY JOB HAS BEEN WITH DOMININ FREIGHT LINES FOR THE LAST YEAR AND A HALF...MARRIED TO HEATHER THEY HAVE TWO CHILDREN SHELBY AND JACOB..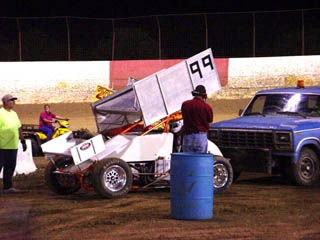 GLEN PUSHING OFF #99 JAN OPPERMAN,JR. DURING THE OCTOBER 2003 USCS SHOW AT EAST BAY.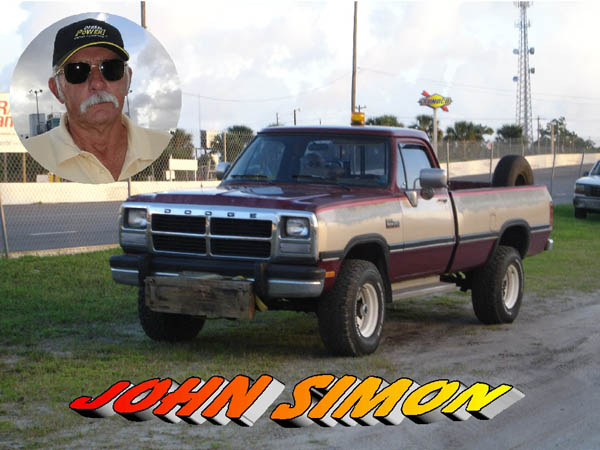 MY OLE BUDDY JOHN SIMON HAS BEEN ON THE TBARA PUSHING CREW THIS YEAR...JOHN AND I STARTED PUSHING TOGETHER IN 1986..(JJ photo)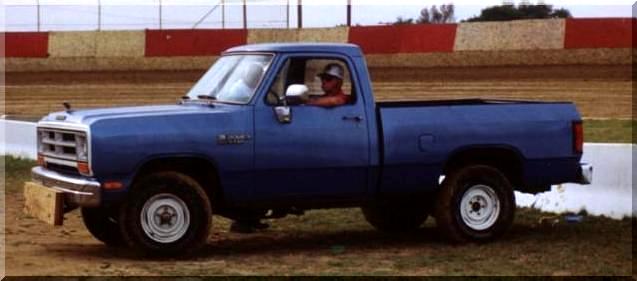 JOHN SIMON of Riverview , Fl.
I GUESS YOU COULD SAY JOHN SIMON OF RIVERVIEW , FL. IS A SOUTHERN GENTLEMAN..HE ALSO HOLDS THE POSITION AS THE SENIOR PUSH TRUCK DRIVER AT EAST BAY..HE STATRTED PUSHING THERE WHEN IT WAS BUILT IN THE MID '70's...A RETIRED PIPEFITTER & WELDER HE ALSO IS AN OVER THE ROAD OWNER OPERATOR...
ALTHOUGH NOT SHOWN HIS MAIN PUSH TRUCK IS A 1974 DODGE POWER WAGON...ALWAYS A GOOD VEHICLE FOR ANY TRACK CONDITION..HE HATES TO GET HIS TRUCK DIRTY AS ANY OF USE WILL AGREE WITH..WE USE TO HAVE TO RUN IN EAST BAY SURFACE ALOT UNDER FORMER OWNERS..NEVER ONE TO HOT FOOT IT WHILE PACKING I GOT HIM ONE NIGHT..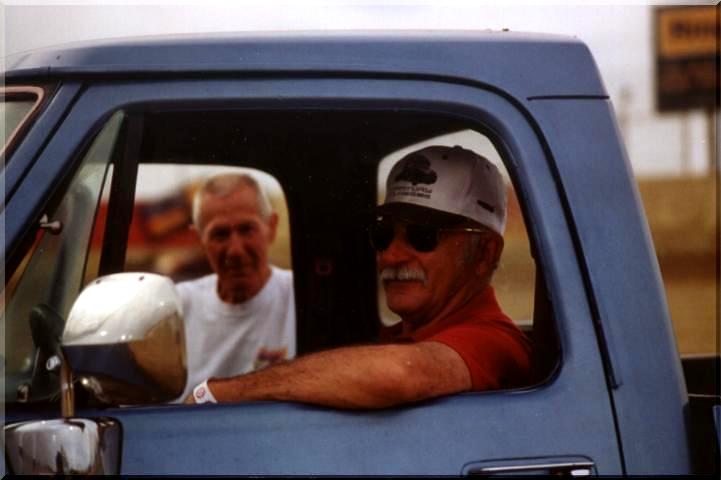 John and his "Shotgun buddy HOPPY" at East Bay

THE CLAY WAS JUST STARTING TO LAY DOWN AND WE HAD A GOOD BITE...I HAD BEEN TRAILING HIM FOR SOME TIME AND HE WAS JUST CRUSING ALONG...I SLIPPED UP BEHIND HIM AND TAGGED HIM AND HE JUST ABOUT JUMPED OUT OF IS SEAT..YOU CAN HAVE SOME FUN EVEN WHILE YOUR WORKING AND AFTER ALL HIS YEARS OF PUSHING NO ONE HAD EVER DONE THAT TO HIM..WE'VE ALWAYS BEEN GOOD FRIENDS SO I SALUTE YOU JOHN..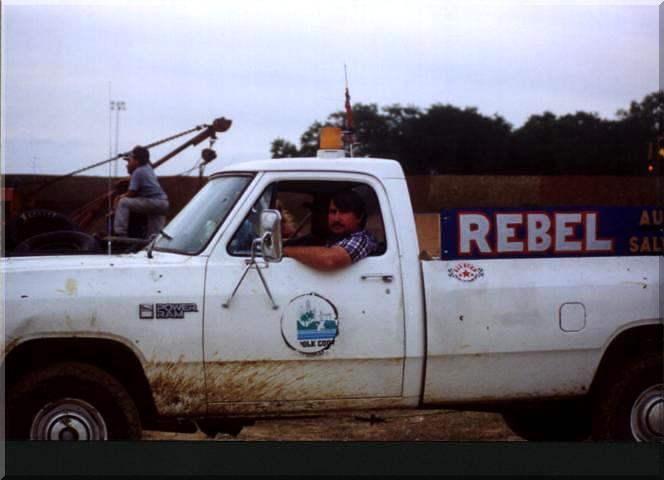 JOHN COLLINS of Tampa , Fl.

JOHN COLLINS IS ANOTHER OLD FRIEND FROM BACK AT THE FLORIDA FAIRGROUNDS TRACK IN THE MID EIGHTIES...NEVER A PUSH TRUCK DRIVER BUT ALWAYS INVOLVED WITH SPRINT CARS....HE'S CREWED ON THE #41 C.T. EARLE TEAM AND JACK NOWLINGS #66 "QUICKLOAD TEAM"...PLUS NUMEROUS OTHERS FOR OVER 25 YEARS..A CHANGE IN HIS LIFE CAME IN 1999 WHEN AN EXCAVATOR BUCKET FELL ON HIS LEFT LEG CAUSING HIM TO LOSE MOST OF HIS LEG...NEVER TO BE STOPPED HE WAS BACK AT THE TRACK AS SOON AS HE COULD GET A GOLF CART AND CRUTCHES...NOW HE'S WORKING ON THE OTHER END OF A SPRINT CAR AS A PUSHER...GOOD LUCK JOHN..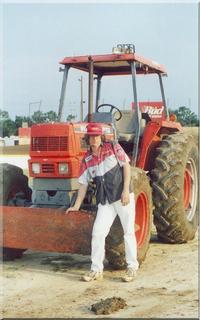 Well this may not look like your regular push truck but i'll put it and the driver up against the best you have....Greg Handley the man with no fear has retired this year (2001) after driving tractor at East Bay for 15 years...He could hook and move two cars in the time a wrecker did one. Using the three point hitch with a ball on the end it did its job..Greg a Ford Tech man for over 25 years is married to Cyndee and have a son Josh...He has a Ford tech site at http://www. Allfordtechs.com/.....A retired racer who ran street stock and mini's from '77 to '84..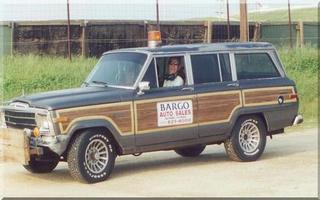 This is Michael Sandlin's Jeep Wagoneer from Seffner,Fl....He's been pushing sprints at the Bay for five years.....Employed by Bargo Salvage for eight years they are a long time sponcer on many of the cars at East Bay....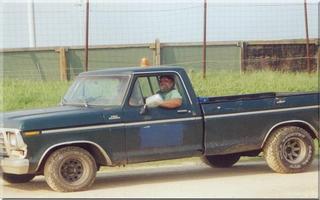 Roger Jaenecke of Riverview,Fl. is starting his third year pushing..His 1978 Ford 302 automatic is favorite...There are always first night jitters and his was hiting the wall with his friends truck while packing the track...Married to Edith he is employed by Levy Awards & Promotional Products in West Tampa,Fl...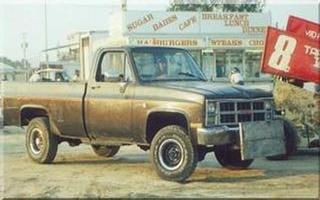 This is Gorden Wolfe's 1984 305 GMC 4x4...A regular pusher at East Bay who also works as a crew man for the #19 street stock...Gorden who lives in Parrish,Fl. is employed by Bill's Discount New and Used Furniture and Appliances in Bradenton,Fl.

RETURN TO JIMMYJEEPS FRONT STRETCH
Copyright © 2015 JimmyJeep All Rights Reserved