BUMPERS 101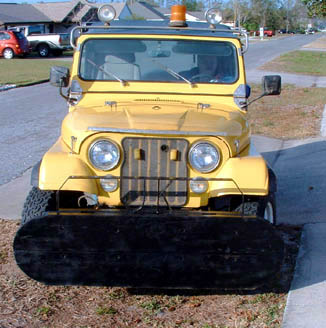 THERE ARE MANY STYLES OF BUMPERS AND IDEAS OF HOW TO BUILD THEM..HERE IS A CROSS SECTION TO GIVE YOU IDEAS...ONE THING IS MAKE SURE YOU HAVE SECURE MOUNTING...I DONT MEAN USING TWO BOLTS IN THE CENTER...THERE IS A LOT OF PRESSURE APPLIED TO THE BUMPER AND SPRINT CARS ARE NOT THE ONLY VEHICLE YOU WILL BE PUSHING...WHEN YOU WORK A TRACK YOU ALWAYS HELP OUT WITH ALL CLASSES...REMEMBER TO KEEP THE TRACK OWNER HAPPY AS YOU ARE A GUEST MOST TIMES..
I LIKE A FULL WIDTH WOOD BUMPER ABOUT ELEVEN INCHES OFF THE GROUND AND TWO 2X12 HIGH...THIS ALLOWS YOU TO CONTROL THE CAR YOUR PUSHING AND IT PROTECTS YOU FROM CATCHING A WHEEL TO WHEEL AND RIDING OVER THE CAR...BUT YOU CAN RIDE OVER A CAR WITH YOUR BUMPER SO BE CAREFULL...PAINT..PAINT YOUR BUMPER...ITS CHEAPER TO THAN NEW WOOD...I LIKE TO USE TREATED WOOD...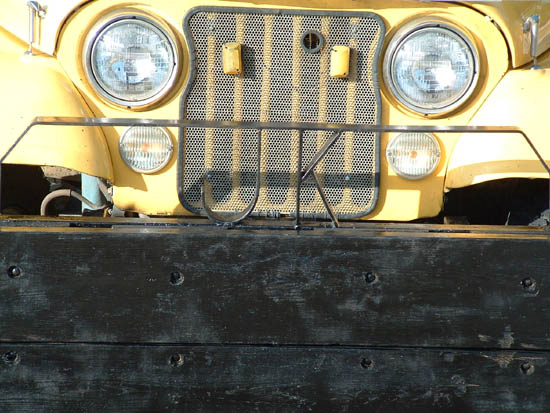 MY INITIALS ARE A TRADEMARK ON MY JEEP BUT THEY ARE THERE FOR PROTECTION FROM A STOCK CARS OVER RIDING THE BUMPER..WHEN YOU MAKE A LOOP BE SURE YOU DON'T BLOCK YOUR HEADLIGHTS AND OR PARKING LIGHTS...MAKE SURE YOU ALSO PLACE YOUR BUMPER AT LEAST ONE FOOT FORWARD OF YOUR GRILL AREA TO PROTECT IT...
THIS SHOT GIVES YOU SOME IDEA ON HOW THE BASE FRAME LOOKS..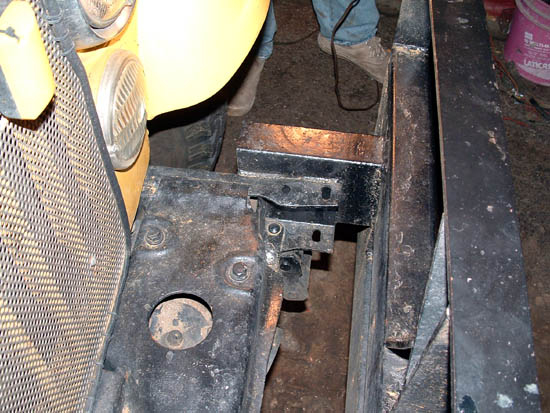 YOU CAN SEE THE BUMPER IS WELDED DIRECT TO THE JEEP FRAME...SEE THE DISTANCE FROM THE FENDERS TO THE BUMPER..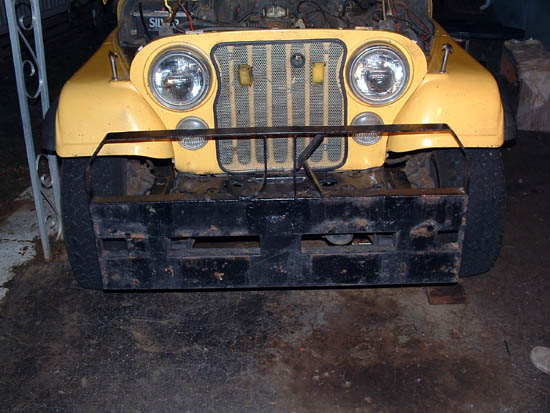 THE FRAME WORK IS ALL WELED AND SIMPLE...IT CAME FROM A CAMPING TRAILER FRAME AND WAS CUT ON A CHOP SAW...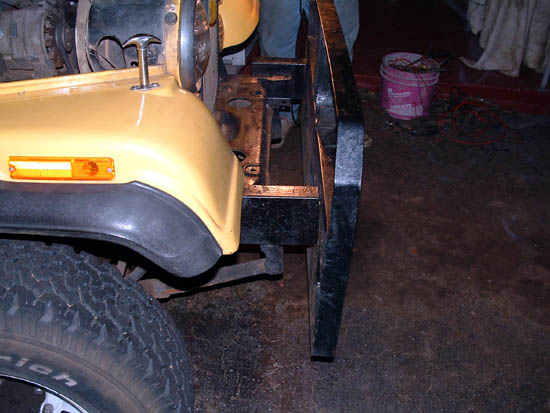 THE STRAPING WAS BENT WITH A TORCH AND WRAPPED AROUND THE FRAME WORK...I USE 6 INCH CARRIAGE BOLTS TO HOLD ON THE WOOD AND I DONT CUT THEM OFF BECAUSE THE OF THE HOLLOW FRAME WORK...IT MAKES IT EASIER TO REATTACH THE BUMPER..
---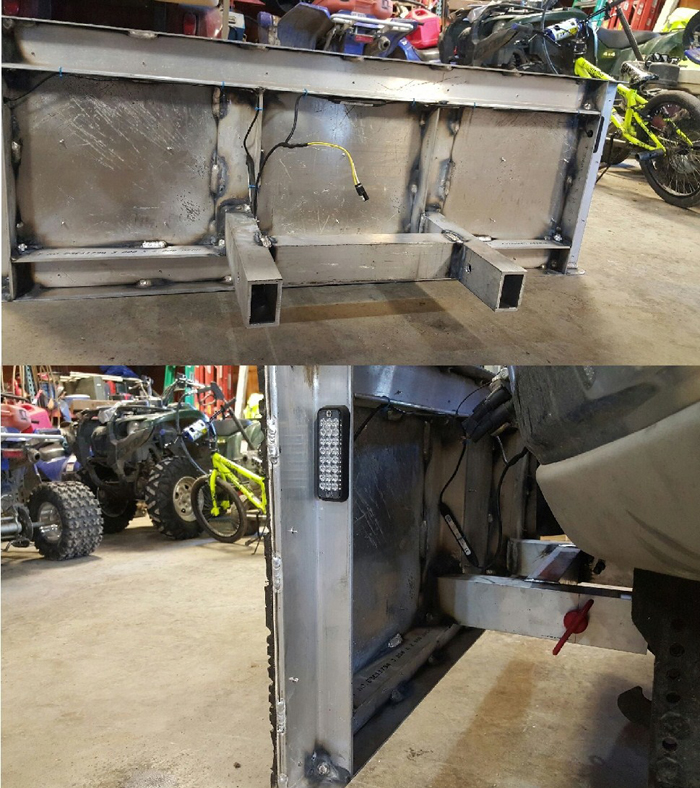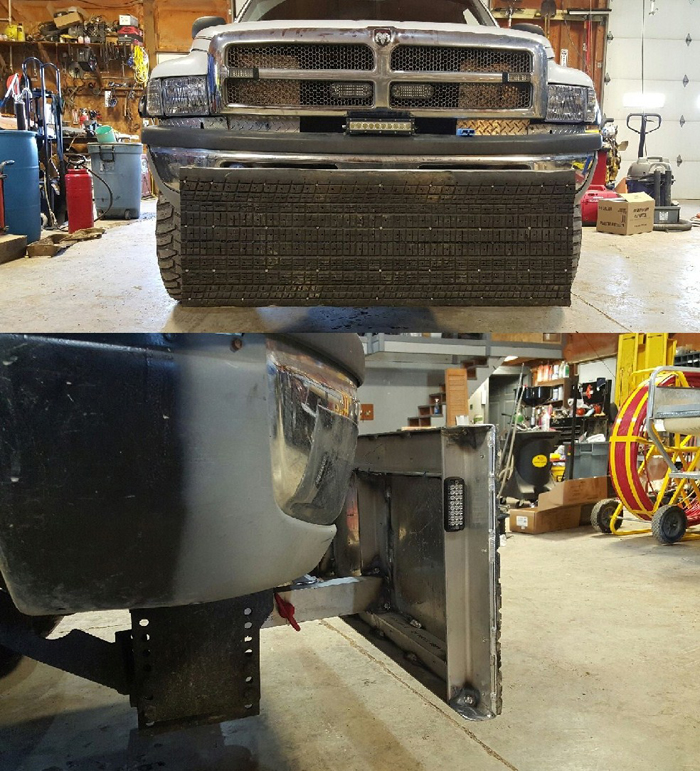 THE NEW ALUMINUM FRAMED BUMPER OF ANTHONY "AJ" EDGAR FROM MARTINSVILLE, INDIANA..("AJ" Edgar photo)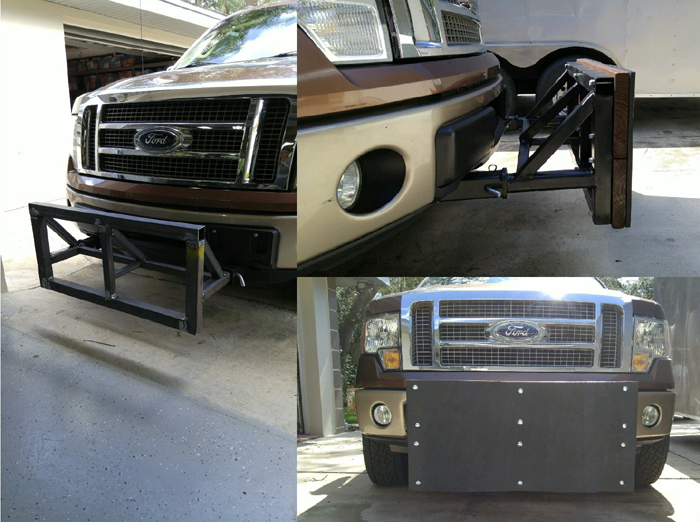 PHIL PETES FORD MOUNTED BUMPER..

THE PUSH BUMPER ON THE "WORKIN WOODY" HAS COIL OVER SHOCKS TO SOFTEN THE CONTACT WITH THE SPRINTERS...THERE IS A ELECTRIC HOIST TO PICK UP CARS WITH FLAT REAR TIRES AND CARRY THEM TO THE WORK AREA...THE SIDE PANELS ARE MADE OF PLYWOOD AND ARE REFINISHED EACH YEAR WITH THEIR NEW SPONSORS.
---
BOBBY GILLS BUMPER IS A LITTLE TRICKED AND SOMETHING TO CONSIDER USING WHEN YOU BUILD YOUR BUMPER..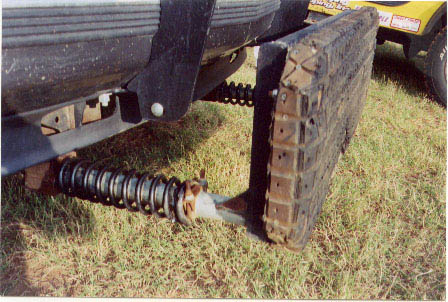 THE BUMPER USES A SLIDER TUBE WITH A HONDA SPRING WHICH CAN BE ADJUSTED FOR TENSION..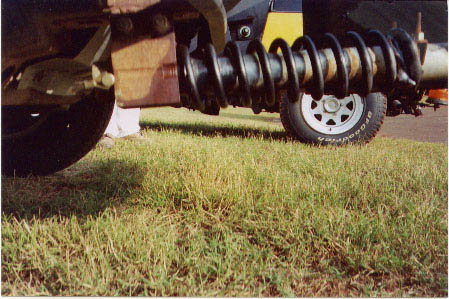 PUSHING OFF PRESSURE IS PLACED DOWNWARD PLANTING THE SPRINT CARS TIRES BETTER..
---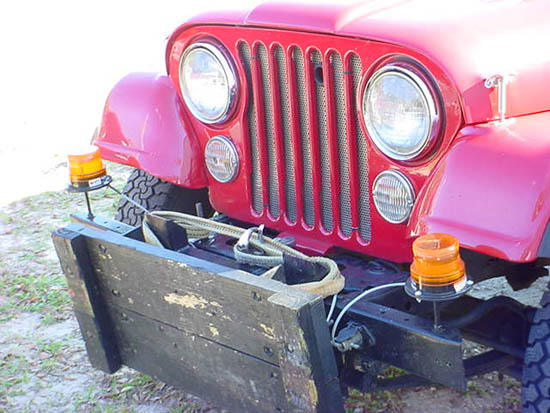 JIM REIDS BUMPER IS REMOVEABLE SO HE COULD ATTACH HIS TOW BAR..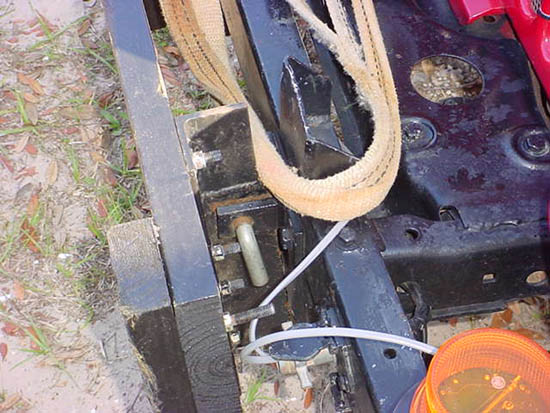 THIS SHOWS THE PINS HOLDING THE BUMPER...THIS MAY CHANGE BECAUSE JIM HAS A NEW TRAILER TO TOW HIS JEEP ON NOW..
---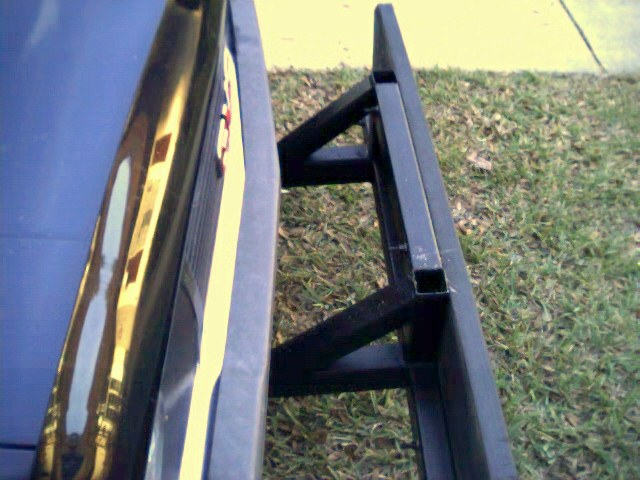 JIM IRWIN'S BUMPER IS SIMPLY CONSTRUCTED BUT VERY STURDY..
2X2 TUBING FRAME AND PAINTED TREATED PLANKING..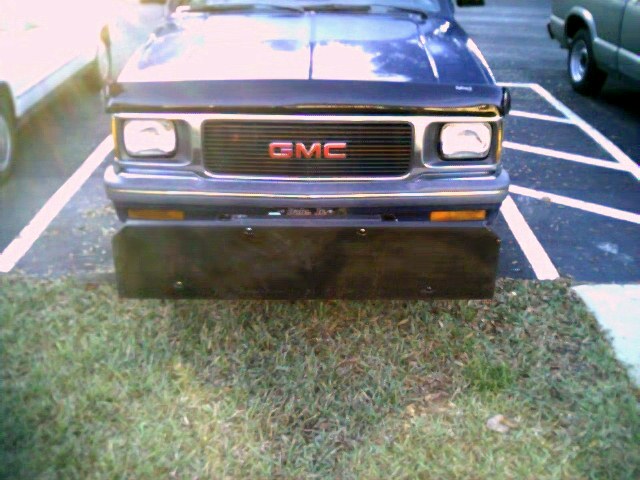 READY FOR PUSHING..REMEMBER THE MORE PAINT YOU USE ON THE BUMPER THE LONGER THE WOOD WILL LAST..

RETURN TO JIMMYJEEPS FRONT STRETCH
Copyright © 2016 JimmyJeep All Rights Reserved