JIMMYJEEPS 2008 PHOTO GALLERY PART THREE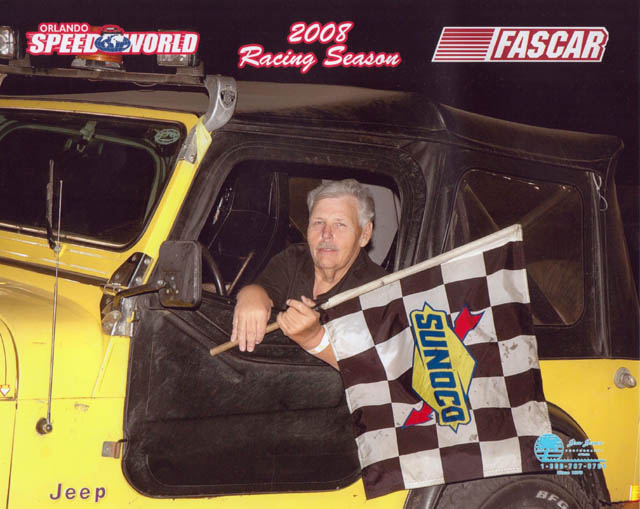 JIMMYJEEP GETS THE CHECKERED FLAG AT ORLANDO SPEEDWORLD FROM PHOTOGRAPHER BROOK JONES..(Jim Jones photo)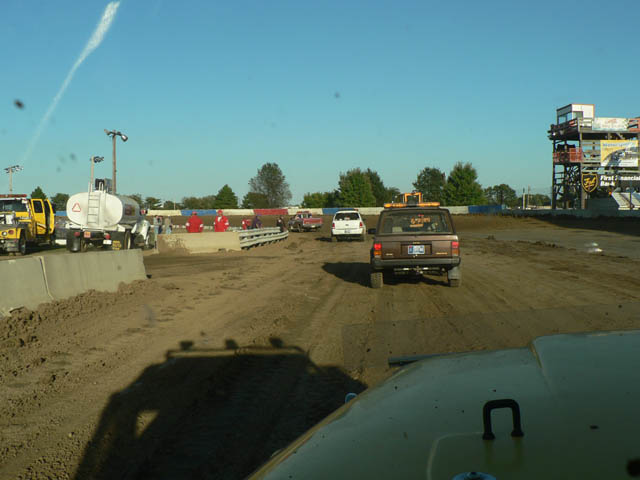 PACKING THE TRACK AT TERRE HAUTE IS A MUST FOR THE 2008 HUT 100..(Knapp photo)
TIM CHAMBERS PUSHING OFF COLE WHITT..(Knapp photo)
JOE CHAMBERS GET READY FOR THE USAC OFFICAL TO HAVE HIM PUSH OFF..(Knapp photo)
JIMMYJEEP GETS THINGS ROLLING..(Knapp photo)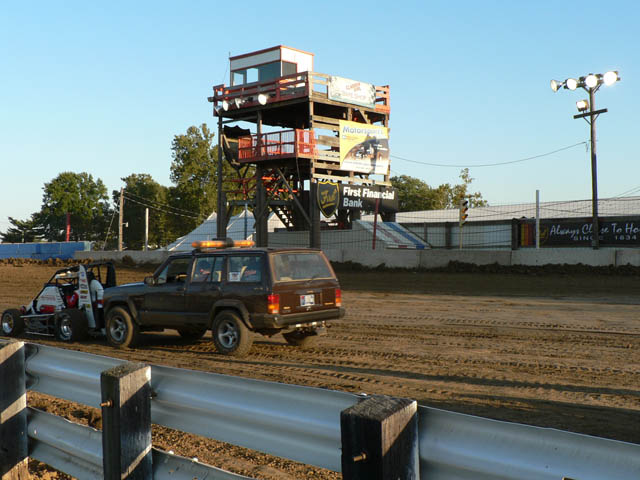 JOE GARBER WAS ONE OF OUR CREW..(Knapp photo)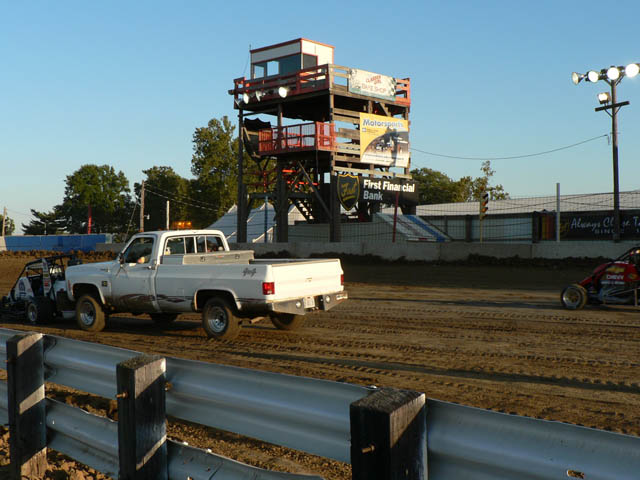 RAY MANKUNAS HAD A WIRING MELT DOWN WHEN ONE OF HIS BATTERIES TIPPED OVER..(Knapp photo)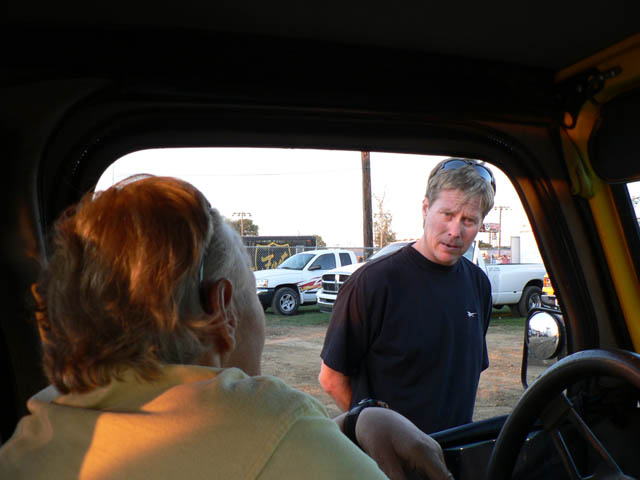 JIMMYJEEP AND DAVIE HAMILTON HAVE A CONVERSATION..(Knapp photo)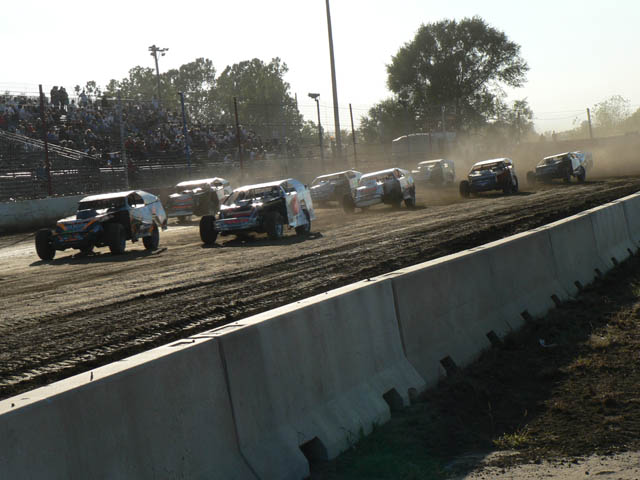 UMP MODS PUT ON A GOOD SHOW TO GO ALONG WITH THE MIDGETS..(Knapp photo)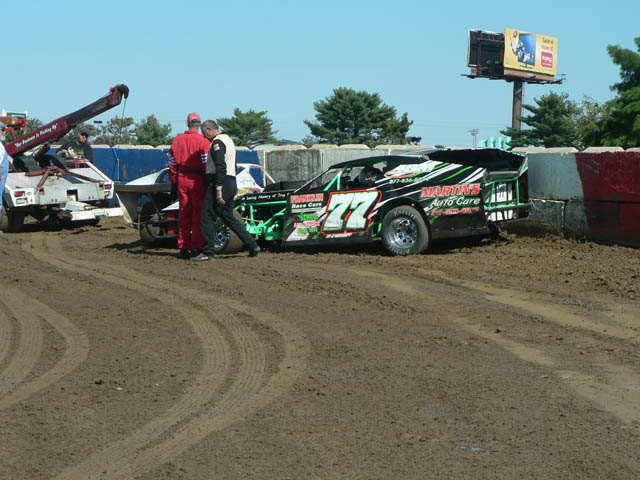 SOMETIMES THE WALL GETS A LITTLE CLOSE FOR THE MODS..(Knapp photo)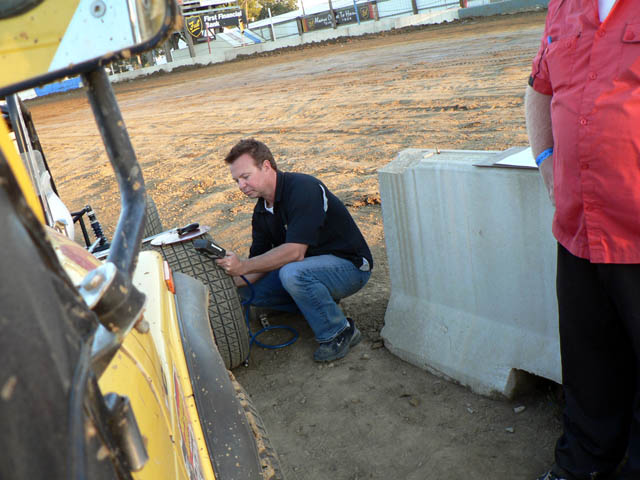 BILLY BOAT CHECKS THE AIR PRESSURE IN HIS SON'S RIGHT REAR BEFORE TIME TRAILS..(Knapp photo)
#30 CHAD BOAT IN LINE TO GET HIS TIME..(Knapp photo)
JERRY COONS, JR #11..(Knapp photo)
LEVI JONES #20..(Knapp photo)
COLE CARTER #11..(Knapp photo)
BRAD SWEET #49..(Knapp photo)
JOEY LAGUORI WAITS FOR HIS TURN..(Knapp photo)
SHANE COTTLE #20s..(Knapp photo)
JASON LEFFLER #32..(Knapp photo)
BOBBY EAST #4..(Knapp photo)
JIMMYJEEP WAITS FOR THE SUN TO SET IN TURNS THREE AND FOUR..(Knapp photo)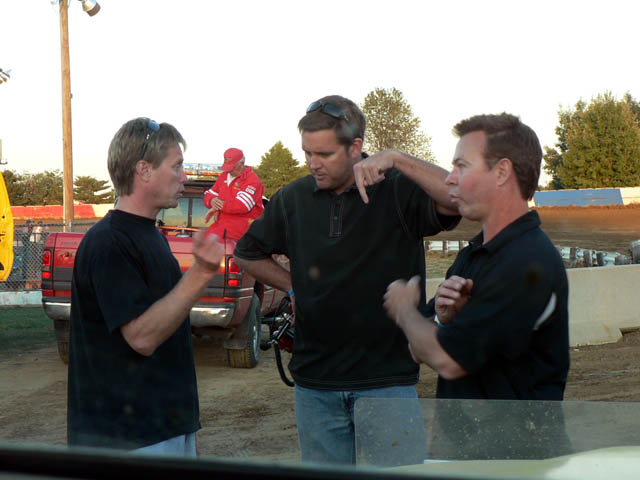 DAVEY HAMILTON ON THE LEFT AND BILLY BOAT ON THE RIGHT TALK ABOUT THE SHOW..(Knapp photo)
SHANE COTTLE..(Knapp photo)
PAUL BROWN WAITS WITH THE REST OF US TO PUSH OFF..(Knapp photo)
RAY MANKUNAS AND PAUL BROWN GET STAGED FOR THE START OF THE HUT 100..(Knapp photo)
COLE WHITT #71 WHO WON THE HUT 100 AND SHANE COTTLE #20s WHO FINISHED SECOND IN THE FEATURE..(Knapp photo)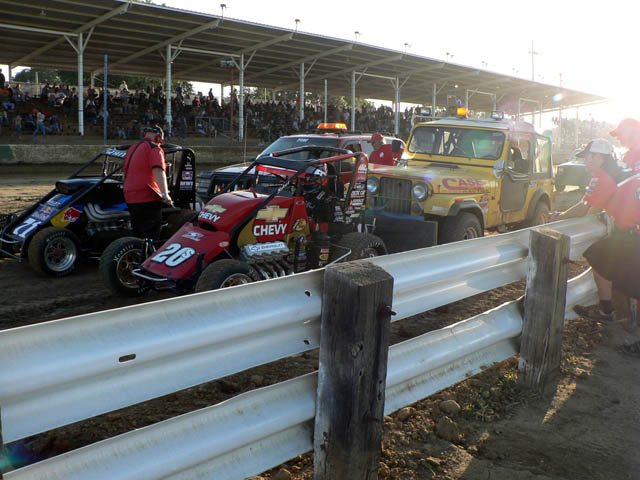 JOE GARVER AND JIMMYJEEP LINE UP TO PUSH OFF THE TOP TWO FINISHERS IN THE HUT 100..(Knapp photo)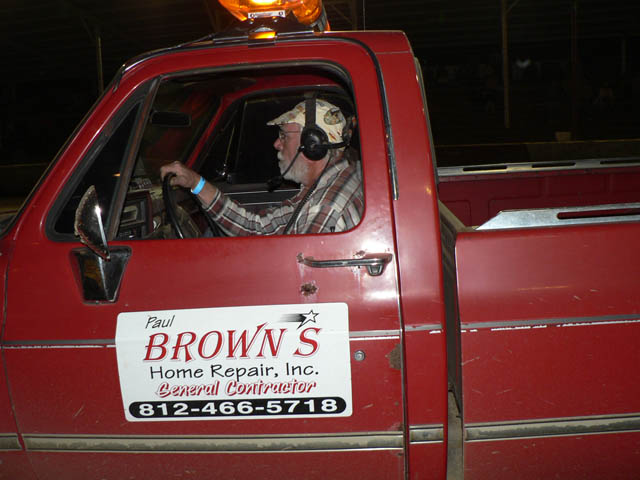 PAUL BROWN DURING THE RACE..(Knapp photo)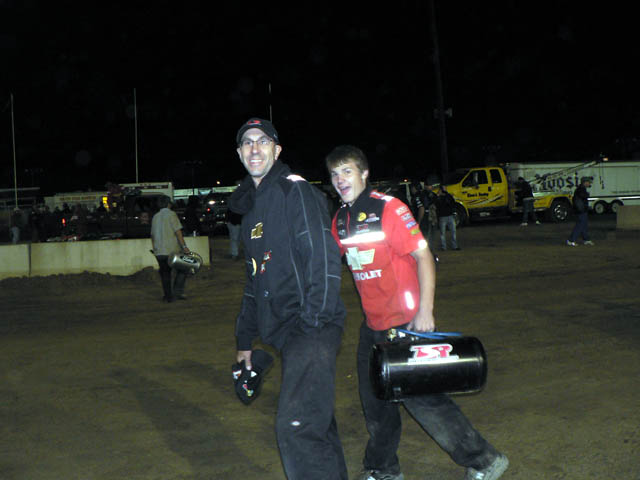 ROBERT HART IS PART OF TONY STEWARTS TEAMS..(Knapp photo)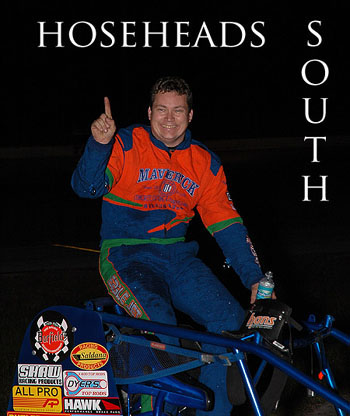 KEITH BUTLER IS THE 2008 CHAMPION OF THE CHECKERED FLAG SERIES..(Max Dolder photo)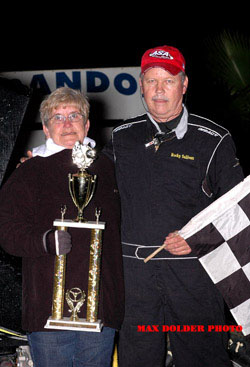 ROCKEY SULLIVAN WON THE LIMITED SPRINT SHOW AT EAST BAY..(Max Dolder photo)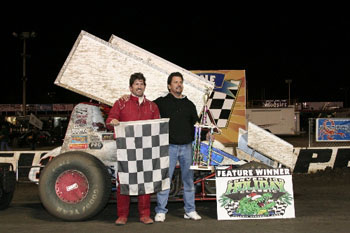 WILLIE JUDE WITH HIS GOOD FRIEND TOMMY DENTON WON THE FIRST TOP GUN SPRINT CAR SERIES RACE DURING PRI WEEK AT VOLUSIA..
MY GOOD BUDDY BRIAN LOUGHHEAD IS READY TO RACE WITH HIS NEW PC..
I CAN'T STOP PICKING ON JOE HARFMAN TURNING INTO A CAMEL JOCKEY IN KUWAIT..

DAVE SLAWIAK TOOK THE FINAL RACE FOR THE CHECKERED FLAG SERIES AT CHARLOTTE COUNTY MOTORSPORT PARK IN FLORIDA..(Max Dolder photo)

WE WELCOME SAM WEBB FROM MOHAVE VALLEY, ARIZONA WHO HAS BEEN PUSHING FOR 9 YEARS..HIS TRUCK IS A 1992 CHEVY WITH A 350 ENGINE AND DUAL EXHAUST..HE HAS GREAT LIGHTING AND HAS A RACK TO CARRY FIRE BOTTLES ON THE BOX..

SOME OF THE TRACKS HE HAS PUSHED AT INCLUDE SPANAWAY SPEEDWAY, GRAY HARBOR RACEWAY, STATELINE SPEEDWAY, PORTLAND SPEED WAY, MOHAVE VALLEY RACE WAY, LAS VEGAS MOTOR SPEEDWAY, HAVASUE 95 SPEEDWAY, AND YAKIMA SPEEDWAY.

FELLOW PUSHERS BRETT SEELMAN AND CHRISTINE HEFLEN TIRED THE KNOT AND ARE SHOWN HERE WITH THEIR WEDDING PARTY..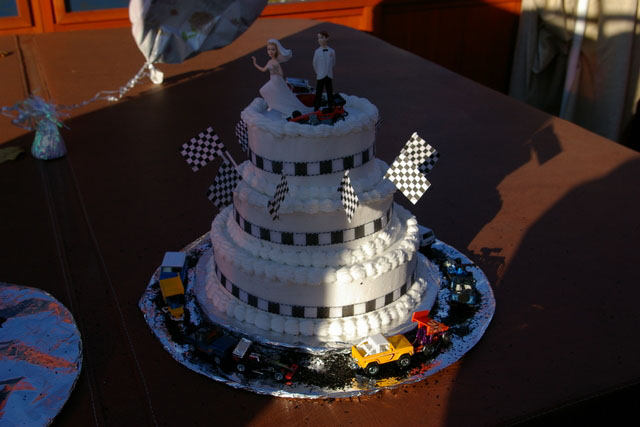 THIS WAS THEIR WEDDING CAKE AND I DO BELIEVE SHE IS RUNNING AWAY ON TOP..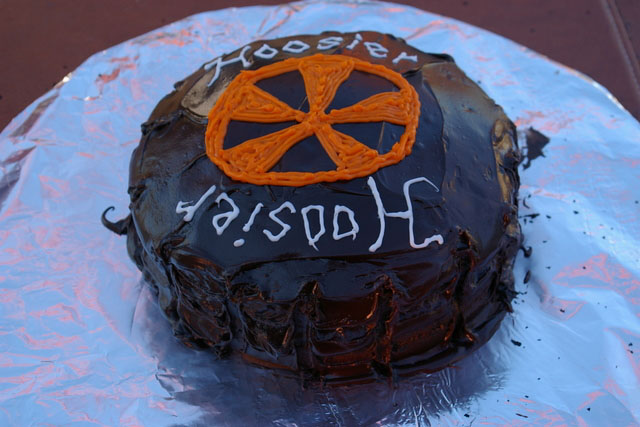 BRETT'S WAY COOL HOOSIER WEDDING CAKE..
WHILE ON THEIR HONEYMOON IN GATLINBURG, TENNESSEE THEY POSED FOR THIS PICTUE..WOW..

DONNIE SCHATZ IS READY TO BE PUSHED OFF AT THE 2008 WOO WORLD FINALS AT CHARLOTTE..(Brett Seelman photo)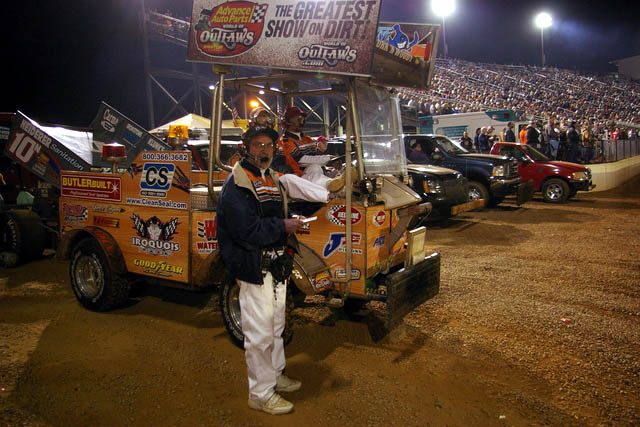 ART, CAROL, AND ERIC MAIES AT THE CHARLOTTE FINALS..IT WAS CAROL AND ARTS FINAL SHOW AS THEY HAVE RETIRED..(Brett Seelman photo)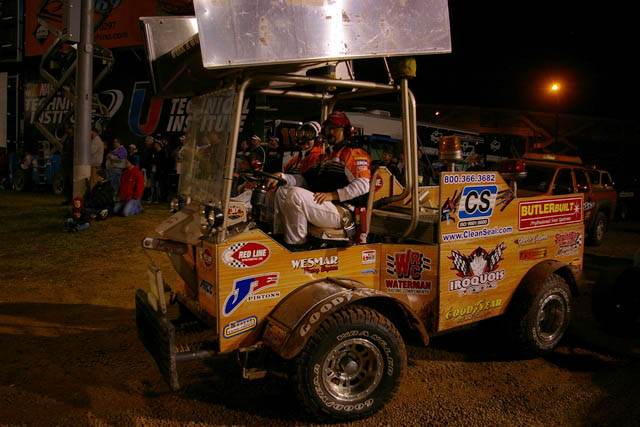 ERIC MALIES WILL TAKE OVER RUNNING THE "WOODY" AND WILL NEED A HELPING HAND WHEN HE ROLLS INTO YOUR LOCAL TRACK..(Brett Seelman photo)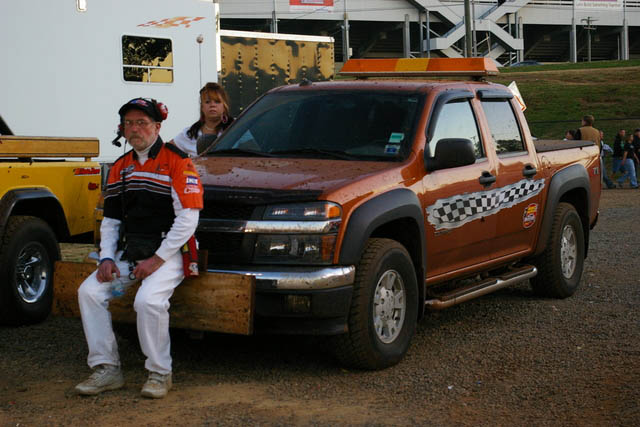 ART TAKES A BREAK ON THE BUMPER OF CHRISTINE SEELMAN'S PUSH TRUCK AS SHE LOOKS ON BEHIND HIM..(Brett Seelman photo)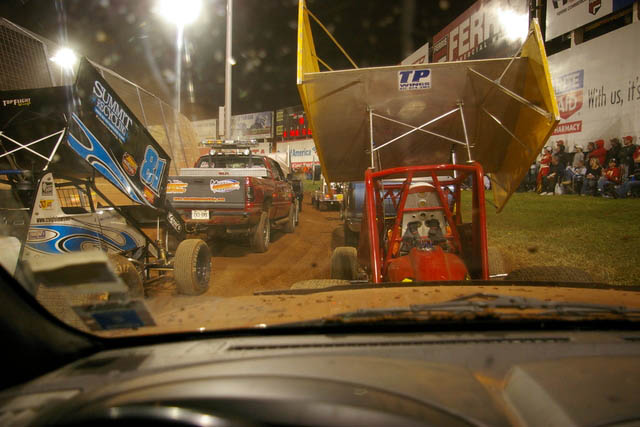 READY TO FIRE THE SPRINTS OFF FOR THE HEATS..(Brett Seelman photo)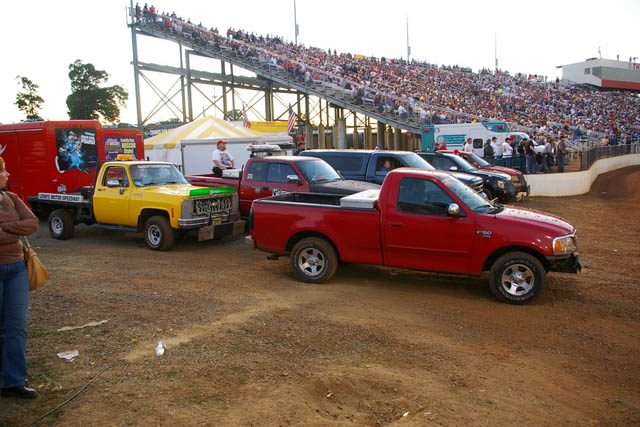 THE PUSH TRUCK PIT AREA WAS IN TURN ONE..(Brett Seelman photo)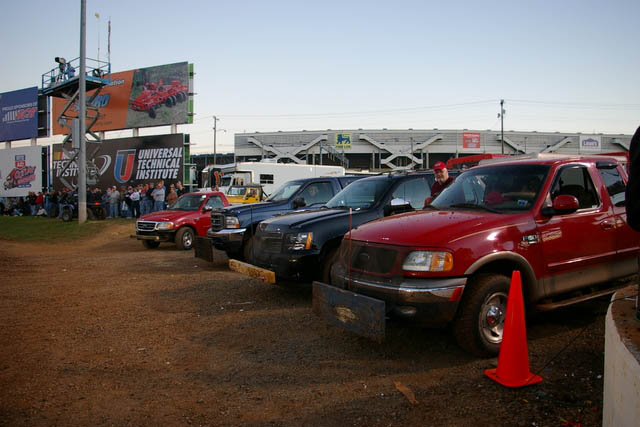 THEY HAD PLENTY OF TRUCK TO RUN THE SHOW..BRETT HAS BUILT UP HIS PIEDMONT PUSH TRUCK ASOCIATION AND NOW HAS 8 TRUCKS THAT WORK WITH HIM..ANOTHER 4-5 ARE TO BE BUILT IN 2009....(Brett Seelman photo)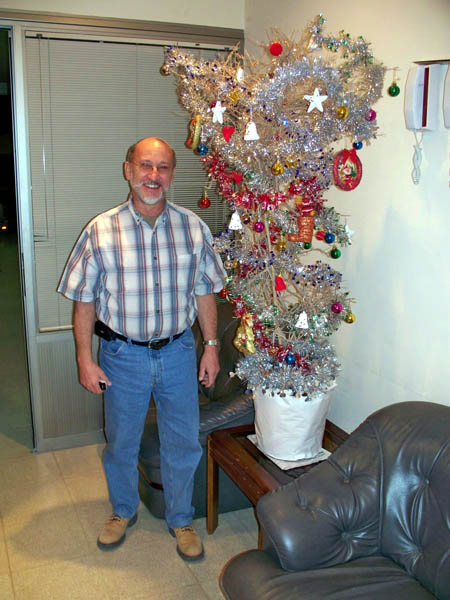 MY FRIEND JOE HARFMAN HAS A GROUP OF FILIPINO'S WORKING FOR HIM IN KUWAIT REPAIRING OUR TRUCKS USED IN IRAQ..THEY START DEORATING THEIR CHRISTMAS TREE IN OCTOBER..

DWIGHT STEPHENSON FROM THE WEST MEMPHIS AREA IN HIS 1982 JEEP CJ-7..HE HAS BEEN PUSHING FOR OVER 25 YEARS AND HAS A SIXTH SENSE TO ANTICIPATE A CRASH AND IS ROLLING BEFORE THE WHEELS STOP SPINNING..HIS CJ HAS A WRECKER BOOM, STROBES, AND "SWINDELL WIG-WAG LIGHTS"..HIS HOME TRACK IS RIVERSIDE SPEEDWAY IN WEST MEMPHIS, ARKANSAS..(Jim Smith photo)
TIM McKENZIE, A MINI-SPRINT DRIVER, PUSHED FOR THE FIRST TIME IN THIS 2008 TOYOTA AT THE 2008 SHORT TRACK NATIONALS..HE WORKS FOR ORR TOYOTA IN SEARCY, ARKANSAS AS A TECH MAN..THE BIG TOYOTA OVAL ON THE PUSH BUMPER WAS WAY COOL..A PROBLEM AROSE WHEN THE DETAIL GUYS WENT CRAZY WHEN HE WENT TO WORK AFTER PACKING AND PUSHING THURSDAY NIGHT..(Jim Smith photo)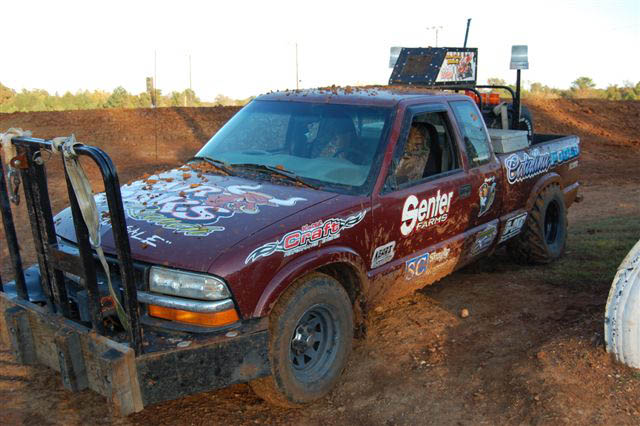 I DON'T HAVE A NAME OF THE DRIVER OF THIS S-10 FROM THE MEMPHIS AREA YET..HE HAS AN INTERESTING BUMPER AND THE BOX ON TOP OF THE TRUCK CONTAINS A REAL FREIGHT TRAIN AIR HORN..MAN THAT WILL CLEAR THE PUSH OFF AREA QUICKLY..(Jim Smith photo)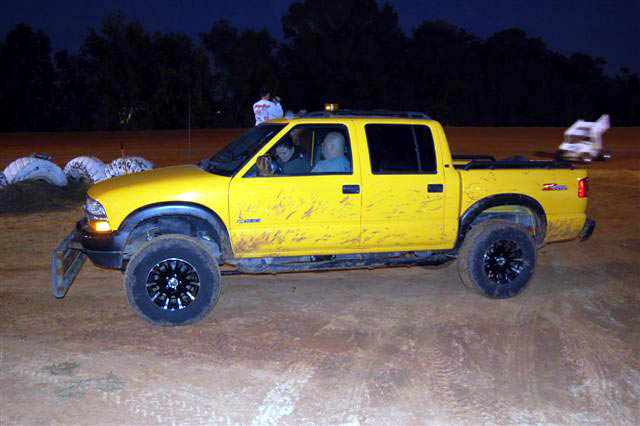 THE YELLOW S-10 ZR2 IS A LOCAL PUSHER FROM THE LITTLE ROCK AREA AND DOES "RACE-WRAPS & DECALS..(Jim Smith photo)
ALL READY TO BE PUSHED OFF AT THE 2008 SHORT TRACK NATIONALS..(Jim Smith photo)
RANDY PARSLEY REPORTS THAT THE TRACK WASN'T UP TO ITS BEST SHAPE FOR RACING BUT ONLY A COUPLE CARS FLIPPED..(Jim Smith photo)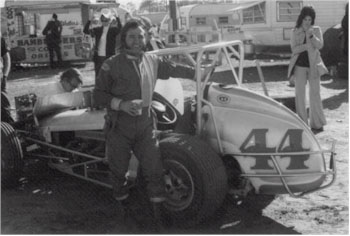 THE "ONE ARMED BANDIT" CHUCK AMATI FEBRUARY 1974 IN FLORIDA..(Dave Westerman photo)
MY OLD FRIEND SPRINT CAR DRIVER CHUCK AMATI PASSED AWAY NOVEMBER 18, 2008..(Knapp photo)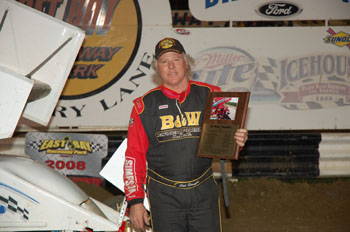 RED STAUFFER RETIRED FROM RACING NOVEMBER 15, 2008 AT EAST BAY..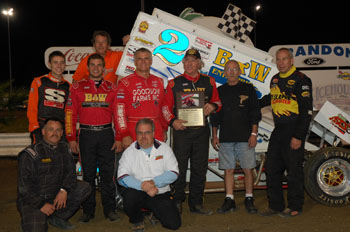 A GROUP OF THE OLD GANG WITH RED AT EAST BAY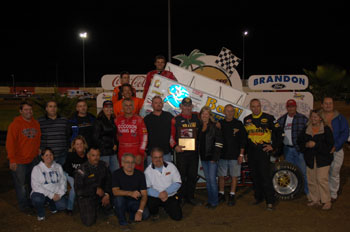 RED HELPED JIMMYJEEP TO START PUSHING WAY BACK IN 1985 AND HELPED ME THROUGH THE YEARS..

DONNIE SCHATZ TOOK THE MONEY AND 2008 WOO TITLE AT CHARLOTTE..(Max Dolder photo)

KEITH BUTLER WON THE CHECKERED FLAG SHOW AT CCMP..(Gene Marderness photo)
MICKEY KEMPGENS HELD OFF KEITH BUTLER IN THE FIRST HEAT..(Gene Marderness photo)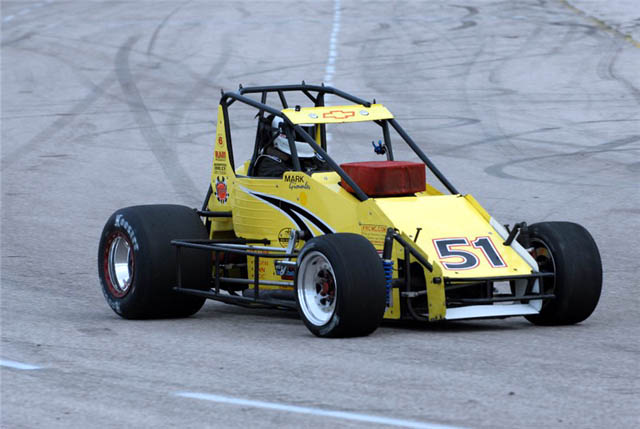 MARK GIMMLER WON THE SECOND HEAT..(Gene Marderness photo)

PEOPLE HAVE BEEN ASKING ABOUT MY BUDDY BRIAN LOUGHHEAD SO HERE ARE A COUPLE PICTURES HE SENT..THIS ONE IS AT A CAR SHOW IN HIGH SPRINGS, FLORIDA.
BRIAN CRUISES UNDER THE "GUNSLINGER" AT GAINSVILLE DRAGWAY..

BIG BUD WILLIS PUSHING OFF AT NORTH FLORIDA SPEEDWAY 360 OPEN SHOW..(Raz photo)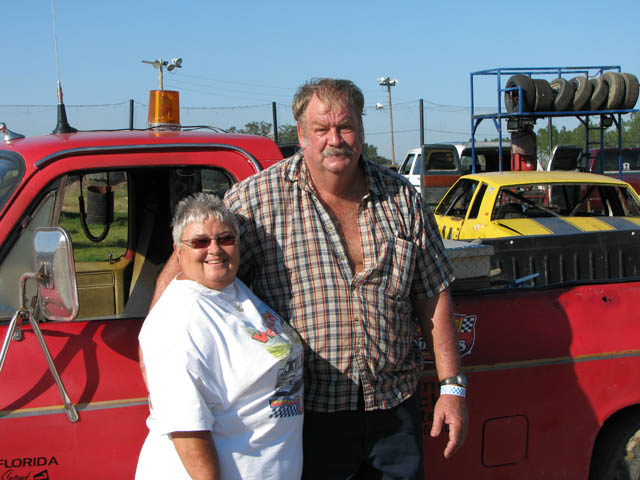 GLENNA DEZARN AND BUD AT NFS..BUD WAS WORKING WITH THE DAARA CARS SO GLENNA JUMPED INTO HIS TRUCK AND HAD SOME FUN PUSHING.
GLENNA DEZARN AND CHRISTINE AULD AT NORTH FLORIDA SPEEDWAY..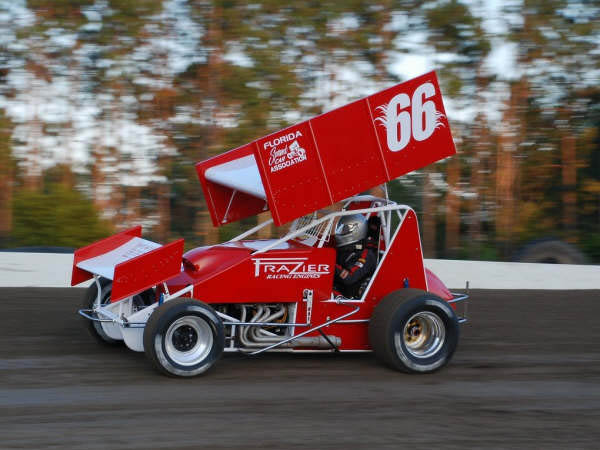 WES SCRAPES 2009 RIDE FOR THE FLORIDA SPRINT CAR ASSOCIATION SHOWS..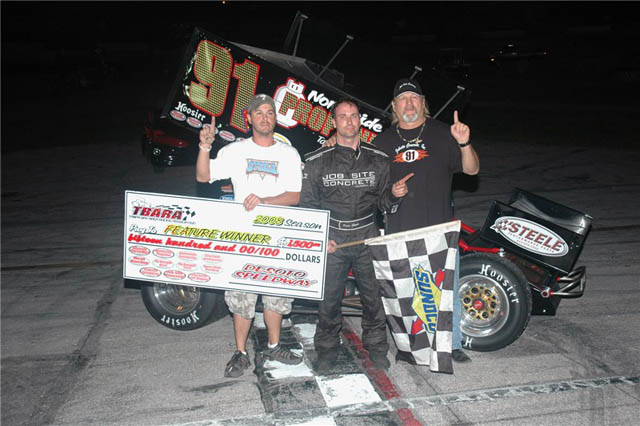 DAVID STEELE TOOK THE MONEY AT DESOTO SPEEDWAY TBARA SHOW IN FLORIDA..(Marderness photo)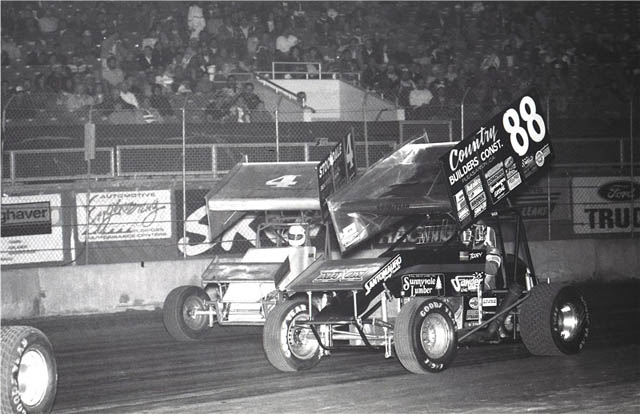 TERRY MCCARL ON THE WOO INDOOR TRACK AT ST PETE 1992..(Gene Marderness photo)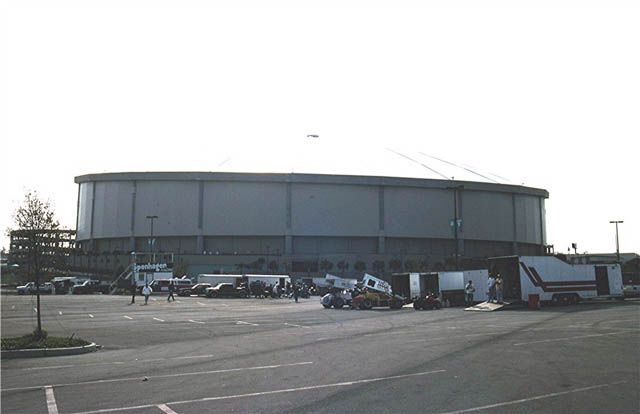 BEFORE THERE WAS THE TAMPA BAY DEVIL RAYS WE RACED WORLD OF OUTLAWS IN THE SUNCOAST DOME AND WE PITTED IN THE PARKING LOT..JIMMYJEEP AND THE "WORK'N WOODY" WORKED THE SHOW..(Gene Marderness photo)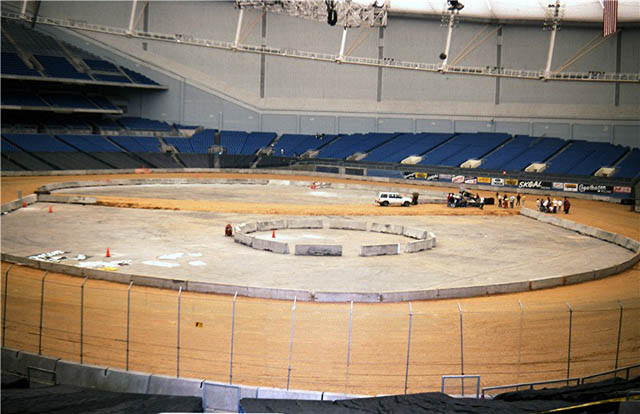 FEBRUARY 1992 AND THE TEAMS HAD TO USE A LOT OF STAGGER ON THIS FAIRLY FLAT TRACK..THE SECOND NIGHT NO ONE GOT PAID..(Gene Marderness photo)
STEVE KINSER WOULD PULL A WHEELY AND ALMOST SET IT ON THE TOP OF THE JERSEY BARRIER..(Gene Marderness photo)
MARK KINSER WAS DOING GOOD BACK THEN..(Gene Marderness photo)
DAVE BLANEY WAS A SHOWMAN..(Gene Marderness photo)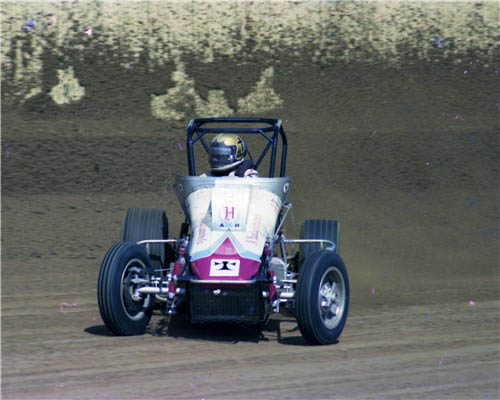 JAN OPPERMAN AT THE OLD PLANT FIELD IN TAMPA FLORIDA 1975..(Gene Marderness photo)

DAVID STEELE TAKES A TBARA WIN CITRUS SPEEDWAY AT INVERNESS, FLORIDA..(Gene Marderness photo)
GARY GIMLER WON THE CHECKERED FLAG SPRINT SERIES RACE AT CHARLOTTE COUNTY MOTORSPORTS PARK..(Gene Marderness photo)
TROY DECAIRE WON THE FRANK RIDDLE MEMORIAL RACE AT DESOTO SPEEDWAY..(Gene Marderness photo)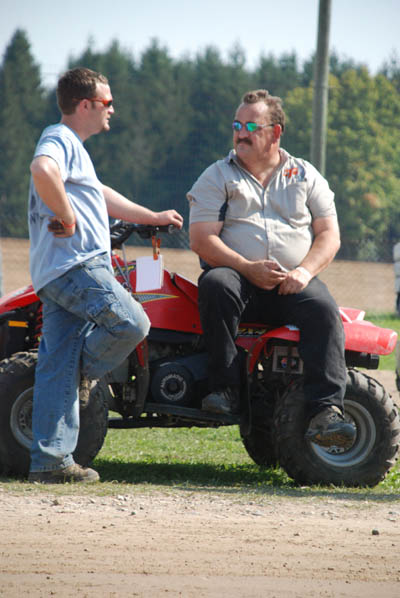 FELLOW PUSHER RANDY CRONK ON THE RIGHT TALKING TO MARK "NITRO" NICK LANDON WHO IS THE GRANDSON OF MICHIGAN HALL OF FAME RACER WAYNE LANDON AT THE RACES IN MICHIGAN..
RANDY CRONK'S SON AJ PUT TOGETHER THIS TRUCK AND I GUESS HE NEEDS TO DO SOME PUSHING TO GET USE TO THE MUD WITH IT..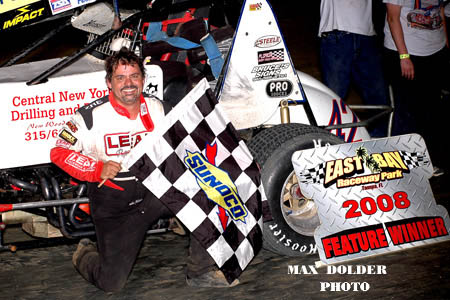 OLD FRIEND PAULIE MILUM TOOK THE SPRINT CAR WIN AT EAST BAY..(Max Dolder photo)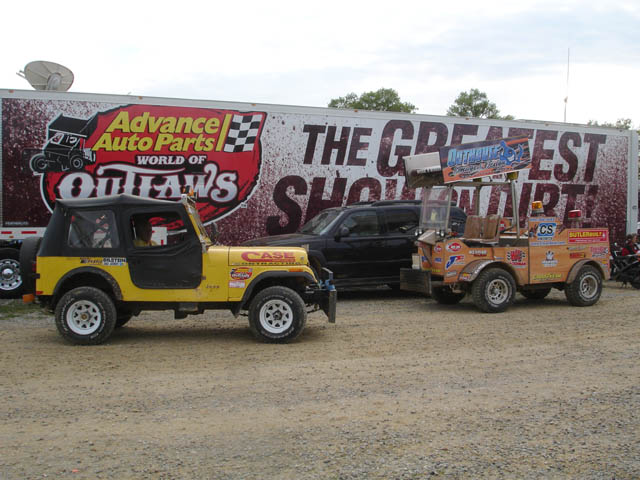 JIMMYJEEP AND THE "WORK'N WOODY BY THE WORLD OF OUTLAW TRAILER AT PADUCAH SPEEDWAY..(Knapp photo)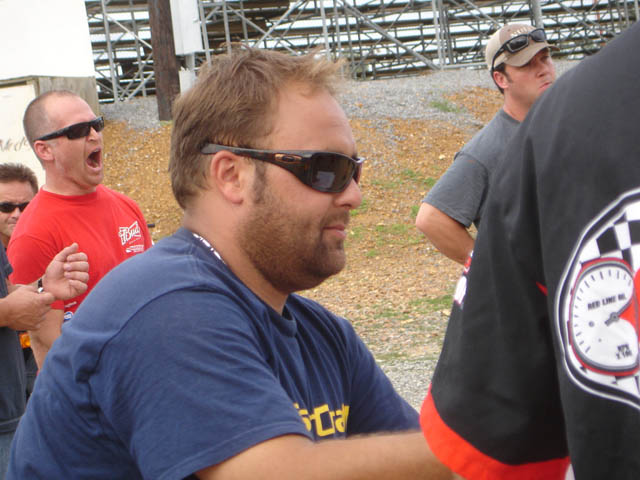 DONNIE SCHATZ AT THE DRIVERS MEETING..(Knapp photo)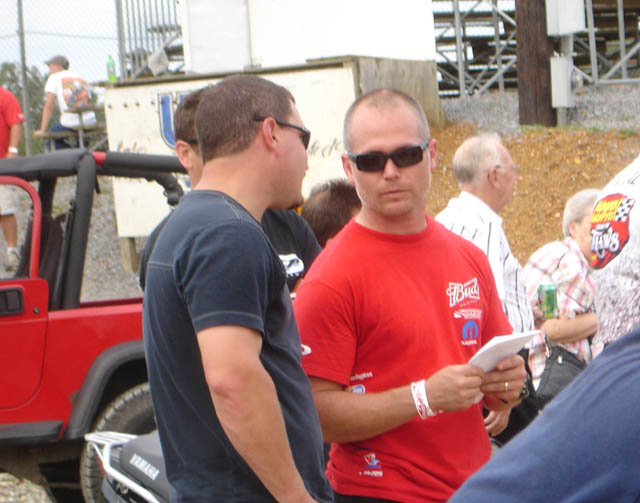 JOEY SALDANA AT THE MEETING..(Knapp photo)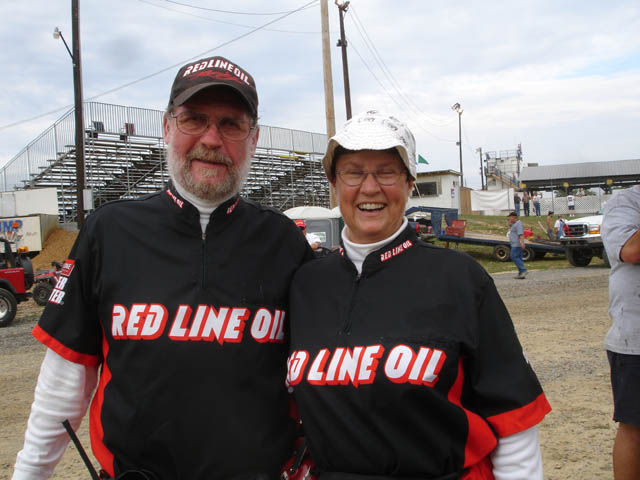 CAROL AND ART MALIES LAST YEAR OF PUSHING..(Knapp photo)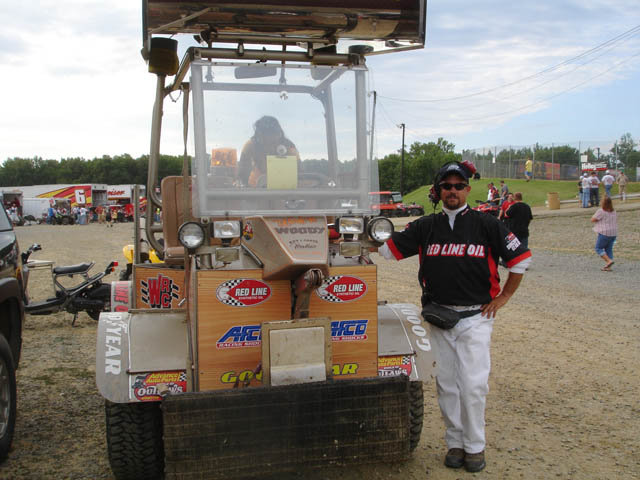 ERIC MALIES WILL TAKE OVER THE JOB OF RUNNING THE "WOODY"..(Knapp photo)
CLOSE UP OF JOEY SALDANA..(Knapp photo)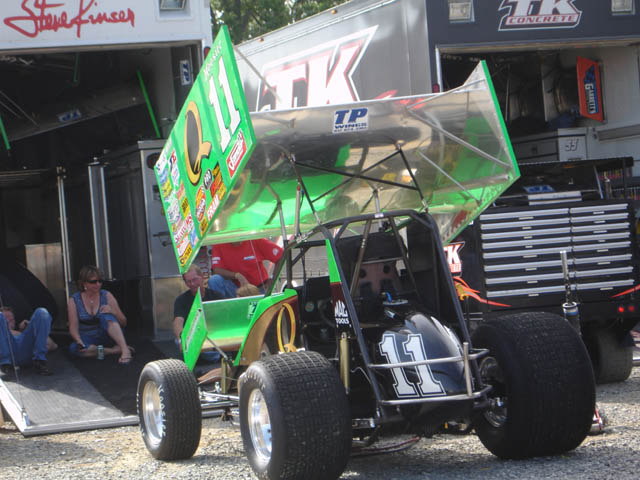 STEVE KINSER'S PIT..(Knapp photo)
SHANE STEWART'S RIDE AT PADUCAH..(Knapp photo)
OLD TIME SPRINT CAR DRIVER CHUCK AMATI..(Knapp photo)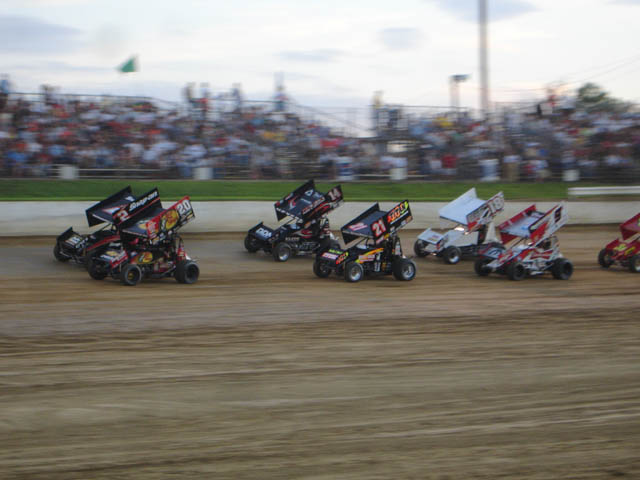 THE START OF A WOO HEAT..(Knapp photo)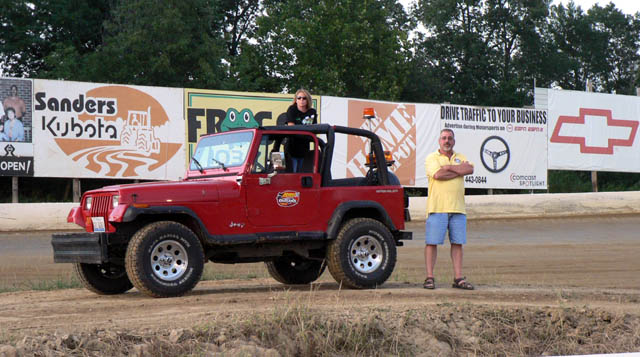 FELLOW PUSHER CARL JOHNSON AND HIS DAUGHTER AMBER..(Knapp photo)
GLENNA DESARN PUSHING OF KRAIG KINSER..(Knapp photo)
JIMMYJEEP PUSHING OFF JACK HAUDENCHILD DURING TIME TRAILS..(Knapp photo)
THE "WOODY" PUSHING OFF STEVE KINSER..(Knapp photo)
STEVE MOAT PUSHING OFF #2 CRAIG DOLLANSKY..(Knapp photo)
CARL JOHNSON PUSHING OFF DONNIE SCHATZ..(Knapp photo)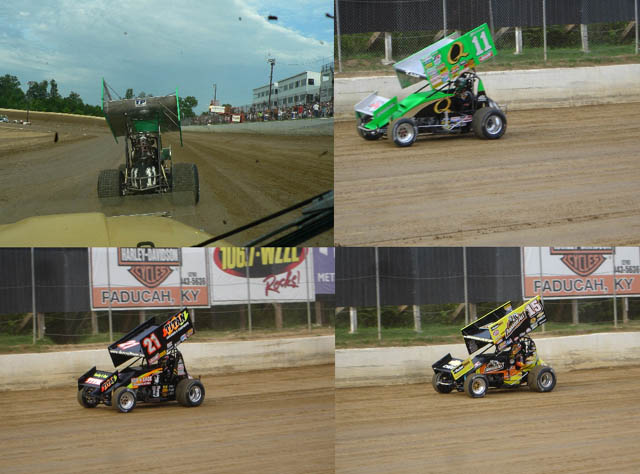 THREE OF THE TOP GUNS OF WOO RACING..STEVE KINSER #11, DONNIE SCHATZ #15, AND KINGS ROYAL WINNER DARIEN PITTMAN..(Knapp photo)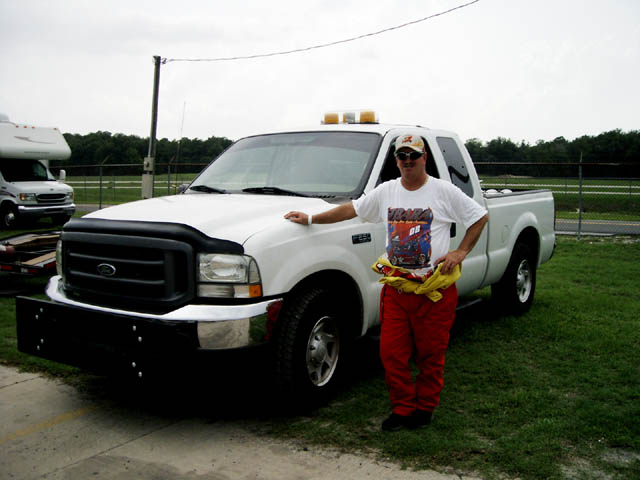 TBARA PUSHER STEVE HENLEY..(Rockney photo)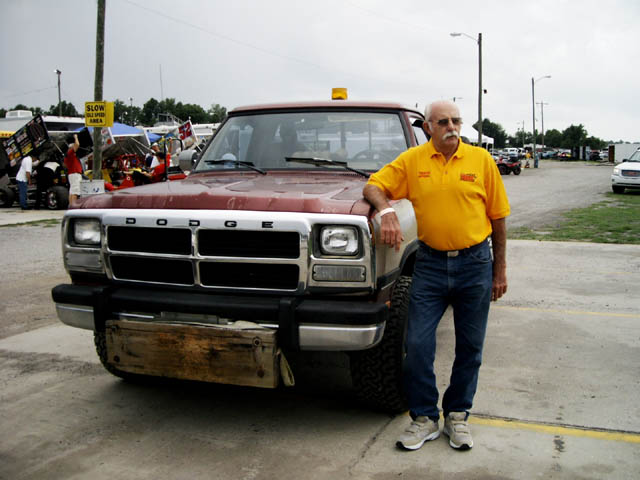 MY OLD FRIEND JOHN SIMON FROM RIVERVIEW, FLORIDA..(Rockney photo)
JAMES WATSON FROM FLORIDA..(Rockney photo)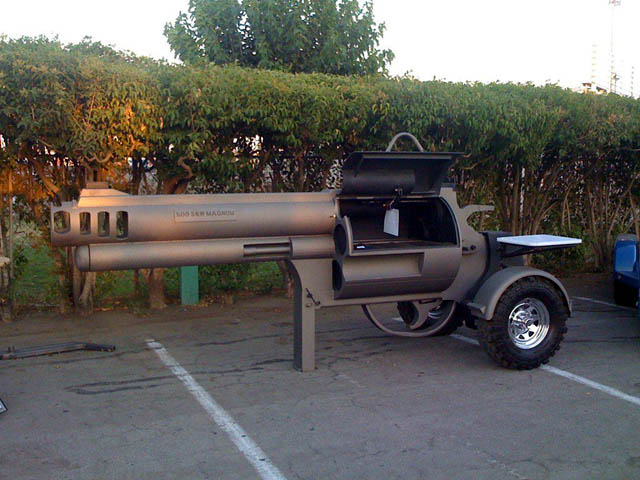 CURTIS CARTER IN THE PITS AT ORLANDO..(Knapp photo)
THE MSCS DRIVERS MEETING AT PADACAH..(Knapp photo)
KENNY BIRO'S RIDE BEFORE THE ACCIDENT..(Knapp photo)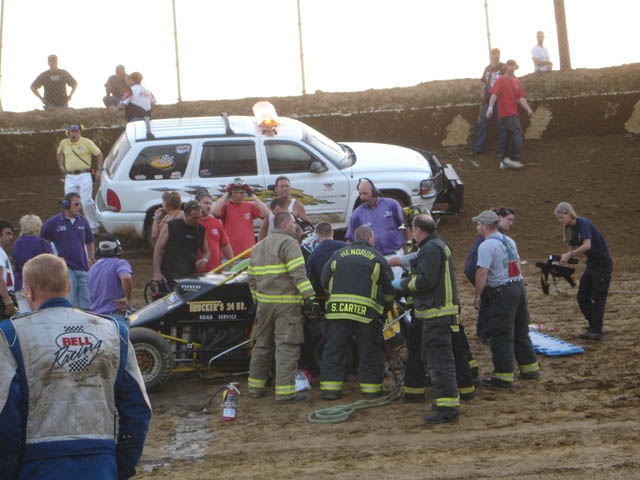 RESCUE WAS READY TO HANDLE THE FLIP..(Knapp photo)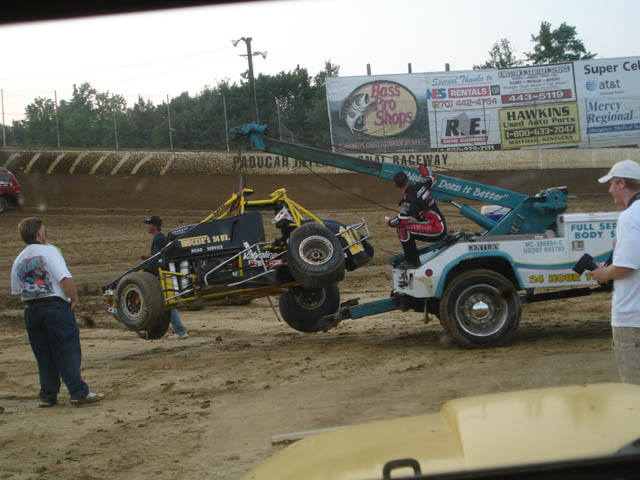 HARD FLIP PUT HIM IN THE HOSPITAL..(Knapp photo)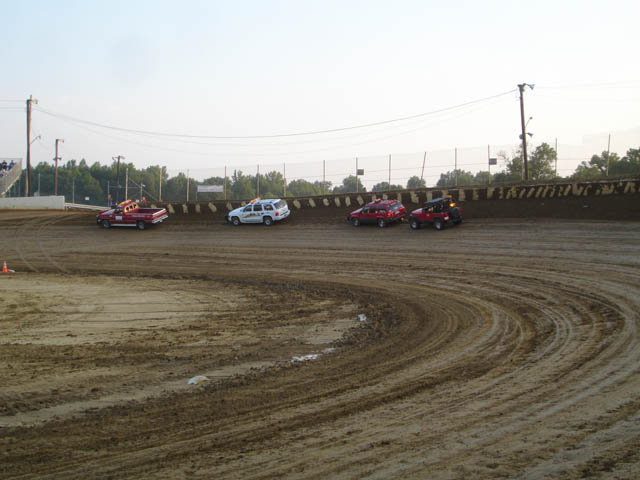 PUSH TRUCK WAITING ON THE STEEP BANKING AT PADUCAH..(Knapp photo)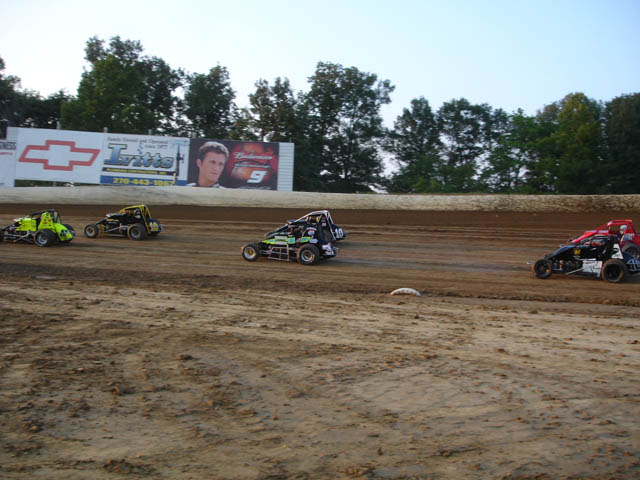 HEAT LAPS AT PADUCAH..(Knapp photo)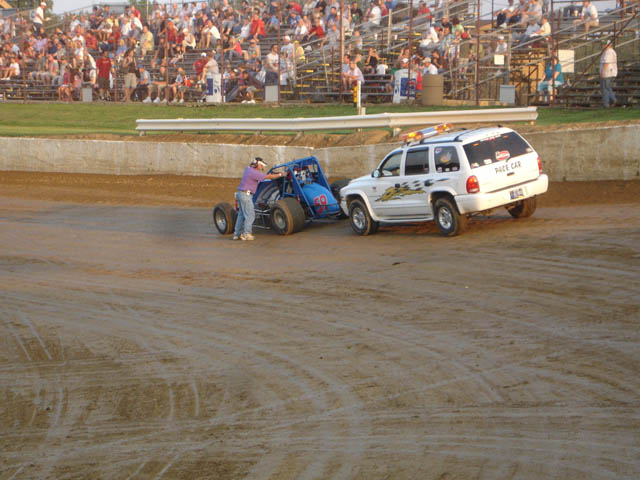 JOE CHAMBERS PUSHING OFF..(Knapp photo)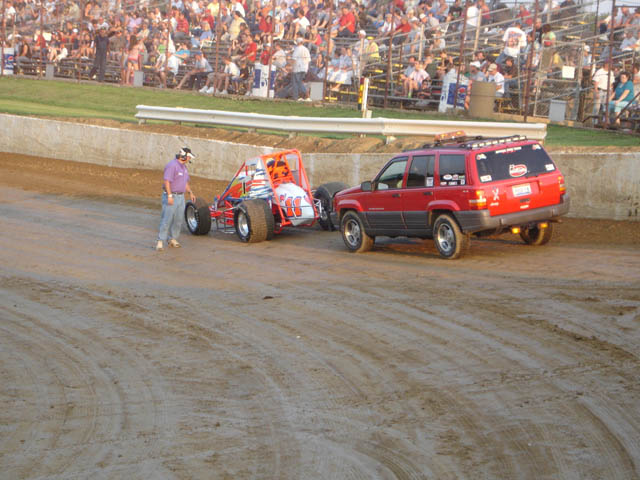 BROTHER TIM CHAMBERS PUSHING OFF..(Knapp photo)
CARL JOHNSON AND DAUGHTER AMBER WATCH THE CRATE ENGINE CARS HOT LAP..(Knapp photo)
JOE CHAMBERS BACK SEAT BUMPER..(Knapp photo)
TIM CHAMBERS BUMPER ALSO IS READY TO PULL AND PLACE IN THE REAR OF HIS JEEP..(Knapp photo)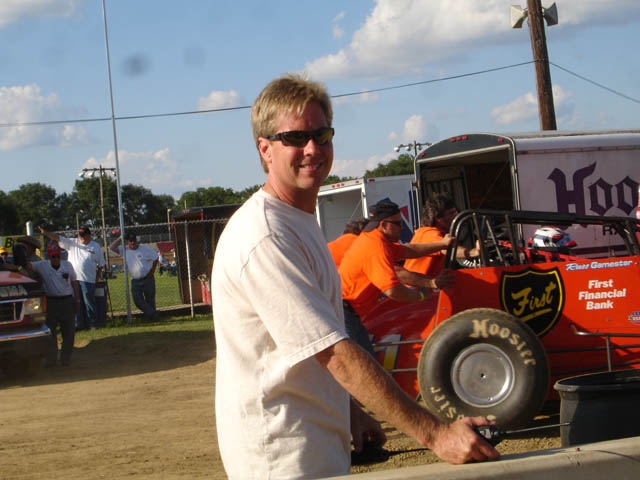 DAVEY HAMILTON WAS THE PROMOTER OF THE USAC SILVER CROWN RACE AT TERRE HAUTE..(Knapp photo)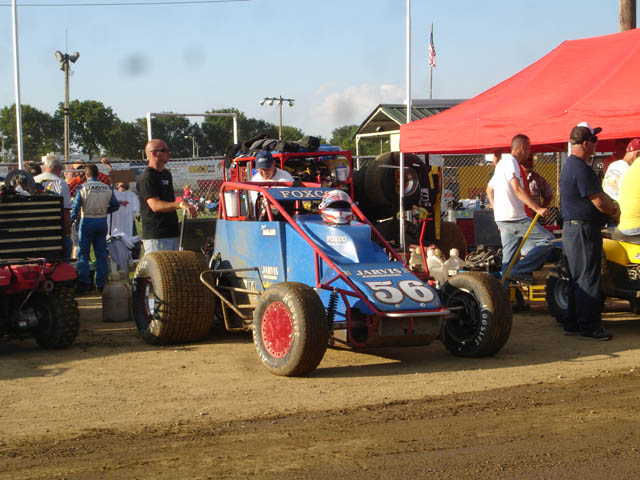 DAVE DARLAND SET FAST TIME AND WON THE RACE..(Knapp photo)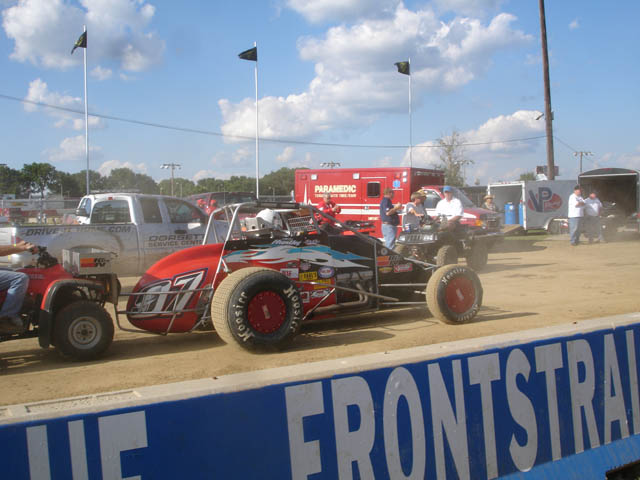 I HADN'T SEEN KEVIN HUNTLEY IN A FEW YEARS..(Knapp photo)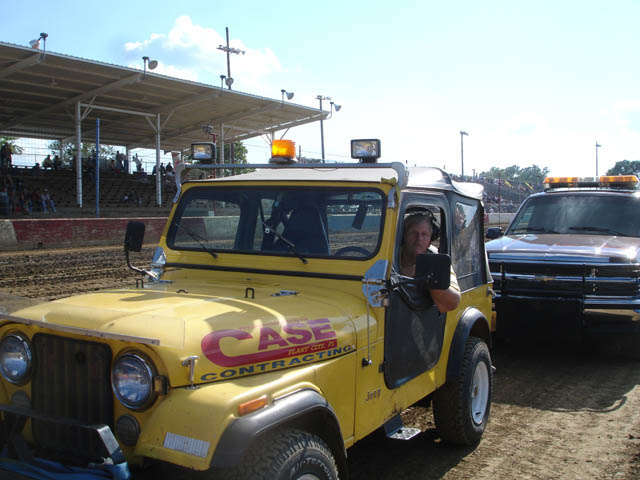 I HAVEN'T DONE A SILVER CROWN SINCE THE 80'S AT THE FLORIDA FAIRGROUNDS..(Knapp photo)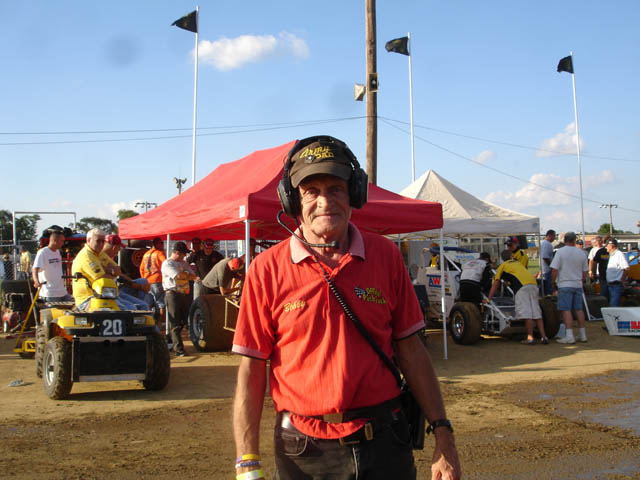 THE "PIANO PLAYER" BOBBY GILL WAS READY FOR THE NIGHTS ACTION..(Knapp photo)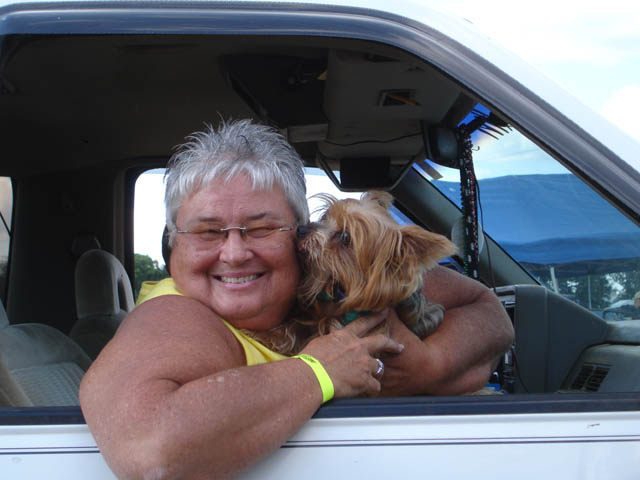 GLENNA DEZARN AND HER GUARD DOG "BOOMER"..(Knapp photo)
JOE GARVER GOT HIS JEEP A LITTLE DIRTY IN QUALIFYING..(Knapp photo)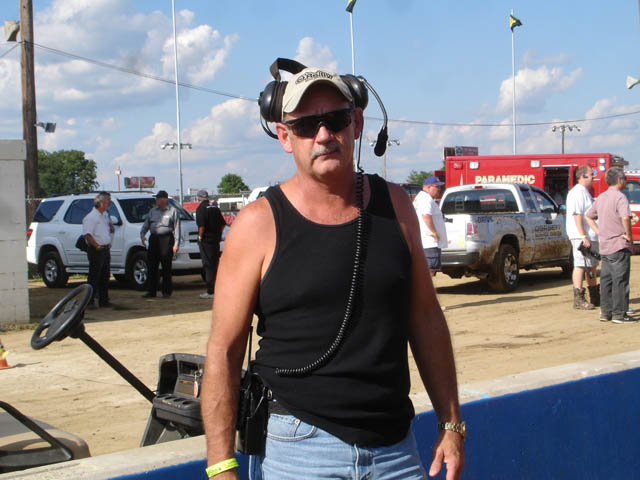 STEVE MOAT HAD CONTACT WITH THE REST OF OUR FELLOW PUSHERS..(Knapp photo)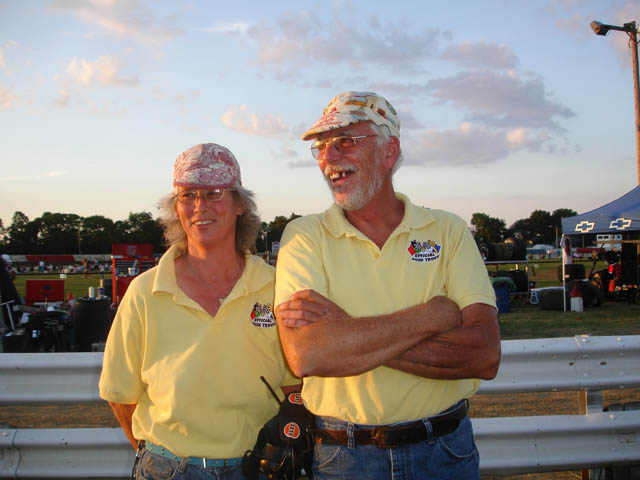 FELLOW PUSHERS PAUL AND MARIE BROWN TOOK TIME OFF FROM REPAIRING THEIR FLOODED HOME TO WORK THE "ACTION TRACK"..(Knapp photo)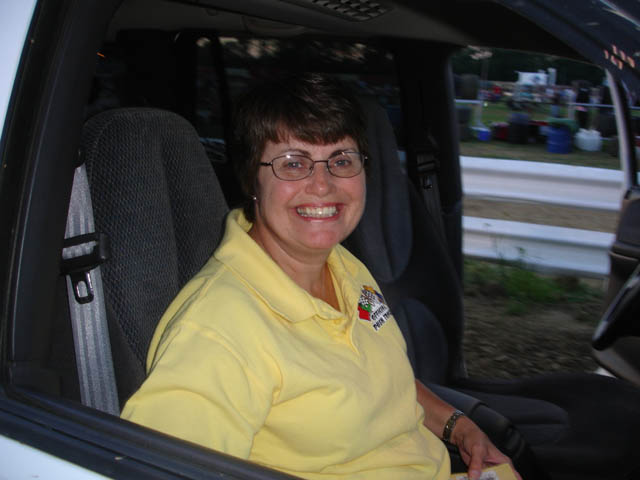 JOE CHAMBERS WIFE ROSEANN RODE "SHOTGUN"..(Knapp photo)
THE QUARTER MIDGETS WERE OUR ONLY OTHER CLASS THAT NIGHT..(Knapp photo)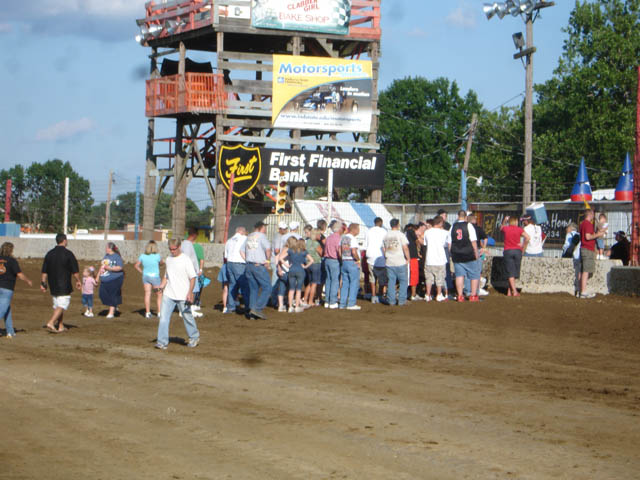 THE TUNNEL WAS STILL FLOODED SO FOOT TRAFFIC WAS HEAVY ACROSS THE TRACK..(Knapp photo)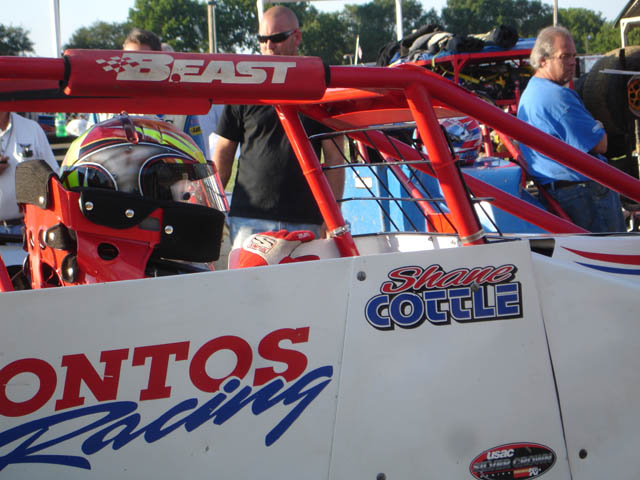 SHANE COTTLE..(Knapp photo)
RICKIE STENHOUSE..(Knapp photo)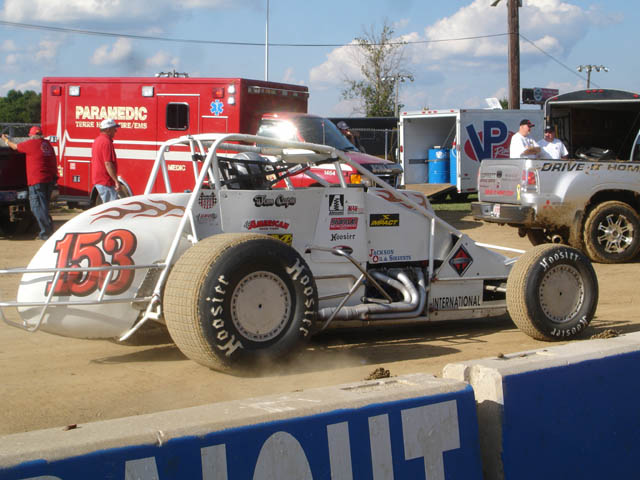 TOM CAPIE #153..(Knapp photo)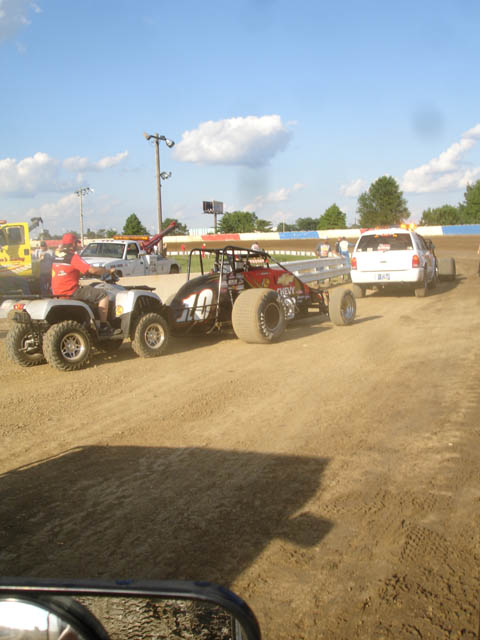 SAVING THE STARTERS ON THE SILVER CROWN CARS WE PUSHED OFF HOT LAPS AND TIME TRIALS AT TERRE HAUTE..(Knapp photo)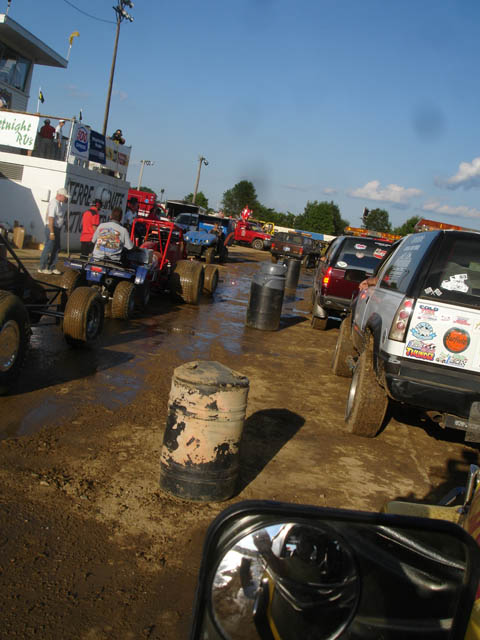 WHY DO THEY ALWAYS WET DOWN THE PUSH OFF AREA JUST BEFORE TIME TRIALS..(Knapp photo)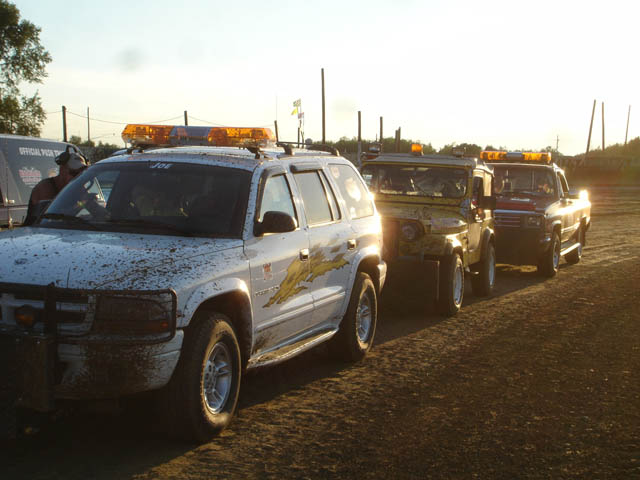 LEADER OF THE PACK JOE CHAMBERS JUST BEFORE THE FEATURE..(Knapp photo)
THE FLAGMAN IS BUSY DURING A 100 LAP RACE..(Knapp photo)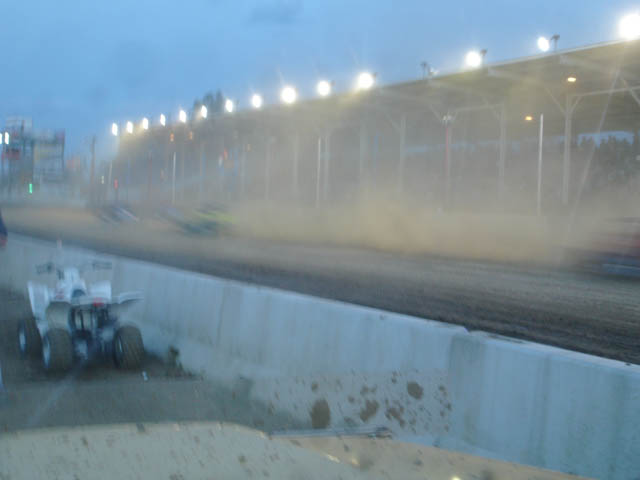 DUSTY TRACK WITH ONLY ONE CLASS TO LAY IT DOWN..(Knapp photo)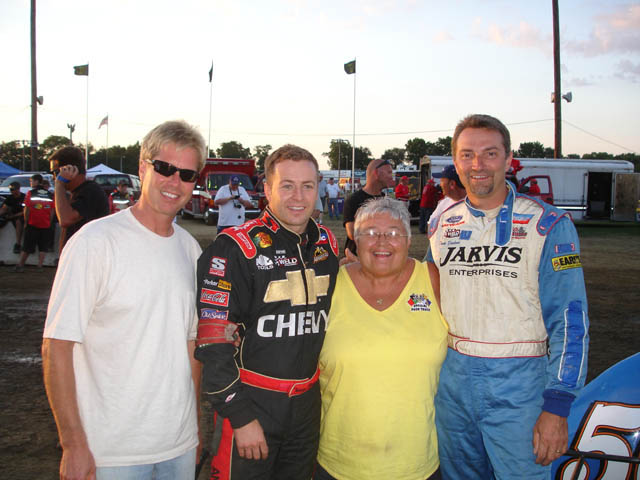 DAVEY HAMILTON, TRACY HINES, GLENNA DEZARN, AND DAVE DARLAND..(Knapp photo)

RETURN TO JIMMYJEEPS FRONT STRETCH
Copyright © 2008 JimmyJeep All Rights Reserved